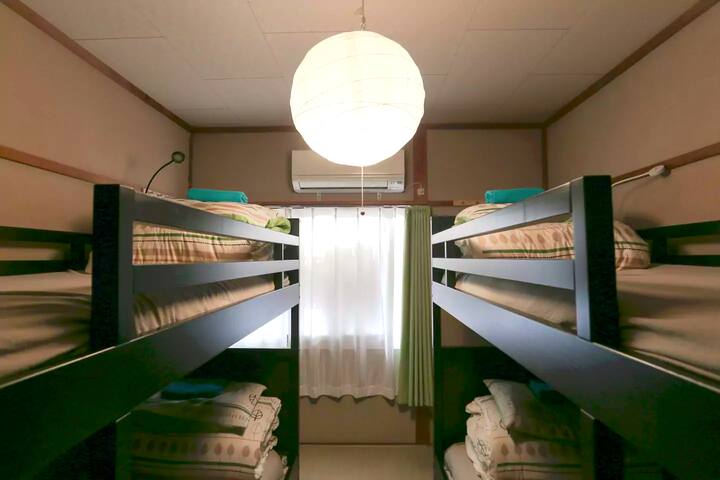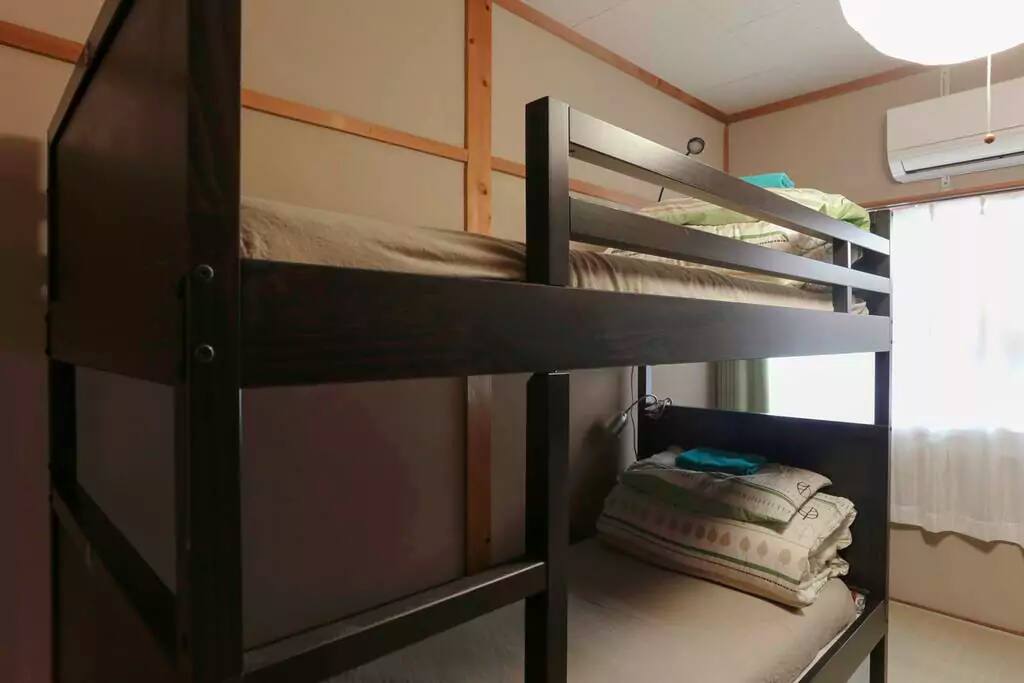 1Cozy&Comfy Mixed Dorm Free Portable WiFi
1Cozy&Comfy Mixed Dorm Free Portable WiFi
【Please Read Before Your Reservation】
*If you are first time booking share house, please be understanding that our service is not as the same as hotel. We need EVERY guest's cooperation to maintain the cleanness of public facilities.
*This accommodation is NOT suitable for neat freak. Go to hotel please.
*This listing is male&female mixed dormitory
*FREE borrowing portable WiFi, bicycle JPY300/day
*Free Japanese green tea, coffee are provided.
*Guests can not appoint room type, sorry.
---
Spavaća soba 1
2 kreveta na kat
---
Vrsta prostora: Zajednička soba
---
---
Dodatni gosti $15 / noćenje nakon prvog gosta
Komunicirajte samo putem Airbnba
Kako biste zaštitili svoje plaćanje, nikad nemojte vršiti novčane transakcije ni komunicirati izvan Airbnbove stranice ili aplikacije.
Saznaj više
---
***Our location is near residence area, No party, loud music, and keep your steps quiet after 23:00 at night.
No loud talking in front of our guesthouse.
Our neighbors will be annoyed with bad behaviors.
They are already bothered with the sound of suitcase dragging everyday.
--Guest Room Check-In 객실 체크인 入住客房
Check-In Time 체크인 시간 入住时间14:00PM
--Guest Room Check-Out 객실체크아웃 客房退房
Check Out Time 체크 아웃 시간 退房时间10:00AM
--Luggage Storage Policy수화물보관정책行李寄放:
You can leave your luggage in the Living Room after Check-out/Before Check-In. But Loss, damage or theft of other valuables is at your risk
당신이체크아웃한후/체크인하기전에거실에서 짐을맡길수있습니다
기타귀중품의분실,파손또는도난귀하의책임입니다
入住前/退房后可以将行李放置于客厅,
但房客必须自行承担物品遗失被破坏或是遭偷窃的责任风险
--Guest Room Rules게스트 룸 규칙과 客房规则:
1.Please take your trash to Kitchen(1st Floor) and recycle
PET bottles and cans. DO NOT litter.
쓰레기를 주방(1F)에 가져 가세요
PET 병 및 캔을 재활용하십시오
请自行将垃圾拿到厨房(1F)丢弃
请回收宝特瓶及铝罐
2.Please turn off the air conditioner while you are away
당신이 떨어져있는 동안 에어컨 끄기하십시오.
离开房间时请关掉空调
3.Please DO NOT TAKE Pillows or Comforter/Futons
in the storage WITHOUT PERMISSION
허가없이 스토리지의 베개와 이불을하지 마십시오
未经许可请勿任意取用储藏室枕头及棉被等备用品
4.DO NOT REMOVE the pillow cover, comforter cover, sheets cover while using
베개 커버 이불 커버 시트 커버를 제거하지 마십시오
使用时请勿将枕头套被单及床单卸下
5.Eating food with liquid(Ramen, Soup,Drink) in the guest room is highly NOT RECOMMENDED
¥10,000 will be charged if Tatami is damaged
객실 내 액체 (라면, 스프, 음료)을 갖는 식품을 먹는 것이 권장되지 않습니다
다다미가 손상된 경우 ¥ 10,000 청구됩니다
不建议在寝室内食用含有液体的食物或饮料
若榻榻米污损须赔偿10,000日币
6.Please turn down your volume of voice in the midnight(After 23:00PM)
(Taking, Walking, Close doors)
심야 (23:00 PM 이후)에 당신의 볼륨을 낮추십시오(말하기, 걷기, 문을 닫는다)
深夜時段請降低您的音量(講話,走路,關門)深夜时段请降低您的音量(讲话,走路,关门)
7.Please return your Portable WiFi while you are home.
Please Recharge and Turn Off the power.
당신이 집에있을 때 휴대용 WiFi를 반환합니다.
충전 및 전원 끄기 바랍니다.
当你回到家时,请归还携带式WiFi,请关电源并充电
8.Electronic devices in the house like USB plug, battery charger, connector, adaptors is personal properties of host. If you want to borrow, please ask the host. Exclusive use without permission is theft(illegal).
USB 플러그, 배터리 충전기, 커넥터, 어댑터와 같은 전자 장치는 호스트의 재산입니다. 당신이 빌리고 싶은 경우 호스트에게 문의하십시오. 허가없이 단독 사용은 절도 (불법)입니다.
房子里的所有电子产品如USB转接头,充电器是私人财产,
若您想借用请询问host,任意拿来使用是违法的偷窃行为
--Kitchen Rules주방 규칙과 厨房规则:
1.Food in the Refrigerator or on the top of microwave are personal property, DO NOT take other people's food !
냉장고와 전자 레인지 상단의 음식은 개인의 재산입니다
마음대로 먹지 마세요
冰箱及微波炉上方的食物是私人财产,请勿随意取用
2.Please Wash used tableware
사용 된 식기를 씻으십시오
请自行清洗使用过的餐具
3.Please Clean the Dining Table after using
사용 후 식탁을 청소하십시오
使用后请将餐桌清理干净
--ShowerRoom/Toilet Rules샤워/화장실 규칙과淋浴间/卫生间/廁所规则:
1.Please DO NOT leave trash and Personal goods in the Shower Room
샤워 룸에 쓰레기를 방치하지 마십시오
请勿将垃圾及个人物品留置于淋浴间
2.DO NOT flush any tissue paper other than the provided Toilet Paper
설치된 화장지 이외의 티슈를 플래시하지 마십시오
请勿将提供的厕纸以外之任何面纸冲进马桶
3.The provided Toilet paper dissolves in water,
Please flush Used Toilet Paper into the toilet
설치된 화장지는 물에 녹는
사용한 화장지(휴지)는 변기에 버리시기 바랍니다.
휴지통에는 버리지 마십시오.
提供的厕纸可溶于水,请将使用过的厕纸冲入马桶,请勿丢弃于垃圾桶中
Only sanitary napkin or non-water soluble tissue paper are disposed in the trash bin.
휴지통은 생리대 만 넣어주세요
垃圾桶只能丢生理用品及其他不溶于水的面纸
--Bicycle Borrow Rules자전거 이용 규칙自行車借用規則 & Portable WiFi Borrow Rules휴대용 WiFi 이용 규칙攜帶式WiFi借用規則:
Please follow the rules given by the host.
Don't be a pain in the ass in our house.
호스트에 의해 주어진 규칙에 따릅니다.
請務必遵守規則
---
Strogi
Otkažete li više od 7 dana prije početka rezervacije, dobit ćete povrat od 50 % iznosa. Otkažete li 7 ili manje dana prije početka rezervacije, nećete dobiti povrat novca.
---
Kartica za hitne slučajeve
---
Minimalni boravak: 1 noćenje
---
Hostel Ginkakuji is a great place, rather clean, though not obsessively so, partly because of the number of people staying there. It is located far from the center but in walking distance of enough temples and beautiful things for you to feel happy! The hosts are very kind and Doris has great tips (thanks again for recommending おめん, it was delicious!). the portable wifi is definitely handy. The okonomiyaki restaurant right in front of the hostel is really good. Overall I was happy to stay there, and would probably return on a future trip. I however cannot recommend staying the dormitory. Cosy is a nice way of saying small, which is okay and expected... except that for me comfy does not invove getting woken up every time the person on the bed above moves. Or being awaken every single morning by snoozing alarm clocks at every possible hour (worst one was 5:30), despite wearing earplugs. Or being woken up in the middle of a July night by the cold because other guests monopolised the air con remote control. It is honestly the first time that I have had so many issues to sleep in a dormitory, and I have been in a quite a few in my 5 months long travel across Japan. I totally understand that it is not due to the hostel itself, which is why my overall mark is high, but it did have a negative impact on my stay, which I sadly cannot describe as great.
---
Get your discount for registering as a new member of airbnb
www.airbnb.jp/c/rhostelginkakuji

Rio's Introduction:
Hi!! Welcome to JAPAN!!
Hi, I live in Kyoto and love to have guests from all over the world in our house!

I have been to China, USA, Australia, Canada, Mexico, Peru, Argentina, Brasil, Paraguay, HongKong, Korea, Macau, Singapore, Philippine, Malaysia, Thailand, Indonesia, Switzerland,

My interests are Hanshin Tigers(baseball team in Japan) and soccer, ski, snowboard, surfing, traveling.

Doris' Introduction:

I'm from Taiwan, I work with Rio since 2016. I'm living in the guesthouse so I like guests who are tidy and clean. Rio and I do all the cleaning, laundry, bed making by ourselves. we are not outsourcing to other suppliers sometimes hair and small dust are unavoidable(If you know how to make it 100% clean, please feel free to tell me). Sometimes some guests complained there are hair on the sheets, I feel sorry because we did cleaning as possible as we can (We use roller tape to pick dust and hair we can see) but sometimes we failed to notice the hair and dust.
You get what you pay for. If you are the person who don't understand what's hostel service and complain always. Please go to hotel or you just stay in a clean room where particle will be less than 1/1000. This is not the place you should come.

我們設施是公用的,這間民宿目前只有我跟我先生兩個人每天早上打掃換床單,洗床單,鋪床,清潔公用區域。來這邊住的各國人士生活習慣不同,只要是有一個人弄髒了之後,後面的人就必須忍受他留下的髒亂,我們每天只打掃一次不可能跟在每個使用者後面打掃。我們想要但沒辦法要求客人都不留下一粒灰塵跟頭髮,因為有些人就是看不懂我們的標示或是根本就不看(如果我們規則寫得不清楚請告訴我們)。我們盡可能打掃乾淨但偶爾還是有漏掉看不到的地方。若您是要求絕對百分之一百乾淨的人,拜託你不要來,你可以去住無塵室。我們客人的評價有好有壞,請不要抱有任何期待。因為你不會知道你會不會剛好跟一個骯髒鬼或是一群腳很臭的客人,或是每次上完廁所屎尿水灑得到處都是或是把用過的衛生紙丟進小垃圾桶塞爆的客人同時入住。我也是人有情緒起伏,不是機器人,看到客人在旅客留言簿上留下好的評價時,我很感動,覺得身為房東真好。看到不讀我們導覽又嫌東嫌西的客人的評價覺得很沮喪,明明我們每天掃屎尿忍受奇怪的體味,做的累的要死還被嫌東嫌西嫌服務不好。我跟先生生活在這裡,工作在這裡。我希望你來這裡不要當你付錢的是皇帝,來住我們這邊是來體驗京都人生活,哲學之道走路三分鐘就可以到的只有這裡才有。那些被寵壞的客人拜託你們去住那些性價比/CP值更高的,有錢的來享受的去住Ritz Carton或是高級旅館,不要來住我們這裡受委屈。因為房東不是你的僕人不會整天幫你擦屁股。我只希望來住的客人可以跟周圍的居民一樣都可以融入京都的一部份,你想要體驗這裡居民的生活住在這裡便有責任維持生活環境的清潔。

我很感激哪些客人來過之後使用廚房客廳廁所浴室乾淨不留一點痕跡。你們真的是很棒的室友。有你們的鼓勵我會更努力打掃讓你們留下好的印象,協助你們來京都玩的愉快順利。
Jezici:
English, 中文, 日本語
Stopa odgovora:
100%
Vrijeme odgovora:
u roku od sat vremena
Sakyō-ku, Kyōto-shi i okolica nude i druge opcije – istražite ih
Još mjesta za smještaj na lokaciji Sakyō-ku, Kyōto-shi: