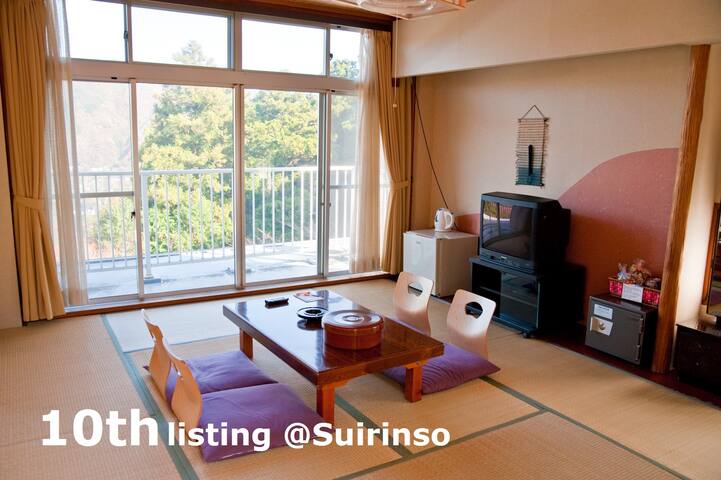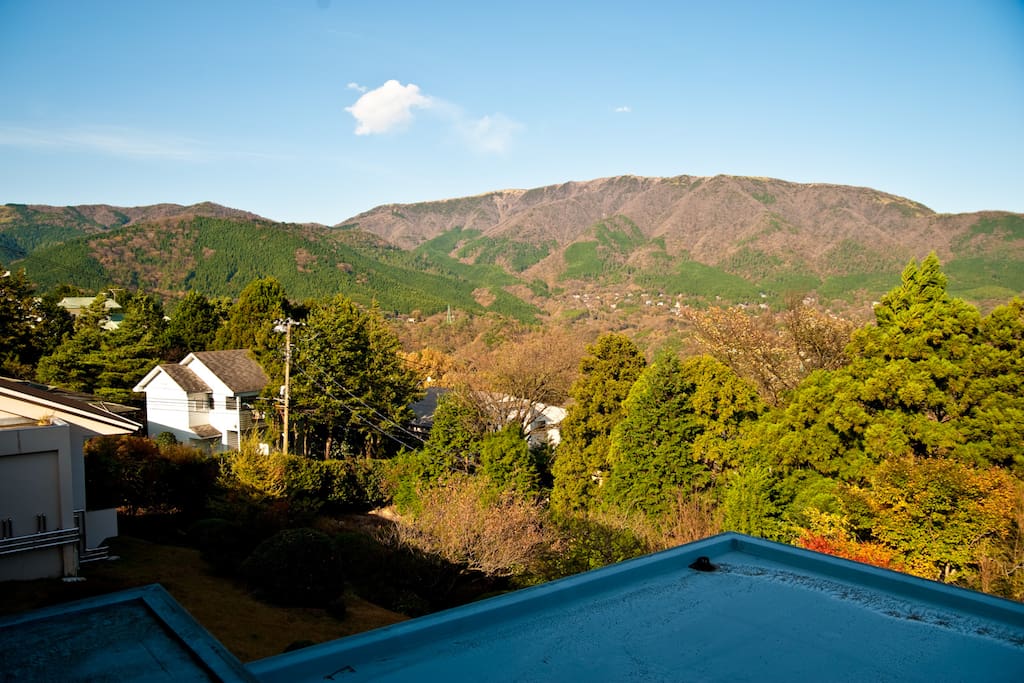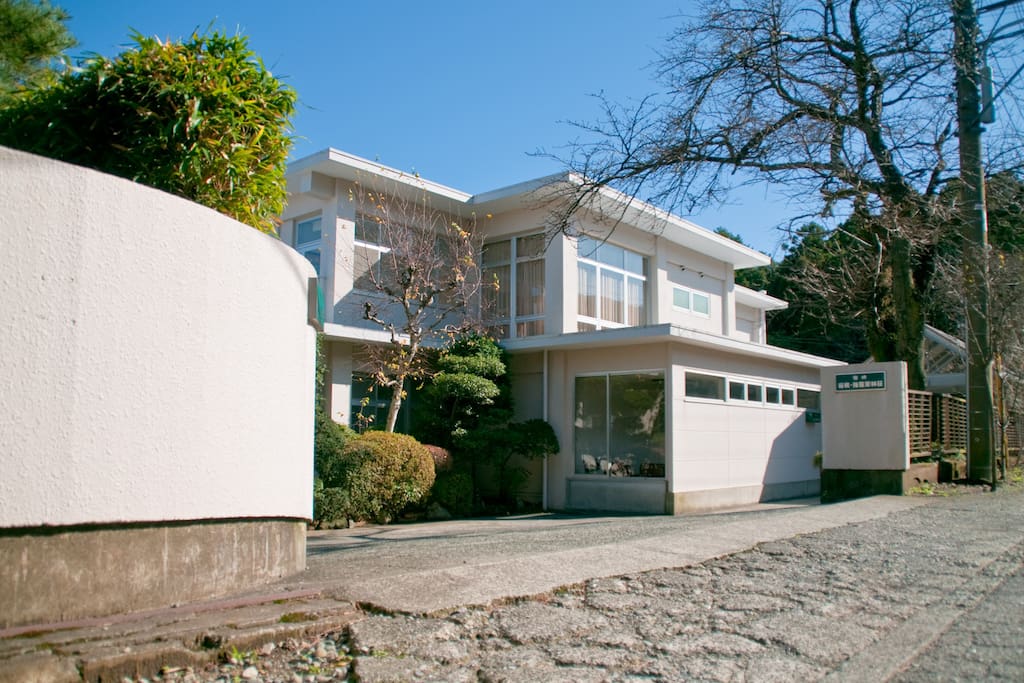 100%PureHotSpring.1minFromSta!S9a
1.Serving100%PureHotspring in ourOnsen.
2.Only 1min walk from nearest station.
3.The room is traditional Japanese style.
4.Information inside is in English.
5.Suirinso (name of the Inn) offer 11rooms in Airbnb. Qualities are totally same to each.
*Your room does not have Air-Conditioner inside. However in winter your room will have a oil/gas heater. Also in summer your room will have a fan.
Prostor
THANK YOU FOR WATCHING!
Thanks to ALL the guests who ever stayed at my listings,
Now I am the MOST REVIEWED HOST among Hakone area, one of the most beloved Hot Spring sites in Japan !!
At the same time, thanks to the support and encouragement from all guests,
Now I'm now running BIGGEST number of listings in Hakone area, among all hosts in Hakone town.
I owe these really to all the Airbnb guests from all over the world.
I and my staff thank you so much and DO swear we'll keep on putting our heart and soul into our service!!
*************
This room is one of the 11rooms offered by Suirinso, one of two accommodations I'm running in Hakone.
Your private room has a big window so that you can fully enjoy the great view of Hakone mountains!
Your private room's floor is by Tatami, the Japanese traditional floor style. Please enjoy them.
Your private room has,
1.Fridge
2.Television
3.DVD Player
4.Safety Box
5.Hot water pot
6.Table
7.Simple Japanese tea set
8.Futon(Japanese bedding system)for each person.
Though your private room doesn't have toilet and shower inside, you can use public toilet in the hallway ( it's perfectly cleaned) and shower in our hotspring.
Size of room ... more than 12m2, depends on the number of the people staying.
---Please Notice---
Suirinso is offering 11 rooms in Airbnb, this is why at the end of the title of this Listing written as "S10". Each rooms have totally same quality. This room you are checking right now is one of the 11 rooms, not better than the other 10 rooms, not worse than the other 10 rooms at the same time. The quality of each rooms are totally same.
Dostupno gostima
1.Robby area ( served free wifi)
2.Terrace ( Great Hakone mountains view you can enjoy!)
3.Hotspring serving pure Hakone Onsen. One Onsen for male, another for female.
The source of our Onsen is at Hakone Ohwakudani,one of the most famous and popular sightseeing spot mountain in Hakone.
From the window beside the bathtub you can also enjoy the great view of Hakone mountains.
In Hot spring room of ours, there are several shower space as well. There we serve Body-soap, shampoo and hair-conditioner for free. Hair dryers are also free to use.
Interakcija s gostima
Whenever you have any problem, you only have to ask us help. We're 200% willing to help you.
[ Please Notice ]
This listing does not include any meals. About meals we recommend,
1. Going out to eat somewhere near to us. Telling the truth, most of our guests do so. We don't force any Curfew so that you can come back whenever you want to.
If you look for somewhere to eat, Gora-Station area is recommended. There are many places to eat, Sushi, Ramen, or else. Takes only 15mins walk from our place.
Also the restaurant around Open-air museum station are nice as well.
Inside of the room in our place, we serve " Restaurants list near to us", so please check them out as well.
2. A few nice Sushi restaurants and 1 Japanese casual restaurant can serve the Meal Delivery Service to our place.
The menu lists are inside of your room, you only have to choose which one to order, then talk to us.
We will give a call to the restaurant to tell them the order from you.
One thing, Please notice that we have to make the order call before 19:00. So please talk to us before 19:00, if you want to order the dinner for the night.
3. You can bring in foods and drinks which you bought outside of our accommodation, of course without any extra charge. Dinner can be solved by the 2 options above, but when it comes to breakfast, we think you'd better buy some food beforehand and bring them into our accommodation. Your private room has a small fridge ( big enough to keep breakfast in!). Also you can use hot water served in your private room and in our lobby area. Also you can use our microwave ( in our lobby area ) to warm your foods up. The nearest convenience store to our place is located 10mins walk from us.
Ostale napomene
We accept Checking-in from 15:00. Before 15:00 you can come by to leave your luggage in our free lockers.
Please come to our accommodation until 20:00. If you are going to be late, please be sure to email us until 17:00 so that we can prepare some info board and the room key left for your arrival.
In our accommodation we take only Japanese Yen by cash. We cannot accept credit card in our place.
Also, we need you to pay "Hakone-town Hot Spring tax"when you check out our place. This is 150 Japanese Yen ( around 1 to 1.5 US dollar ) by each person per one night. Thank you for your understanding.
Below I put the FAQs of my listings. If you have any questions, you may be able to find the answers to them below :)
Also, asap you complete your booking via Airbnb, we'll send you a message which contains,
/URL which links to our FAQs webpage,
/URL which links to our Access Map,
/URL which links to our location at a major internet Map,
/URL which links to the website contains many valuable information about "How to enjoy Hakone to its fullest".

So, if you're an optimistic and easy-going traveler, maybe you can skip the info below :) Actually it's really long...
Now it starts!
1.What is the best way to reach the property from Tokyo?
>( From Tokyo )
Come to Odawara station by superexpress, or come to Yumoto station by another railway.
From Yumoto station, please take Hakone-Tozan-Railway, to Gora station.
From Gora station, please take Cable Car, to Naka-Gora station.
Get off the cable car, at the right side of the train.
Walk straight, then you can find us on the right side of the street. Takes a few mins from Naka-Gora station.
! Be sure you get off the cable car, from the Right side of the train, because the doors on the both side will open.
! The last train from Yumoto to Gora station will be around 22:00 - 23:00. But the last train from Gora to Naka-Gora station is around 19:00. So, if you arrived at Gora-station after 19:00, please take a taxi from Gora station to our place. It takes about 800yen to get to our place.

2.Does each room have Toilet inside? How about shower-room?
>Each rooms doesn't have toilet inside the room. Please use public toilet in the hallway.
No room have shower-room inside. Please use our pubilc Hotsprings' shower-space.
3.Will you set up Futon(Japanese style bed) for us? Or do we do that for ourselves?
>Setting up Futon will be done by selfservice.
There's an instruction in the room, it's easy and fun to try, so please don't be worried about it!
4.Can you keep our luggage before we check-in?
>Our front desk is open from 15:00, so we can keep your luggage from 15:00. Also, before 15:00, you can use free lockers inside of our entrance.
If the free lockers were all full, also you can just leave your luggage in front of our front desk. Our staff would keep them until you come back to check in later. In this case please make sure you bring your valuables with yourself.
5. Do you have bending machines?
>Yes, we have a bending machines for soft-drinks and alcohols.
6.What kind of amenity do you have in the room?
>We have small / big towel, toothbrush, and shaver in each room. Also Yukata(Japanese room wear), slippers and hairdryers are free for rent, served in our lobby area. Hair shampoo,conditioner and body soap are free to use in our public shower-space.
7.What time do you start to serve breakfast?
>Breakfast starts at 8:00.
By the way, meals at our place need to be reserved beforehand.
Meals at our place will be simple Japanese dishes. We're afraid but we cannot serve vegetarian specialized meals.
If you want to have breakfast at our place, please come to our place before 18:00 and talk to my staff there about adding.
Extra charge for meals will be;
One Breakfast : 1,000JPY
These extra charge has be to be payed by JPY cash ( no credit card), at the front desk of our inns.
8.Will breakfast be served in our room? Or in restaurant?
>It will be served in the restaurant. Also we can lend you a plate which you can use to bring your meal to your room by yourself. By using this plate, you can have your meal in your room.
9.Can you call for a taxi when we checkout?
>Sure. Please talk to our staff.
10.Can you serve us dinner/breakfast even if we did't make the reservation for it beforehand?
>Dinner we can't. Breakfast is available if you could come before 18:00 and talk to my staff there about adding.
However, a few restaurants around our place can serve you Meal Delivery Service. The menu is set up in your room( English), 2 Sushi restaurants and 1 casual Japanese style restaurant can bring their meal to your room directly. Please be sure you have to make order until 19:00.
Also we have several restaurants around us. We have the lists of restaurants around us, the list is set up in your room as well.
11.We have food allergy,can you serve us special menu for us?( Also about vegetarian menu)
>We wish we could, but we can't.
12.Can you come to pick us up at the station? Can you give us a ride from your hotel to the station?
>Sorry, but we can't. However, it takes only a minute from our nearest station to our place, also even if you take taxi from Gora station, it takes only about 800yen.
13.Can we bring in some food / beverage which we bought outside of your place?
>No problem.
14. Is there any convenience store around your place?
>It's about 10min walk from our place to the nearest convenience store.
15. How can we make sure that our reservation is confirmed?
>If you're worried, please send us a message via Airbnb.
We can check your reservation information and reply asap.
16.Until what time do we have to check in?
>Please check in before 20:00. You can go out to eat/drink whenever you want, after you check in.
17.From what time can we check in?
>We accept check-in from 15:00.
18.Until what time do we have to check-out ?
>Until 10:00 in the morning,please.
19.I'm pregnant. Is there any medical problem if I try the Onsen in your place? Also, can infant try your Onsen?
>Actually, our Onsen (hotspring) is 100 percent pure, at the same time it means it's strong. Please ask for medical opinion to your doctor before you try our Onsen when you are pregnant, for your coming baby. Same thing can be said about infant's try to our onsen.
20.Can we use credit card in your place?
>Sorry, but we take only Japanese Yen by Cash. However, actually, the room fee payment will be done when you complete booking via Airbnb. So, the only extra charge we need you to pay at our front desk is Hot Spring Tax, 150JPY/person/night.
21.Tell us about your Cancel policy.
>Our cancel policies are below;
From 7days before you stay; 30 percent.
From 3days before you stay; 50 percent.
From 1day before you stay; 100 percent.
22.Can the staff in the hotel speak in English?
>Staffs in our hotel will try their best to help you in English, but their English might be far from perfect.
If you need a help in good English, please talk to the staff there, then the staff can give a call to me. I'm available for 24hrs, for free!
23. Do you have curfew?
>No. The only curfew you have to keep is what your parents said.
24. Can we sleep in a bed? Or do you only have Futon?
>Sorry but we don't have beds in our accommodation. Please try Japanese bedding, Futon.
25. Is there any Luggage Transfer Service?
>Inside Hakone, you can use "Hakone Carry Service". You can leave your luggage at Hakone Yumoto station, then the carrier will send them to our inn. Also when you check out, you can leave your luggage in our place, then the carrier will send them to Hakone Yumoto Station.
Also, if you want to send your luggage out of Hakone, for example to Osaka, it is possible as well. You only have to talk to our staff, then they shall arrange.
However, if you want to send your luggage abroad from our inn, we have to say that is difficult.
26. How can we get to Mt.Fuji from the inn?
>From Naka-Gora station(the nearest station to our inn), please go down to Gora station by a cable car. Then, from Gora station, take a bus to Gotenba station. From Gotenba station, you can grab another bus to Mt.Fuji.
27. Do we need to pay any extra charge in the accommodation?
>The only one extra charge we need you to pay in the accommodation is, Hakone town Hotsprings Tax. This is 150JPY/person/night.
28. Is tattoo OK in your hotspring?
>When you try public Hotsprings in our place, we would be very happy if you just take note of that, most Japanese people (especially children) are not really used to see tattoos. Children will be happier if you smile at them friendly, so that they can see that tattoo is not something to be afraid of.
29.After check out, is it possible to keep our luggage at the reception?
>No problem. Just please talk to our staff.
30. How can we go to Gotenba Outlet?
>From Naka-Gora station(the nearest station to our inn), please go down to Gora station by a cable car. Then, from Gora station, take a bus to Gotenba station. From Gotenba station, you can grab another bus to the outlet.
31. How can we go to Fuji Q Highland?
>From Naka-Gora station(the nearest station to our inn), please go down to Gora station by a cable car. Then, from Gora station, take a bus to Gotenba station. From Gotenba station, you can grab another bus to there.
---
Vrsta prostora: Privatna soba
---
---
Dodatni gosti $23 / noćenje nakon prvog gosta
Vikend cijena $202 / noćenje
Komunicirajte samo putem Airbnba
Kako biste zaštitili svoje plaćanje, nikad nemojte vršiti novčane transakcije ni komunicirati izvan Airbnbove stranice ili aplikacije.
Saznaj više
---
Nije prikladno za kućne ljubimce
Zabave i događaji zabranjeni
Vrijeme dolaska je od 15:00 do 20:00.
We're sorry but you cannot bring your pet into our accommodation.
There are many other guests staying our accommodation. Please be sure not to be noisy especially in the night time.
---
---
Minimalni boravak: 1 noćenje
---
This hotel (riokan) has the most amazing view of the mountain, is family friendly but please take under consideration that the baths are traditionally Japanese, so you'll have to sit and shower with other people around sitting in a little bench so you'll ha e to let go of your inhibitions here. The showers and spring waters are separated in men and women and I may say that even though accesible they are not the prettiest picture in the place I would say that a renovation to those areas would be a great investment. There's NO CREDIT CARD acceptance in any of the services offered here so please carry cash, and also no stores near by, the nearest is to go to a hotel or Gora for supplies, though they do serve a delicious breakfast that you can arrange a night before and trust me you won't regret it, there are also bending machines and iced popsicles available 24/7. Masa our host was extremely nice and helpful.
---
THANK YOU FOR WATCHING!

Thanks to ALL the guests who ever stayed at my listings,
Now I am the MOST REVIEWED HOST among Hakone area, one of the most beloved Hot Spring sites in Japan !!

At the same time, thanks to the support and encouragement from all guests,
Now I'm now running BIGGEST number of listings in Hakone area, among all hosts in Hakone town.

I owe these really to all the Airbnb guests from all over the world.
I and my staff thank you so much and DO swear we'll keep on putting our heart and soul into our service!!

*******
About the volcanic activity in Owakudani, Hakone,
actually the only one thing you have to take note of is,
you cannot get close to Owakudani area because the volcanic activity around Owakudani is in high these days.
Hakone Rope-way is out of service these days because the rope-way has to go above the Owakudani.
Whole the other area of Hakone is safe as usual. People there are living their usual life (Actually volcanic activity itself is kind of "usual thing" to Hakone people)
There's no problem to come to Hakone, including Gora area, including my accommodations, nothing to be worried.
If you're still feeling little bit nervous about this, please just send me a message, then I can send you more info (website article) about Owakudani volcanic activity in English.
Thank you.
*******

Hi there, thank you so much for watching my listings and profile.
I am running 2 small inns below, in Gora, Hakone.

1. Suirinso
Takes only 1 minute walk from Naka-Gora cable car station.
Really small inn which is serving 100% pure Onsen for guests. Has 2 Onsen
inside, each for male and female. Both of the Onsen are available for 24hrs during your stay.
Has a public terrace where you can enjoy the great Hakone-Mountains
view to its fullest, also at the night time, beautiful stars in the sky.

Listing names of Suirinso are;
100%PureHotSpring.1minFromSta! S1
100%PureHotSpring.1minFromSta! S2
100%PureHotSpring.1minFromSta! S3
100%PureHotSpring.1minFromSta! S4
100%PureHotSpring.1minFromSta! S5
100%PureHotSpring.1minFromSta! S6
100%PureHotSpring.1minFromSta! S7
100%PureHotSpring.1minFromSta! S8
100%PureHotSpring.1minFromSta! S9
100%PureHotSpring.1minFromSta! S10
100%PureHotSpring.1minFromSta! S11


2. Kanon
Standing next to Suirinso.
Same as Suirinso does, Kanon also serves 100% pure Hakone Onsen. Furthermore,
in Kanon you can enjoy the Onsen as "Private Onsen", not as a "Public
Onsen". Also, if you're staying in Kanon, you can also enjoy the public
( male/female separated ) Onsen in Suirinso as well, with no extra
charge. You only have to walk a minute in the garden between 2 inns, to get to Suirinso from Kanon.

Listing names of Kanon are;
PrivateOnsenWith100%PureWater K1
PrivateOnsenWith100%PureWater K2
PrivateOnsenWith100%PureWater K3
PrivateOnsenWith100%PureWater K4
PrivateOnsenWith100%PureWater K5
PrivateOnsenWith100%PureWater K6
PrivateOnsenWith100%PureWater K7
PrivateOnsenWith100%PureWater K8
PrivateOnsenWith100%PureWater K9

Both of the inns are, to be honest, far from something to be called as
"Elegant". Actually buildings itself are old and small, also most of the
customer-service inside the inns ( for example, set the Japanese bedding
"Futon" ) will be done by your own self-service. No fancy restaurants ( though
some of the restaurants around can serve you "Meal delivery service", also you
can easily find good restaurants around Gora station, where is
10minutes walk from each inns) around.
However,at the same time,I do promise you can fully enjoy the great natural Onsen to its
fullest, the peaceful time you spend in your room ( every rooms are in
Japanese style, with Tatami floor ), beautiful view of Hakone
mountains, sounds of birds singing, every quiet moments in Gora, one of the
most beloved,traditional sites in Hakone Onsen.
Also, as written above, it takes only a few minutes walk from Naka-Gora Cable car station to get to our inns. This means that we can serve you perfect base camp for your Hakone-All-around trip.

I unfortunately have not so many chances to meet you directly in my inns due to my business around, but
there're my staff working at,living in and loving the inns. I trust
them a lot because they will definitely do whatever they can to help
you out of any problems you have. Though they are not ( also same here!
) perfect in their English, they're more than 200% willing to support
you.
Also, if you really need to contact with me ( this would be my pleasure!) , you only have to get
connected to the Free Wifi in the inns ( served in the public area of each inns) to send me a message via
Airbnb, or whatever, also, just please talk to my staff. All of my staff has a phone which
they can directly give a call to me, so I can help you via the phone.

Please take my inns as your tiny second house in Japan,Hakone. Please take them as like your old but truly lovely sweet home in your long-missed hometown.
Let me say this again, please be sure that, I and my staff are always more than 200% willing to help you and welcome you.

Thank you.

ข้อมูลล่าสุดเกี่ยวกับการท่องเที่ยวในเขตโอวาคุดานิ เมืองฮาโกเน่

โปรดทราบว่าคุณไม่สามารถเข้าใกล้เขตโอวาคุดานิได้ เพราะภูเขาไฟในบริเวณดังกล่าวยังคงมีการปะทุอยู่ในปัจจุบัน
ในขณะนี้กระเช้าไฟฟ้าฮาโกเน่ก็งดให้บริการเช่นกัน เนื่องจากเส้นทางของกระเช้าดังกล่าวพาดผ่านเขตโอวาคุดานิ
ส่วนเขตอื่นๆในฮาโกเน่นั้นยังคงปลอดภัยไร้กังวล ผู้คนยังดำเนินชีวิตตามปกติ (ซึ่งที่จริงแล้วการปะทุของภูเขาไฟก็นับเป็นหนึ่งในเหตุการณ์ปกติของชาวฮาโกเน่เช่นกัน)
เพราะฉะนั้นสบายใจได้หากคุณต้องการเดินทางมายังฮาโกเน่ เขตโกระ รวมถึงที่พักของผม
แต่หากคุณยังกังวลใจเกี่ยวกับเรื่องนี้อยู่ โปรดส่งข้อความมาหาผม แล้วผมจะส่งข้อมูลเพิ่มเติม(บทความในเว็บไซต์)เกี่ยวกับการการปะทุของภูเขาไฟในเขตโอวาคุดานิเป็นภาษาอังกฤษกลับไปให้คุณนะครับ
ขอบคุณครับ
---


สวัสดีครับ! ขอบคุณมากที่เข้ามาเยี่ยมชมหน้าโปรไฟล์ของผม
ตอนนี้ผมมีโรงแรม 2 แห่งในเขตโกระ เมืองฮาโกเน่ ตามนี้เลยครับ

1. ซุยรินโสะ
คุณสามารถเดินจากสถานีเคเบิลคาร์นากะ-โกระโดยใช้เวลาเพียงหนึ่งนาทีเท่านั้น
โรงแรมขนาดอบอุ่นแห่งนี้มีออนเซ็นบริสุทธิ์100%ถึง 2 บ่อพร้อมให้บริการผู้เข้าพักทุกท่านโดยแยกเป็นบ่อสำหรับคุณผู้ชายและคุณผู้หญิง ออนเซ็นทั้งสองบ่อนั้นเปิดให้บริการตลอด 24 ชั่วโมงตลอดเวลาที่คุณเข้าพัก
เรายังมีระเบียงตากอากาศที่คุณสามารถชมวิวทิวทัศน์ของเทือกเขาฮาโกเน่ได้อย่างเต็มตา และชื่นชมความงดงามของดวงดาวระยิบระยับได้ในยามค่ำคืน

รายชื่อที่พักที่ซุยรินโสะ มีดังนี้
100%PureHotSpring.1minFromSta! S1/5
100%PureHotSpring.1minFromSta! S2/5
100%PureHotSpring.1minFromSta! S3/5
100%PureHotSpring.1minFromSta! S4/5
100%PureHotSpring.1minFromSta! S5/5

2. คานง
ที่พักแห่งนี้ตั้งอยู่ติดกับซุยรินโสะและให้บริการออนเซ็นบริสุทธิ์100%เช่นเดียวกัน นอกจากนั้นที่คานงคุณสามารถเพลิดเพลินไปกับออนเซ็นส่วนตัวที่ต่างไปจากบริการออนเซ็นรวมทั่วไปอีกด้วย แต่หากคุณต้องการสัมผัสบรรยากาสของออนเซ็นรวมคุณก็สามารถไปใช้บริการได้ที่ซุยรินโสะโดยไม่มีค่าใช้จ่ายเพิ่มเติม เพียงแค่เดินผ่านสวนหย่อมที่เชื่อมระหว่างที่พักสองแห่งไปเท่านั้น

รายชื่อที่พักของคานง มีดังนี้
PrivateOnsenWith100%PureWater K1/5
PrivateOnsenWith100%PureWater K2/5
PrivateOnsenWith100%PureWater K3/5
PrivateOnsenWith100%PureWater K4/5
PrivateOnsenWith100%PureWater K5/5

ผมขอบอกตามตรงว่าที่พักทั้งสองแห่งนี้อาจจะดูไม่หรูหรา ตัวตึกค่อนข้างเก่าและไม่กว้างขวางเท่าใดนัก และแขกผู้เข้าพักต้องเป็นผู้จัดการบริการต่างๆด้วยตัวเอง (อาทิ การปูฟูกสำหรับที่นอน) ร้านอาหารในละแวกนี้อาจไม่ใช่ภัตตาคารชั้นเลิศ (แต่มีบริการจัดส่งถึงที่นะครับ และคุณยังสามารถเดินประมาณ 10 นาทีไปยังบริเวณใกล้สถานีโกระเพื่อลิ้มรสอาหารที่หลากหลายในละแวกนั้นได้ด้วย)
แต่อย่างไรก็ตามผมรับรองว่าคุณจะได้สัมผัสกับประสบการณ์สุดพิเศษจากออนเซ็นธรรมชาติ, บรรยากาศอันแสนสงบยามพักผ่อนในห้องพัก (ทุกห้องมีฟูกและปูพื้นด้วยเสื่อตาตามิแบบญี่ปุ่น), ทิวทัศน์งดงามของเทือกเขาฮาโกเน่ และเสียงนกร้องจุ๊บจิ๊บตลอดเวลาที่พักอยู่ในโกระ ซึ่งเป็นหนึ่งในสถานที่อันเป็นเอกลักษณ์ของออนเซ็นแห่งเมืองฮาโกเน่
และอย่างที่ผมบอกไปก่อนหน้า ที่พักทั้งสองแห่งยังอยู่ห่างจากสถานีเคเบิลคาร์นากะ-โกระเพียงแค่ไม่กี่นาที ซึ่งหมายความว่าเราสามารถเป็นที่พักสำหรับทริปฮาโกเน่ของคุณได้อย่างเหมาะเจาะ

น่าเสียดายที่ผมอาจไม่ค่อยมีโอกาสได้ต้อนรับคุณแบบตัวต่อตัวเนื่องจากธุรกิจที่ติดพัน แต่ผมมีพนักงานที่รักที่พักของเราอย่างสุดหัวใจทำงานและอาศัยอยู่ที่นั่น ผมเชื่อมั่นว่าพวกเขาจะช่วยเหลือคุณเต็มที่หากคุณประสบปัญหาใดๆก็ตาม ถึงแม้ว่าพวกเขาจะไม่ค่อยสันทัดภาษาอังกฤษเท่าไหร่ แต่พวกเขาก็เต็มใจสุดๆที่จะได้ดูแลพวกคุณนะครับ

อย่างไรก็ตาม หากคุณต้องการติดต่อผม(ซึ่งผมจะดีใจมาก!) คุณเพียงแค่ต่อไวไฟในที่พัก(ให้บริการในพื้นที่ส่วนรวมของที่พักแต่ละแห่ง)แล้วส่งข้อความผ่านทางAirbnb, หรือเพียงแค่บอกพนักงานเพื่อขอติดต่อกับผมโดยตรงทางโทรศัพท์

โปรดคิดว่าที่พักของผมเป็นเสมือนบ้านหลังที่สองของคุณในเมืองฮาโกเน่ ประเทศญี่ปุ่นก็แล้วกัน คิดว่ามันเป็นเหมือนบ้านหลังเก่าแก่แต่น่ารักและอบอุ่นแถวบ้านเกิดของคุณเองนะครับ
ผมขอยืนยันอีกครั้งว่าผมและพนักงานทุกคนยินดีเป็นอย่างยิ่งที่จะช่วยเหลือและต้อนรับคุณ

ขอบคุณครับ


Jezici:
English, 日本語
Stopa odgovora:
69%
Vrijeme odgovora:
u roku od sat vremena
Hakone-machi i okolica nude i druge opcije – istražite ih
Još mjesta za smještaj na lokaciji Hakone-machi: