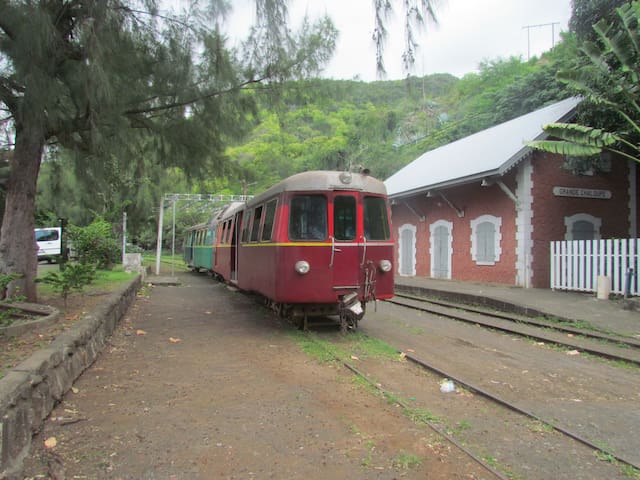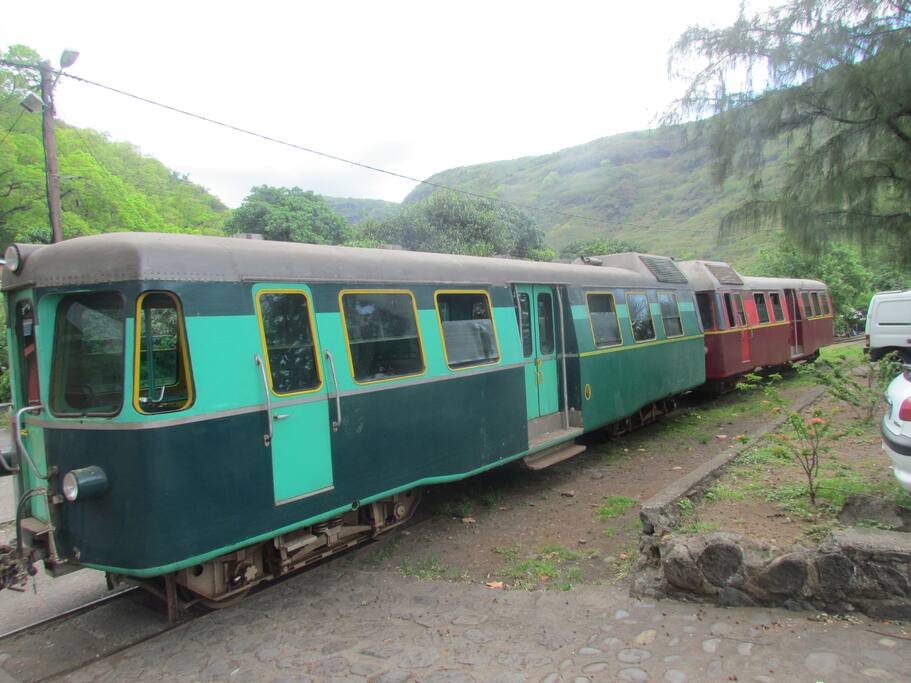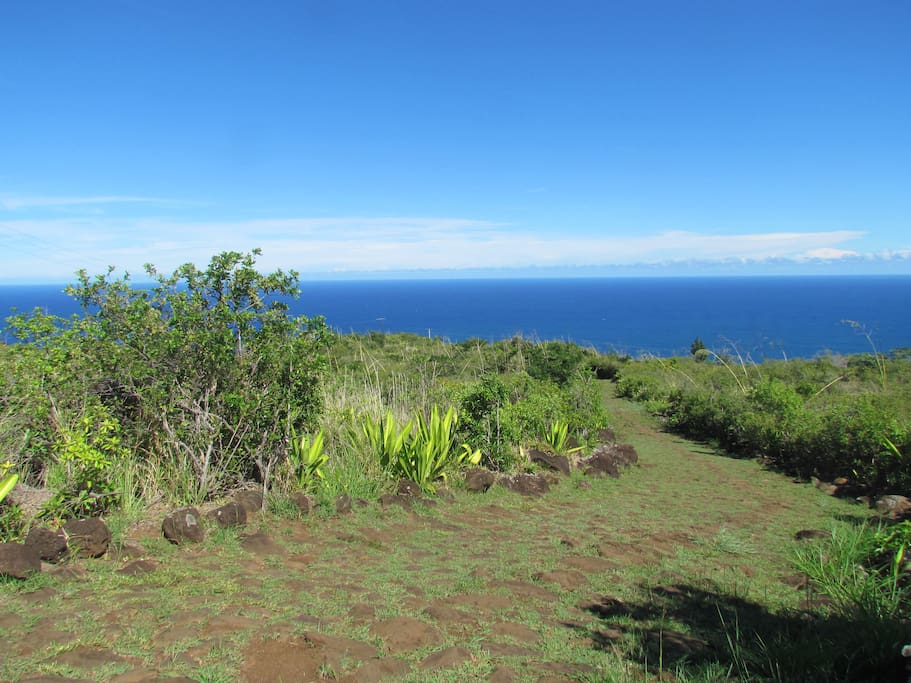 In a dry forest with a sea view. There is a flat space available for tents. There are also tents with mosquito nets. One is avalable to guests. No fridge, but we have a fire place, gas stove, solar panel & water. Bus routes 03 & 04. Airport transfer possible.
Prostor
We are at Grande Chaloupe, a village half way between Saint Denis and La Possession on the motorway N1. If you take the bus it is the Grande Chaloupe bus stop on Car Jaune routes O3 & O4. The postal address does not correspond exactly to the location so I will meet you at the Train Station in Grande Chaloupe (see photos).
Interakcija s gostima
I can pick you up at the airport if you give me a few days notice and pay the petrol/gas.
---
Tip kreveta: Pravi krevet
Ima kućnog ljubimca: Mačka/mačke and ostali kućni ljubimci
Vrsta prostora: Privatna soba
---
Besplatan parking u sklopu smještaja
---
Dodatni gosti: Nema naknade
Komunicirajte samo putem Airbnba
Kako biste zaštitili svoje plaćanje, nikad nemojte vršiti novčane transakcije ni komunicirati izvan Airbnbove stranice ili aplikacije.
Saznaj više
---
I do not have access to the internet on a daily basis. If you make a reservation for atleast one night, airbnb will give you my telephone and we can exchange text messages.
---
Fleksibilni
Otkažete li više od 24 sata prije početka rezervacije, dobit ćete potpuni povrat novca. Otkažete li manje od 24 sata prije početka rezervacije, nećete dobiti povrat novca za prvo noćenje u okviru rezervacije.
---
Minimalni boravak: 1 noćenje
---
Lieu atypique, pour les amoureux de la nature et à la recherche d'un mode de vie unique et à part. L'hôte est très accueillant et généreux. Lieu de convivialité et de partage. Le seul inconvénient pas d'arrivée d'eau directe, prévoir plusieurs litres d'eau pour la boisson et la douche. Proche de la randonnée du chemin des anglais la grande chaloupe avec une super vue sur l'océan indien.
---
Eugene is one of the kindest and most interesting people I've ever met. He's been very helpful and his space is certainly unique, just steps away from a scenic hiking trail "chemin des anglais" which you could take either to Saint-Denis or La Possession, used by the British to conquer the island in 1810. The tent spot is sweet, though there can be a lot of mosquitoes in the rainy season, which was when I went (just my luck) at the end of February. Also super duper close to public transport, the bus is just 150 meters away down the hill from where the camping spot is at.
---
Eugene nous a accueilli très chaleureusement au point de rendez-vous, à l'ancienne gare situé en bas de chez lui. La localisation est malheureusement gachée par les travaux de la route du litorale mais qui ne sont pas visible depuis sa forêt vierge ;-) Il faut, pour atteindre son lieu de vie, monté seulement 5 min. Eugene habite dans la forêt, qu'il a aménagé à sa convenance. Il est peut-être un peu surprenant au début de voir les lieux, mais son accueil est tellement sincère qu'on ne peut que se sentir à l'aise. Gardez malgré tout en tête qu'il s'agit d'un campement personnel plutôt qu'un camping. Les commodités sont basiques mais pour une immersion totale avec la population créoles, c'est vraiment très intéressant (les amis d'Eugene passe par là de temps en temps pour discuter de tout et de rien)
---
Eugene is a very nice and interesting host. I really enjoyed his company. The place is made for adventurous, nature lovers, that enjoy an alternative lifestyle. I stayed for 2 nights and enjoyed it. Also you can easily start a hike on the Chemin des Anglais from this place and Eugene speaks fluent english and french.
---
Je vous invite pour le repas le premiere nuit, quand c'est possible. J'arrive pas à faire 1 profil en français, désolé.

The first night I usually cook up a barbeque or do a vegitarian meal.

First, let me say that my camp in this tropical dry forest is not where airbnb says it is. The Maps location is Le Lazaret and near NRL - Grande Chaloupe. I am also a photographer for Maps and can tell you they are also wrong about place names. A problem I can't fix. Anyway, airbnb will give you my telephone number (please send an sms texto). If there is a problem finding the place we can sms, texto, or phone each other.

I am a writer. My travel guide "Reunion Island Travel Guide" is available on the internet from the big website named after a river in brazil ... I was a rock'n'roll, blues, jazz, ballet roady - truck driver. Now I love to read or write. I drink scotch whisky. I am always trying to stop smoking but at this writing I am still smoking. If you please bring duty free cigerettes, I will refund the purchase price of the cheapest duty free cigarettes. For a bottle of duty free whisky, I will pick you up at the airport with the association Tchatchez anglais Twingo (5 passenger). I have lived in the village of Grande Chaloupe for 14 years. I have travelled to 40 countries. I have another travel guide called "Free as the dolphins travel" (Voyager gratuitement... ou presque) also available from the website named after the river in brazil. I explain hitching by air, sea and roads, etc (pen name: penguino rouge)
The following is a blog story or profile written about me by Melanie BLONDIN is her take on your host.

I met Eugene the first day of my second trip to Reunion Isand. Actually, he was like a gift from the sky as he was the only one to reply positively to my couchsurfing request. For the ones not familiar with couchsurfing, it is a website on which you can request to people to accomodate you for one or a few nights. Usually, you help in exchange or do stuff such as buying food, cooking, etc.
I left Mauritius in emergency mode as I found out a little bit late that my VISA was expired. I had a lot of other things on my mind such as trying to save my mariage for example ! But I just forgot about myself.
To sum-up, I woke up in Mauritius but I ended my day on Reunion Island ! I did not have anywhere to go and Eugene told me to come to his place.
I was not expecting anything. He accepted hosting me, that was the most important. But when I arrived to his place, I found something different. Eugene is a squatter and this is his story…
Eugene arrived 13 years ago on Reunion Island and he has been a squatter for 12 years now. Actually, he is staying on the concrete floor of a previous bar (active in the 1950's). Everybody knows Eugene and he participates actively in the social and political life in the near by city of La Possession, on Reunion Island. He is not disturbing anyone. He settled on this piece of land close to the busy and noisy highway, that no one is really interested in it.

The squat is pretty well organised and very clean. With years, Eugene has developped the place to adapt the squat to his minimum daily needs. A big tent with two big mosquito net compartments for the sleeping area, a big space in front for the living room/kitchen, another tent for the storage (clothes, water,…). I was really impressed about his collection of shirts. « Yes, I love all my shirts », he told me that day.

He has a special area for the toilet but there are also public toilets down, at the old train station in the village. Yes, his squat is up on a hill. Not too high up, but just high enough to be intimate and private. For drinking water and showers, rain water or city water from the pipe that is delivered early morning and early night. It is always hot on Reunion Island, so forget about having a hot shower !

Eugene has to be careful with expenses. He's got money from the books he sells but it is not much. Even if he doesn't have to pay a rent, he still has to put petrol in his car, buy food for himself, for his chickens and his 10 cats. Actually, he has been given the use of a car by the association « Tchatchez Anglais » as he has been volunteering with them.
Even if it is a lifestyle that I do respect totally, and that I find simple and sweet, I kind of asked to myself « how this Canadian guy ended living this way of life on a French speaking Island ».
With his big black glasses, his high coloured shirt and the way he talks, Eugene has something fascinating. You can totally imagine him on Woody Allen's seat, behind the Camera. He knows a lot of things, about different topics and has a lot of to tell. But Eugene doesn't smile often and he told me that it was hard for people to get pictures of him smiling. I did not try to make him smile. I want to present the man as he is. Because even if Eugene is a kind man and that I absolutely love his character, I could feel in this man some kind of sadness. Certainly not because of his lifestyle, everything looks pretty cool here at his squat. But certainly because of his past.
Eugene is from Victoria, in Canada. He describes himself as a Nomad. He has travelled a lot when he was a youngster, trying to find jobs on the way to keep travelling. He did a lot of travelling in Europe and North Africa. He worked a lot as a truck driver in the UK as it was good money for going travelling after.

We are in 1987. One day, he sees an advertisement for a boat delivery from Port Navalo in Britany (France) to Canada. Running out of money, it is his chance to go back to the other side of the world for free. When he arrives to the specified place to jump on the boat, it isn't there anymore. No choice, he has to find a place to stay for a good deal. He meets the owners of a coffee shop in the near by Port of Miramar and asks them for shelter. There is another side of the building used as a storage area. The owners accept him to « squat » in the storage part temporarily.
He meets their daughter Isabelle and fells in love with her. « She was gorgeous », he tells me. He stays there for a few months then starts looking for jobs. First, he finds something as a stage hand at a Canadian Festival in St Malo. « Do you know why St Malo ? », he asks me, « Because it is the port from where the first French left to go and settle accross the Atlantic Ocean in what would become Quebec ». He has to work 3 days there, helping to prepare the stage before the performance of the artists. He is everywhere, helping with lights, sounds, installation… He just loves the job and decides after the 3 days to go to Paris where there were more opportunities in that field.
He then works with big names like Daniel Lavoix, the Rita Matsuko, Dire Straights, the Rolling Stones. As a stage hand he works in famous places
like the Olympia and the Paris Opera while he has the chance to get a few interviews with the stars for a future radio project. He works as well to prepare stages for Political Rallies and « ballets ». The life is great and he enjoys this time. Isabelle is coming to visit him for one or two weeks from time to time but she always goes back to Britany afterwards.
In November 1988, Eugene has an opportunity in Canada. Working for a student radio network to develop his own program. Isabelle is keen on joining him. But she only speaks French. Eugene speaks both and suggests for her to consider a job where they can settle down in Montreal. He will work with a friend, Gordon Mesley, who asks him to help him with a radio program. Together they develop and start « Music Biz Report ». Eugene can use interviews that he recorded previously in Paris while working as a stage hand. They also record a popular outdoor nature programme for the Canadian Broadcasting Corporation (CBC) and Eugene enjoys himself, recording wild sounds that they would include in the CBC radio program to cover up when Gordon is coughing.
Isabelle is mainly working in restaurants. After one year, they have to find a solution for Isabelle to stay longer in Canada. They think of getting married. They get married but it is not enough, Isabelle is not allowed to stay any longer with a one year working VISA.
Around that time, Isabelle found out that she is pregnant and tells Eugene that she will go for an abortion. Eugene doesn't know what to say except « I don't mind » he says. Finally, she decides to keep the baby. Eugene has to give up the Radio program and goes back to Britany with his family.
He would have loved carrying on with radio and the music business but in Britany, there is not a lot happening. Instead, he starts working as an English Teacher. Early 1990, he founds a really interesting job with Angers Television. Teaching English during the week, he dedicates his weekends to create a 10 min report broadcasted on Angers TV. He has a lot of fun doing that because he is totally free, researching topics and going into the field to record with his cameraman.

They have their Baby girl. But in August 1990, bad news. No more money, the Angers TV channel decides to suppress the program.
Eugene comes back to Britany for a while and finds out that Isabelle is attracted to a local boy working at the Bank. He has doubts about an affair between the two of them.
2 years later, Eugene finds out that Isabelle had a love affair with a guy when she went to the Canaries Island and it drives him crazy. Their baby girl
is 2 years old and they have never visited Eugene's mum. He decides to go with his daughter and visit his mum.
When they return, Isabelle declares that she has filed the form to disolve the marriage, what the French call « séparation de corps ». Eugene says « ok ».
However, they will try again together for 1 year but Isabelle is still seeing other men.
He decides to go and live in Rennes where he will teach English. He stays in France so he can keep in touch with his daughter. But Eugene is a Nomad, remember ? He keeps travelling and working in Canada, the UK, etc.
In 1994, he even becomes famous in Montreal with a Canadian TV variety show called « l'enfer c'est nous » where he is a music critic. The show attracts half a million viewers a day and he gets to introduce and discover groups like Jean Leloup and Therese Montcalm that later went on to become famous. He does even bigger broadcasts on tv5 and RFI.
When he comes back to France, it is to see his daughter. But Isabelle, her new partner André and her parents make it difficult for him to spend time with his daughter. They always manage to allow him to see her only a few hours a day. And they never allow him to be alone with her. And she is not allowed to come and visit him in Rennes.
In 1995, Eugene is in Paris in the metro. The one just after him explodes. A terrorist Bombing. Eugene is scared and starts thinking about leaving France. And he's had enough with the situation with his daughter. He stays for her but doesn't see her. He told her about his desire to leave, she is still young. She says « Yes, you can go. I don't mind, it won't make any difference for me ».
Eugene leaves France in 2002, spends few months working as a professional car driver. He is driving all kind of cars for an insurance company that delivers temporary cars to their clients who have had an accident with their own car. He is even driving Jaguars sometimes.
He arrives on Reunion Island on the 17th of March. Why Reunion Island ? He wants a place in Tropics where he can work. He has a British passeport as well, so it is possible here. And the Caribbean is too close to the US so he is afraid of too much American influence. Reunion Island in the Indian Ocean sounds great. His mum used to tell him a story about his great, great, great, (8 generations removed) grandfather in working there in a bank. And he read a book by a sailor named Joshua Slocum who gave an idealic description of this part of the world after a trip in 1897.
He has a little bit of money left. It is not much but the pound is strong so he can still survive a little bit of time. First he goes to hotels and try to get a deal : free accommodation in exchange for working at the front desk. He faces problem to keep his first job : they don't like the way he dresses. « Cultural shock », Eugene says, « they wanted me to wear trousers, I did not have any. They did not want to pay for them and I did not want to spend money on them ».
In 2004, Eugene hear about a place in the forest with concrete floor. He goes for a visit and decides to make this place his new home. In the begining, he will be actively involved in teaching English to make money on Reunion Island. He is also part of an association called « Tchatchez Anglais » and will organise and lead English conversations in Bars & Restaurant with people earger to learn or speak English.
In 2008, he starts writing a book and that takes almost all his time. He is not teaching English any more.
Some months are hard because money is tight. And some people say life is getting even more expensive with Euros.
Today, he is getting most of his money from Canada, where his radio programs are still broadcast, and the United States, where his books are published. He's got money from his books as well but it is not a fortune yet.
He is writing another book currently.
Eugene is a kind man and even if he seems sad sometimes, he is happy in his life. He has dedicated his life to help and make people around him be happy. This man gave me a life lesson and more should attend to it ! But I think I helped this man as well to realise what he did and how great he still is.
Books written by Eugene :
Guides :
* Free as the dolphins travel
* Voyager gratuitement… ou presque
* Reunion Island my Love
* Reunion Island Travel
Novel :
* Maritime Paradise Killing Cover Up
Jezici:
English, Français
Stopa odgovora:
100%
Vrijeme odgovora:
u roku od sat vremena
Točne podatke o lokaciji gosti dobivaju nakon potvrde rezervacije.
La Possession i okolica nude i druge opcije – istražite ih
Još mjesta za smještaj na lokaciji La Possession: