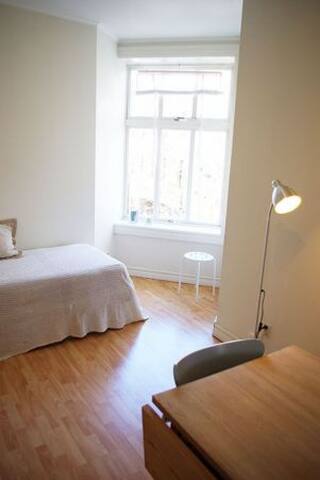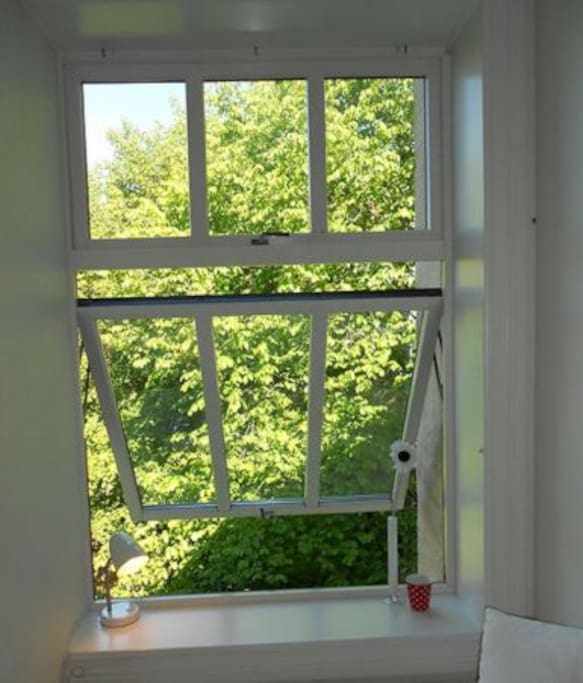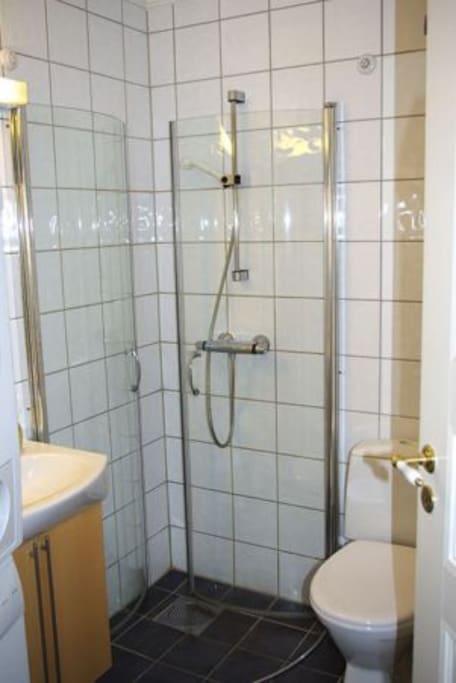 Central, light, 20sqm, 1-4pers,wifi
20 sqm room inside apartm., Central Oslo ("Old Oslo", Tøyen). Within 5 min walk: Cafees, cheap rest., daily shop, pubs etc. Multicult. area. 5 min to subw./ bus. Refridger.+micro wave+water boiler, no other kitchen facil.,owen not allowed.Free wifi.
Prostor
Airy and clean room, 20 square metres. The room is private. The room is inside an appartment, which is shared with one other person. No common rooms except for the shared bathroom. The bathroom is shared with one other person living in the other side of the hall, and it contains shower, toilet and sink. The room is 20 square metres, and there is a window in the room. Airy, light, good atmosphere. The window view is out to the backyard. In the backyard there is a bench/ table where its possible to eat outside. There is also space for locking your bike in the backyard (outside). The room is on the 4th floor, no elevator. Up to 4 single beds in the room. The room is most suitable for 1-2 persons, but its possible with 4 persons. IMPORTANT: Kitchen facilities: ONLY small refridgerator with small freezer, micro wave owen and tea water boiler. Owen is not allowed. Sheets included, and you can use the hair drier in the bathroom. Wi-fi included. No TV possibility.
Dostupno gostima
Shared bathrooom. Sheets and wi-fi included.
NO Kitchen facilities except microwave owen, new refridgerator with small freezer and tea water boiler. Owen is not allowed.
Interakcija s gostima
I can offer you travel advices for Oslo area. I am an experienced traveller myself, and I know how helpful local advices might be:)
Ostale napomene
The room is as showed in the images, but the furnitures may differ from images because the images is not updated.
---
---
Dodatni gosti $25 / noćenje nakon prvog gosta
Komunicirajte samo putem Airbnba
Kako biste zaštitili svoje plaćanje, nikad nemojte vršiti novčane transakcije ni komunicirati izvan Airbnbove stranice ili aplikacije.
Saznaj više
---
Zabave i događaji zabranjeni
Nije sigurno ili prikladno za djecu (0 – 12 god.)
No pets allowed. No smoking. No burning candles.
---
---
---
Minimalni boravak: 1 noćenje
---
Definetly a great AirBnb experience! Merethe is super nice, she explained the way to her apartment in a detailed way and after checking in she gave me a lot of information about Oslo, where to eat, where to go out, and everything you need to know if you want to visit Oslo and Norway in general. I always felt comfortable in her apartment, the room is very big, perfectly isolated and there is a lot of light during the day, also the view to the inner courtyard is quite nice. Moreover, for an expensive place like Oslo the price-quality ratio of Merethes place is very very good. I recommend Merethes apartment 100%!!!
Hi, Matthias! I am so glad you were happy with your stay! Glad to hear you found the room large (and it is, 20 square metres for 1 person is really a good Airbnb size:) And that my Oslo advices were useful for you:) You were a great guest, it was nice to meet you, and I hope your travel further to Bergen was great, too!:) If you are back in Oslo, you are very welcome back. Best Merethe
---
I stayed there for 1 month! Host informed me that people would be working during my stay the last minute, it was hard for me to get another place caise too expensive! Host wanted to ener my room during my stay and me leavinh tje door always open, which for me is not right i rented the room for my privacy! Last week stayed with my mum there and little brother, while my mum was sleeping she wanted to enter the room in the morning not understanding that people's privacy! Last day we checked out my mum and brother waiting for someone to pick us up she went outside and took my mum with an arrogant behaviour out not respecting she was with a little kid! If there were any services like scatt i could complain definately i would! I would never recomend that place or stay there again!
This review from this Airbnb guest are reported by me (the host) to Airbnb, for writing a review containing false information. I don't know what reason could be for writing a review with false information. But I know that if this information is taken seriously it could make people that read it get a negative impression of my Airbnb place and of me as a host. As shown in my 108 other great reviews from my guests, I am very serious about my Airbnb, and these 108 reviews should be the best approval of that. So, I kindly ask you to trust those and not this last one. I really didn't want to go down to the level of answering this review in detail and in the same tone that the guest writes, even though I could. Because there could be things to say about their behaviour, but I rather show the other cheek than replying in the same way that she writes. But since I had advice from Airbnb to actually reply to this review, and to not let her conclusions stand without correction from me, I will. I have explained Airbnb about my whole experience with these guests, and corrected all the untrue information in their review for Airbnb to know and document, and that is the most important thing. These Airbnb guests have actually given me my first negative experience being an Airbnb host. Till now I only had wonderful people who has been a true pleasure to host. Maybe it must be like that, that after a certain amount of good experiences there must come something really "unusual" (to avoid using stronger words), but I am still surprised, and have problems believing that someone actually wrote this. Especially after their behaviour, which was not the best. Luckily for me, most of my communication with them was at Airbnb message, so Airbnb can see exactly how the communication went on. Corrections: 1. The guest writes: "Host informed me that people would be working during my stay the last minute". Host's correction: There were some renovation work being done on the outside of my block/ building this summer. It was supposed to end earlier, so it should not affect her stay. But there were some changes, and 6 days before her arrival date I knew that it would also continue after her arrival. Which was sad news, for her as a guest and me as a host (as it could cause noise, and I didn't want that for her). But I couldn't do anything else but inform her, offer her to cancel for free, of course. Or, if she rather wanted that, keep her stay and have a huge refund of 4000 NOK (about 515 USD). If she wanted to, she could come, see how she felt about it, and choose then what to do, and leave without cancellation fee if she did not want it. So I kept all opportunities open for her. She did choose to keep her booking, and I refunded her the 4000 NOK in cash (with receipt). Of course this was anyway not a good situation, but at least out of the situation I did everything I could to find the best solution for her, and she at least got an extremely cheap accommodation in the centre of Oslo, and a quite large room of approximately 20 square metres. She writes that she was informed "in last minute". It was 6 days before arrival. I wish it could have been even longer, of course, but I do not agree 6 days is "last minute". 2 The guest writes: "Host wanted to ener my room during my stay and me leavinh tje door always open, which for me is not right i rented the room for my privacy!". Host's correction: When accepting to stay even though there were work in process on the outside of the building, I also informed her that I had to sometimes have a look in the window at her room, to see that everything was ok with the work on the building. It was only possible through the window at her room. And also because some neighbours had some issues with the windows due to the work, I had to see the same wouldn't be the case with mine. And that would mean I would have to enter the room a few times during her stay. But as I told her (and wrote to her) I did not want to do that when she was in, because I felt it could disturb her privacy, knocking her door etc. So I suggested that she could give me a "sign" that she was out by leaving the room door open when she was out. Then I could enter, and not having to disturb her when she was in. She writes that I wanted her to always leave the door open, and that is was a problem due to privacy. That is exactly the opposite of what was the case, I tried to find a solution for not disturbing her because privacy is so important in a stay. I don't know her intentions by writing this, but I know it was not a misunderstanding, because I talked to her about it and she always said that it's no problem, and that she would do it. But she never did, even though I reminded her, she just ignored it. And she was out a lot. She never once told me she didn't think it was a good solution, if so I could have found another solution. 3 The guest writes: "Last week stayed with my mum there and little brother, while my mum was sleeping she wanted to enter the room in the morning not understanding that people's privacy". Host's correction: When the stay Roula had booked for 1 person was soon ending, she said that she wanted to make the stay a little longer. She had been looking for a permanent apartment (because she wanted to move to Norway), and found one, but she had some problems with the host that owned it that wouldn't let her have the apartment the date she was promised. She told me that her mother and brother (about 8-9 years old) was also coming to Norway to stay with her in that apartment, and she asked if I could make the stay longer, and then for 3 persons instead of 1 – to help them till they could have the apartment. I wanted to help them out, so I said yes. Roula kept ignoring my wish of entering the room when she was out, so now after 1 month I hadn't been able to check on the work on the building yet. Now the work was soon to end, so I really had to see that everything was fine now, to make it possible to fix it if not before the workers left. So I had to knock on their door. She writes that it was in the morning, it was 11 am and I heard them talking in the room before I knocked, to make sure they were awake. When I knocked Roula and her brother opened the door, and the mother was not in my sight, around the corner. I thought she was out or in the bathroom. I asked if it was ok for me to come in, and Roula said yes. She could have informed me the mother was sleeping, but she didn't. After entering the room I saw the mother under the blanket on the bed in the corner, she drag her blanket over her head and turned around. I said that I am sorry, and that I didn't see her. In the review Roula said I didn't respect their privacy, but 1) she could have not ignored by effort in doing this when she was out 2) Telling me when I knocked that her mother was still sleeping at 11 am. It wasn't easy to guess, as they were talking in there and it seemed like they were all awake, and she did let me in. Only this one time, and 1 more (but then I warned them the day before I would have to enter the room at 11 am the day after), did I ask to enter the room, and in 5 weeks I really don't understand that it should be such a big problem. At least she could have told me that she thought so, before the review. 4 The guest writes: "Last day we checked out my mum and brother waiting for someone to pick us up she went outside and took my mum with an arrogant behaviour out not respecting she was with a little kid!" Host's correction: At the final check out day, I asked them in the morning when I heard them packing whether they wanted to keep my regular check out time (latest 11 am), or if they wanted to have another time. They wanted to leave at 11 am. We agreed I should meet them in the room at 11. When they left I asked them if they needed anything, they said no problem, because a friend was going to pick them up. They had a lot of luggage, so I wanted to make sure they had a plan for how to get to the permanent apartment, which was outside the city. After some time I got surprised, because they were sitting in the backyard. 1 hour went, and 2 hours went. When it was almost 13 pm I had to leave for an appointment, so I had to leave the house, and I passed them downstairs on my way. They were still sitting on a bench downstairs. Now Roula was gone, only the mother and the boy left. The boy was playing with a mobile phone. I asked them if everything is ok and if it's something I can do for them, and if they will soon be picked up. The mother said "15 minutes". It was not possible for me to communicate a lot with her, because her English was not good (usually I communicated with Roula). But I understood they were going to be picked up in 15 minutes. At the pick up point in my street there is a bench, too, only 10 metres from where they sat, and better quality benches, so a little more comfortable, too. I asked if they could move to that bench, it was also because I wanted to be able to close the building before I went to my appointment, and it would be better for them, too. She said "yes", but didnt seem happy. As it wasn't possible to communicate a lot, I couldn't explain anything, but I knew they would be ok there on the other bench. Sitting by the trees in a quiet street, and ready for pick up, only 15 minutes left, I couldnt imagine what could be so bad about that. I helped them with the luggage so they had everything close to them and ready. Before going I asked if the mother was ok, and if she needed anything. If she wanted to borrow my phone, for instance. She said no. Again I really don't understand the reason why Roula is describing this situation the way she did, "went outside and took my mum with an arrogant behaviour out not respecting she was with a little kid!" – it was just about moving from one bench to another. She writes it like the kid is really small and the mother busy keeping an eye on him, and me throwing them out, neither is the case. He sat there quietly, playing with his phone. It could of course be that the mother misunderstood what I meant because she doesn't speak a lot of English, and that she has described the situation out of that to Roula that wrote the review, but due to the other comments that is also not correct I don't think that's the case. But what the intentions could be of writing such a false review I think I will never understand. Well, I look forward to meeting my new, great guests, and will try to forget this bad experience as fast as possible:)
---
Merethe is a very nice person. She is really concerned about her guests comfort, very helpful and cultured about her own city. Her place is clean and quiet - just perfect to relax in the evening after being in the city or working the whole day. The neighbourhood is in the process of gentrification but still interesting enough to find un-expensive shops and bars. I would recommend the place any airbnb guest who is interested to explore new places.
---
L'appartamento si trova a 15 minuti dalla stazione centrale. È al 4° piano senza aacensore, come scritto nell'annuncio. La camera è luminosa e pulita. Dispone di un frigo , un microonde, un tavolo dove mangiare e anche piatti e posate. Avete una stufa in camera, quindi potete scegliere la temperatura. L'unica nota negativa è stato il rifiuto alla mia richiesta di lasciare i bagagli fino alle 14, avendo il volo nel pomeriggio. Merethe mi ha concesso solo di restare un'ora in più in camera. Quindi sono dovuta andare in aeroporto con molto anticipo. Per il resto soggiorno tranquillo.
---
This is a lovely place to stay! The description as well as previous reviews regarding the space are very accurate: a clean, private, quiet and spacious room. A great location, a nice neighbourhood. Anything you may need is found nearby: shops, cafes, restaurants, bars are all easily accessible. Very good access to transport: a bus stop and a tube station 5-10 minutes walk from the flat. Merethe provided me with plenty of good tips and advice; she knows the best places to visit in Oslo. This must be one of the best airbnb experiences I've had – Thank you so much for being such an amazing host. My stay was very pleasant, and I hope to return.
---
We have been living in Oslo for 23 years, and we have good advices and practical information to give if you should need that. This room is in Central and urban environments in the old part of Oslo, and at the same time it`s a quiet district. Close to everything - the Munch Museum, large and cheap everyday shop, bars and pubs, cheap places to eat - international food, Tøyen is an "up and coming" district with people from all parts of society living, a popular part of the city among for example grunders, artists etc. It`s very easy when it comes to transport, from here you can og maximumum 5 minutes and have transport to most parts of the city, for example:
-bus 20 to Frognerparken/ Vigelandsparken/ Majorstuen area.
-bus 27 to Oslo Central Station/ Oslo Bus Terminal, and further to for example St.Hanshaugen area, Bjølsen and Nydalen area.
-subway - all lines stop here ("Tøyen Subway stop"). Only 5 minutes to Oslo Central Station, and further to all western areas. Or you can og eat direction, to the eastern parts of Oslo.
Only 20 minute to walk from here to Oslo Central Station (Trains), Oslo bus terminal (bus) and Oslos main street Karl Johans street, but to city buses its only 5 minutes to walk. So you can choose whether you want to walk or og by transport:) Around the corner you have shops with fresh fruit and vegetables which is also cheap. At Tøyen Center (5 minutes walk) you find the new and trendy (but relaxed) bar and pizzaplace "Postkontoret", a turkish restaurant with great Food, a sushi restaurant ("Wasabi") and a thai-restuarant where the food is just great ("Melt"). And also places for junk food. Just 1 minute walk from my place you find a cafe called "Tyren" and a neighbourhood pub called "Hjørnet kro", and I guess you use 2-3 minutes to the pizza take away place "Pizzabussen" known for its well tasting pizza. 3 minutes from here is also the cafe "Lyst", where you can sit outside, eat and drink and have a taste of this geniun neighburhood. Not far from there you find the large park and botanical garden, where you can go for a walk, have a look at all the flowers and plants, and sit down on the green grass. It`s an oasis in the centre of the town. Not far from here (20 min walk from my place) is Grunerløkka area, with plenty of eating places and bars. 5 minutes from here you find Grønland area, international multicultural area which is exciting to walk in and pop into the small shops and cheap cafees with for example Indian/ turkish/ Pakistan/ Tamil food, as well as afrikcan cafees. Here you also find a Subway station (Grønland station), next stop after "Tøyen". Welcome to my neighbourhood and central Oslo!!

Speaks: Norwegian, English.
Understands: Norwegian, English, Swedish, Danish.

Jezici:
English, Norsk
Stopa odgovora:
100%
Vrijeme odgovora:
unutar nekoliko sati
Oslo i okolica nude i druge opcije – istražite ih
Još mjesta za smještaj na lokaciji Oslo: