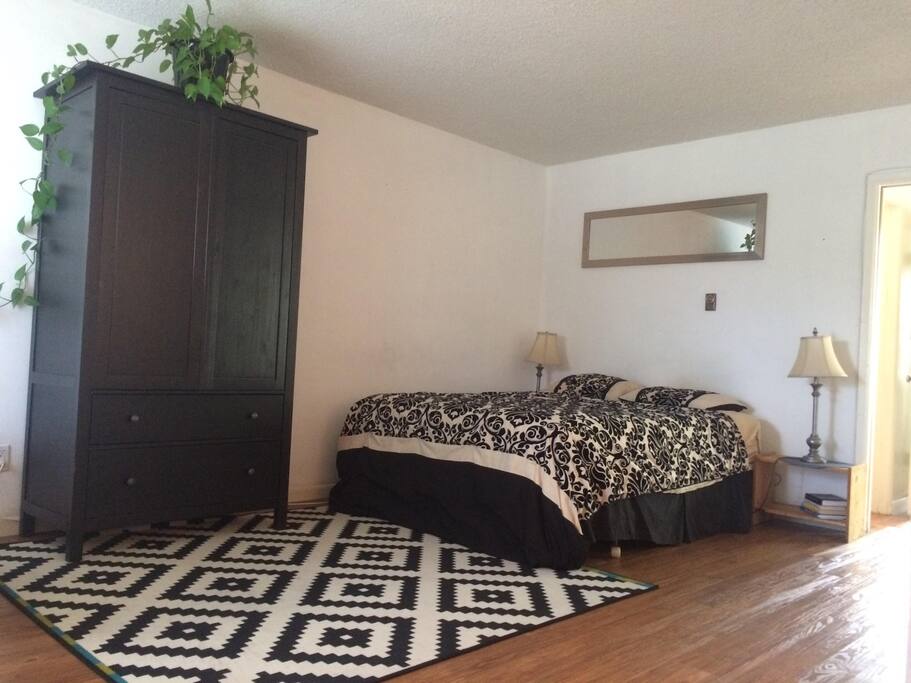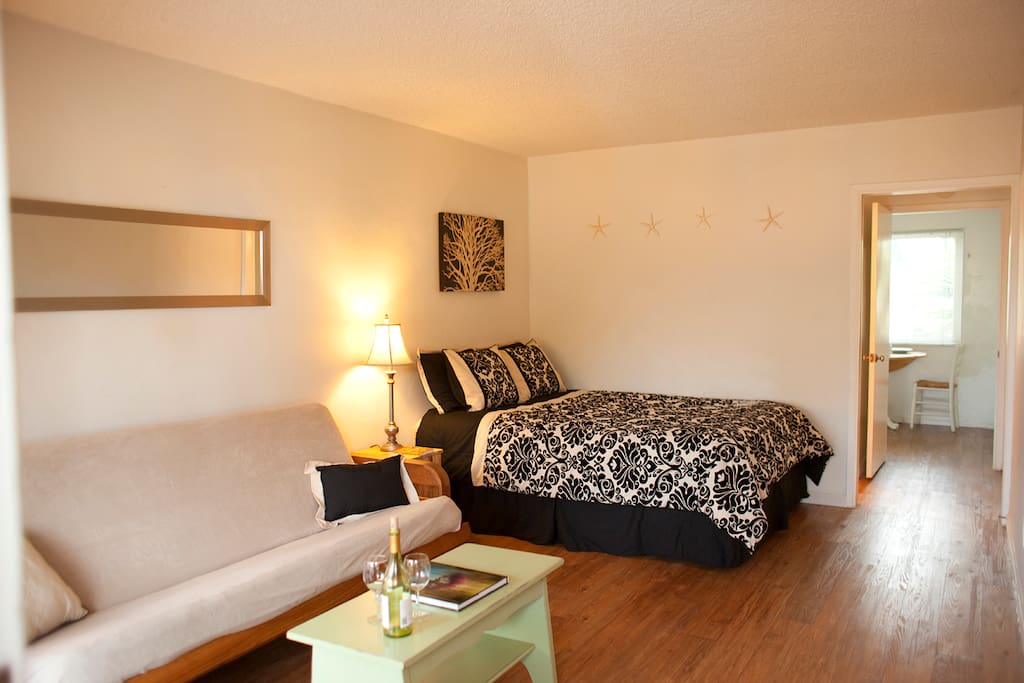 Beach Breeze Condo Discounted Rates
Beach Breeze Condo Discounted Rates
1 1/2 short blocks to Windansea Beach, shops, restaurants. Beach Breeze accommodates 2-3 full-time residents and sleeps 4 if you want to have occasional overnight guests.
Fall/Winter/Spring base price: 3-6 months = $2000/month; 1-2-month lease $2100/month. Guests can book first 2-4 weeks on Airbnb then renew in person to save about 20%.
SUMMER (June-August)= $3200/month.
Utility/amenity/cleaning fees will be based on services provided.
---
Zajedničke prostorije
1 bračni krevet (1,6x2), 1 sofa
---
Vrsta prostora: Cijeli prostor
---
Prikladno za obitelji/djecu
---
Dodatni gosti $5 / noćenje nakon prvog gosta
Komunicirajte samo putem Airbnba
Kako biste zaštitili svoje plaćanje, nikad nemojte vršiti novčane transakcije ni komunicirati izvan Airbnbove stranice ili aplikacije.
Saznaj više
---
Utilities/amenity fees and additional guest fees for guests not on the reservatoin are to be paid to owner monthly based on services provided.
Any prospective tenant agreeing to rent via third party software agrees to sign a hard copy of this lease with the agreed upon dates, amounts, and details filled in prior to taking possession of the rental. The security deposit and all rent due must be paid as agreed online or herein (whichever was agreed to later) prior to taking possession of the home.

RESIDENTIAL LEASE
This is a legally binding agreement. Please read it carefully

On _____________, 2016 ___________, Landlord, and, ___________________________________ _____________________________, tenant(s), agree as follows: Landlord leases to Tenant and Tenant hires from Landlord thse property described as condominium unit located at _ __ Gravilla St, La Jolla, CA hereafter referred to as, "Property", "property", "premises" "unit" or unit's street number (e.g "417"). The term of this lease shall be for the period commencing ______2016 at 4PM and terminating, _____ at 11AM. The premises are leased for use as a residential rental only by the above named person(s). The following pets are also permitted to reside on the property for as long as tenant and pet can meet the conditions of the "Pet Rules" on page 5: No pets allowed in condo building at 415 Gravilla St.
Lease terminology: The term "Landlord" "Management" or "Manager" shall include landlord, landlord's family, and landlord's agents, insurers, and people/parties acting under, in partnership with, or on behalf of landlord, and related parties/entities. The term "guest" shall include anyone invited onto the property by the tenant or tenant's guests either directly or indirectly. "Pets" will include any animal Tenant invites or allowes onto the property.
Rent & Security Payment
As an incentive to encourage tenant to complete the term of the lease, additional months beyond the first shall be discounted. Rent is due as follows: 1st month $ (as agreed in email). Remaining months of this rental agreement $______/month as agreed. Except for first month's rent which is to be paid as agreed, rent is to be paid by the first day of the period for which it is to be applied, in the form of cash or cashier's check (printed by a local bank and made payable to Nikol Sinclair). Tenant shall contact landlord by SMS message when they have the rent and subsequently deliver as directed by Landlord via email or SMS message. Tenant is responsible for 3% per day penalty for late rent payment. Tenant is responsible for all bank fees plus $55 for a returned check. Monthly pet rent is $25 per cat and $50 per dog if Tenant obtains pets (pets must be approved ahead of time).. The rent shall increase by $150/month or $5/day for additional occupants beyond the first.
Security deposit shall be equal to first month's rent for all tenants with credit scores over 700 and no late payments within a year. Security deposit is to be paid prior to taking possession of the unit and may be used at landlord's option to cover payment of rent, repair of tenant-related damages, or any fee allowed per this contract. If a partial payment is made to a third party, the remainder must be paid to Landlord prior to taking possession of the unit.
Utilities/Laundry
-condo #24 has access to shared, coin-operated laundry machines in the downstairs laundry room. Laundry use is not guaranteed for this unit.
-If water cost for the total property exceeds $50/resident/month, tenant is responsible for paying a portion of overage within 3 days of notice. This amount shall be the total amount for the combined bills for the property divided by number of occupants less $50.
-(omitted N/A)
Tenant(s) named above are permitted to launder 3 loads of laundry per registered guest per week in provided machines.
Termination/Renewal of Lease
(N/A to Airbnbn guests- Any tenant requesting an extension verbally and not furnishing written notice of desire to end tenancy, will be held to a one year extension of this agreement.) Tenant agrees that upon giving/receiving notice to terminate the lease, tenant shall keep the premises very clean, neatly decorated, and free of clutter or offensive material. If tenant abandons or vacates the premises Landlord may terminate this lease and regain possession immediately and shall have no duty to refund any rent or security deposit. Tenants vacating prior to lease for any reason shall be liable for all rent and any related landlord-incurred expense/loss including but not limited to: management fees (advertising, staging, security/plumbing checks, house sitting, cleaning, etc), and losses in rent due to vacancy or reductions offered to attract a replacement tenant. Any holding over (retention of Property without Landlord approval) at the end the expiration of this lease shall create a month-to-month tenancy at a rate of $4,000/mo for a studio or $7,000/mo for a 1-bedroom. Tenant agrees to make the premises available for showing with 24 hours notice (or less, if agreeable to Tenant) during the hours of 9AM to 7PM weekdays and 10AM to7PM on weekends. In order to facilitate cleaning, showing, security, and repair of Property, Tenant is responsible for utility bills until all tenant-related cleaning/repairs are completed or until a new tenant is able to move in, whichever is later.
Subleasing/Assignment/Early Termination
Tenant shall not let or sublet all or any part of the premises nor assign this lease or any interest in it. If tenant wishes to move out of the property prior to lease end, tenant shall deliver a written request to end tenancy and include a desired move out date so that Landlord may show the property and assist in finding a replacement tenant.. In the event a subtenant or replacement tenant is brought in to relieve tenant of all or part of tenant's rental obligations, landlord shall have no obligation to honor the discounts in rent provided for in this contract (e.g. discounted pet rent, long term rent discounts) for the exiting or incoming tenant. Tenant shall not have overnight guests unless they are family or very well known, conscientious friends. All tenants and overnight guests staying more than 5 nights in any 30 day period must furnish rental, personal (including references from next door neighbors), and credit references, must have adequate income (2 times the rent) and must be willing/able to comply with each aspect of the lease.
Tenant Responsibilities
A violation of these conditions, will result in a fee of $50 (plus related damages, if applicable) to be paid within 3 days of notification. Each subsequent violation shall result in a $100 fine/fee per occurrence. Should tenant not comply with payment, this fee may be deducted from the security deposit.
1. PROPERTY CARE : Tenant shall treat the property gently (e.g. only flush toilet paper and small amounts of human waste down toilets, not overload laundry machines, etc). Tenant agrees to minimize landlord's liability by acting and ensuring all guests act in a conscientious and safe manner and in accordance with this lease while on or about the property. Tenant shall not engage in dangerous activity on the premises. Tenant shall only invite well-known friends and family onto the property. Tenant agrees to manage any guests to ensure they act conscientiously on or about the property. Tenant shall not disturb, endanger, or interfere with other tenants or neighbors, nor use the premises for unlawful acts, nor violate any law or ordinance, nor commit waste or nuisance on or about the premises. Tenant is expected to keep all (common or private) spaces clean and neat and to use them for their intended purpose only. All messes in common areas (especially laundry soap, toxic products and bodily waste) must be immediately and completely cleaned up or tenant will be charged an emergency cleaning fee of a minimum of $100).
3. PESTS: Tenant must take all reasonable steps including prompt removal/cleanup of crumbs, food, and food residues so as not to attract pests (insects, rodents, etc). Any tenant responsible for attracting pests through negligence will be liable for all subsequent and/or related expenses. Tenants can only use safe (non toxic to humans and pets) methods to control pests unless otherwise approved by landlord. Pyrethrin/pyrethroid/pyrethrum (or similar) and rodenticide use is prohibited. Any tenant who has recently spent time in an environment with a known or suspected bed-bug or other pest infestation shall take all reasonable measures (those precautions recommended by experts) to not infect the property. Any tenant not taking such precautions will be liable for any resulting infestation of the property and subsequent damages and further agrees to pay rent during any resulting treatment period while the pests are exterminated. Tenants suffering a bug-bite of suspicious origin while staying in a hotel/motel or other accommodations are expected to take advanced measures to not infect the leased premises (ie not bring any item which may cause infection such as luggage, clothing, shoes, etc, without thoroughly cleaning (not on the property) and treating these items with diatomaceous earth or other bed-bug expert recommended remedy).
4. DAMAGES: If damage caused or contributed to by tenant is found and requires immediate attention to prevent further damage/liability, tenant will pay the estimated cost of repairing the damage within 3 days and make the property available for repairs without request for any refund/discount in rent for days property is unavailable to them. Tenants not reporting any known problems (e.g. leaks, pests, mold, loose fixtures, etc.) promptly will be held responsible for all subsequent damages and related losses including but limited to loss of rent and all legal and attorney's fees. Tenant will prevent water damage and not allow damp/wet items/animals to rest anywhere in the property where damage might occur. Tenant will take reasonable measures (wiping off feet, shaking out towels) to prevent sand from entering the property or drains (including washing machine). Tenant is responsible for any loss in rent that may occur due to damages caused by tenant. To ensure gentle use of the Property, Tenant will be responsible for upkeep, repair, and/or replacement (with comparable components) of microwave, window treatments and furnishings, and minor fixtures (shower heads, toilet seat/lids, towel bars, door knobs, etc) if any of these shall become unusable, or damaged during tenancy for reasons other than manufacturer defects or old age.
5. REPAIR/ALTERATION/SPECIAL CARE: Tenant shall in no way alter the property inside or out nor hire someone to do so without written permission from landlord. Anyone hired by tenant to perform work on the premises shall be approved by landlord and must be insured. Even with written permission from Landlord, Tenant is responsible for the quality of work performed and liable to landlord for any damages should work not be performed to high standards. Tenant agrees that appliances, structures, fixtures, paint, and landscaping may be changed by landlord without notice (except for proper notice of entry) and not affect the terms of the lease. Tenant agrees property is rented as-is. Wear and tear need not be remedied by landlord during the term of the lease or any extension thereof, unless said wear and tear affects habitability (not appearance). Tenant is not to install any fixtures or hardware without prior written approval from landlord. Tenant shall take reasonable measures to not burden landlord with repairs for minor inconveniences (e.g. having to wiggle a key to open a lock, using a lighter to light a stove, etc). Windows that are sealed or otherwise fixed are to remain closed. Any privacy film on windows is not to be removed or damaged (such as with cleaning products). Frosted glass surfaces should only be cleaned briefly and rarely with a soft rag lightly dampened with water. Refinished tubs/showers should only be cleaned with cleansers designated as safe for refinished and painted surfaces. Latex caulking and other areas prone to wetness and molding must be treated (by tenant) weekly with a mildew deterrent such as bleach, hydrogen peroxide, or vinegar so that mold/mildew does not set in. Tenant is responsible for mildew stains.
6. SAFETY: Tenant agrees to immediately correct any conditions which are dangerous to the health or safety of any complex resident/pet/guest/neighbor. In the event such a condition is found, tenant agrees to immediately remedy the issue in a landlord-prescribed manner. Children under the age of 15 are never to be left unattended on the property. All recommended fire-safety precautions provided by manufacturers of heat producing products (heaters, candles, fire pits) and fire authorities must be observed. Tenant agrees to respond promptly to any Landlord request to enhance safety. Any item which reaches a temperatures above 150°F, must be turned off, unplugged (with the exception of a microwave or range), and/or allowed to cool before being left unattended. Each tenant is required to have two working fire-extinguishers (one in the bedroom and one in or near the kitchen). Tenant will point out fire extinguisher locations to all guests visiting the home, and instruct guests on proper use of extinguishers. Candles/incense/scented oils which accumulate on ceilings and walls resulting in a need for additional paint preparation will reduce security deposit refund. Candles may not be used within reach of any pet or child. Candles lit for religious purposes must be directly and continuously supervised by a sober adult. Lit candles must be in lantern or glass hurricane enclosures which are sufficiently enclosed and anchored and placed on a fire-proof surface such as ceramic, to eliminate risk of fire. Any tenant not complying with these requirements will not be allowed to use candles/incense for the remainder of their tenancy and will pay a fee of $250 for each fire-hazard found. Outdoor, gas heaters/fire-pits/grills are allowed but must be out of the reach of children or pets and continually supervised by a responsible adult who has a fire extinguisher within reach. Lighter fluid is not permitted on the Property.
7. INSPECTION: Upon not less than 24 hours notice, Tenant shall make the premises available during reasonable hours to the landlord or appointed representative, for the purpose of entering to (a) make repairs/improvements, to determine if any damage has occurred, or to supply necessary services, (b) show the premises or (c) take photos for record/advertising purposes. Photos may be taken of the property or it's clearly- visible contents during any inspection, showing, or repair for record/evidentiary/advertising purposes. Any tenant not keeping the premises in a tidy, clean, and odor-free condition will be responsible for subsequent losses including loss of rent if the property is not attractive enough to rent at the projected rental rate (general rent increase of 4% per year).
8. GUESTS. There shall not be more than 4 people occupying any one bedroom overnight, nor more than 3 people occupying any studio overnight. If any tenant has a guest for more than 3 nights in a 90 day period, tenant must pay additional rent of $5 per night per guest. No person other than the tenant named on this lease or a landlord-approved guest, or house/pet sitter is permitted to occupy the property for more than 5 nights in any 30 day period. No person besides tenant shall use this address as a mailing address nor store personal belongings on the property. Tenant will be liable for losses related to any guest. To ensure the harmony and safety of the residents of the property, any guest may be subjected to screening (including credit and criminal background check) and may be excluded from the property if they have any record of infraction, misdemeanor, felony, or poor credit rating.
9. GRIEVANCE: Tenant agrees to be respectful of neighbors and their pets. Tenant agrees to email property manager for non-urgent property-related matters. Should another tenant or a pet be creating a sound disturbance, tenant will submit a written record of the nuisance along with a video recording recorded from inside tenant's property with the windows closed. The video should be taken only to show the windows are closed and to demonstrate the noise level. This video should not include images of any other tenant, their private use space, or anything else which might be construed to be a violation of privacy(URL HIDDEN)10. WATER & ELECTRIC USE: Tenant must conserve water and adhere to all regulations on water use. Tenants will pay any fines for inappropriate use of water. Excessive electrical use is not permitted as the wiring is meant to support normal household appliances only. Tenant will not use more than one "high-draw" (toaster, hair dryer, space heater, etc) electrical appliance at a time. Air conditioners may not be supported.
11. TRASH: Tenants are responsible for keeping the trash bins relatively clean and keeping the bin area free of clutter. Wet/organic/messy/odorous trash should be sealed in plastic bags or otherwise contained before being placed in city bins. Recycling is mandated by the city. Tenants must keep the recycle bins clean and not to put non-recyclable items into them. Tenants are responsible for putting the city trash bins in the street on Sunday evening or Monday morning (prior to 7 AM), and for neatly placing them back in the designated location once emptied. Excessive trash disposal is not permitted (e.g for a home-based business). Tenant(s) of each property are allowed to fill half of a black bin (about three 13 gallon kitchen trash bags) per week and up to 1/3 of a recycle bin weekly. Cardboard boxes must be flattened. Cardboard boxes and office waste may not be disposed of in the blue bins if they prevent the disposal of household recyclables by tenants. Tenant will neatly store any excessive recyclable material that won't fit in the bin and promptly take it to a recycle facility or legally dispose of it.
12. LAUNDRY: Tenant(s) may do up to 3 loads of laundry per week. Each wash or dry counts as 1/2 load of laundry. Tenant will pay a $5 fee for each additional load of laundry. Laundry use is conditional. Usage schedule may be altered at any time by Landlord and privileges may be revoked at landlord's discretion for any reason. Laundry hours are from 8AM to 10PM on weekdays and 9AM to 10PM on weekends unless otherwise agreed by all affected neighbors. Before placing laundry in the machines, tenants must remove unsanitary/staining/solid substances or debris (sand, excessive fur, food, etc). Any tenant who contributes to damage/dirtying of the machines will be held responsible for all related losses. Tenant will immediately report any staining, damage, or contamination of laundry machines or mess in the laundry area. After doing laundry, tenant shall wipe down laundry machine lid area and inner rim so that the machines are clean (free of fur/hair, soap, debris, etc) for the next user. Tenant shall take reasonable steps to keep laundry area clean. If laundry machines are unavailable for more than 21 consecutive days due to malfuncion, vandalism or other cause of non-operation, Tenant(s) will be offered an inconvenience credit of $5/week for the period they are unavailable. Laundry machines, are for tenant use only, they are never to be used by guests unless such guests are registered and approved by Landlord and paying the additional occupant fee and additional laundry fees as defined by this agreement.
13. INSURANCE: Tenant must maintain continuous health insurance coverage. Tenant shall maintain a current and valid form of renter's insurance in an amount sufficient to cover the loss of any personal property resulting from flood, fire, theft, or other loss. Tenant's renter's policy must have minim(PHONE NUMBER HIDDEN) per incident of liability coverage and this coverage must apply to all pets/guests of Tenant. Landlord must be listed as "additional insured" on this policy and provided a copy as well as a statement authorizing landlord to inquire on the policy and make changes so that it reflects the terms of this lease. Tenant is solely responsible for damage or loss caused directly or indirectly (via malice, neglect, accident, or any other cause) by tenant or tenant's pet/guest. Alternatively or additionally, if tenant fails to obtain insurance sufficient to cover projected liability, insurance coverage may be obtained and paid for by landlord and deducted from the tenant incentive, deposit, or rent payment.
14. MOVE OUT CLEANING: The Property must undergo a thorough move-out cleaning during the last days of tenancy. A professional cleaning company/person (licensed and insured) is required to perform/assist-with such cleaning. The Property is not considered vacant and tenant shall not be relieved of rent payment until such cleaning has been successfully completed resulting in the Property and outdoor areas being clean and odor-free. If such services are not performed by agreed move-out or lease-end date, tenant is responsible for any subsequent damages including loss of rent. Cleaning must include removal of all debris, dust, grease, fur, cobwebs, soap scum, and stains from any interior portion of the property (including walls/ceiling/appliances) plus cleaning of windows (inside).
16. SOCIALIZING & NOISE. Tenant will keep the volume of all activities to a level where the sound does not create a nuisance inside neighboring homes while that home's adjacent windows and doors are closed with the exception of occasional, approved events. Cottages with raised foundation floors shall have rugs covering most high traffic areas and at least 30% of open (not covered with furniture) floor space (except kitchen and bath) and shall not permit activities which create pounding on the floors (running, jumping…). Tenants in one bedrooms may have up to 2 gatherings of 2-4 guests per month, up to 6 gatherings of 5-6 guests per year, and 1 additional gathering of up to 20 guests per year. No more than 20 people are allowed at one gathering in/around a single one bedroom home. Tenants in studios may have 1 gathering of 2-4 guests per month, and one gathering of up to 10 people per year. Never should the occupancy of a studio and it's adjacent space exceed 10 persons. Tenant is solely respons-ible for cleanup/nuisance/liability related to his/her guests both on and off the property (littering, loitering, etc).
17. SMOKING: There is no smoking/vaping permitted within 50' of the property (200' if upwind). Tenants shall not have smoke odor on their person/belongings/clothing when in the unit. Tenant shall not stand within 50' of any residence while smoking. When smoking or vaping, tenant agrees to walk at a moderate pace and not linger in an one area so as not to cause repeated smoke/vapor infiltration into any residence/patio/or occupied area. Tenants who smoke or allow guests to smoke in/near any private property will be held liable for all subsequent/consequential losses including any legal claims made by or against landlord for smoke-related illness and/or damages, and all reasonable attorney's fees related to such a claim.
18. PARKING: Tenant shall park vehicle(s) in such a way as to maximize available parking for other neighbors. Tenants shall instruct all able-bodied guests to park East of Tyrian street or on La Jolla Blvd North of Gravilla St to keep parking near the two complexes on Gravilla Street (and those on La Jolla Blvd) available to residents. Each tenant may have only one parked vehicle (including vehicles of guests) parked West of Tyrian street at any given time.
19. PLANTS: Tenant must water all plants (except iceplant and others excluded by Landlord) in private outdoor areas if irrigation is not present/working. For safety and security, tenant shall notify landlord if they plan to be absent form the Property for more than 48 hours. If absent for more than 48 hours, tenant shall hire a professional or a qualified person (e.g. complex neighbor, well-known friend) to water outdoor plants, report maintenance issues in/around the property, assist with pets, and bring in the mail/packages/etc.
20. OTHER: No promotional items (including sports/political, signs/banners/flags stickers, etc) can be displayed on the property in such a way that they are easily seen from public areas. No offensive (containing nudity, profanity, etc) items may be displayed on the property during showing or inspection.
21. HOA RULES: Tenant agrees to follow all rules put put in place by the HOA or landlord. One such regulation is that no personal items may be left in common areas. Any fines imposed upon landlord for violations related to tenant or guests of tenant shall be paid by the tenant in full within 24 hours of notification by landlord.
Miscellaneous Legal (10)
1. If any portion of this Agreement is found invalid or unenforceable, it's validity or cancellation shall not affect the validity or enforceability of any other provision of this agreement. If any provision of this Agreement is held to be illegal, invalid or unenforceable under present or future laws, such provision shall be fully severable and this Agreement shall be construed and enforced as if such illegal, invalid, or unenforceable provision had never comprised a part hereof; and the remaining provisions hereof shall remain in full force and effect and shall not be affected by the illegal, invalid, or unenforceable provision or by it's severance hereof. Furthermore, in lieu of such illegal, invalid, or unenforceable provision there shall be added automatically as a part of the Agreement a provision as similar in terms to such illegal, invalid, or unenforceable provision as may be possible and still be legal, valid, or enforceable. Typographical errors (including obvious omissions) shall not invalidate any statement (or implied statement) on this lease.
2. The waiver by landlord or Tenant of any breach shall not be construed to be a continuing waiver of any continuing/subsequent breach. Tenant agrees that a written declaration from Landlord or management as well as an emailed or written declaration from an additional independent party (neighbor, repair person, etc.) shall constitute sufficient evidence of the any breach involving cleanliness, damage, or nuissance.
3. Rent, late fees, pet rent, cleaning fees, repair expenses for tenant-cuased damages/neglect, and other amounts owed landlord by tenant may be deducted from the security deposit at landlord's discretion. Any outstanding amount owed more than 30 days will be reported to credit reporting bureaus. Any past discount in rent/fees offered by landlord during the term of tenancy (including prior leases) will be reversed in the event that tenant does not comply with all lease terms. Tenants are responsible for payment of citations that arise from tenant's failure to comply with local/state/federal ordinances.
4. Tenant has examined the property, fixtures, and appliances and accepts them as being clean and in good condition. Tenant must notify landlord of any damage or unclean condition within one hour of possession of the unit. These must be photographed and described in detail and such recordings shall be sent to the management via email if any of these conditions are to be considered pre-existing.
5. The prevailing party shall have the right to collect from the other party its reasonable costs and necessary disbursements and attorneys' fees incurred in enforcing this Agreement up to an amount of $3,000 per breach. Notice upon Tenant shall be served at tenant's place of work or residence or as provided by law. Notice upon Landlord may be served at property management office during the hours of 10am to 4PM on weekdays.
6. Estopel certificate: Within 10 days after written notice, Tenant agrees to execute and deliver a certificate as submitted by landlord acknowledging that this agreement is unmodified and in full force and effect or in full force and effect as modified and stating the modifications. Failure to comply shall be deemed Tenant's acknowledgement that the certificate as submitted by landlord is true and correct and may be relied upon by any lender or purchaser.
7. Notice: Pursuant to Section 290.46 of the Penal Code, information about specified registered sex offenders is made available to the public via an Internet Web site maintained by the Department of Justice at (URL HIDDEN) Depending on an offender's criminal history, this information will include either the address at which the offender resides or the community of residence and ZIP Code in which he or she resides
8. There may be lead/asbestos containing products in the property. Avoid inhalation and consumption of paints/debris by humans and pets. Tenant must report any health concerns about the building to the landlord immediately (upon discovery). Other natural hazards may include natural gases including radon. High humidity may contribute to mold/mildew growth in any coastal property. Tenant agrees to regularly air out the property and all closets/cabinets and take steps to prevent conditions that attract mold/mildew including: weekly/monthly spraying of problem areas with vinegar (where safe), diluted bleach (where safe), or other safe mildewcide and not storing suede, leather or other mildew attractants in dark areas without using dessicants or other mildew preventives, etc. Tenant is not to access water heater cabinet, crawl spaces, wall bays, or roof.
9. The effective date of this rental agreement is the date both parties have signed the lease. Separate copies may be signed by each party.
10. Email and SMS (or equivalent) messages shall be considered "written" forms of communication for delivering notices, requests, and permissions however certain notices such as notice of intent to vacate, and other legal notices should be given via both Email and SMS if receipt is not confirmed.
11. Landlord's rights under this contract shall transfer to any future title-holder/owner including partnerships, or corporation.
12. The terms and conditions stated herein will be interpreted by and governed under the laws of the State of California. Any action arising out of this agreement or any communications regarding rental of The Property of any other related dealings between Licensee and Owner shall be litigated in the city of San Diego, State of California.
The undersigned Tenant acknowledges having read the foregoing prior to execution and receipt of a copy here of.

Tenant _________________________________________Tenant_________________________________

Landlord/Agent ________________________________ Date ______________________________
Pet Rules Addendum to Lease
(No pets are allowed in 415 however should the HOA ruling change, these rules shall apply to any pets allowed on the property with or without consent of HOA or landlord)
1.GENERAL: "Dogs" or "pets" shall refer to Tenants' pets and those of Tenant's guests. Only harmless (to pets as well as neighbors, workers, deliver persons, etc), and well-behaved (non-nuissance) pets are allowed on the property. Tenant agrees to indemnify Landlord for all damages and expenses related to Tenant's pet. Tenant shall be diligent with his/her pet's care and training. Tenant will take all reasonable steps to minimize Landlord's liability as it pertains to Tenant's animal(s). Tenant agrees to take all Landlord-requested measures to minimize pet-related wear or damage to the property. Tenant(s) will be held liable for any pet-related loss including but not limited to loss of rent for adjacent units if other residents are affected by Tenant's pet, and fines from the city for nuisance. Any new or visiting pet must be approved of ahead of time by Landlord. Tenant agrees Landlord may enter the property without notice and/or use any conventional t raining method to remedy vocalization or destruction, or to aid a pet who is suspected to be injured, sick, or suffering from neglect. Landlord is permitted to offer emergency first aid to any pet in need and is permitted to act on behalf of Tenant to obtain emergency veterinary care for Tenant's pet at Tenant's expense up to the amount of $_________ (initial _____). Tenant agrees to hold harmless and indemnify Landlord and any veterinary personnel for services performed. In the event Landlord is required to assist in the care of any pet, Tenant must reimburse Landlord and/pay related fees within 2 days. In the even of non-payment, Landlord may deduct resulting expenses from Security Deposit or rent. Tenant is solely responsible for their pet's behavior. By signing this rental agreement, Tenant declares under penalty of perjury that their pet has no history of biting any person.
2.BEHAVIOR: Dangerous (dog, cat or human aggressive), excessively vocal, or destructive animals are not allowed on the Property. Tenant must have control of his/her pet and take every reasonable precaution to prevent injury and nuisance on or near the Property. All pets must be managed in a way to guarantee the safety of free roaming, neighborhood cats and off-leash dogs. Tenant will immediately take steps to prevent instances of pet nuisance, destruction and/or aggression upon notification by neighbors or Landlord. Should any pet prove to be a repetitive nuisance or threat after Tenant is notified, the pet will be removed from the Property immediately and until Landlord approves re-entry. Dogs under 20 months of age will not be left unattended unless crated . Dogs prone to vocalizing or destructive behavior must managed diligently to prevent nuisance and damage. Some "alarm" barking at strangers on/near the property is expected but shall not exceed 10 minutes in an day and should not occur before 8AM or after10PM. Tenant will be notified of pet issues via text message (and subsequent phone call or email if no response). Landlord will attempt to remedy the situation at minimal expense to Tenant (use Tenant recommended training methods if practicable). After the second nuisance notification, if there is repetitive barking which is loud enough to prevent enjoyment of neighboring homes, Tenant will pay a fine of $2 for each minute of repetitive barking. Prevention is the best insurance of happy neighbors so dogs inclined to vocalization should be kept indoors with any windows and doors facing the sidewalk, closed, and a radio left on at moderate volume to drown out outside noises. Tenant gives permission to Landlord to quiet/calm any distressed or destructive pet via any reasonable means including but not limited to: offering companionship/assurance and transferring pet to a dog sitter, trainer, or boarding facility at Tenant's expense. Signing of this agreement gives Manager license to handle, train, transport and obtain pet services on behalf of and at the expense of Tenant. Dangerous animals may be removed and/or destroyed by Animal Control or Law enforcement should they pose a threat to any resident or guest (human or animal) or prevent any authorized person access to the property. Tenant holds harmless Management for any injury, illness, loss or death of any animal. Tenant agrees to pay Landlord an inconvenience/training/petsitting fee of $20 per occurrence plus $1/minute for the time it takes to remedy a pet nuisance or a dangerous or destructive pet situation. Any pet that has become a repeat nuisance may be excluded from the property temporarily or permanently at Landlord's discretion. Tenant is responsible for any and all losses related to their pet including reasonable attorneys fees and legal/court fees.
EXERCISE/HEALTH: When weather permits, all dogs should be exercised and cared for as follows: All dogs should have a minimum of one hour of exercise outside of the property daily unless a disability (in the dog) prevents this. All dogs must be taken on brief or long (minimum 5 minutes) potty walks at least every 10 hours and at least three times a day so that there is less boredom and minimal elimination in yard/patio. All high-energy dogs (including any working/hunting/sport breed under the age of 6) must have 90 minutes a day of outdoor activity and should be exercised prior to being left at the Property unsupervised. Hyperactive/anxious dog must be provided additional exercise and training to obtain a calm demeanor. Cats over 16 weeks of age must be neutered/spayed. Male dogs must be neutered by 12 months of age.
SAFETY: Cats must be indoors at night. Cats may be outdoors if managed to prevent conflict/destruction/disruption. If any pet has a contagious disease, Tenant shall take extreme care to ensure such disease is not transmitted. Tenant will be responsible for loss of rent and other related expenses (e.g. cleaning, extermination, and decontamination) if Tenant's pet has contaminated the property with any pathogen/parasite. Due to the high concentration of pets in the area, when exiting the Property to common/public areas, dogs must be restrained by a leash with no more than 3' of leeway and must be under full control of their handler. Tenant will ensure property is sufficiently equipped to safely contain his/her pets. Such measures will include closing windows pet can access, locking doors, inspecting and testing gates (including baby/puppy gates) and fences regularly to ensure they will contain pets, and locking (or securing from inside) all exterior gates. Tenant shall provide gardener and Landlord access to yard at any time. Any dog that has a history of or is showing aptitude for aggression is not allowed on or near the property. Tenant agrees to not house a pet in any vehicle or neighboring structure in an effort to maintain possession of an animal that has been excluded from the property. Tenant is solely responsible for any damage or loss caused directly or indirectly by Tenant's pet's behavior or presence.
CLEANLINESS: Pet feces must be cleaned up daily. If Tenant's pet eliminates in the Property, Tenant agrees to take all necessary steps to prevent damage to the Property including hiring a trainer, using an indoor potty, and confining the pet. Tenant agrees to keep dogs clean so as not to have obvious doggy odor in the Property. In order to offer a clean and fresh appearance, during times that any propertyis being showed to prospective Tenants/investors/buyers, or other people wishing to inspect the property, Tenant agrees to limit pet access to yard so as to prevent odors or destruction of the landscaping. Tenant will discourage his/her dog from urinating/defecating on the decorative rocks/plants in landscaped areas. Tenant will take any steps necessary to minimize the risk of inviting such pests/predators as rodents, raccoons, coyotes, and insects. Tenants will feed pets indoors, supervise meals, and promptly remove food/crumbs that may attract pests, wildlife, or neighbor's pets.
FLEAS: Tenant agrees to take all reasonable steps to prevent infestation of the property by fleas. Receipts for flea products shall be saved and provided to Landlord to verify treatment. All dogs and cats must be treated with lufenuron (at an adequate dose as defined by a veterinarian) monthly for the last three months of tenancy, regardless of what flea control program they are on. All pets at risk of flea infestation must be on a Landlord-approved flea adulticide. For dogs, Revolution, Frontline, Activyl, or Comfortis must be used monthly and as otherwise directed by the manufacturer for the entire term of tenancy. Cats who live with dogs, have a tendency toward flea infestation, or are allowed outdoor access are required to be maintained on an effective, prescription (or Landlord approved) flea adulticide. Indoor cats who don't live with any indoor/outdoor pet will be maintained on lufenuron and given nitepyram when any itching occurs or if "flea dirt" or fleas are noticed. Should any pet appear to have fleas which are resistant to one form of medicine/pesticide, the pet should be immediately treated with another approved adulticide. Any pet known to have fleas which are resistant to monthly flea control products must be treated with nitenpyram (Capstar) every other day until fleas are eradicated from the pet and the The Property. The flea control regimen may be changed by Landlord during any point in tenancy to ensure adequate flea control if any indications of infestation are present. Any other species of pet prone to parasites should be treated as their veterinarian suggests to prevent parasites. Tenants must inform Landlord of any presence of fleas so that a plan can be put in place immediately. If propertyis uninhabitable or less habitable due to flea infestation contributed to by Tenant's pet, Tenant will be responsible for damages including but not limited to loss of rent (until the fleas (in all life stages) are eliminated) and extermination/cleaning fees and all related and subsequen expenses.
3.Pet fees collected to help cover cost of additional wear and tear, cleaning, laundry, and regular flea control for the Property and yard: Pet fee for condo at 415 Gravilla is $50 plus $10/day.

The undersigned Tenant acknowledges having read the foregoing prior to execution and receipt of a copy here of.

Tenant _________________________________________Tenant_________________________________
---
Strogi
Otkažete li više od 7 dana prije početka rezervacije, dobit ćete povrat od 50 % iznosa. Otkažete li 7 ili manje dana prije početka rezervacije, nećete dobiti povrat novca.
---
Detektor ugljikovog monoksida
---
Minimalni boravak: 2 noćenja
---
Stopa odgovora:
100%
Vrijeme odgovora:
unutar nekoliko sati
San Diego i okolica nude i druge opcije – istražite ih
Još mjesta za smještaj na lokaciji San Diego: