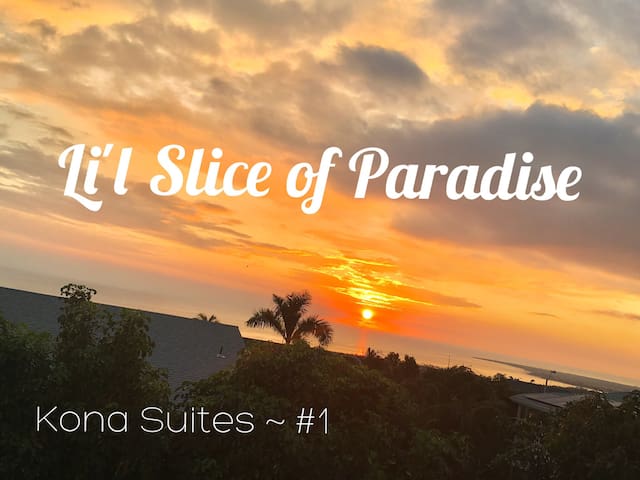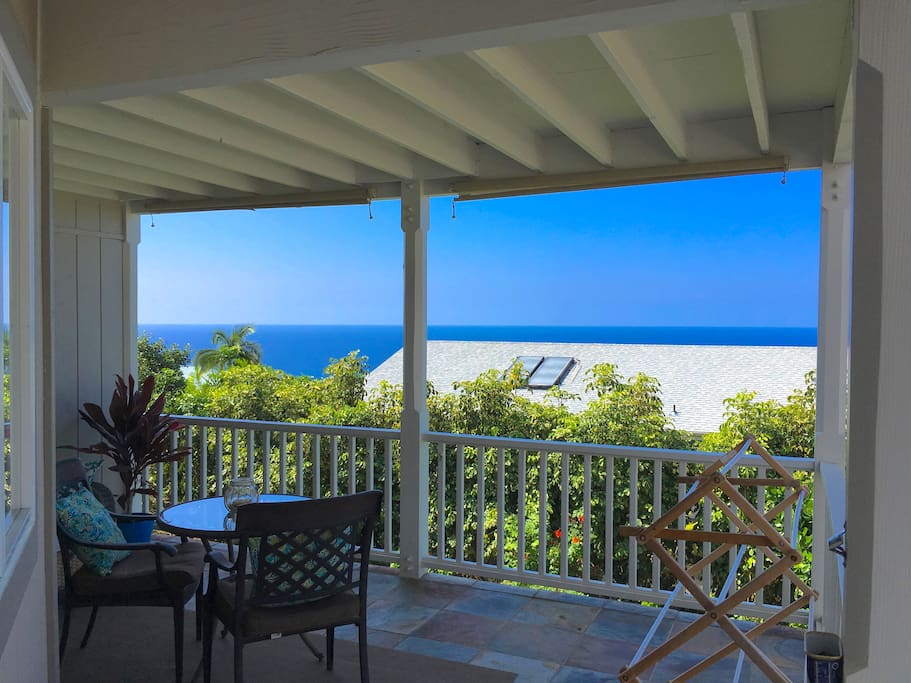 O ovom smještaju
TAXES INCLUDED. Experience Aloha style hospitality! For 2 years we've earned the 5 Star Super Host badge, and over 100 happy reviews :). Our clean, spacious, studio-like suites await you! Enjoy PRIVATE ocean views, 100% Kona Coffee, fragrant flowers, WELCOME REFRESHMENTS, snorkel gear, and supplies for meal preparation. The suite's location provides balanced access to the airport, dining & shopping, entertainment, beaches, snorkeling & diving, and the highway to explore Mauna Kea & Volcano.
Prostor
☆Adding our listing to your personal Wish List page will make it more quickly accessible should you like to return to it.

ALOHA! TO VIEW SUITE 2 AND IT'S REVIEWS, USE THE "VIEW OTHER REVIEWS" LINK SHARED BELOW THE REVIEWS FOR THIS SUITE. If you have any questions, please do not hesitate to contact us! :)

WE'VE HOSTED VISITORS FROM AROUND THE WORLD! :)
Some guests aren't necessarily seeking the hosted experience, preferring limited interaction during their stay... and that is totally OK! :) ...our suites provide that! :) Welcome! :) However, most of our guests express really looking forward to the opportunity to meet Kurt and I, talk about island living, and get special insight on things to do and see. We thoroughly enjoy now being friends with many of our past guests :). Happy guest reviews are always awesome to receive, but the greatest compliment is return visits :). WE FEEL LUCKY TO GET TO BE A LI'L PART OF OUR GUEST'S HAWAII ADVENTURE ☺ We know for some folks this trip is only possible by finally cashing in the huge jug of coins you've been saving up for the last 10 years. For others it may be one more thing to check-off your "bucket-list", or a once in a lifetime opportunity. So... we want you to feel comfortable, confident, and excited about what to expect of your suite, our home, our family.
--------------------------------
--------------------------------
--------------------------------
INSTANT BOOK! :)
If you're new to Airbnb, the li'l lightening bolt next to a listing's nightly rate indicates you can Instant Book. It allows you to by-pass the inquiry/host pre-approval... instantly securing your dates with us!
☆LI'L SAVINGS TIP! ☺
You'll pay a reduced Guest Service Fee to AIRBNB the more nights stayed with an individual Host! Why pay a higher service fee and multiple cleaning fees? ...when you can save a few dollars by just staying in Kona! :) Enjoy the island's best weather, using our comfortable suites as homebase for all your island adventure! As you travel the 3 scenic routes over to the east side, there are many awesome stops to make along the way. We'll share with you important attraction and activity details, car rental savings tips, and more.
LIMITED TO ONLY A FEW DAYS? Upon booking, the tips and suggestions we'll be sharing with you will help to strategize your exploration and maximize your time! A STAY OF 7-10 NIGHTS IS RECOMMENDED ON THE BIG ISLAND. This will allow you to alternate road-trip adventures and lazy beach days. :)
--------------------------------
--------------------------------
--------------------------------

ABOUT SUITE 1 ☺
It is ideally located along the lower slope of Hualalai Mountian, just high enough elevation to have views looking out over Kailua Town (aka Kona Town, aka Kailua Kona) and the coastline. The approximate 500ft elevation offers a cooling light breeze, which provides us comfortable temperatures year round. Our neighborhood is situated just above the main highway to everything, so you'll have quick access to dining, shopping, and island exploration.
EXPERIENCE LIVING HERE IN KONA TOWN :) ...from a private studio-like space, in a peaceful, beautiful environment. Your spacious suite, with private en suite, is clean, well appointed, and carefully prepared with the warmest Aloha always. From your generously sized private lanai (patio/terrace), relax and enjoy west facing ocean-views. The space does not have a full kitchen, but is nicely equipped with a small refrigerator, microwave oven, toaster, convection/broiler oven, dishware, and basic food prep tools. >>> ACCESS TO THE SUITE is via the shared front entry hall on the mid-level of our 3 level home. Both suite entry doors are situated away from the main entry hall.
OUR PEACEFUL NEIGHBORHOOD
From your own private lanai (patio/terrace) -- Enjoy a few days of living here! :) Relax, laugh, love, play island rhythms, drink tropical creations and rejuvenate... all part of this lifestyle! :) At the same time, it is important that our guests desire this peaceful environment, not a party environment. MORNINGS AND EVENINGS ARE VERY QUIET HERE ALONG THE HILLSIDE. We don't have all the competing background sounds typical of hotels or downtown rentals and Hawaiian homes are very open in design, so, especially in the morning and evening hours, it is necessary to keep conversation, music, and TV volumes lower. Our full-time neighbors are usually equally considerate.
☆ OUR OHANA (family) & HOME
We have 2 very polite teenage boys, and our lovable Vader dog (yes, like Darth Vader from Star Wars movie :). Vader is not an excessive barker, and should you have pet allergy concern, he is not allowed access to guest suites. If you're not particularly keen on dogs, no worries, if we sense it, or you can let us know, we'll keep him on our level. We are a happy and active household, but we are also mindful to adjust activity when we have guests. Our primary living area is on the 3rd level of the home, but we also use a portion of the mid level as well.

YOUR PRIVACY
You will feel privacy and comfort while staying in our home, however, we are always available to you for questions, or if you need something. The suites are away from our family's main living areas. At times we don't see guests again beyond their initial check-in. We love to talk story (chat) and hear about our guests adventures when they want to and feel like sharing though. :)
--------------------------------
--------------------------------
--------------------------------
☆ YOU SHOULD UNDERSTAND THE DIVERSE CLIMATE OF THE BIG ISLAND, TO HELP YOU DECIDE IF, AND HOW LONG, YOU WANT TO STAY IN A PARTICULAR CLIMATE/AREA.
The Big Island's climate diversity creates it's varied stunning landscape. For your ideal comfort and enjoyment, you should consider the typical weather conditions of the area you are considering staying in. You may end up disappointed if you chose a property based solely on its proximity to a particular attraction. This is especially important if you visit Hawaii to escape from the rain, wind, or cold temperatures you live in.
If you are looking forward to plenty of sun & beach time... the island's best weather & beaches are here along the Kona Coast. All the picturesque crystal clear turquoise water and white sand beaches are along our coastline. The west coast/Kona Coast is known to be the dry side, from sea level up to about 700ft elevation, because we see far less rainfall than the rest of the island. If we experience rain it's usually in the evening hours. Rainfall during daylight hours is usually only brief, unless a wet weather system covering most of the island is passing through. The upper areas of Kona, above 700ft elevation, do experience more frequent and significant rainfall.
The east coast -- North Kohala, Hamakua, Hilo, Pahoa, Kalapana, and slightly inland Volcano -- experience frequent rainfall. The Puna area is most exposed to severe tropical storm systems during the season.
South Kohala (just north of Kona) and south island experience strong winds regularly.
Around the entire island, above 700ft elevation experiences more frequent rain, and are significantly cooler, particularly in the evening, early morning, and winter months. Many homes have fireplaces for the winter months.
MOLD: If you have sensitivity to mold, it can be a problem in the areas that receive the most rainfall --Hamakua/Hilo/Pahoa/Volcano, and mauka areas of the Kona coast (above 700ft). Inform your host so they'll take extra care in preparation.
--------------------------------
--------------------------------
--------------------------------
☆ WE OFFER OUR GUESTS COMPLIMENTARY:
"Welcome" Fruit Refresher & my homemade Banana Bread
100% PREMIUM KONA COFFEE & Premium Tea Assortment
Endless Purified Bottled Water
Fresh Flowers
Toiletries: Shamp/Cond/Body Wash
Use of KONA BREWERY refillable Growler (fill at the KB "Growler Shack" :) Guide Book
BEACH: Umbrella, Bag, Towels, Li'l Blue Tooth Speaker, Snorkel Gear (Mask, Breath Tube, Fins), Cooler, Tommy Bahama Backpack Chairs, Sand Mats, Body Boards, Flotation Noodles, Ice Chest,
Sharing of any garden offerings, as seasonally available
PLUS local insight & ALOHA plenty :)

ADDITIONAL AMENITIES
☆ LOCAL GUIDE BOOK
We provide "The Big Island Revealed" awaiting you in your suite, on loan to you during your stay, to plan your island adventures.
☆ IN YOUR SUITE
Plush Bath Towels
Queen Bed w/Island Inspired Bedding
Wicker Chair
Armoire w/Drawers
Custom Koa wood Bedside Tables (Kurt made :) w/Lamps
LED Book Light, Batt Op Tealights Candles
Koa Wood Vanity Cabinetry
Slate Tile Vanity Top & Floor
Luggage Stand
Ceiling Fan w/Lighting
Oscillating Tower Fan w/Remote
Laundry Basket
Hair Dryer
*Iron & Board Available
Pantry Shelf in closet
TV w/Satellite Channels (NFL SUNDAY TICKET ;)
☆ FOOD PREP/PANTRY SUPPLIES
Generous 4.4CuFt Refrigerator, Microwave Oven, Convection/Toaster Oven, Toaster, 4-Cup Coffee Maker, Cutlery, Cutting Board, Can Opener, Colander, Prep Bowl, Glass Measuring Cup, Bag Clips, Storage Containers, Plastic Wrap, Foil, Starter Paper Towels, Dish Washing Supplies, Salt & Pepper, Sugars, Creamer, Honey, Olive Oil, Vinegar, Small Soft Cooler Bag (doubles as an ice bucket),
☆ SERVING SUPPLIES
Plates, Cups, Mugs, Bowls, Flatware, Tongs, Napkins, -- Wine Glasses-Bottle Opener-Stopper, Cocktail Shaker, Refillable Beer Growler,
☆ ON YOUR LANAI
Roll-Down Solar Shades, Rug, Cozy Wicker Loveseat, Comfortable Petite Table w/seating for two, Candle, Clothes Dry Rack, Ice Chest (if requested, for extra cold food storage),

>>>>>>>>>>>>>>>>>>>>>>>>>>>>>>>>>>>>>>
☆ RE: THE NIGHTLY RATE YOU SEE
Our one-time $39 Cleaning Fee AND all Taxes are ALREADY INCLUDED in the nightly rate you see, if searching specific dates. The Hawaii General Excise Tax (GET) is 4%, and the Hawaii Transient Accommodations Tax (TAT) is 9.25%.

☆ RE: DEPOSIT
How does Airbnb handle security deposits? If a host needs to make a claim on the security deposit, it must be submitted within 14 days of the checkout date, or before new guests check in, whichever is earlier. If a claim is made, Airbnb mediates and collects payment from the guest, as necessary.

>>>>>>>>>> BOOKING/RESERVATION REQUIREMENTS
2 NIGHT Minimum Stay
>>>>>>>>>> CHECK-IN & CHECK-OUT TIMES
We offer a generous 12pm Check-In -- and 3pm Check-Out

--------------------------------

☆ A NOTE ABOUT THE ADJACENT SUITE
Li'l Slice of Paradise Suite 1 is adjacent to LSOP Suite 2, https://www.airbnb.com/rooms/8817376 (copy and paste or type link in new window for viewing suites side by side). Thought and care went into preparing to offer a second suite, to maintain both feel very private, though they are directly across from each other. Both suite entries were replaced with solid core doors, and there's a floor to ceiling privacy wall between lanais (patios). The same House Rules apply to both suites, to ensure comfort, keeping the ALOHA atmosphere for all.
☆ Li'l Slice of Paradise #1 is equipped almost the same as LSOP #2. IF both suites are available for your selected dates, a side by side comparison of amenities and descriptions can easily be done, simply by opening separate browser tabs. The layout of #2 is similar to #1, but actually #2 is slightly larger.
>>>>>>>>>>>>>>>>>>>>>>>>>>>>>>>>>>>>>>
>>>>>>>>>>>>>>>>>>>>>>>>>>>>>>>>>>>>>>
OPTIONAL SERVICES
☆ WASHER/DRYER ACCESS
$6.00 Per Load (Wash/Dry & Soap included)
The machines are on the top level of our home, within our living space. We need notice by the night prior, so we can plan our loads. Hours of access are 9:00am to 12pm. More information located in our Welcome Book.
>>>>>>>>>>>>>>>>>>>>>>>>>>>>>>>>>>>>>>
Dostupno gostima
☆ HOUSE ACCESS
House access is limited to your suite, and the grass level lanai (patio), where complimentary beach gear is stored. Any other area/space/items in our home should be considered restricted -- unless of course invited :)
Interakcija s gostima
☆ GUEST/HOST INTERACTION
We welcome you in the same manner as our visiting friends or Ohana (family). We love getting to know our guests, and hearing about their adventures if there is opportunity. However, we also respect our guest's desire for privacy, understanding everyone has different comfort zone & personal space preferences. We take our cue from YOU, as to how much interaction you would like :).
☆COMMUNICATION PRIOR TO AND DURING YOUR STAY
Good communication is appreciated once you have chosen to book with us. We make every effort to do the same for you. We will be asking you a few questions upon receiving your booking confirmation. Your answers help us to plan and prepare for your arrival.
Once here, we are available to assist with needs or questions as they arise. We are happy to help :).
>>>CELLULAR SERVICE ON ISLAND
There are many areas around the island where service drops out, depending on your service provider. You don't have to, but it's a good idea to share your general plans or direction for adventure each day, incase you end up in a situation without cell service and in need of assistance.
Ostale napomene
.
.
☆ RE: CHILDREN
The suites/lanais are situated at an elevated level, and the floor to ceiling lanai space divider inhibits visual & listening oversight -- children under 12 should not be left unsupervised.
☆ IMPORTANT DETAILS FOR PARKING IN FRONT OF HOUSE
There is just enough space for two cars in front of the house. However, only if one car's rear bumper is about 5-6 feet from the fire hydrant, and the other car's front bumper is lined up with the beginning of the neighboring hedge bush. Please do not park any further forward than that. If both guests have large sedans it is tight. Also, occasionally a guest of a neighbor may take one of the spaces, it is a public street. There is usually several open spaces across from the house as well, in front of the vacant property. Parking is not allowed directly in front of neighboring houses.

☆ PARKING WHILE EXPLORING THE ISLAND
We encourage you to err on the side of caution by not leaving any valuables in your vehicle, at minimum stow out of view.
--Keep in mind... a trunk is not a secure space for valuables, as it's easily opened from the inside of the vehicle with just a quick smash of the window. Be aware of your surroundings.
☆ THE SUITE IS NOT WHEELCHAIR ACCESSIBLE.
☆ THE SUITE IS SITUATED ABOVE THE GARAGE, but guests have never expressed that sound from below was an issue, as we have quiet opening garage doors.
☆ WE HAVE A TRADITIONAL HAWAIIAN OPEN-AIR DESIGNED HOME. NO A/C. We use the natural tradewinds (locally known as "the trades") and fans as needed for cooling.
☆ NO FREEZER IN THE SUITE
The 4.4cu ft refrigerator is a great size for those that plan to make a lot of their own meals, but there is no freezer. When we are home, we can provide you some ice or icepacks if needed. There are also 2 convenience markets nearby, offering bag ice, and singel serve ice creams to satisfy sweet cravings :)
☆ KEY TO YOUR SUITE
A key to your suite will be provided upon arrival. Only in an emergency situation will we enter your space. --- A $15 replacement fee applies for a lost key.
.
.
☆ PRINTER ACCESS
We are happy to assist you with any printing needs.
☆ NEARBY URGENT CARE/HOSPITAL
There are several Urgent Care centers within 5 min of us, the nearest hospital is 15min south of us. We have them noted in the "GUIDEBOOK" section of our listing.
>>>>>>>>>>>>>>>>>>>>>>>>>>>>>>>>>>>>>>
>>>HURRICANE SEASON (June-November). Kona is sheltered somewhat by the Mauna Kea, Hualalai, and Mauna Loa Mountains, so most of the approaching storms end up downgraded by the time they reach the island, or bypassing our area all together. However, we can still get warmer temperatures, increased humidity, and impressive thunder storms as a result. We track approaching weather systems, and will make you aware of any significant weather we think might actually reach Kona.
>>>>>>>>>>>>>>>>>>>>>>>>>>>>>>>>>>>>>>
☆ YOUR FLIGHT TO HAWAII
The cabin temperature get very chilly while in the air, but can become quite warm once landed and the A/C is turned off, preparing to disembark. You should bring a lightweight jacket, and layer garments, for the flight. When stepping off the plane onto the tarmac, between the heat radiating off the ground, and our tropical climate, you'll be glad you wore layers and can start peeling them off :).
☆ KOA AIRPORT is a small single level structure with open air design, that is super easy to navigate. You will be exiting the plane outside, not in the terminal. Regular car rental shuttle service runs from the terminals over to the rental companies -- you'll easily spot the pick-up points in the middle of the airport loop. Do not make the mistake of waiting to rent a car until you arrive... they can run out! If you were not able to secure a car for some reason, taxi are waiting nearby, or you can try Uber. They both cost about $40-50 to the house.
.
.
>>>>>>>>>>>>>>>>>>>>>>>>>>>>>>>>>>>>>>
>>>>>>>>>>>>>>>>>>>>>>>>>>>>>>>>>>>>>>
---
Kupaonice: 1 (Privatna kupaonica)
Ima kućnog ljubimca: Pas/psi
Vrsta prostora: Privatna soba
---
Besplatan parking u sklopu smještaja
---
Komunicirajte samo putem Airbnba
Kako biste zaštitili svoje plaćanje, nikad nemojte vršiti novčane transakcije ni komunicirati izvan Airbnbove stranice ili aplikacije.
Saznaj više
---
Spavaća soba 1
1 bračni krevet (1,6x2)
---
Nije prikladno za kućne ljubimce
Zabave i događaji zabranjeni
Nije sigurno ili prikladno za djecu (0 – 12 god.)
Vrijeme dolaska je od 12:00 do 23:00.
☆☆☆ HOUSE RULES ☆☆☆
#1 RULE... Be respectful of our home, the peaceful environment, other guests enjoying time here, and our neighbors.
☆ Especially in the morning and evening hours, it is necessary to keep conversation, music, and TV volumes lower. RE: PHONE CALLS / VIDEO CHAT -- voices naturally escalate, please be thoughtful to keep your voice at a soft level.
☆SMOKING OR VAPING IS NOT ALLOWED ANYWHERE AT OUR HOUSE, OR IN FRONT OF HOUSES AROUND OURS >>>>> The stay will be terminated and payment retained if this rule is broken.
☆PLEASE RETURN FROM ADVENTURES BY 1AM (0100) NIGHTLY. It prevents our dog, Vader, from alerting to returns in the quietest/early ours of the morning. He does not bark at night otherwise. Be assured, this request will not affect your participating in the moonlight Manta Dive, watching the stars at Mauna Kea, or to see the lava.
☆IT IS CUSTOMARY IN HAWAII TO REMOVE YOUR SHOES before entering a home. Shoes & slippahs (flip-flops) are scattered about the entry of all Hawaiian homes. Guests need to be understanding and accepting of this cultural practice.
☆NO LIVE FLAMES ALLOWED WITHIN THE SUITE. Given the tri-level design of our home, this is for safety.
☆BRINGING OTHER PEOPLE TO OUR HOME IS NOT ALLOWED_NO EXCEPTIONS
☆RESERVATIONS FOR OTHER PEOPLE IS NOT ALLOWED. Airbnb offers Gift Cards -- the recipient of the gift needs to register an account for themselves and book with us directly :)
MAHALO! :)
---
Strogi
Otkažete li više od 7 dana prije početka rezervacije, dobit ćete povrat od 50 % iznosa. Otkažete li 7 ili manje dana prije početka rezervacije, nećete dobiti povrat novca.
---
Spavaća soba se može zaključati
---
I can not sing enough praise about our stay with Shannon and Kurt! This is by far one of my favorite stays and definitely goes above and beyond any of the other hosts I've met. First impressions: Our AirBnB was very close to all the best restaurant and night life. I loved that we were a very short drive from Target, Walmart, etc for supplies we needed (sunblock, snacks, etc). Shannon's home was BEAUTIFUL and tastefully decorated with everything we could want/need. We were greeted by DELICIOUS blueberry banana bread (fresh baked) with lilikoi butter and a papaya-mango-pineapple fruit platter. It was such a simple but heartwarming welcome (as we'd arrived late in the evening and were very hungry and tired). Shannon took her time (despite the late hour) to explain everything we needed to know and gave us a little tour of our room and some details about the neighborhood, surrounding areas of Kailua-Kona, as well as tips/suggestions on booking tours/dives/etc. Shannon was always available via AirBnB messaging/text. She readily answer all questions about anything we had and she has a very extensive knowledge of the island. The room: The room was clean and ready for use. The decorations were tropical and felt just like home. We slept peacefully each night (the fan and an open window were all we needed to stay cool and comfy). Everything smelled fresh. There were plenty of beach towels and beach mats (and more!) that we had at our disposal. There was an automatic light leading to our rooms, so on the one night we came home late, we didn't have to fumble around in the dark. Each room had its own en suite bathroom and a fridge/sink/mini kitchen area. We bought snacks and greek yogurt so we could have fresh fruit and yogurt each morning. Was able to meet Vadar (he is SUCH a cutie!) and Shannon's two sons who were both very polite and respectful. All in all, it was a FANTASTIC stay and when I return to the Big Island (which I will because there is so much more to see and do that I didn't get a chance to do!) I will DEFINITELY 100% be staying here again. Shannon's home is the epitome of what AirBnB is meant to provide, a wonderful place that feels like home and allows guests to immerse themselves in the local culture while visiting a new place. Bravo Shannon!
Shannon And Kurt odgovara:
Aloha! :) I'm just getting a chance to actually read through our last few reviews. Ok... we've had several reviews over the last 2 years that have literally brought me to tears by such thoughtful words and warm Aloha shared back... yours is now one of them, haha :). Knowing how much you enjoyed & appreciated the space, your time here, and our efforts, is incredibly, incredibly heartwarming. Mahalo nui loa and a hui hou! :)
---
My fiance and I had a lovely time here. Shannon and Kurt went out of their way to offer helpful suggestions and to ensure we were comfortable. It had all the offerings of a hotel and more. On a clear day you can see the ocean from the spacious balcony and the tradewinds coming off the ocean breath fill the mind and body with those feel good Hawaiiian feels. Overall, we would highly recommend.
---
This place is so awesome! My fiancé and I chose this place because it was close to everything we wanted to visit but when we arrived we realized we really got the best deal. They allowed us to borrow their snorkeling gear and even gave us a speaker for the beach. When my fiancé got sunburned they even let us take aloe from their plant. Vader is also the cutest once he warmed up to us. Would highly recommend this place to everyone!
---
We had a lovely stay at Shannon and Kurt's place. It is exactly as advertised. Watching the sunset from our private lanai was awesome! The room was well stocked and we enjoyed the breakfast items in the fridge. Shannon was very helpful and we found her restaurant guide for the island invaluable. Would stay here again!
---
Kailua-Kona, Havaji, Sjedinjene Države
Član od Lipanj 2015
We love sharing the Big Island lifestyle, and Aloha kine hospitality. We want visitors to have cherished memories of their stay.

Living Aloha~ Kurt & Shannon
Jezici:
English
Stopa odgovora:
100%
Vrijeme odgovora:
u roku od sat vremena
Točne podatke o lokaciji gosti dobivaju nakon potvrde rezervacije.
Kailua-Kona i okolica nude i druge opcije – istražite ih
Još mjesta za smještaj na lokaciji Kailua-Kona: