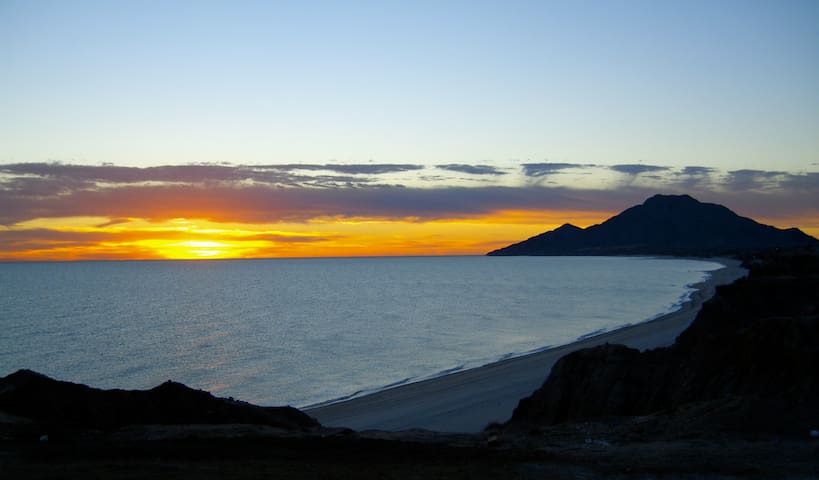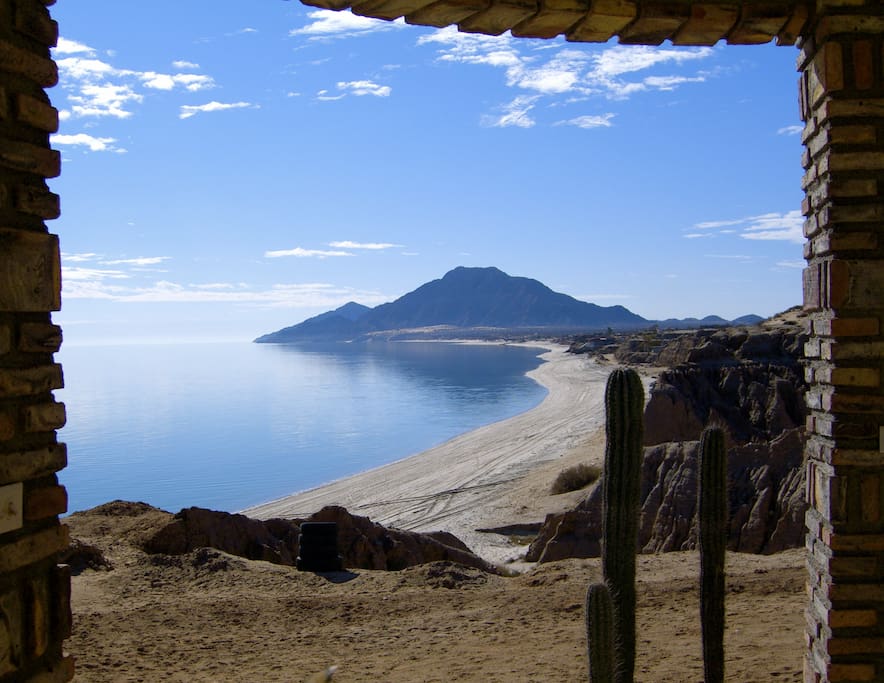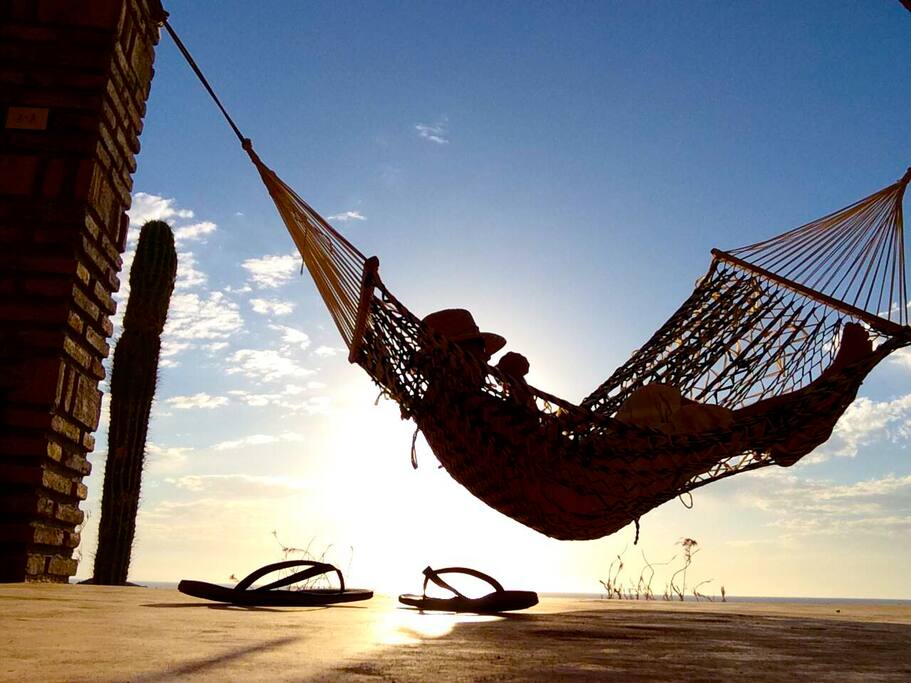 BEACHFRONT RETREAT ON SEA OF CORTEZ
Solar-Powered Home Offers Spectacular Ocean Panorama from the Huge Veranda and Living/Dining Room at the Front of the House. Disconnect and Enjoy Total Relaxation.
3 Bedrooms, 2 Baths. Just 5 Miles from the Center of San Felipe...Your Beach Is Virtually Private.
Prostor
As you can see, the setting of this home is out of a dream. Of all the world's oceans, Jacques Cousteau favored the Sea of Cortez, calling it "The Aquarium of the World." His favorite body of water is the panorama you'll enjoy through two walls of glass in this expansive home.
Stunning views...empty white-sand beaches...ultra-clear skies. And the only sounds you're likely to hear are the gentle surf and ocean breezes.
There's really no other place like Baja California, The pristine land has changed little since Fernando Cortés first saw it in 1533. And dawn over the sea begins each day in spectacular fashion.
Our huge front room combines living, dining, and kitchen into one 700-square-foot space, with four sets of doors which open to a broad Spanish-style veranda. Spend the day reading in the lounge chairs, mixing a drink or two at the hand-carved bar, or walking on miles of secluded beach.
The kitchen area offers 20 feet of counter space, while a massive wooden dining table easily accommodates your entire group for memorable meals.
Each of the three spacious bedrooms features a queen bed, while the two bathrooms feature large showers. There's also a queen platform airbed for children or extra guests.
The town of San Felipe is completely safe and friendly -- and unlike a Cabo or Cancun, it offers an *authentic* Mexico experience.
(If anyone in your group has concerns about Baja, search the following for a great Lonely Planet article: "Are Americans Safer in Mexico than at Home?")
-------------------------------
ESSENTIAL READING:
In Baja, wild nature is everywhere. The houses range from humble one-room shacks to desert palaces. As you can see in the photos, our home is nicer than average, yet still simple and casual. It's a true Baja beach house -- not a designer bungalow on Nantucket. San Felipe doesn't offer the manicured beach resorts that you find in Hawaii or Cabo. This is a rougher -- and much more traditional -- place to be. Also much less expensive.
In short, we'd say that if you're the kind of person who would never go camping, this probably is not the ideal spot for you. We encourage everyone to scan a half-dozen reviews, to get the full range of guest reactions.
Please note that the house is off the grid, with a solar electric system, a rooftop tank holding mountain spring water, plus a propane fridge, stove and water heater. Everything usually works just fine, but conservation has real meaning here, and there is always a measure of unpredictability when you go greener.
If you require a concierge to manage your holidays, can't stand dust from the desert, or would be upset to light a candle if the lights go out, you may want to consider another destination. This is a place for hearty living -- a place Steinbeck would have loved.
-------------------------------
It takes only 5 to 10 minutes to travel from this isolated beachfront retreat to all the shopping, restaurants, nightclubs, and other attractions of North San Felipe and the Malecon.
Dining options range from casual to fine. Regardless of which you choose, you'll love the freshness, taste, and purity of San Felipe's seafood-focused cuisine. (Arid Baja has none of the "issues" of mainland Mexico.)
At your doorstep await unforgettable wilderness adventures, in untouched desert backcountry where mountains soar 10,000 feet over huge dry lakes.
The Sea of Cortez (also known as the Mar de Cortés and Vermilion Sea) offers kayaking, windsurfing, boating, fishing, and more.
And after sunset, clear air and virtually no ambient light ensure the finest skies left on this planet.
All just a 5 1/2-hour drive from Los Angeles...4 hours from San Diego.
++++++++++++++++++++++++
Additional Notes:
* Mapping for Mexico is a bit difficult. You can enter "San Felipe, Baja California, Mexico" in the most popular mapping program, zoom out till you see El Dorado Ranch and Playa Hawaii north of San Felipe. Our home is on the beach in this area.
* Biologically speaking the Sea of Cortez is the richest body of water on the planet. This diverse sea supports more than 900 varieties of fish, and more than 2,000 species of marine invertebrates.
* The house features solar power, with battery reserves for the evenings, and there are additional independent solar lights. The refrigerator, kitchen stove, and water heater are fired by propane. Please note that the propane fridge is not nearly as cold as a typical electric unit. It's a good idea to load items already cold from an ice chest.
* Spring water is trucked in, and stored in a 1,000-gallon tank. The first tanks of water and propane are included. If a water refill is required, you pay the $50. The cost of a propane refill is about $15.
* There is no AC, no landline, and no internet at the house. Disconnecting for a while is a blessing, but many cell phones will have a signal, and if necessary, you can use high-speed internet at a local cafe.
* Note that Baja can be HOT, especially from mid-June to mid-September. In Summer, typical temperatures are 90s or low 100s during the day, and 70s to 80s at night.
* Pets are welcome.
* Please smoke on the veranda.
* Sheets are provided for the three beds. You should bring bath and beach towels, as well as your favorite toiletries, including paper.
* Basic kitchenware is provided, but if you're particular, you should bring your favorite gear. There are often extra paper towels, garbage bags, and dish soap, but you should bring some of your own, or buy it locally.
* There is a charcoal barbecue grill.
* A 600-square-foot garage with RV doors is available at modest cost with advance arrangements -- but there's plenty of easy parking outdoors on approx. 1 1/2 acres.
* If you have kids, please note that the bluff in front of the house is about 20 feet above the sand.
* The closest path to the beach is in the arroyo just south of the house. There is also a road to the beach which begins about 150 feet above the entrance to the property. The beach itself is fine sand, and deep in places. Motorcycles and ATVs are welcome. For four-wheeled vehicles, 4WD is essential.
* Kayaks and other small watercraft can be launched easily from the beach. Be aware of the tides! The Gulf of California has one of the largest tidal ranges in the world, and at low tide, the ocean recedes far from the beach for a few hours.
* PWCs and boats on trailers can also be launched from the beach. A 4WD tow vehicle is essential. Again, be aware of the tides.
* There is a wood-burning fireplace. In the unlikely event that you want to use this heat source (sometimes, in Winter), consider bringing your own firewood, as it can be harder to find in Baja.
* There are large supermarkets in central San Felipe (such as Calimax, on the main drag). You can get fresh food and everything else you might need at reasonable prices.
* Wheelchair access to the home is fairly easy. The showers are very large, but otherwise of standard design.
* There can be dogs roaming free, but we've never seen an aggressive one. You may also encounter little desert critters, mosquitos, etc.
* It costs over $100 to get an off-grid home ready for each guest, so generally there is a three-night minimum. Of course you are free to pay for the three nights and enjoy the home for 2 3/4 days. ;)
* Snowbird? Looking for a long-term retreat? Low rates are available to quality candidates.
Dostupno gostima
Veranda, hammock, beach, sunsets...repeat.
Ostale napomene
1. Don't worry about the troubles you may have read about, as the gang conflicts (equivalent to Mafia battles in the U.S.) have largely stopped, and there never was any of that in San Felipe or smaller Baja towns.
2. You should note that even at the height of the troubles, any foreigner has been safer in Mexico than in any U.S. city. A lot safer.
But don't take our word for it. Search the following Lonely Planet article on the web:

Are Americans safer in Mexico than at home?

---
---
Dodatni gosti $25 / noćenje nakon 2 gosta
Komunicirajte samo putem Airbnba
Kako biste zaštitili svoje plaćanje, nikad nemojte vršiti novčane transakcije ni komunicirati izvan Airbnbove stranice ili aplikacije.
Saznaj više
---
Leave the digital games and electric hair dryer at home.

Disconnect. Relax. Rediscover.
---
---
Minimalni boravak: 3 noćenja
---
We stayed here last October for a few days. Back then when we arrived there was lots of trash, and broken bottles around the property and on the walk down to the beach. Other issues we dealt with were no keys, and empty propane tank, frequent lack of electricity and no water for 2 days. What we did enjoy was the beautiful sunrises and views from the porch, the semi secluded beach and warm seawater. We have traveled quite a bit throughout Baja and love the authentic beauty and ruggedness of the landscape, so we just shrugged off all of the inconveniences to staying "off the grid". Mike was nice to refund a portion of the rental for our troubles. We absolutely loved the view and the beach, so we decided to give it another try thinking that the issues we experienced were isolated and unfortunate. A week or so before we arrived I emailed Mike to make sure that this time there was water and propane. When we pulled up we were so shocked by the excessive amount of trash, dog poop, car parts, broken beer bottles, broken furniture, etc. We brought our two dogs and were worried about them stepping on chards of glass, so we cleaned up the front including all of dog poop. There are a pack of 4 dogs that we were not made aware of that live on the property that belongs to the guy in the trailer that "oversees" the house. They were not aggressive but starving, so we ended up having to feed them. We are well traveled and understand that some cultures value their "pets" differently than Americans, but we are animal lovers and hated seeing these skinny dogs scrounging for food in the trash. They came around every morning and evening as a pack that intimidated our dogs that happen to be protective. We were concerned of confrontations with the pack, so we couldn't let our dogs outside unattended or leave the doors open, which is something we did not have to contend with during our October stay. The same pack of dogs would also wake us up by howling every single morning before sunrise. From the time we arrived the electricity wasn't working, and there was just a trickle of water that came out of the faucet. So, we had to go back into town to purchase candles, flashlights and more water, and to pick up the keys. A few days later Mike came with a new solar battery and tried to fix the water pump. Mike mentioned that he was aware of these issues based on the Airbnb reviews he was getting and was there to fix them. I booked this trip several months ago and didn't read the recent reviews, so I didn't realize these are ongoing problems since our last stay. After Mike left we still had to navigate through the length of garage filled with tons of junk, beer cans, screws, car parts, etc. in...
Full disclosure: It is true that the local neighbor, although a sweet guy, created a big mess behind my house. It's also true that the solar battery failed. I became aware of these problems thanks to the guest immediately before these ladies, and I bought a new (expensive!) battery and drove six hours to install it so the ladies would have electricity and strong water pressure. I was not previously aware of the "pack of dogs," but they were also sweet. Roaming dogs are simply an occasional fact in Baja, and of course if you don't want them around, you don't feed (URL HIDDEN) In any case, the gentle neighbor, his puppies, and his amazing collection of junk are gone. It is extraordinarily hard to determine which guests are actually ready for a Baja adventure. You can see a wild range of opinions in the reviews...all for the same home. We do our best to explain in the listing all the ins and outs of an off-grid Baja home. Still, although this is a three-bedroom oceanfront home for the price of a hotel room, some guests arrive expecting a touristy Cabo cabana. In short, if you aren't happy taking a backpacking trip, this probably isn't the best home for you.
---
Host was very responsive and was quick to reimburse money for issues. I can not in good conscience recommend this property. Too many issues to list. Please read the previous reviews and multiply them by 10. Don't make the mistake I made and assume that things can't be that bad. The host asks you to treat this home like it was yours. I would ask that he should treat this home like he lives there. I highly doubt that he would stay at this place for more than one day without completely overhauling it
Actually, I stay at the house frequently and love it...but Baja isn't for everyone. As the description explains in detail, San Felipe does not offer the manicured beach resorts that you find in Hawaii or Cabo. This is a rougher -- and much more authentic -- place to be. Also much less expensive. In short, I'd say that if you're the kind of person who would never go camping in nature, this probably is not the best spot for you. We encourage everyone to read the full written description. We also encourage everyone to scan a half-dozen reviews, to get the full range of guest reactions. For example, here's the complete review from a couple who came to kayak. Yes, this is exactly the same home! "This place is awesome. The house is on a small cliff over the beach, but there's an easy path down right next to the driveway. We carried kayaks down the path and had a blast floating around for the weekend watching the water and the wildlife. The beach was pretty empty, even on a holiday weekend, and the sand and water were perfect. The porch and hammock give great views of the sunrise and of all the birds going by - we loved the pelicans and even saw an osprey! We made some great meals at the house and had some amazing food in town. The inside of the house is spacious and simple, and we loved everything about it. Can't wait to go back."
---
I'll have to say that the view was the best part of the house. If you are looking to be close to the water this is a good spot to be. You are right there! The house is big, but be prepare to have like a camping experience. A lot of bugs, specially mosquitos! Must bring utensils, pots, toilet paper, etc. There are only few plates and knifes available. You must pay additional for Gas and propane. Is you go during summer time the shower water temperature can be ok, but the pressure of the water is weak. The cleanness of the house was very disappointed for us!!! A lot of bugs and dust all over the property. We found rat poop in the kitchen drawers and ants in the refrigerator. In my opinion this is not a kid friendly property. There was a lot of dog poop, glass, and beer cans all over the place.
We think this is mostly a case of a guest who booked our home without reading the written property description, or the house manual. In those documents, we note the nature of a home in Baja, especially one that is off the grid, and we explain in detail what guests should bring. After this stay, our housekeeper did not find some of the things listed here, and of course we can't take responsibility for naturally occurring bugs like mosquitoes. (We do provide mosquito nets to ensure a peaceful sleep.)
---
Baja The view and location were absolutely stunning. It was very rustic and I liked that there were not many other people close by, except for the guy staying in the trailer behind the house, who was quiet for the most part. It was definitely too cold for swimming in jan but the beach was just gorgeous. And it was great to have a fire in the wood burning stove. We loved San Felipe with it's weird undeveloped charm and we also had great food there. The downside was that we had some logistical problems w the house. It was clean but the propane tank was empty when we got there so we had no fridge or stove the first day. We had to reset the solar and I had a hard time getting the water heater to work so I just did not shower. The house also flooded in some areas after a heavy rain. We were expecting it to be a bit like camping so we were ok there but it definitely had some challenges which others should be aware of. Mike was responsive and refunded us some of the money for the flooding and the propane. Overall we had a fantastic time there.
---
We had a really nice time here, most of the reviews sum it up pretty well. We had a couple issues however. The first was that we when we showed up there were beer cans and dirty shot glasses all around the place. Annoying, but not the end of the world. The other was with the solar power. We had two sunny days in a row that power went out about an hour after dark. We hadn't showered or used any lights prior to dark either of those days(we were barely home). The first time we just went to sleep and figured thats how it is. The second night I decided to check on it. It turns out that the power is SHARED with the trailer next door. There is an extension cord running from the inverter over to their trailer. This is kind of crazy because it wasn't mentioned anywhere in the description, and because it means that it doesn't really matter how much you conserve power. If we had come home a little later we probably wouldn't have had any when we turned the lights on. We had seriously used one light bulb for an hour and the power went out(nothing else plugged in, we didn't bring laptops, phone chargers..anything!) I can't really imagine using much less power. We even brought our own solar powered lights that we used. So if you use an average amount of power, or use the shower even once a day for your whole group, this definitely isn't the place for you. It was nice to be able to walk to the beach and the people close by were friendly. It wasn't quite as secluded as advertised, but the other reviews had made that pretty clear. Basically its a great place to unwind and take beach walks from, but I was disappointed with the omission of the detail that the power is shared with other people.
Hi Erica, Oh my. There were certainly some crossed wires here, and they aren't solar electric. We are unaware of any trailer parked in the camp, or of any party in the house just before your stay, or of anyone hooking into our power. None of this was authorized by us, and certainly none of it will continue. I wish we had heard about this during your stay, but because phones don't work at La Costilla, you were probably unable to find any way to contact us. Sorry that you had to deal with it, and we are sending the appropriate refund.
---
They were pros and cons to renting this property. I will start with the cons because I think that they could be deal breakers for folks looking to travel. First of all we booked the house at $121 a night and I even mentioned at the time that we may have a couple friends join us. The day I checked in when the host sent me a message asking when we would be arriving to San Felipe I said that we would be getting to the area about 1:30 PM and that my brother and a friend would be arriving later. At that time he asked how I intended to pay the extra $200 for the additional guests. I told him I wasn't aware there was additional charge and he said it was featured prominently on the site. When I looked at my phone app which is how I booked the listing it was not featured prominently at all but was under a separate tab that you actually have to click on. I figured oh well I'll just pay the money. When we arrived at the house it was filthy. Not just dust and a few critters like the listing said. There were drink rings on the tables and counters which tells me they weren't even wiped off, there was rotten food in a bag in the refrigerator that had leaked all over, the bedsheets didn't appear to be clean or made and there was a lot of trash on the back patio and on the retaining wall and on the trail down to the beach. Additionally the toilet broke the first day we were there and when we opened up the toilet tank it looks like the chain had already broken and had been replaced with a very thin wire which had also now broken. We ended up having to rig that just to be able to use the toilet. Also at night while we slept we all got covered with bug bites of some type so I had to go buy bug spray and doused myself with it before bed each night. The water from the tank had a very bad odor so I didn't wash my hair the whole time I was there. I never really felt completely clean or comfortable and that took away from enjoying intimate moments with my partner, we both always felt like we smelled and our skin felt sticky. The floor is also concrete and is painted red but the paint is coming off the floor and sticks to your feet and you can't even wash it off. One of our guests wasn't wearing shoes the first day and the red rusty looking paint never came off her skin. When she got home she actually took a pumice stone to her feet to get it off. I did send the host an email when I got back home to reliable cell phone service and told him of the problems and he refunded...
Well, here are the "pros" that got cut off at the end: "All in all we had a very good time and we enjoyed the location and view very much. We didn't have any issues with the solar power or water pump. The neighbors all seemed friendly." Obviously there were some issues related to the housekeeping, though our local housekeeper is normally pretty good. We gave Cheryl a partial refund for her trouble. There are mosquitos in Baja, and the nets we provide in each bedroom are quite effective as long as they're set in the right place. Up till now, none of our many guests has mentioned any concern with the floor or water quality. The water comes direct from a mountain spring to the tank, and is quite pure. It's West Coast mountain water, of course, and thus has high mineral content. Finally, charges for extra people are pretty typical at Airbnb. For anyone who's not familiar with the site/s, such details are displayed near the top of every listing on the Desktop Site (which we always recommend), and all charges are automatically tabulated by the booking tools at every Airbnb site *if* the guest selects the correct number of guests. In this case, we didn't learn the actual guest count till check-in day. But, after all, $149 a night ($37 per person) isn't a bad rate for a large three-bedroom home on the ocean. :)
---
This place is awesome. The house is on a small cliff over the beach, but there's an easy path down right next to the driveway. We carried kayaks down the path and had a blast floating around for the weekend watching the water and the wildlife. The beach was pretty empty, even on a holiday weekend, and the sand and water were perfect. The porch and hammock give great views of the sunrise and of all the birds going by - we loved the pelicans and even saw an osprey! We made some great meals at the house and had some amazing food in town. The inside of the house is spacious and simple, and we loved everything about it. Can't wait to go back.
---
Big Bear City, Kalifornija, Sjedinjene Države
Član od Ožujak 2012
Mike is an American who has lived in Europe and Japan. A graduate of UCLA, he also works in L.A. as an international marketing consultant. For fun, he likes basketball, tennis, volleyball, hiking, skiing, cycling, and motorcycling.

Kiyoe (Kay) is a Japanese national. For fun, she likes running, hiking, tennis, and clogging. 日本の"おもてなし"をモットーにしています。どうぞ日本語でお気軽にお問い合わせください。お待ちしています。
Jezici:
日本語
Stopa odgovora:
100%
Vrijeme odgovora:
unutar nekoliko sati
San Felipe i okolica nude i druge opcije – istražite ih
Još mjesta za smještaj na lokaciji San Felipe: