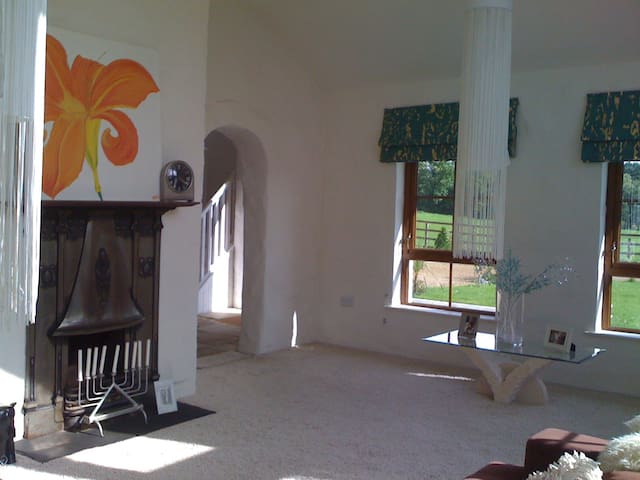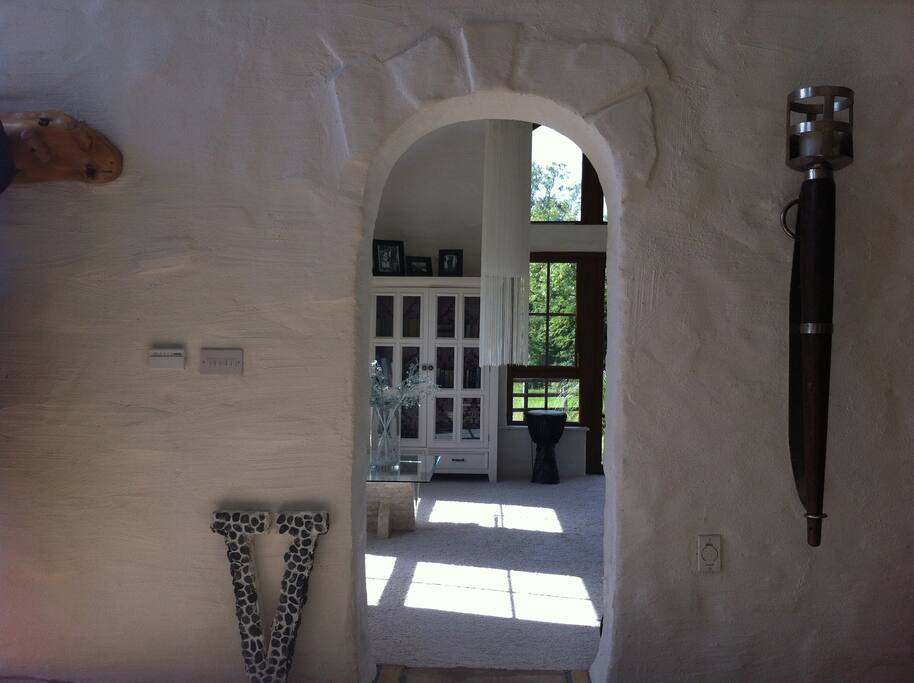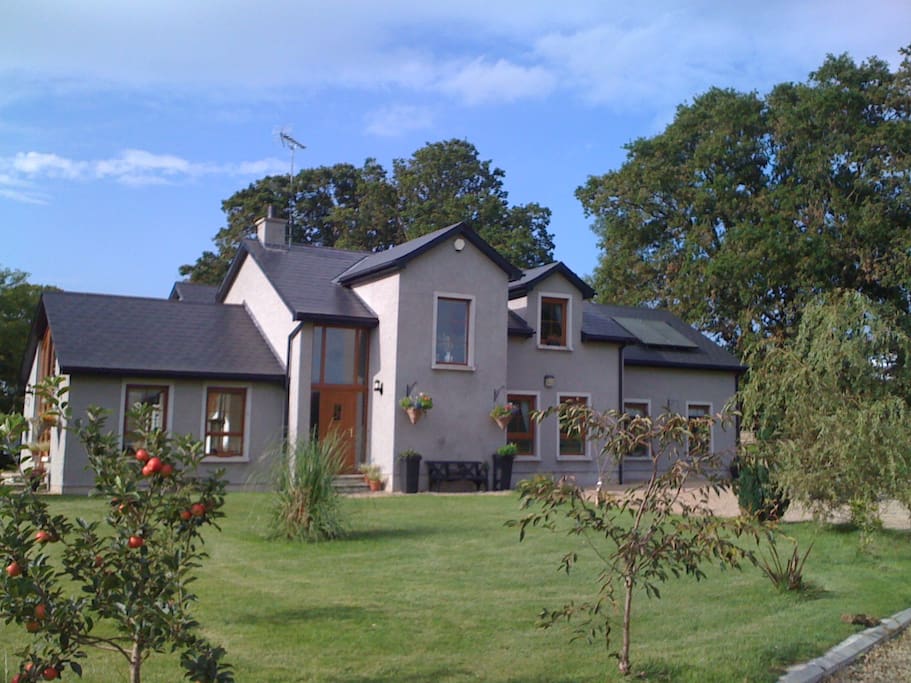 The Vandees Boutique Bed&Breakfast
Prostor
A decidedly different B&B located in a tranquil area of the beautiful Northern Irish countryside where the emphasis is based on creating experiences and memories rather than just a bed for the night.

Guests can expect a welcome Irish coffee,homemade goodies and a breakfast using local produce only from the nearby award winning butcher, McCartneys of Moira.

The area is very peaceful and quiet for those seeking relaxation and to experience rural life.Aghalee is situated on the Route 94 National Cycle network and guests can enjoy picturesque walks,fishing or cycling along the nearby Broadwater.
Moira village is only 5 miles from Aghalee where you will find good restaurants/coffee shops and pubs.The picturesque village of Hilsborough is also nearby.
Moira train station is 3miles away where a 22min train journey will take you into Belfast.Drop off and pick ups can be arranged.


The Vandees is centrally located for exploring most of the major tourist attractions in NI






Airbnb



Check in Check out Guests (PHONE NUMBER HIDDEN)Room type Entire home/apt Private room Shared room Find a place

Browse





Help















Noreen











Inbox0




























The Vandees Boutique Bed&Breakfast
View Listing



View All Listings
Manage Listing
Address and Description
Photos
Calendar and Pricing
Advanced
Trust and Verification
Guidebook
Promote









Listing Type

Property typeApartment House Bed & Breakfast Loft Cabin Villa Castle Dorm Treehouse Boat Plane Parking Space Car Van Camper/RV Igloo Lighthouse Yurt Tipi Cave Island Chalet Earth House Hut Train Tent Other




Room typePrivate room Shared room Entire home/apt












- - -











- -











- - -











- -











- - -











- -











- - -











- -









Description
• Title
1 characters left - - - Great title!
Description

What is your space like? Bedrooms? Bathrooms? Kitchen? Style?

What should guests expect during their stay?

What is your neighborhood like? Are there restaurants? Shops? Attractions?

Is there nearby public transit?

What makes your place unique?
A decidedly different B&B located in a tranquil area of the beautiful Northern Irish countryside where the emphasis is based on creating experiences and memories rather than just a bed for the night.

Guests can expect a welcome Irish coffee,homemade goodies and a breakfast using local produce only from the nearby award winning butcher, McCartneys of Moira.

The area is very peaceful and quiet for those seeking relaxation and to experience rural life.Aghalee is situated on the Route 94 National Cycle network and guests can enjoy picturesque walks,fishing or cycling along the nearby Broadwater.
Moira village is only 5 miles from Aghalee where you will find good restaurants/coffee shops and pubs.The picturesque village of Hilsborough is also nearby.
Moira train station is 3miles away where a 22min train journey will take you into Belfast.Drop off and pick ups can be arranged.


The Vandees is centrally located for exploring most of the major tourist attractions in NI and only 25 -35 mins from both airports.163 words - - Great description!

Your description must be at least 15 words long. Our most successful listings are more than 150 words long.









- - -











- -











- - -











- -











- - -











- -











- - -











- -











- - -











- -











- - -











- -











- - -











- -











- - -











- -











- - -











- -











- - -











- -











- - -











- -











- - -











- -











- - -











- -











- - -











- -











- - -











- -











- - -











- -











- - -











- -











- - -











- -











- - -











- -





Other languages will automatically be translated by (SENSITIVE CONTENTS HIDDEN) Translate. Write a description: Choose a language... Bahasa Indonesia Bahasa Melayu Dansk Deutsch English Español Eλληνικά Français Italiano Magyar Nederlands Norsk Polski Português Suomi Svenska Türkçe Íslenska Čeština Русский ภาษาไทย 中文 日本語 한국어



Amenities

Smoking Allowed
Pets Allowed
TV
Cable TV
Internet
Wireless Internet
Air Conditioning
Heating
Elevator in Building
Handicap Accessible
Pool
Kitchen
Free parking on premise
Doorman
Gym
Hot Tub
Indoor Fireplace
Buzzer/Wireless Intercom
Breakfast
Family/Kid Friendly
Suitable for Events
Washer
Dryer






Details

Accommodates1 person 2 people 3 people 4 people 5 people 6 people 7 people 8 people 9 people 10 people 11 people 12 people 13 people 14 people 15 people 16+ people



Bedrooms 1 bedroom 2 bedrooms 3 bedrooms 4 bedrooms 5 bedrooms 6 bedrooms 7 bedrooms 8 bedrooms 9 bedrooms 10 bedrooms



Beds1 bed 2 beds 3 beds 4 beds 5 beds 6 beds 7 beds 8 beds 9 beds 10 beds 11 beds 12 beds 13 beds 14 beds 15 beds 16+ beds



Bed typeAirbed Futon Pull-out Sofa Couch Real Bed
Bathrooms 0 bathrooms 0.5 bathrooms 1 bathroom 1.5 bathrooms 2 bathrooms 2.5 bathrooms 3 bathrooms 3.5 bathrooms 4 bathrooms 4.5 bathrooms 5 bathrooms 5.5 bathrooms 6 bathrooms 6.5 bathrooms 7 bathrooms 7.5 bathrooms 8+ bathrooms
Size square feet square meters
House Rules The Vandees is unsuitable for children under 6 years old.
Check in 2pm(flexible).
Check out 11am(flexible).
Car parking available(cars parked at owners own risk).



Pets on Premises
Yes, there are pets or animals here No, there aren't any pets or animals here

Pet Type
Dog(s) Cat(s) Other pet(s)






Location Information


Edit address Exact address 2C Lime Kiln Lane Lime Kiln Lane, Aghalee, BT67 0EZ, United Kingdom
This address is only released to guests with confirmed reservations.










































































Map data ©2013 (SENSITIVE CONTENTS HIDDEN) - Terms of Use











Report a map error














200 m

1000 ft













































































































Public View C Lime Kiln Lane, Aghalee, BT67 0EZ, United Kingdom
This is how your address appears on your public listing











































































Map data ©2013 (SENSITIVE CONTENTS HIDDEN) - Terms of Use











Report a map error














1 km

2000 ft







•Street View Hide Street View Nearby (within 2 blocks) Closest to My Address View










Private Details for Confirmed Guests



This information will only be revealed to guests who have a confirmed reservation with you.

DirectionsA26 from Belfast International Airport then B105 to Aghalee
M1 south bound from Belfast /Belfast City Airport,then exit A3 Moira roundabout then A26/B105

House Manual
Treat the house as your home from home.

A television is provided in the chill out room along with piano,guitar,sax for the musically minded.
Wireless keycode given on arrival.
Two bikes are available.(no liability taken).
No smoking indoors.










Location Settings


English

























GBP


































Discover
Safety
Airbnb Picks
Mobile
Airbnb TV
Life
How it works
Why Host
Social Connections
Site Map


Company
About
Jobs
Press
Blog
Help
Policies
Responsible Hosting
Disaster Response
Terms & Privacy


Join us on
(SENSITIVE CONTENTS HIDDEN)
(SENSITIVE CONTENTS HIDDEN)
(SENSITIVE CONTENTS HIDDEN)
YouTube

© Airbnb, Inc.



































Airbnb



Check in Check out Guests (PHONE NUMBER HIDDEN)Room type Entire home/apt Private room Shared room Find a place

Browse





Help















Noreen











Inbox0




























The Vandees Boutique Bed&Breakfast
View Listing



View All Listings
Manage Listing
Address and Description
Photos
Calendar and Pricing
Advanced
Trust and Verification
Guidebook
Promote









Listing Type

Property typeApartment House Bed & Breakfast Loft Cabin Villa Castle Dorm Treehouse Boat Plane Parking Space Car Van Camper/RV Igloo Lighthouse Yurt Tipi Cave Island Chalet Earth House Hut Train Tent Other




Room typePrivate room Shared room Entire home/apt












- - -











- -











- - -











- -











- - -











- -











- - -











- -









Description
• Title
1 characters left - - - Great title!
Description

What is your space like? Bedrooms? Bathrooms? Kitchen? Style?

What should guests expect during their stay?

What is your neighborhood like? Are there restaurants? Shops? Attractions?

Is there nearby public transit?

What makes your place unique?
A decidedly different B&B located in a tranquil area of the beautiful Northern Irish countryside where the emphasis is based on creating experiences and memories rather than just a bed for the night.

Guests can expect a welcome Irish coffee,homemade goodies and a breakfast using local produce only from the nearby award winning butcher, McCartneys of Moira.

The area is very peaceful and quiet for those seeking relaxation and to experience rural life.Aghalee is situated on the Route 94 National Cycle network and guests can enjoy picturesque walks,fishing or cycling along the nearby Broadwater.
Moira village is only 5 miles from Aghalee where you will find good restaurants/coffee shops and pubs.The picturesque village of Hilsborough is also nearby.
Moira train station is 3miles away where a 22min train journey will take you into Belfast.Drop off and pick ups can be arranged.


The Vandees is centrally located for exploring most of the major tourist attractions in NI and only 25 -35 mins from both airports.163 words - - Great description!

Your description must be at least 15 words long. Our most successful listings are more than 150 words long.









- - -











- -











- - -











- -











- - -











- -











- - -











- -











- - -











- -











- - -











- -











- - -











- -











- - -











- -











- - -











- -











- - -











- -











- - -











- -











- - -











- -











- - -











- -











- - -











- -











- - -











- -











- - -











- -











- - -











- -











- - -











- -











- - -











- -





Other languages will automatically be translated by (SENSITIVE CONTENTS HIDDEN) Translate. Write a description: Choose a language... Bahasa Indonesia Bahasa Melayu Dansk Deutsch English Español Eλληνικά Français Italiano Magyar Nederlands Norsk Polski Português Suomi Svenska Türkçe Íslenska Čeština Русский ภาษาไทย 中文 日本語 한국어



Amenities

Smoking Allowed
Pets Allowed
TV
Cable TV
Internet
Wireless Internet
Air Conditioning
Heating
Elevator in Building
Handicap Accessible
Pool
Kitchen
Free parking on premise
Doorman
Gym
Hot Tub
Indoor Fireplace
Buzzer/Wireless Intercom
Breakfast
Family/Kid Friendly
Suitable for Events
Washer
Dryer






Details

Accommodates1 person 2 people 3 people 4 people 5 people 6 people 7 people 8 people 9 people 10 people 11 people 12 people 13 people 14 people 15 people 16+ people



Bedrooms 1 bedroom 2 bedrooms 3 bedrooms 4 bedrooms 5 bedrooms 6 bedrooms 7 bedrooms 8 bedrooms 9 bedrooms 10 bedrooms



Beds1 bed 2 beds 3 beds 4 beds 5 beds 6 beds 7 beds 8 beds 9 beds 10 beds 11 beds 12 beds 13 beds 14 beds 15 beds 16+ beds



Bed typeAirbed Futon Pull-out Sofa Couch Real Bed
Bathrooms 0 bathrooms 0.5 bathrooms 1 bathroom 1.5 bathrooms 2 bathrooms 2.5 bathrooms 3 bathrooms 3.5 bathrooms 4 bathrooms 4.5 bathrooms 5 bathrooms 5.5 bathrooms 6 bathrooms 6.5 bathrooms 7 bathrooms 7.5 bathrooms 8+ bathrooms
Size square feet square meters
House Rules The Vandees is unsuitable for children under 6 years old.
Check in 2pm(flexible).
Check out 11am(flexible).
Car parking available(cars parked at owners own risk).



Pets on Premises
Yes, there are pets or animals here No, there aren't any pets or animals here

Pet Type
Dog(s) Cat(s) Other pet(s)






Location Information


Edit address Exact address 2C Lime Kiln Lane Lime Kiln Lane, Aghalee, BT67 0EZ, United Kingdom
This address is only released to guests with confirmed reservations.










































































Map data ©2013 (SENSITIVE CONTENTS HIDDEN) - Terms of Use











Report a map error














200 m

1000 ft













































































































Public View C Lime Kiln Lane, Aghalee, BT67 0EZ, United Kingdom
This is how your address appears on your public listing











































































Map data ©2013 (SENSITIVE CONTENTS HIDDEN) - Terms of Use











Report a map error














1 km

2000 ft







•Street View Hide Street View Nearby (within 2 blocks) Closest to My Address View










Private Details for Confirmed Guests



This information will only be revealed to guests who have a confirmed reservation with you.

DirectionsA26 from Belfast International Airport then B105 to Aghalee
M1 south bound from Belfast /Belfast City Airport,then exit A3 Moira roundabout then A26/B105

House Manual
Treat the house as your home from home.

A television is provided in the chill out room along with piano,guitar,sax for the musically minded.
Wireless keycode given on arrival.
Two bikes are available.(no liability taken).
No smoking indoors.










Location Settings


English

























GBP


































Discover
Safety
Airbnb Picks
Mobile
Airbnb TV
Life
How it works
Why Host
Social Connections
Site Map


Company
About
Jobs
Press
Blog
Help
Policies
Responsible Hosting
Disaster Response
Terms & Privacy


Join us on
(SENSITIVE CONTENTS HIDDEN)
(SENSITIVE CONTENTS HIDDEN)
(SENSITIVE CONTENTS HIDDEN)
YouTube

© Airbnb, Inc.


































and only 25 -35 mins from .
---
Tip kreveta: Pravi krevet
Dolazak: Bilo kada nakon 14:00
Ima kućnog ljubimca: Dog(s) and other pet(s)
Vrsta prostora: Privatna soba
---
Besplatan parking u sklopu smještaja
---
Dodatni gosti Nema naknade
Komunicirajte samo putem Airbnba
Kako biste zaštitili svoje plaćanje, nikad nemojte vršiti novčane transakcije ni komunicirati izvan Airbnbove stranice ili aplikacije.
Saznaj više
---
The Vandees is unsuitable for children under 6 years old.
Check in 2pm(flexible).
Check out 11am(flexible).
Car parking available(cars parked at owners own risk).
---
---
Minimalni boravak: 1 noćenje
---
Absolutely brilliant house and welcoming people. The food was fantastic and thoroughly enjoyed my time there. Would definitely stay again and wish Noreen, JP and molly all the best. Thanks so much guys.
---
We had a wonderful stay at the Vandees. The bedroom was immaculate and wonderfully peaceful and quiet. We were made to feel very welcome from the home-made fudge on our pillow to the offer of a lift to a local restaurant. The full Ulster breakfast was delicious and got us off to a great start. We would definitely return if ever in Northern Ireland again if only for another of Noreen's wonderful Irish coffees! Can't recommend this place highly enough.
---
Jezici:
Deutsch, English, Español, Nederlands
Stopa odgovora:
100%
Vrijeme odgovora:
u roku od sat vremena
Aghalee i okolica nude i druge opcije – istražite ih
Još mjesta za smještaj na lokaciji Aghalee: