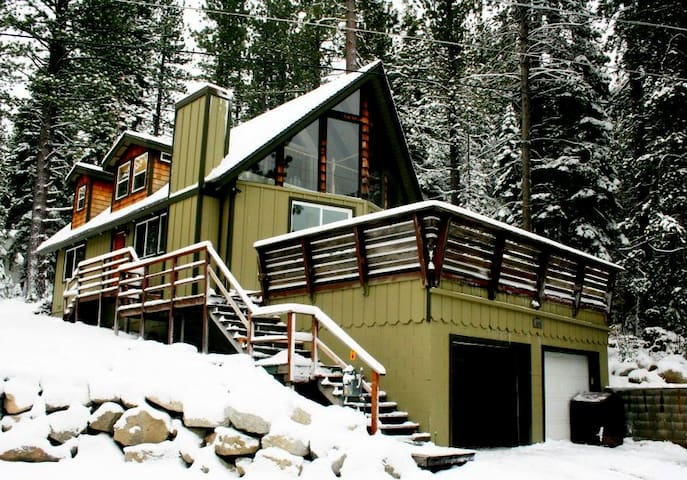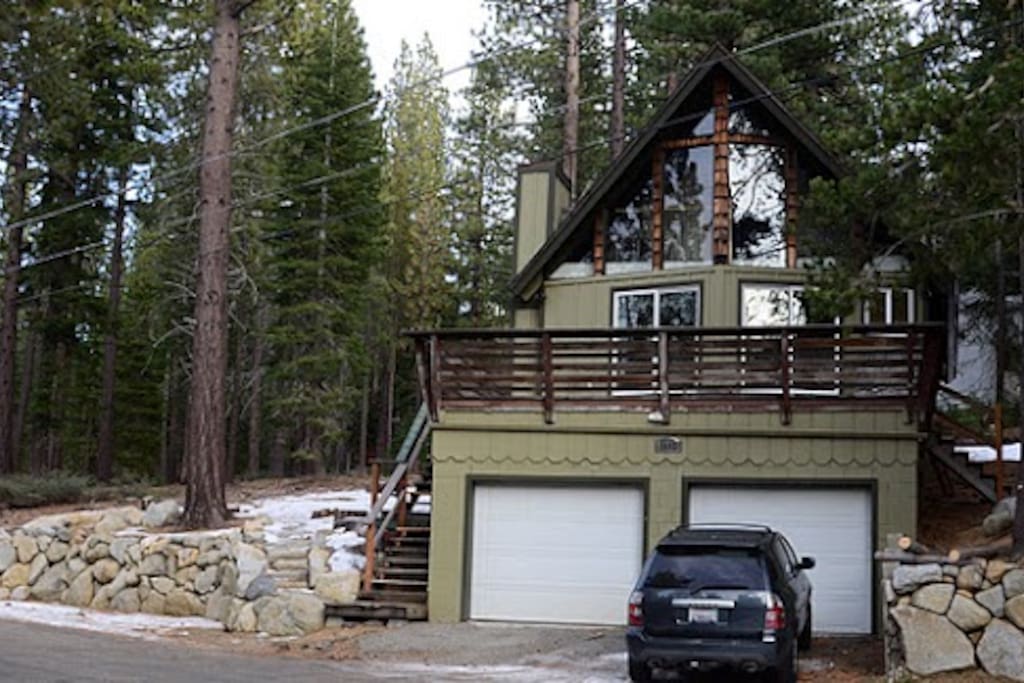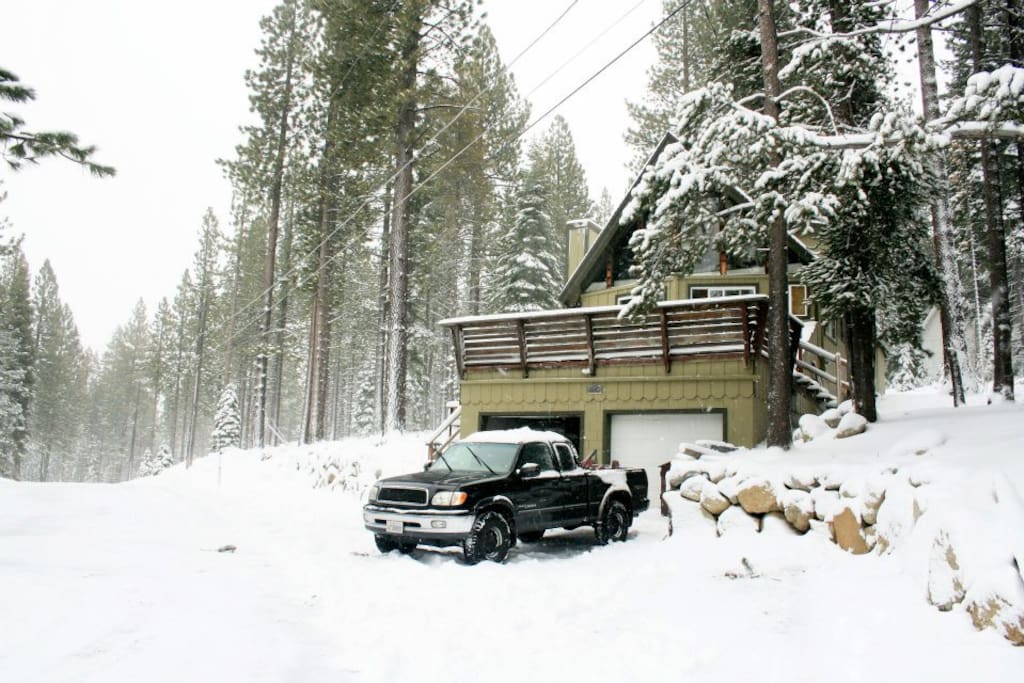 3Br2B South Lake Tahoe Getaway
3Br2B South Lake Tahoe Getaway
A cool place to stay in Tahoe. This newly renovated, 2-story house features 3 bedrooms and 2 full bathrooms.
Prostor
1st Floor:
On the 1st Floor is a large living room, kitchen, and dining area. The living room has 2 sofas (one is a pull-out sleeper), a fireplace, and a big screen cable TV with Blu-ray/DVD player. Many board games available for your entertainment.
The kitchen is fully-equipped with newly-installed fridge, gas top range, oven, microwave, and dishwasher. Cookware and appliances are available for your use.
Also located on the 1st Floor are two private bedrooms both with Queen-size beds and dressers. The 1st Floor bathroom features a bathtub and washer/dryer unit.
2nd Floor:
On the 2nd Floor are two connected bedrooms. The Main Room is furnished with 2 Queen-size beds and 1 bunk bed with a Full and Twin Mattress. The second room features a Queen-size bed and is connected to a large walk-in closet. Also located on the 2nd floor is a shower bathroom.
All rooms are fully furnished and include high-quality bedding, Tempurpedic and latex mattresses, and bath towels.
Cable and wireless internet are included. Parking is available in the garage and on the driveway. Pets allowed.
Charcoal BBQ available for use on deck. The front deck overlooks the vast forest. The house backs up to the national forests and Sierra Mountains. Great for hiking! Mountain bike trails are close by.
Centrally located to grocery stores, restaurants, and other activities. It is a 20 minute drive to Stateline casinos and Heavenly Ski Resort. This house is located 10 minutes from South Lake Tahoe Airport, 1.5 hours from Reno Airport, and 2 hours from Sacramento Airport.
Please message for additional information.
Ostale napomene
Please be cognizant that many people in the neighborhood are full time residents and would appreciate adherence to local ordinances, including a nightly noise ordinance
---
---
Dodatni gosti $20 / noćenje nakon 7 gostiju
Vikend cijena $250 / noćenje
Komunicirajte samo putem Airbnba
Kako biste zaštitili svoje plaćanje, nikad nemojte vršiti novčane transakcije ni komunicirati izvan Airbnbove stranice ili aplikacije.
Saznaj više
---
Zabave i događaji zabranjeni
Tenants will be expected to sign and adhere to the following lease:
In consideration of the monies received and mutual promises, contained herein: the Owner (see "Notices") of the property ("Property"), does hereby lease and rent to Tenant (see "Rental Specifics") the Property under the following terms and conditions:
SECURING THE RESERVATION, SIGNING THIS CONTRACT: To secure a reservation, the Tenant must completely fill out this contract, including contact information.
PAYMENT ALONG WITH CONTRACT: shall consist of the [fee agreed upon via Airbnb].
BOOKING FEE This agreement shall not be binding unless and until the Owner has received the Booking Fee, and all checks have cleared the bank, and the Owner has co-signed the contract, and returned it to Tenant. The Booking Fee is not to be refunded to Tenant at anytime.
CLEANING. The Property is to be left in tidy state, used towels and linens placed in the laundry area, and dishes and cooking utensils rinsed and placed in the dishwasher. If excessive cleaning is required, i.e. food smeared on wall, spilled on furniture, carpet spots, or generally, the Property in such a state that 2 people cannot clean it in 3 hours, an additional cleaning fee will be accessed.
RENT is specified on this contract for the Lease Period, see below.
CANCELLATIONS/FORFEITURES In case of cancellations, you will be able to "sublet" your spot to another tenant on approval, however no refunds will be given.
CHECK IN will be [arranged on Airbnb].
CHECK OUT will be [arranged on Airbnb] (this can be extended).
DOGS are permitted if and only if they are disease free, house broken, friendly animals and must be approved by Owners. All attacks and disputes are the sole responsibly of the Animals Owner/Guardian.
TRASH: NO TRASH to be left outside - all trash to be placed inside the BEAR BOX. If you leave trash on the side of the street it is a $500 ticket. DO NOT leave trash on the Property, the signee is liable for damages to the garage and the property.
PARKING: The City of South Lake Tahoe strictly limits 2 vehicles to be parked at this rental property. Vehicles will be parked in the Garage. There is enough room for 3 vehicles. DO NOT PARK INTO THE STREET OR ON THE STREET!
*SUMMER WARNING* Between the months of May and August the pine forest is reproducing. Heavy pollen, tree sap and pinecones will fall and may damage your vehicle. We advise that you bring a tarp or car cover and cover your vehicle while parked under pine trees.
*WINTER WARNING*
DO NOT PARK INTO THE STREET OR ON THE STREET! City of South Lake Tahoe snow removal equipment will be clearing the streets during and after snow storms, and will tow your cars as well as fine you if they are in the street or extending out of the driveway into the street. Though the driveway will accommodate 3 vehicles, it is best for your party to plan only parking a maximum of 2 vehicles at the property if heavy snow conditions are expected during your planned stay.
NUISANCE. Tenants will be held liable for any use of the Property and adjacent areas such that any law or ordinance is violated. This includes, but is not limited to, noise violations, trash violations, and the use, possession, or sale of illegal drugs. Smoking is prohibited inside the residence.
MAXIMUM OCCUPANCY: 10 persons
FURNISHINGS. The property is equipped and furnished to the Owner's taste and are set up for light housekeeping. Mattress pads, pillows, blankets, linens, bedspreads, and towels are VACATION RENTAL AGREEMENT provided.
EXTRAS (APPLIANCES): Televisions, VCR's, Washer, Dryer, Internet, Etc., herein called "extras", are supplied at no extra charge as a convenience for tenant use. In the event of a malfunction or breakdown of "extras", Owner or Owner's Representative will have the "extra" repaired as quickly as practical. Tenant agrees that there will be no refund for malfunction or breakdown of "extras". In the event of malfunction of any other appliance or feature, Tenant must notify Owner or Owner's Representative so repair of malfunction can be made. We will expedite repair, but no refund of rent will be made. Don't re-wire, unplug, change settings, re-program, or reset/modify any of the Appliances/Water Heaters. Do not attempt to connect any video games, computers, or other electronic equipment to the TVs, networking equipment, or other Appliance. If you can't figure something out CALL ME.
WATER SUPPLY AND QUALITY: Please conserve and be careful in water usage to help us practice responsible conservation.
USE OF TRAILS is at Tenant's own risk.
UTILITIES: Water, Electricity, Gas, and Sewer costs are included in the booking fee. Please make efforts to conserve energy by turning off unused lights, turning off outside lights during the day, etc.
SMOKING is not permitted on the inside the Property. Violation is grounds for immediate termination and eviction with no refunds of Booking Fee.
TELEPHONES are not provided.
INTERNET Network is provided using wireless 802.11b standard. Standard "insecure network" and DHCP capability is provided. Unlimited connectivity and traffic is provided. NO TECHNICAL SUPPORT IS PROVIDED. THE NETWORK IS PROVIDED "AS-IS" WITHOUT ANY WARRANTY WHATSOEVER. YOU ASSUME ALL RISKS AND RESPONSIBILITIES FOR USE OF THE NETWORK. OWNER MAKES NO WARRANTY THAT THE NETWORK WILL BE ERROR FREE OR FREE FROM INTERRUPTION OR FAILURE, OR THAT IT IS COMPATIBLE WITH ANY PARTICULAR HARDWARE OR SOFTWARE. TO THE MAXIMUM EXTENT PERMITTED BY APPLICABLE LAW, THE OWNER DISCLAIMS ALL WARRANTIES, EITHER EXPRESS OR IMPLIED, INCLUDING BUT NOT LIMITED TO IMPLIED WARRANTIES, FITNESS FOR A PARTICULAR PURPOSE. YOU HEREBY ACKNOWLEDGE THAT THE NETWORK MAY NOT BE AVAILABLE OR BECOME UNAVAILABLE DUE TO ANY NUMBER OF FACTORS INCLUDING, WITHOUT LIMITATION, PERIODIC SYSTEM MAINTENANCE, SCHEDULED OR UNSCHEDULED, ACTS OF GOD, TECHNICAL FAILURE OF THE SOFTWARE, TELECOMMUNICATIONS INFRASTRUCTURE, OR DELAY OR DISRUPTION ATTRIBUTABLE TO VIRUSES, DENIAL OF SERVICE ATTACKS, INCREASED OR FLUCTUATING DEMAND, ACTIONS AND OMISSIONS OF THIRD PARTIES, OR ANY OTHER CAUSE REASONABLY BEYOND THE CONTROL OF THE OWNER. YOU ASSUME THE ENTIRE COST OF ANY DAMAGE RESULTING FROM YOUR USE OF THE NETWORK AND THE INFORMATION ACCESSED BY THE NETWORK, AND THE INTERACTION (OR FAILURE TO INTERACT PROPERLY) WITH ANY OTHER HARDWARE OR SOFTWARE WHETHER PROVIDED BY THE OWNER OR A THIRD PARTY. TO THE MAXIMUM EXTENT PERMITTED BY APPLICABLE LAW, IN NO EVENT WILL THE OWNER BE LIABLE FOR ANY DAMAGES WHATSOEVER (INCLUDING, WITHOUT LIMITATION, DAMAGES FOR LOSS OF BUSINESS PROFITS, BUSINESS INTERRUPTION, LOSS OF BUSINESS INFORMATION, LOSS OF GOODWILL, WORK STOPPAGE, HARDWARE OR SOFTWARE DISRUPTION, IMPAIRMENT OR FAILURE, REPAIR COSTS, TIME VALUE OR OTHER PECUNIARY LOSS) ARISING OUT OF THE USE OR INABILITY TO USE THE NETWORK, OR THE INCOMPATIBILITY OF THE NETWORK WITH ANY HARDWARE, SOFTWARE OR USAGE, THE INFECTION OR DOWNLOAD OR UPLOAD OF OR BY ANY VIRUS, SPYWARE, WORM, OFENSIVE MATERIALS, COPYRIGHT INFRINGEMENT, UNLAWFUL USE, OR ANY OTHER USE RELATED DAMAGE, EVEN IF YOU HAVE BEEN ADVISED OF THE POSSIBILITY OF SUCH DAMAGES. (Sorry for the long legal stuff here but if your laptop gets a fatal virus or you catch your kids surfing porn it's not my problem!!).
GRILLING is permitted only on the supplied charcoal grill stored on the deck of the property. ABSOLUTELY NO GRILLING ALLOWED IN THE YARDS, PORCHES, AROUND THE UNIT OR NEAR WOODED AREAS. Please clean the Grill after use.
FIREWORKS: Use of fireworks is prohibited!
EXTRA FOOD: Please discard extra food or beverages, which you have brought; do not leave leftovers in the Property.
FIRES/FIREPLACE Use only the supplied fireplace installed in the property.
NO TRIMMING OF TREES or breaking off branches allowed.
OWNERS AREAS: Areas such as Owner's personal storage areas are exempt from this lease and are off limits to the Tenant. Entry into these areas is cause for immediate eviction and Tenant will be responsible for any damages or missing items.
CARE OF PROPERTY. Tenant is expected to care for the property as if it were his or her own. In addition, Tenant acknowledges that unless Owner is notified on day of check-in of any damage or cleaning concerns, then thereafter, all damages or concerns to the property during the occupancy will be Tenants responsibility and must be reported to Owner and paid prior to departure. Tenant must leave the property in a clean condition as described above. All doors and windows closed and locked. All breakage reported to the Owner. Property must be left the same as you found it. Use of the Property, which is in the opinion of owner as fraudulent, dangerous, illegal, or in gross negligence, shall be deemed grounds for immediate termination and eviction with no refunds of booking fee. If you break something just tell us, it might not be your fault, and we'll be a lot less upset about it if we are prepared to fix it before the next tenant arrives. Thank You.
HURRICANES, RAINSTORMS, WINDSTORMS, EARTHQUAKES, FOG, TOO HOT, TOO COLD, OR JUST YUKKY WEATHER: No representations or warranties are made with respect to any weather conditions at all including any natural disaster conditions. Tenant agrees to comply with instructions from Owner and any advisory statement from any local emergency authorities in a natural disaster situation. No refunds are given for any weather or natural disaster condition.
OWNER PROPERTY ACCESS: Owner may access property inside or out for any purpose including repairs, inspection, verification of Tenant status, monitoring of proper use of Property, access to Owners Area, maintenance, Property improvement, or for any other reason, with one hours notice to Tenant. Tenant will be contacts on Property telephone, and if supplied by Tenant email and cell phone, before Owner seeks Property Access. If for any reason Tenant prevents full and unencumbered Owner Property Access, it shall be deemed grounds for immediate termination and eviction with no refunds of rent, tax, cleaning or deposit.
TERMINATION. If the Tenant or any member of his party violates any of the terms of this agreement, the Owner may, at the Owner's sole discretion, terminate this lease with no refund of the used portions of the rents unless the property is able to be re-rented, and may enter the premises and remove Tenant, the members of his party and their belongings. Tenant is notified that they will be subject to an expedited eviction procedure.
FAILURE TO DELIVER. In the event that the Owner is unable to deliver said property to Tenant under this lease agreement prior to occupancy because of fire, eminent domain, act of nature, double booking, delay in construction or any other reason whatsoever, Tenant hereby agrees that Owner's sole liability as a result of these conditions is a full refund of all consideration previously tendered by Tenant. Pursuant to the terms of this lease, Tenant expressly acknowledges that in no event shall Owner be held liable for any consequential or secondary damages, including but not limits to, any expenses incurred as a result of moving for any damage, destruction or loss.
TRANSFER OF PROPERTY. Should the present Owner transfer title to the real property, which is subject to this lease, the Owner is obligated to disclose to the Tenant certain information regarding existing leases. For rentals which end more than one hundred eighty (180) days after such recording of the interest to Owner's successor in interest, the successor in interest will not be bound for any rents which end more that one hundred eight (180) days after such recording unless they agree to be bound in writing. If such successor in interest does not agree to be bound in writing, you will be notified in writing and will receive a refund of any payments made by you.
LOST, STOLEN OR ABANDONED ARTICLES Owner shall not have any responsibility for lost, stolen or abandoned items.
INDEMNITY. The Tenant agrees to release and indemnify the from and against all liability, should anyone be injured upon the premises during the term of the lease, resulting form any cause whatsoever, Tenant will indemnify and hold harmless the Owner for any injuries, accident or otherwise, incurred or suffered upon the premises by tenant and guests or anyone associated with tenant for any cause whatsoever during the term of this contract. Tenant's personal property and vehicles are not insured by the Owner or Owner's Representatives against loss or damage due to fire, theft, vandalism, rain, water, criminal or negligent acts of others, or any other cause.
ADVERTISEMENTS: Any other on-line, paper, verbal, or other forms of materials describing the property are NOT part of this rental agreement and there is an acknowledgement that any representations those materials have made with respect to the property were for informational purposes only and have no bearing or obligation with respect to completeness or correctness regarding the property.
AMENDMENTS. No subsequent alteration, amendment, change or addition to this License shall be binding unless in writing and signed by both Parties.
DISPUTES/JURISDICTION. All disputes shall be resolved by binding arbitration according the arbitration rules of the American Arbitration Association and will occur in San Mateo County, California. Any judgment upon the award rendered by the arbitration panel may be entered in any court having jurisdiction over the subject matter thereof. The arbitration panel shall have the authority to grant any equitable and legal remedies that would be available in any judicial proceeding instituted to resolve a dispute. The parties will bear the expense of deposits and advances required by the arbitration panel in equal proportions, but either party may advance such amounts, subject to recovery as an addition or offset to any award. The arbitration panel will award to the prevailing party, as determined by the arbitrators, all costs, fees and expenses related to the arbitration, including reasonable fees and expenses of attorneys, accountants and other professionals incurred by the prevailing party.
CONSTRUCTION. As used in this Agreement, all terms used in the singular will be deemed to include the plural, and vice versa, as the context may require. When used in this Agreement, "including" means "including, without limitation". Descriptive headings are inserted for convenience only and will not be utilized in interpreting the Agreement. This Agreement has been reviewed by the Parties and will be fairly interpreted in accordance with its terms and without any strict construction in favor of or against either Party.
NOTICES/OWNER ADDRESS. Any informal questions during your stay may be directed to the Owner via email or cell phone, the cell phone number is posted in the Property. All booking fees, contracts and other notices and formal communications should be provided to Owner:
Eric Valasek; 202 Green St.; Palo Alto CA, 94303
ACKNOWLEDGMENT. Tenant acknowledges they have reviewed and understand the terms of this lease and agree to be bound thereby. THIS IS A VACATION RENTAL AGREEMENT. THE RIGHTS AND OBLIGATIONS OF THE PARTIES TO THIS AGREEMENT ARE INCLUDE UNIQUE PROVISIONS PERMITTING THE DISBURSEMENT OF RENT PRIOR TO TENANCY, EXPEDITED EVICTION OF TENANTS, AND SHORT NOTICE PERIOD FOR OWNER ACCESS AND INSPECTION. YOUR SIGNATURE ON THIS AGREEMENT, OR PAYMENT OF MONEY OR TAKING POSSESSION OF THE PROPERTY AFTER RECEIPT OF THE AGREEMENT, IS EVIDENCE OF YOUR ACCEPTANCE OF THE AGREEMENT AND YOUR INTENT TO LEASE THIS PROPERTY FOR A VACATION RENTAL WITH THESE SPECIAL PROVISIONS.
---
---
Minimalni boravak: 2 noćenja
---
I live in Palo Alto, California which is 30 miles south of San Francisco. I enjoy surfing, biking, snowboarding, and climbing/hiking.
Stopa odgovora:
100%
Vrijeme odgovora:
unutar nekoliko sati
South Lake Tahoe i okolica nude i druge opcije – istražite ih
Još mjesta za smještaj na lokaciji South Lake Tahoe: