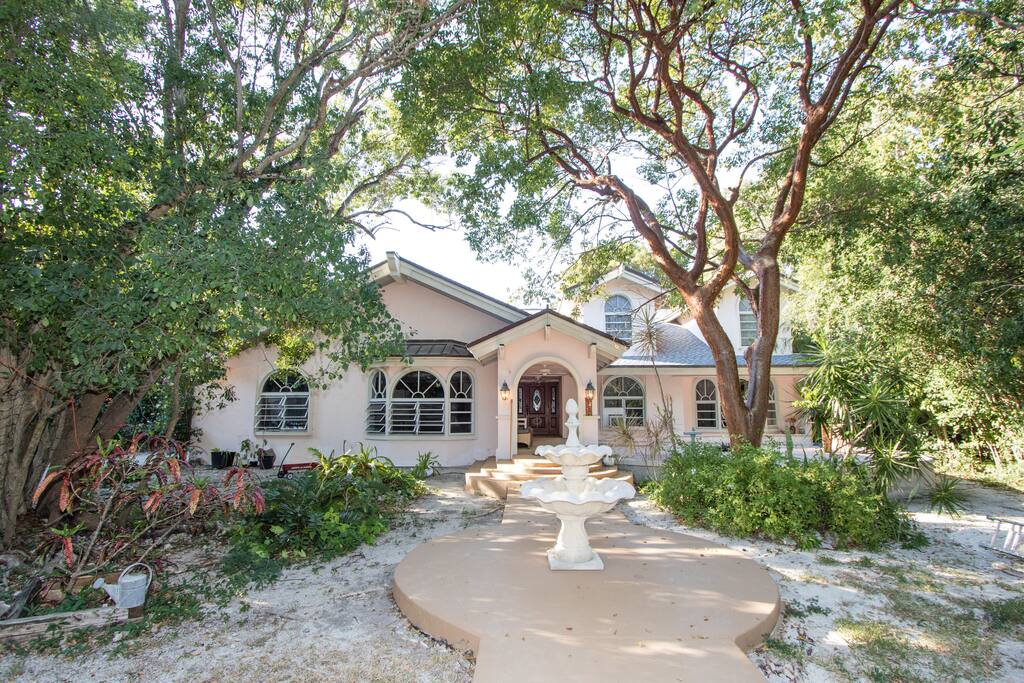 SAFE FROM HURRICANE, READY TO BOOK!!
Please NO SMOKERS. King bed sleeps two. Pvt room w/ bathroom shared with Rm2. FREE USE OF KAYAK FOR 1.5 hour each day of ur stay. To experience all additional listings please message me. Enjoy ; )
Prostor
SAFE FROM HURRICANE, READY TO BOOK!!
Very quiet Peaceful but just mins away from Shopping Restaurants, Hospital, Movie Theater, World famous Key Lime Pie, John Pennecamp Coral Reef State Park, African Queen, Everglades National Park, Dive Museum, Paddle Boat Dinner/Sunset Tours, Eco Tours,
*Advised* all lodgings include w/ pricing:Suite,Parking,Beach& amenities...lounges,grill,kayak,snorkel,swim,Extra storage charge for extra vehicles/boats/wave runners/trailers. Please inquire before booking.
Dostupno gostima
You are welcome to enjoy our entire property. Please keep our property clean and lovely. Also fishing is not available on our estate. We reside in the Florida Keys Sanctuary. Also no smoking. On a special note: We offer our guests more of an intimate boutique resort. Our beautiful homes are located on (2) pristine acres directly on the Gulf of Mexico. We offer a huge back yard, 3 kayaks, snorkel gear & more. Please let me stress!...we're not a condo, were not a mobile home on a canal & we're not time shares that are built side by side. We actually own 25' of the bay bottom. So I hope I've conveyed how lovely and special our 2 acre private and GATED estate really is. Please email me if you ever desire more information. We love our home so much that we've built a safe living aquarium in our lagoon area. It's taken since 1970's we feed our fish and NO there are NO sharks or harmful sea-life. Just beautiful sites under the water. At the beach area is a zero entry and by the time you're in the lagoon area it's about 3.5 -4 feet. You have to swim out fairly far to get to 10 feet. We encourage everyone SAFETY first when you move past our estate perimeter and grounds. Always life jackets on when in Kayaks. Safety ;). So this is why we say the following. We're part of the Marine Sanctuary to save our lovely sea-life. Many guests come to visit and want to fish of the docks however we kindly ask you to join us in understanding we don't permit fishing because we want to have amazing sea-life for the next generations. And too... our county has created many new public fishing areas for visitors to the keys to fish. I also offer a wonderful list of guides for both deep sea and back country. Thank you for protecting our sea-life for future generations.
Interakcija s gostima
I'm right on the estate in the Little Terra Cotta Cottage with a green tin roof.
Ostale napomene
Check in: Anytime after 4 pm
Check out and Departure: Anytime before 11 am.
---
Besplatan parking u sklopu smještaja
Prostor za rad na prijenosnom računalu
---
Spavaća soba 1
1 bračni krevet (1,8x2)
---
Nije prikladno za kućne ljubimce
Nije sigurno ili prikladno za djecu (0 – 12 god.)
Samostalni dolazak uz lockbox
A warm sunny welcome from the Bennett Family and we sincerely look forward to hosting you. Please print out your contract with Airbnb and Joyce Bennett LLC. This will serve as both your contract and information that you'll refer back to. This Manual will contain information and our house rules as well. We thank you for being aware of them as it will definitely serve your needs as well as definitely securing a 5 ***** rating from our family on your departure day. Airbnb will send out a Guest Review and they will additionally email a Host Review. We take this seriously and to heart as we ALWAYS desire our new friends, family and guests to enjoy their memory and time with us. Additionally your comfort and enjoyment is sincerely important as we're working diligently towards our AirBnB Superhost Status. When obtaining Superhost status we can offer some more amenities and privileges to future guests. So right now thank you in advance for all those guest sincerely helping us obtain this wonderful status. Okay on with the fun stuff (: - ) Okay 1 more serious note. Remember YOU ARE in the Fabulous Florida Keys which IS part of the Everglades National Park. A very delicate ecological area which also has mosquitoes and perhaps other little insects. But not too many. please enjoy researching online about all the safe sprays for your body to keep mosquitoes away. It doesn't matter what resort you stay in .... we ALL live in Florida and the mosquitoes were here 1st. So please come prepared. As well with suntan lotion. It's sunny here ; )
Questions: What do my fees include?
along with the suite/apartment. , FREE 1.5 hour use of Kayaks per each day of your stay. Before departing send a text to let us know which kayak you're borrowing and what time you're heading out., FREE use of Snorkel gear, FREE use of grill, FREE use of Beach/Sunset waterfront, FREE Parking, FREE ultra UV purified water by eSpring: Info provided The eSpring® Water Purifier was the first in-home system to combine UV light technology with a multi-stage carbon-block filter Certified purifiers. We're very concise of our delicate ecological balance or creation. So we wash upon your departure. With that said...I encourage you to pack perhaps a large beach towel just so you'll have a beach towel for the waterfront. Please we ask your consideration that all towels and hand towels stay at the house you'll be lodging in. We offer a wireless fax for you to print out your boarding passes at no charge.

Parking
Coral House ( Rooms 1,2,3 ) make the first right and park straight in at the parking areas. Please not at an angle. 1st orange cone on your right.

Please park there. Speed limit on the estate is no more than 3 mph.

Coffee & Tea:
As of right now we offer Keurig Coffee/Tea makers in all our lodgings.
Cell Service: Please understand you are on the Islands and we live in a Hardwood Hammock of stunning trees. So the best carrier is AT&T. The Carriers we find that are able to have reception but a little slower are T-Mobile, Sprint, Verizon. I always keep our Wifi at the fastest level for your convenience.
Entering the Gracious Estate:
This is certainly not your "typical" airbnb". We offer a private gate for your security and peace of mind. All your personal items, vehicle etc are secure once the gates are closed. We will supply you with our Estate Gate Code once you arrive. Please. This is private so please don't share with others and most especially additional guests. If you have friends that you'll be meeting please do not give them our Estate code for the safety of other guests on the property. We prefer that you meet them off the estate unless you've paid and confirmed their reservation with us before hand.
When entering please wait with your car. We've had guests lock themselves out by not staying in the vehicle. So I thank you for staying in your vehicle till I arrive. Please don't park directly in front of the gate when waiting just park in the grass area.
SuiteCases:
Please lift your suitcases into the house. If you roll them on the coral rock it will damage your rolling wheels. Additionally don't drag them up the stairs as it will crack our cement. Kindly lift your luggage all the way in the room. Please do not drag luggage in gravel and dirt. Thank you.
Hanging of clothing and dive gear.
Please use the clothesline provided for you to hang your wet items. DO not hang over wood, furniture chairs, wooden closets, drapery brackets, roof, awnings. ONLY ON CLOTHESLINE provided for you and your area. Additionally no hanging clothes on trees by the waterfront. ONLY clothesline. There is a laundry mat about 2 minutes from our estate if you need to do any washing or drying. We don't permit washing or drying of laundry on the estate. Our county now monitors the amount of water and electricity coming on and off the estate.

Garbage & Recycling dispose of your items out near our parking area near water front. You will notice the blue recycling receptacle and Dark Garbage Cans enclosed with the white lattice fence. And if you're lodging in the coral house they are located behind the coral house. A recycling receptacle as well as the garbage cans.
What goes in recycling receptacles?
Bottles glass, cans, foil. Paper.
We kindly ask that you please do not take bring home containers and stuff them in the bathrooms. Please bring them to the garbage receptacles. We greatly appreciate your attention to this issue.
Wash dive gear at dive shop please before returning back to the estate. Please place all dive gear wet suits or anything that is wet in back of the coral house. We have safe secure areas set up for your equipment dive gear, wet suits, towels and bathing attire.
Amenities:
Kayaks: If you would like to rent a Kayak for your personal use no longer than 1.5 hours per day. We encourage you to call PADDLE... A great local business that offers rentals for kayaks and Paddle boards. We also ask that use of the kayak needs to stay in our bay solely. And Kayaks need to return before 7:40 pm.

If you would like to rent our kayaks longer please speak with one of the Bennett Family members to help you and go over rental fees and times.
We provide the life jackets and paddles.
Snorkle gear is Complimentary.
Bicycles are $12.00 per day. Comes with locks for safety and helmets upon request.
All ala carte items need to be secured at time of reservation. Payment is due on arrival day.
Charcoal Grill is located by the waterfront. Please do not move the grill as it's use for all guests. You need only to provide your charcoal, wood chips, lighter and lighter fluid. Please we kindly ask you to please throughly clean off the grill for the next guest by burning it off and removing your charcoal /ashes from the inside. There will be a metal garbage can for dispossal of ashes. We thank you for your kind consideration.
Kayaks are not available between the hours of 7 Pm and 6 AM

Oh garbage and recyclables cartons bottles takeout containers for restaurants tinfoil plastic wrap plastic bags please place directly in large garbage containers provided for you at the Coral house walk out the French doors blue is for the recyclables and the dark black or brown one is for your wet garbage. ... please walk out to the parking area and you will locate the enclosed lattice area where the recyclables and the garbage cans which is to be placed we ask you to please not leave garbage bottles bags in the room or on the counters we ask that you leave no carbon footprint and take what you brought in we appreciate your thoughtfulness to our beautiful nature in this very special preserve.
Dish washing and the hand soap that is provided for you we ask that you please use this as it is the official organic soap for our estate & environmentally protective of our beautiful waters and sea life. that is very good for the environment please do not go out and purchase over-the-counter dishwashing soap or hand soap. It is not compatible with our environment. Nor is it permissible.
Towels
We provide 1 towel per guest. At certain times I can offer additional towels for families lodging more than 1 week. The Florida Keys are a very very fragile necessity to south Florida. The more washing and phosphates we pour into our oceans the faster it dies. Therefore I can't express enough to you these sincere points.
1. 1 towel is provided for each guest.
2. If u require additional towels or beach towels I would ask that you pack them.
3. When lodging more than 1 week towels will be provided after the 3rd day upon request.
4. We sincerely thank you for being so considerate of our very fragile oceans and sea life and we ask all guests to conserve both "water". We are still also on septic tanks which means that long showers are not permissible.
5. Traveling with children. You will most likely need more towels so I encourage you to bring yours from home. We provide 1 for each person in your party.
5. Finally please remember you're our guests in our homes. We provide what we normally would for our own family and friends. A hotel or motel we aren't. So we go by the courtesy policy of thinking of everyone whose lodging with us and having just what we need for you. Thank you for understanding and enjoying our beautiful Florida Keys and not leaving a carbon footprint...behind that's not too large ; )
6. All waterfront tables, chairs, water flotations, kayak jackets, kayaks and chaise lounges. Need to be returned at the end of the day use to the proper storage area. Either behind the fence area or just adjacent to the tree area. Please check with The Bennett Family as to where to return items you're utilizing by the waterfront. These are our homes and we try to keep everything tidy for other guests just arriving. They would like to see a beautiful prestine waterfront. Thank you kindly in advance.
7. Washing and drying clothing: If your party is staying longer than 6 days we are happy to accommodate you with 1 load of clothing. If guests are staying under 6 days we are happy to guide you to the nearest laundry mat. Monroe County is now charging owners for every drop on and off property. So water and a/c is very precious to those of us that reside in Paradise ; )
**Very Important** Please remember we are on septic tanks in the Florida Keys and the toilet paper MUST be 1 ply. Preferbly Scotts brand or Charmin. Please check 1 ply. Thank you.
We thank you for to staying with our family we are very happy to host you. Air B and B has been a wonderful avenue to meet the WORLD : ) we dearly adore hosting guests and sharing our family estate as well as secret treasures of locals around the Florida Keys. With that said we are not a registered bed and breakfast. What we are is exactly what Air BnB States; room's of all different types and budgets . We are also not a Resort. So we kindly ask to respect the families wishes by returning all waterfront equipment lounges, chairs, flotation devices, tables and umbrellas at the end of the end of your day use, to where the family stores items. That way our beautiful beach waterfront is lovely and prestine for all of our wonderful guests. Thank you in advance for putting items away. Your wet items are to go in the proper place as in clotheslines. And placing your garbage in the receptacles provided for you. We worked diligently to recycle. And we encourage our guests to do the same. You will notice the blue recycle Bins and Blue large garbage cans… those are our recycle Bins. The black and grey garbage cans are provided for your wet garbage.
Again, thank you for staying with our family and respecting our property and homes as you would yours ; )
---
If you are looking to take in some key largo sunsets, swim in clear blue waters right of the dock and cook up fresh fish...look no further. Very comfortable accommodations. Quite, peaceful and beautiful. The availability of kayaks paid for themselves (usually 30$ to rent elsewhere) never met the host but they where great at communicating. Pro tip #1: go to key largo fisheries and buy fresh mahi mahi and cook it up around sunset and enjoy a great meal by the water at back. Pro tip #2: if you want some adventure and you have kayaked before, paddle out to the mangrove island off the dock to the south. It's a 2.5 hour round trip but it's worth it.
---
This air bnb is unique, with some nice characteristics and some not so nice. My boyfriend and I stayed in room 1 in the main house. The room had minimal amenities- a king size bed, a dresser, and some side tables, and we shared a bathroom with room 2. The house was humid and musty, but we were able to adjust the fan and air conditioning within our room. In the main areas of the house we were not allowed to adjust the thermostat. We had access to large kitchen, dining room, and family room. The kitchen has a stove, fridge, kreurig, and specific shelves to keep your food. Down the driveway is the ocean access where there are kayaks for use and chairs to take in the beautiful view. The property is quiet, and located a short drive from a grocery store and many restaurants. For the affordable price this air bnb is decent, but be warned that you are sharing the property with up to 4 other air bnbs. The communication from the hosts was great and there is a youtube video that has a ton of information about the property. When we didn't receive the gate code, we messaged the host and received a reply almost immediately.
---
The view is wonderful, the ocean is right in the backyard. You have access to kayaks and snorkel gear for a limited time which is great. This is a very bare bones air bnb. Bring your own trash bag as there is no garbage, especially if you plan on making your own meals. Also no towels for clean up provided, if making meals I would suggest bringing napkins or paper towels to clean up any messes.
---
My friend and I stayed for one night and the house was ok....for one night. Upon entering the home smelled very old and musty. I slept ok and everything else was fine. I was kinda surprised that there was no trash can in the kitchen. Even if they would have three labeled with the room number it would have worked. We didn't use any of the amenities. We walked out to the private waterfront area. That was beautiful and was worth it for the view. Communication was great and we figured everything out pretty easily. It's very close to Shooters where we went for dinner. Overall it was a stop for one night and sufficient.
---
The location of the estate is fantastic. The waterfront is beautiful and you're within a few minutes of many fantastic restaurants (GET KEY LIME PIE AT THE FISH HOUSE). I don't know who the host was, our only interaction was was her going ahead of us into the gate. I would've liked to have actually met her, but the house itself was fairly clean and there were lots of toys by the water. We found this place last minute and you can't really beat the price.
---
This Airbnb was under whelming to say the least. Small a/c unit in room which couldn't cool the place, shared bathroom which wasn't mentioned, old house with a strange odor, bottom line is this was not the most luxurious accommodation. We never saw the host. For the price we paid, there are many many hotels/motels in the area that are better quality and have much better service. Positives are the beach and kayaks, but these didn't not make up for the price.
---
Key Largo, Florida, Sjedinjene Države
Član od Travanj 2013
Our family has lived in Key Largo since 1969. We love the peace and quiet of our private two acre gated estate with good ole Florida charm, lovely hardwood, palm and key lime trees as well as tropical and colorful plants that fill the senses. The serenity of the waterfront will c…
Stopa odgovora:
100%
Vrijeme odgovora:
u roku od sat vremena
Key Largo i okolica nude i druge opcije – istražite ih
Još mjesta za smještaj na lokaciji Key Largo: