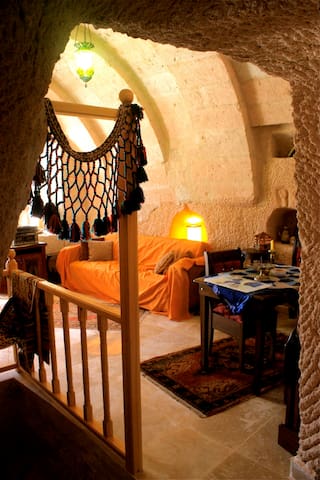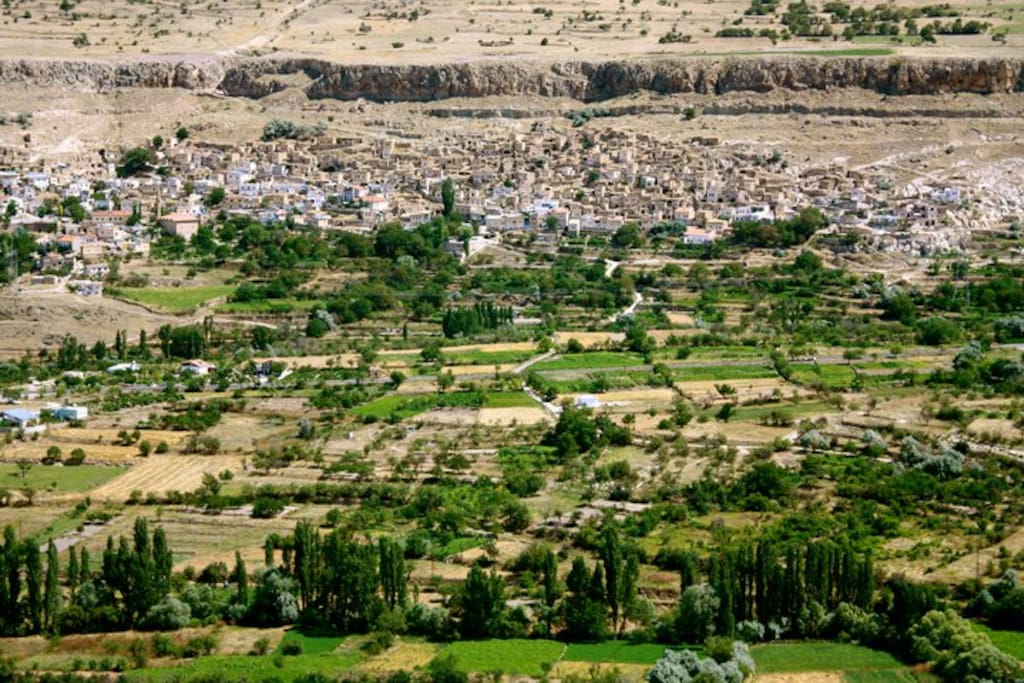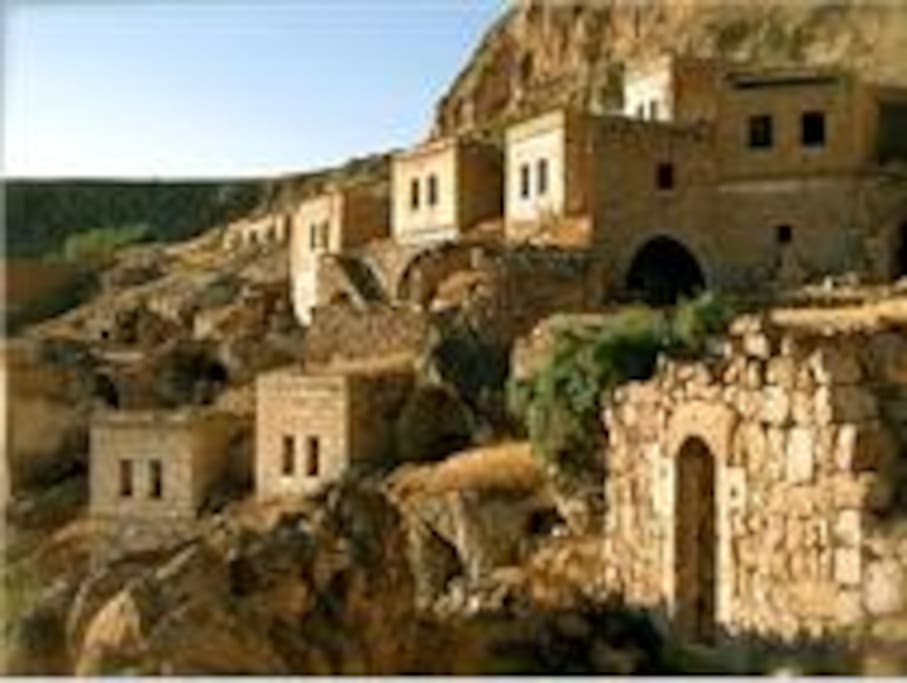 Fully furnished artists' residence, built with local material, decorated with frescos, and in a rustic historical setting, very close to all important sites in the UNESCO WORLD HERITAGE region of Cappadocia, Turkey. The village is a true museum.
Prostor
Ancient Cappadocia cave house, perfect for escape in a mountain village amidst fertile fields and vineyards, suitable for short or long-term stay. Fully furnished with a working kitchen and a shaded terrace. Ample opportunity for trekking, biotourism, photography, sketching, history tours or a simple rest in rustic anatolian countryside at a world heritage site. The house itself is about 200 years old, incredible masonry, carved into volvanic tuffa rock, cool in the summers and warm in winters, housewine, organic gardens, open air museum type village setting. Akköy, where the house is located, is only 10 kms from Urgüp and is on a main road thus easily accessible by car. It is an ancient Hittite village with a long history and the rural community inhabiting the village still tills the fields and are most welcoming to visitors. The house is near to all major historical and cultural sites in Cappadocia and yet secluded in a wonderful mountain with full views of valleys, caves and exquisite Cappadocian civic architecture.
PLEASE BE ADVISED THAT THIS IS NOT A CAVE HOUSE IN TOWN, IT IS IN A CAPPADOCIAN VILLAGE NEXT TO URGUP AND THUS YOU WILL NOT HAVE EASY ACCESS TO BARS, PUBS, DANCE CLUBS OR CARPET MERCHANTS, ETC. FROM KAYSERI AND NEVSEHIR AIRPORTS, THERE IS A SHUTTLE YOU CAN TAKE TO GET TO URGUP AND FROM URGUP THE DRIVE IS 10 KMS TO THE VILLAGE ON A STRAIGHT HIGHWAY.
THIS PROPERTY IS NOT SUITABLE FOR BACKPACKERS WITHOUT TRANSPORTATION OR PEOPLE WHO ARE LOOKING FOR AN URBAN LOCATION.
PLEASE ALSO BE ADVISED THAT DUE TO THE STAIRS LEADING UP TO THE HOUSE AND INSIDE THE HOUSE, THE PROPERTY IS NOT SUITABLE FOR COUPLES WITH YOUNG CHILDREN OR FOR THE ELDERLY WHO MAY HAVE BREATHING OR WALKING PROBLEMS.

We would be delighted to host you in our cave house. In an old village setting, accommodation would be a delight for all your ecotourism needs during your stay.
Our eco-friendly establishment is located at the ancient Cappadocian mountain village of Akköy. Akköy Evleri Museum House is a unique establishment that brings past and present together.

CONTACT
Please contact Nergis (EMAIL HIDDEN) for further details.

OWNER

Akköy Evleri Museum House is owned by Prof. Nergis Canefe, an artist and a law scholar. The property has been renovated and decorated by Nergis Canefe. The frescos, photographs and decorative furniture have been made by the owner herself.
The house is designed as fully furnished Cappadocian style family residence suitable for meium or long-term stay. It is decorated with art work, interesting masonry, historic artefacts, antique kilims and furniture, and the house has its own terrace. Its commanding location gives you the full view of the ancient village of Akköy as well as the surrounding valleys, Hittite Cave cities, ancient monastries, mountains with three such village formations, fertile fields, and the unique landscape of Cappadocia.
ARCHITECTURE
Akköy Evleri Museum House is marked by its unique architecture, decoration and art work, serenity, and comforting hospitality. The distinct features of the village, and custom-designed expeditions in order to satisfy your needs in the areas of historical site-seeing, photography and nature hikes, ecotourism and biotourism.
ECOTOURISM:
Akköy Village and Valley Excursions:
Our village is one of the oldest in the entire region, with unmatched civic architecture and ample photography opportunities as it is simply an open air museum. On top of our village, we have wonderful vineries on the skirts of Erciyes attended by our villagers.
The walk takes about 2 hours and it is most pleasant in terms of the view, weather and scenary. The climb is only moderate for the first 15 minutes and afterwards it is straight on a dirt pathway with incredible vistas.

ABOUT AKKOY:

Akköy is a quiet and ancient mountain village, located about 11 km from Urgup, the tourism centre of Cappadocia. This ancient settlement hosted Hittites, Asurians, Seljuks and Ottomans in its long history. The village's unique architectural style is readily observable in the stone houses carved into the volcanic rock formations. The village was given its final shape during the 1920s and 1930s by local craftsmen who created a spectacular vista of terraced streets and cubic stone houses fully equipped with cave storage rooms, sun roofs, open kitchens and multiple chambers. Akköy Evleri is a fine sample of this exemplary civic architecture in Cappadocia.
Balloon Rides
We work with the best Balloon Companies in the region for the last 15 years, and they provide door-to-door pick up and return minibus service to the fantastic balloon ride excursion over the unique landscape of Cappadocia. We do the booking for you and offer you their best deals for the season. We typically use Göreme (URL HIDDEN)
Saturday Market and Turkish Bath
Urgup has a historica village market on Saturdays, and we are happy to take our guests for a visit free of charge, tasting the foods and enjoying the arts and crafts in the market. There is also a beautiful Turkish Bath in urgup which is unisex and thus the entire family or couples can enjoy it together. It is open to guests for a modest fee per person (about 20 USD).

Akköy, Iltas and Basdere Walking Excursions
Both our village and our neighbouring villages Basdere and Iltas have 2 very large Hittite Cave cities, a number of small antique churches and pigeon homes that are accessible by foot. These are wonderful opportunities for trekkers.
Visit to Kayseri Covered Market and Carpet Bazaar
Kayseri is one of the oldest cities in the Central Anatolian region and it harbours an age-old covered and tiled bazaar with a fantastic selection of kilims, carpets, local jewellery and cousine. We arrange for day-tours to Kayseri, Mount Erciyes and guide our guests towards the labyrenths of the Old Market to enjoy the sounds, scenery and smells of the Kayseri's ancient quarters.

ADDITIONAL, KEY INFORMATION FOR OUR GUESTS

Please find the link to the map for your arrival to Akköy Evleri. The GPS coordinates are: (PHONE NUMBER HIDDEN)

(URL HIDDEN)

DISTANCES From Urgüp Akköy Evleri to other parts of Cappadocia (roughly): 11 km/6.8 miles. From Ihlara Valley: 100 km/62 miles. From Mustafapasa: 15 km/9.3 miles. From Göreme: 15 km/9.3 miles. From Nigde: 110 km/68 miles. From Soganli: 60 km/37.2 miles. From Uchisar: 25 km/15.5 miles. From Avanos: 23 km/14.30 miles. From Kaymakli: 50 km/31 miles. From Derinkuyu: 60 km/37 miles. From Zelve: 25 km/15.5 miles. From Ortahisar: 15 km/ 9.3 miles.

Daily Weather Forecasts for Akköy, Urgüp

(URL HIDDEN)
Booking site for Turkish Airlines for flights to Kayseri and Nevsehir Airports in Cappadocia:
(URL HIDDEN)
Dostupno gostima
Countryside, historic stone masonry, ancient village setting, 2000 year old ruins, Hittite and Asurian ruins, cave churches, vineyards, incredible vistas and walking routes at 1500 meters altitude, organic food.
---
---
This is an old Anatolian village so please be respectful to your surroundings and dress appropriately. The villagers are most welcoming and friendly and they are engaged in traditional agriculture. You will be safe, and welcome. You can safely go trekking, interact with the locals, and have easy access to all major sites in Cappadocia by car. Do remember, however, you are in a Muslim rural hamlet and please avoid excessively revealing clothing for the sake of civility and respect to local customs.
---
Likes: Restorative justice, Transitional justice, Crimes against humanity., International criminal law, Clowning, Mime artist, Tori Amos, Türkiye'nin En Büyük Amatör SanatçıLar PLatformu, İSTANBUL MUZİSYENLER BİRLİGİ, Pan Müzik Atölyesi, 45lik Hayranları/Nostalji Rüzgarı, Zemer…
Jezici:
English, Français, Türkçe
Nevşehir i okolica nude i druge opcije – istražite ih
Još mjesta za smještaj na lokaciji Nevşehir: