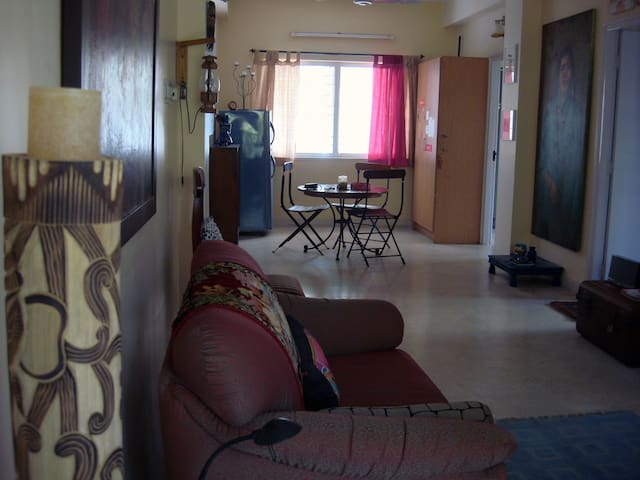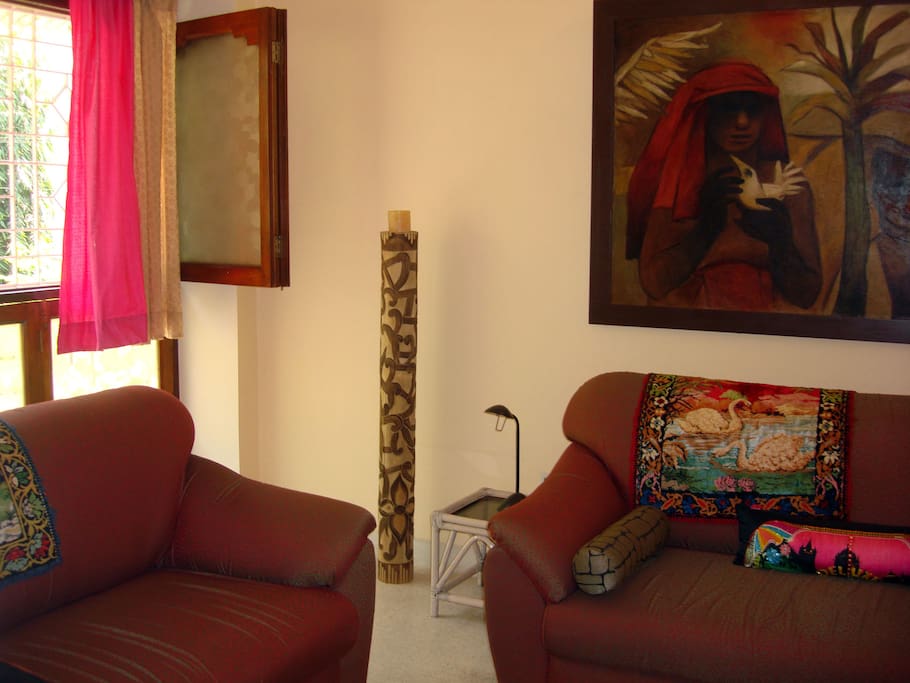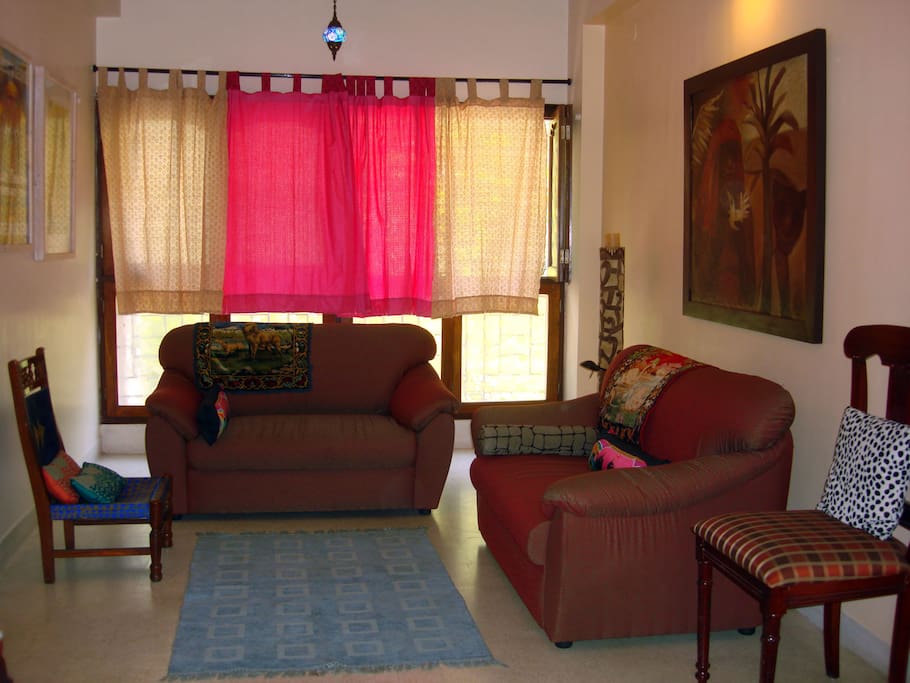 A green jewel, near metro stn, wifi
An intimate space. 2 bedrooms, 2 bathrooms, a living n dining space, a well-equipped kitchen, a washing machine, a water heater, a leisurely 10-min walk to the nearest subway, guards 24/7. The surrounds are leafy:quiet, a guest said Rome of the 60s.
Prostor
Warm yet unobtrusive Bengali hospitality awaits you in this cozy nook of Kolkata. This is on the first floor just above the garage which is on the ground floor. It is a 4-storied building in a complex of 2 such buildings. There is an elevator. There are 2 security guards at the gate at any given time.
Well, what makes my listing unique? I'm thinking... When I travel to a different city, I want a home there, not a hotel. I want to feel like a citizen there, a native maybe a limited native, not a guest, an outsider. (Of course I know at the back of my mind that I can only pay-act at being a citizen... as the evolving world keeps changing colors.) So that's the sense, I hope, my space will give you. A feel of being a Kolkata citizen for a bit of time. Treat it as your own, and care for it as your own. It should comfortably fit in 4 people.
Please note that the address mentioned as 49 Prince Anwar Shah is not correct. It is the street next to it. Prince Gholam Mohammad (PGM) Shah Road. The exact address will be provided on request.
The interiors:
The apartment has a sunny and airy living-cum-dining area with large windows facing each other. With trees all around, the room gets a cool filtered green light. It has among other things, a two double-seater sofas, a coffee table.
A tiny, narrow corridor connects the living area with the master bedroom, which has a four-poster queen-sized bed, a side table, both vintage, and a TV with cable. It is fitted with an AC.
The attached bathroom has ceramic tiles on the wall and marble flooring. It has a wash basin with mirror, shower, commode.
The second bedroom has a black wrought iron queen bed. Other furniture include a writing table, a shelf, yet another shelf. This room is also air-conditioned.

The attached bathroom is fitted with a geyser/water heater in addition to the usual facilities.
The walls are lined with original artworks and posters. In the apartment, tradition blends with the more edgy and utilitarian.
Meals and Dine
Fully-equipped, operational kitchen available for cooking breakfast, lunch, dinner. The kitchen is fairly spacious and has the following:
A double gas stove, microwave, electric kettle, mixer-grinder, water filter, cups, mugs, crystal glasses, crockery, cutlery, pots and pans. Cleaning fluids can please be used to keep the used cookware, kitchen counter and floor clean.
There's a fully-automatic washing machine and a clothes line for drying clothes indoors. There is also an ironing stall down the lane. A boy will come and collect and drop laundry that needs ironing at appointed hours.
The dining den comprises a 3-seater wrought iron-wooden table and chairs, and a frost-free refrigerator.
A storage cupboard has been provided, where you can hang your clothes. The linen is kept in there as well.
There's also a glass-fronted showcase lined with really old brass utensils that had come with my mother's 'dowry' :)
Security
You are requested to hand over a photo copy of an ID proof, that is passport and visa.
Before a booking is made you will also have to give a description of yourself, your job or your vocation, the place from where you are arriving, your purpose of visit. In case you are planning to have someone join you later, you will have to provide similar details of that person as well.
Please read the house rules regarding local guests and visitors.
If you are staying for a long stint and intend to employ helps, details must be provided to me regarding their timings and purpose.
From the airport:
From the airport to my apartment, it will take 30-60 mins, depending on traffic. You can take a taxi from the prepaid taxi booth, which is inside the airport. A more economical option would be to take the AC shuttle bus, which stands in front of the airport. It should say destination Tollygunge. However, it will obviously be taking longer (around 1.5 hours) than the taxi as it will be stopping very often. Get down at the terminal stop, the Tollygunge Metro Station. From there, my apartment can be reached very easily.
From the 2 main stations:
Howrah Station- 45 min
Sealdah Station- 30 min
From nearest Metro station:
Metro Tollygunge- a 10-min walk
From the transport point of view, the apartment comes up trumps as it's very close to Metro station. The underground trains will take you to most tourist destinations in the city in 20-30 minutes. The system is efficiently run and miles ahead of overground transport options.
Check-in: 12-2 pm
Check-out: 10 am
Internet
Unlimited and free wireless internet
Nearby
The apartment is a 10 minute walk from the nearest (Tollygunge) metro station. Cabs are readily available near the pad. For shorter distances, cycle rickshaws and auto rickshaws are the best bet. Pharmacies and restaurants and a smallish 'supermarket' called Family Care, all three with home delivery, ATMs, banks, farmers' markets, cinema halls, a gym are all at a radius of 0.5 km.
The South City mall, which also has a multiplex cinema and a number of good restaurants besides the mandatory food court on the top floor, is a 10-minute walk from here. The really good supermarket, called Spencers in the basement. It also stocks cold meats, sausages and other imported frozen edibles. Besides an abundance of fresh ware and millions of grocery goods.
Bakery
You can source freshly-baked multigrain, whole wheat, rye, corn, cheese, masala (and so on) bread and other items from Patisserie, the bakery at Spencers. Two other standalone bakery units also near at hand.
I have another apartment in the older part of the city, titled, 'Quiet, pretty space, heart of city'. which is also listed in this portal. 2-day stays in each of the properties will give you a comprehensive flavor of Calcutta's contrasts.
Among paid services on offer are:
1. A pickup from the airport in an AC MUV.
In case a booking is made offline and payment's in cash a cancellation fee of Rs 500/night is chargeable.
I rent out the entire flat. So the guests will have access to everything inside..
I stay 4 buildings down the road. I'm almost always available on the phone and the Net. If I'm in town and not on another job, I'm also available in person. Also, if I'm in Kolkata, I will show in my guests.
With both my listings, interest in meeting new people gets satisfied to a certain extent. If a few guests agree to become my friends, I feel extremely fortunate. I also am forever trying to beef up my vocabulary. And in the process, I sometimes end up shocking my guests by begging them to teach me some 'questionable' words in their native languages ... even after a very brief interaction. :)

Thanks to the adjacent Royal Calcutta Golf Course, which dates back to colonial times, abundant vegetation and freedom from vehicular traffic, out here the mercury is always 2-3 degrees below the normal city temperature levels. There's a park nearby. No large public vehicles intrude, just the sound of the occasional private car, vendor or school children.
The neighborhood comes closest to being Bengal's Beverly Hills. It's here that many of our film stars have chosen to home in as the air is clean and the views green and leafy wherever you look. It's genteel, almost hushed atmosphere is often pierced by various cries and calls of dogs, birds, vegetable sellers or zip repairers... and even foxes and frogs in late evening. You will spot kingfishers if you are patient.
Kolkata's TV hub, the Doordarshan Kendra, and the oldest film studio, Indrapuri Studios are short walks away. Go a little further, and you reach Lakshmi House, an ashram dedicated to Sri Aurobindo and his French muse, Mira. Here, you can meditate to your heart's content and later check out handmade stuff crafted by ashramites of Pondicherry. If you are an eastern classical music enthusiast, you can also walk down to the Sangeet Research Academy, which hosts concerts at regular intervals.
Take another route and you find yourself in tree-lined Southern Avenue, which lines the 'great lakes' of Calcutta, the Dhakuria Lakes. This place is a roughly 20-30 minute walk from the apartment. Here, the health-conscious citizenry do their daily swimming, rowing, walking and so on very conscientiously. Health drinks will be on offer, conjured out of anything from bitter gourd to sugarcane.
Also on this road is the Birla Academy of Art and Culture, a multi-storied art space which always has a couple of shows going. You will find a yoga school on the way. A multitude of street food kiosks and restaurants, serving Indian, Italian, Chinese, Singaporean dots the area. Shopping centres like South City Mall (for brands) and Dakhinapan (for ethnic goods) are close at hand.
The ancient Kalighat temple (3 km approx) and the newer Birla Mandir (5 km approx) are close by.
Besides these lesser-known attractions, the Victoria Memorial, Maidan, Indian Museum, Rabindranath Tagore's Calcutta home, Jorasanko (among so many other spots) are all a 15 to 20-minute metro ride away.
The nearest Metro station has two names: 'Tollygunge area' and 'Mahanayak Uttam Kumar'. This causes some confusion at times but the mad and dictatorial chief minister wants it this way!
This Metro stop is a 8-10 minute walk from the apartment. You can also take a 'cycle rickshaw' if you want. The Metro is a convenient and easy mode of transport. The fares are laughably low. You can buy a card from the station for long-term usage.
A couple of cabs usually stand by the park nearby. The park is a 3-minute walk from here. There is a taxi stand nearby as well.
Autorickshaws or tuktuks are also available, but in Kolkata this mode of transport works on fixed routes and is a shuttle service.
The nearest bus stops (Golf Green and south City) is a 10-minute walk from here.
A domestic help comes in every alternate day at a fixed time of 6-615 pm to clean (sweep and swab) the flat. She is trustworthy and has her own set of keys to let herself in in case guests are not in.
If any guest has problems regarding this free service or if they do not want her to come in when they are not inside, please ket me know.
For guests staying for a month and above, an electricity charge of Rs 3500/month is payable.
Dostupno gostima
I rent out the entire flat. So the guests will have access to everything inside..
Interakcija s gostima
I stay 4 buildings down the road. I'm mostly available on the phone and the Net. Also, if I'm in Kolkata, I will show in my guests.
Ostale napomene
Guests of guests: As this is a private housing society, it is discouraged to entertain guests due to security reasons. At the most, provided decorum is strictly maintained, a maximum of two guests can visit for a couple of hours during the course of your stay.
Help: A domestic help comes in every alternate day at a fixed time of 6-615 pm to clean (sweep and swab) the flat. She does not do the dishes or dispose garbage. She is trustworthy and has her own set of keys to let herself in in case guests are not in.
If any guest has problems regarding this free service or if they do not want her to come in when they are not inside, please ket me know.
For guests staying for a month and above, an electricity charge of Rs 3500/month is payable.
There are 2 bathrooms and both have water heaters. However, please do not switch on both at the same time.
Please dispose of trash from both the kitchen as well as the bathrooms in the bins near the gate from where they are collected by the Corporation.
Please clean and dry the utensils, crockery, cutlery and implements that are used by you when you leave. I am an optimist, so always look forward to getting back a sparkling kitchen from you, same as when it was handed over to you. :)
If anything is damaged/broken you would have to inform me and either replace them or leave a roughly equivalent amount to cover the costs.
A note about the ACs: I know Kolkata is a hot and humid city. Unlike a big hotel and like most householder flats here and elsewhere, my flat too is not centrally air conditioned. There are 2 ACs or air conditioners in two rooms. So, when the AC is switched on, please shut the door/s of that room. If not, the AC will get overheated and malfunction.
---
---
Guest Policy:
This is a private residential apartment designed to give you a safe, personalised and home-like stay in a new city. I will try my best to keep it that way and feel I have been rather successful at that, going by the feedback of my guests.
Keeping both your and my security as well as the regulations of the housing society in mind, the rules for guest-of-guests are as follows.
1. During your stay, guests of guests will not be allowed in the premises, unless they are part of the family. In case of family, you can entertain them for a day/two for a few hours. If it is an extended gathering, it will have to be organized outside the flat.
2. People who act as professional escorts or travel guides will strictly not be allowed in the premises.
3. People who became your friends in the course of your travels locally will not be allowed in the premises.
4. If you plan to have a friend/spouse/any other family member join you later in the course of your stay I will have to be informed well in advance before the booking and ID proof provided along with yours.
Trash Disposal:
1. Trash cans lined with plastic bags are kept in the kitchen and two bathroom. You are requested to throw away the filled-up trash bags into the 2 large blue bins placed in the garage near the main gate. It is best if you do this every day if you are using the kitchen full scale. Otherwise, insects may gatecrash.
These bins are cleared every day by the corporation every day. Trash includes leftover perishable food items, empty bottles and everything else that you need to dispose of. You must clear the garbage on your last day at all costs.
2. Please do not throw paper or plastic inside the toilet bowls. This once clogged up the sewage system.
3. If there is any breakage or damage of anything, including crockery or decorative items, in the apartment, you will have to replace it if possible or compensate. I do not charge a security deposit because I keep my faith in the innate (though increasingly dormant) goodness of humanity.
4. Please do not treat the antique four-poster bed or any other piece of furniture as a clothes horse or to hang wet towels etc. A metallic and foldable clothes line has been provided, so that you can hang your wet things there. There are hooks behind doors and a cupboard as well, with hanger facilities.
5. Please shut the door of the room when the AC is on as it is meant for an enclosed space.
6. It is very important that you keep noise levels moderate. This apartment block is very particular about keeping the volume moderate.
7. Please lock the door when you leave the apartment. This is for your security. Also, it's best if you shut all the glass windows before leaving the apartment.
8. Please ensure that all lights and fans have been switched off before you leave the house. Please switch off all electrical equipment like ACs, water heater and microwave, when not in use.
It is very important that you keep the apartment clean, so that both you and I can enjoy your stay here. The reason I do not charge a security deposit is that I have full faith in you, my guest.
BATHROOM RULES
Please switch off water heater after use.
Please use the wiper to swipe off water from the bathroom floor once you've had your bath. This is to ensure that the floor remains dry and convenient to use for the next user, which may be you yourself.
Please keep the pot clean. Use the toilet cleaner and brush if required.
KITCHEN RULES
1. Please wash and wipe dry the dishes and leave them in their respective places before you hand over the apartment to me. If there's any breakage, replacing or compensating are the two options. I should also be informed about it.
2. Please clean the counter and the gas table after each use, otherwise insects etc will invade. This is a tropical country, the high heat and humidity is very different ball game from up there where you may be coming from.
3. Please empty out the refrigerator and clean it after final use.
4. Please use the trash can and empty it out regularly. Spare garbage plastic liners are kept in the kitchen.
5. Please switch off filter, microwave, electric kettle, washing machine after EACH use.
6. Please do not move around the microwave and plug it into other points. It will cause a fuse blowout.

Cheers and Thanks a lot for your cooperation.
---
My interests include food (low-oil), films, travel, photography, art, news, good conversation, among other things. My music's mostly eighties, seventies, and of course some of the current acts in electronic music, western and eastern classical music as well. I used to be a journa…
Jezici:
Bengali, English, Hindi
Stopa odgovora:
100%
Vrijeme odgovora:
unutar nekoliko sati
Kolkata i okolica nude i druge opcije – istražite ih
Još mjesta za smještaj na lokaciji Kolkata: