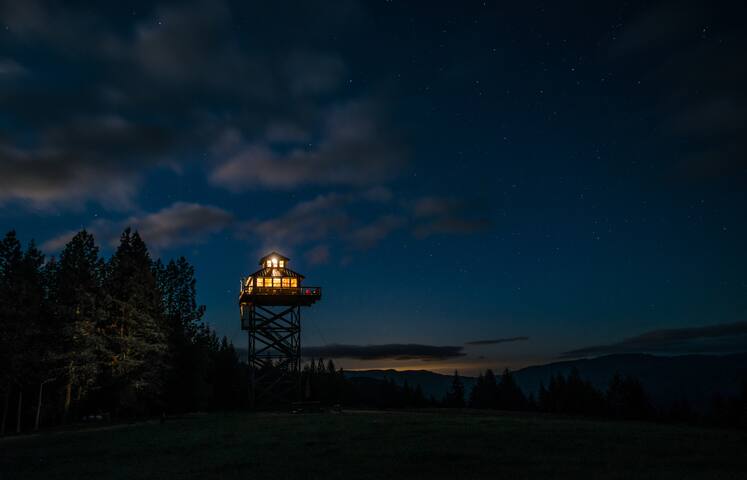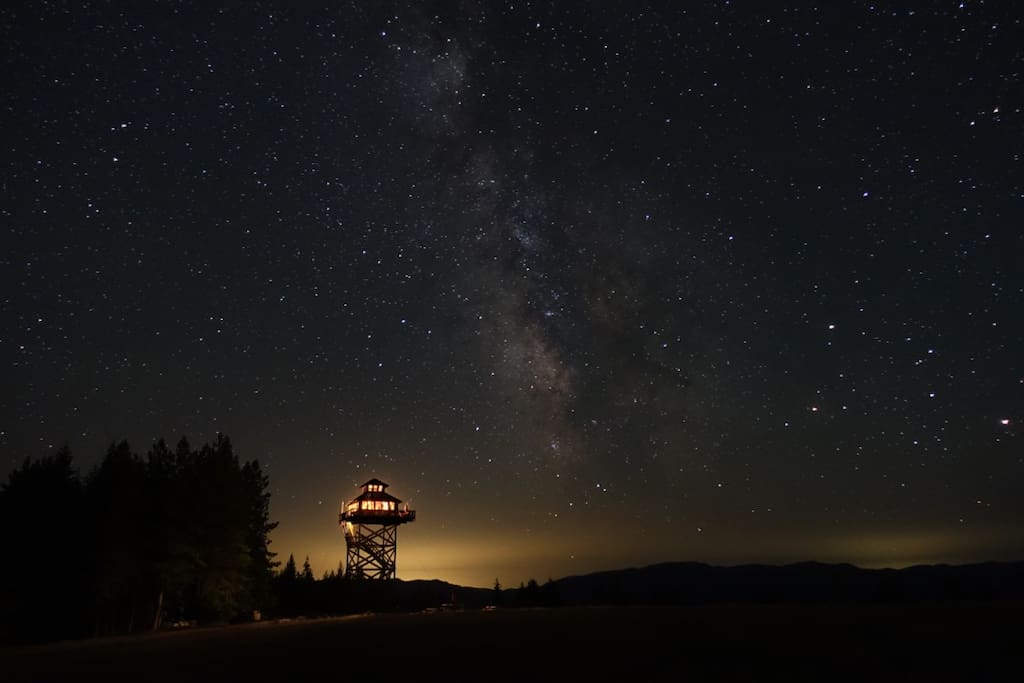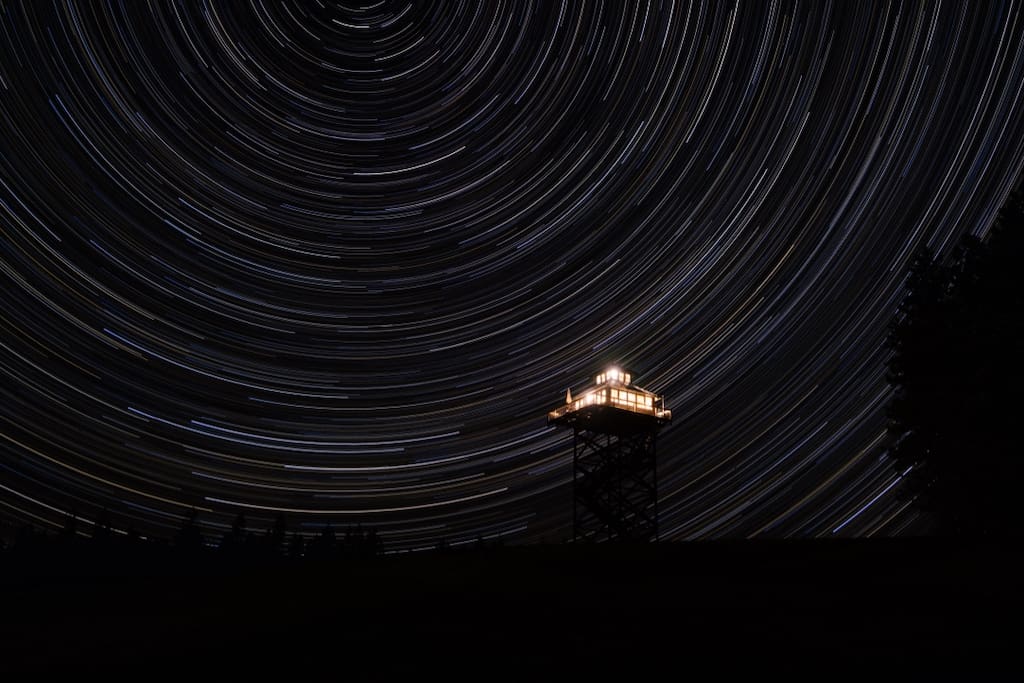 Off the Grid and Forty Feet Up!
WE ARE COMPLETELY BOOKED FOR 2017. If you'd like to be on our Cancellation Notification List, please email us at summitprairie at the email of the world's most popular search engine (starts with a G).
If you'd like first chance at booking, come to one of our Weekend Retreats next summer - for more info - https://www.airbnb.com/rooms/11721311. See below for info on booking in 2018...
You can Like the Summit Prairie on that site where you Like things for the latest updates.
Prostor
2018 BOOKING PROCEDURE
We are completely booked for 2017 but we do get cancellations during the season so If you'd like to be on our Cancellation Notification List, please email us at summitprairie at the email of the world's most popular search engine (starts with a G - Airbnb scrubs any references to other websites). At this point we do not accept reservations from November 5, 2107 through April 19, 2108 - too many unpredictable factors here in the winter!
Want to make sure you get first chance at booking the lookout in the future? Come to one of our Weekend Retreats next summer - we allow our previous guests first chance at booking the lookout. Bring your tent, sleeping bag, etc. and we will have all the food catered - campfire every night, local entertainment, day trips to local sites like Crater Lake, South Umpqua Falls, beaver dams, etc. etc. About 20 people or so, from all over the US. Basically the lookout becomes the "clubhouse" for the weekend. For more information and to book - https://www.airbnb.com/rooms/11721311
We will start booking new guests for our 2018 season at 9 a.m. Pacific Time on March 4th, 2018 for May/June/July bookings and at 9 a.m. Pacific Time on May 6th, 2018 for August/September/October bookings. If you are a previous guest, make sure we have your email address so we can send you a notification of previous guest booking dates. Previous guests usually book about half of the season and almost all of the weekend dates. Please check back here over the 2017/2018 winter to confirm the exact dates and times.
Finally, we do know that it is a complete hassle to book with us so we are extremely appreciative of you guys that stick with us through this process!!
----------------------------------------------------
Missing peace and quiet? Wishing for space to relax and renew? Here is your chance! Off the grid, atop a 40-acre meadow on 160 acres of private land. Surrounded by the Umpqua National Forest in Douglas County, Oregon.
Welcome to Summit Prairie!
Hear the wind give voice to the trees at the edge of the meadow.
Listen to the birds calling in the valley below.
Let the peace you feel here…. stay with you.
Your hosts, Alan and Dabney, will welcome you, help carry your things up the four flights of stairs, and orient you to all the wonders of this place, then leave you in peace so you can enjoy.
Built in 2009, the lookout tower is modeled after Fire Lookout Towers built by the US Forest Service in the early 1900's.
However, it's enhanced with modern essentials: a full kitchen featuring hot and cold running water, propane stove, refrigerator, heater and lamps, exterior shower, comfortable beds in the cupola and main floor with windows all around to let in summer breezes and breath-taking views.
And while simply chilling at Summit Prairie is oh-so-fine, think of this place also as a launch point for day trips to Crater Lake (2 hours), or Ashland, site of the Oregon Shakespeare Festival (1.5 hours), or historic Jacksonville, site of the annual Brit Festival (1.5 hours), Rogue River Rafting (45 minutes), the South Umpqua Falls (45 minutes) or the Seven Feathers Casino in Canyonville (1 hour).
Imagine! Kick back and relax, read a book, play a game (or three)… write in a journal, meditate… daydream in the hammocks down the hill… soak your cares away and relax in a secluded wood-fired, spring-fed hot tub… Even dance under the moon or sing to the stars.
Memories are made here.
Come to Summit Prairie...
Dostupno gostima
160 acres of private land, fire pit, wood-fired/spring-fed hot tub, vegetable garden, hammock tree and anywhere else you want to wander and explore. There are no "off-limits" places here...
Interakcija s gostima
We will welcome you personally, help you move your things up, show you how things work and then retreat to our summer home that we are building a few hundred yards away, in a secluded grove, out of sight from the lookout. Be aware that we live on the property and will be available to answer any questions, help in emergencies or assist if any of the off-grid systems malfunction. You may see us once or twice a day either in a vehicle or by foot as our access to our summer house passes by the base of the lookout. We also will be using the hot tub but will try to give you priority use of it. You generally won't see or hear us unless we are accessing our summer house, watering the garden or tending the hot tub, both a distance from the lookout. And, to be sure, we are always up for sitting around the campfire and spinning tall tales! At the suggestion of several of our guests, if you are interested we can share a meal or two together - just let us know in advance if you're interested! Or we will stay out of sight as much as we can and give you as much privacy as you would like.
Ostale napomene
As experienced Airbnb hosts, we want to make sure we describe the experience in as much detail as possible...
SOME THINGS TO CONSIDER...
Location - We are located about 10 miles out of Tiller, Oregon with the last six miles on a one lane gravel forest service road which can take 20 to 30 minutes to drive. Tiller is at 1,000' elevation and we are at 3,500' elevation so the weather up here is generally 10 degrees cooler than it is in Tiller.
Groceries - If you are coming from the north, the nearest grocery store and gas station is in Canyonville, OR (Ray's, 151 NE Main St., open 7 am - 10 pm) about an hour away.
If you are coming from the south or the east, in Shady Cove, OR (Shady Cove Market, 22111 Highway 62, open 7 am - 10 pm), about 45 minutes from the Summit Prairie
You're probably better off shopping at a supermarket in an urban area because these grocery stores are expensive and have very limited selections.
Make sure you're full up with gas and food because there are no gas or grocery facilities once you leave either of those towns. There is a convenience store about 5 miles past Tiller (15 miles/25 minutes) from the Summit Prairie, but all they have is ice, beer, and a few expensive basic items... They do not have gas.
Bathroom facilities - We are off grid so the bathroom is a pit toilet (a nice one, I might add) that is about 100 feet from the base of the tower. We have a "pee can" in the upstairs cupola sleeping area, a "pee funnel" off the side of the tower and an "emergency potty" outside on the deck. It's actually pretty civilized, all in all, but it's not like having a flush toilet just a few steps away. The hot shower is outside on the deck - in front of God and everyone, but then, there isn't anyone else here!
Be aware that the lookout is one big room, so "private space" for changing clothes or showering is minimal!
The tower is 40 feet high, accessed only by four flights of stairs - there is no elevator! And, while there are landings for each set of stairs (to admire the view, and catch your breath!), everything must be carried up!
Spring water is pumped upstairs by a solar-powered pump from the a collection tank a few hundred feet from the tower. The water is tested as safe. We have been drinking it ourselves for years, but if you're squeamish about drinking untreated water, you might want to bring bottled drinking water.
Fire Season - During late summer forest fires are possible in the area. That could restrict campfires and use of the hot tub and it could result in smoky air. We will let you know immediately if there are fires. If smoke or fire in the immediate area of the Summit Prairie poses a threat to health or safety, you may cancel your reservation with no penalty. In 2015, fire season ran from June 24th through October 25th.
Please note that we do not have a television, clock or mirror and we have no WiFi access!
WHAT TO BRING
Food for while you are here (there is a full grocery store in Canyonville (about an hour away at exit 99 off I-5) and in Shady Cove (about 45 minutes away and over the Rogue/Umpqua Divide Pass...) and a small convenience store just outside Tiller, about 25 minutes away). There are also several restaurants in Canyonville and in Shady Cove.
The upstairs cupola sleeping area has a queen size Tempurpedic mattress and is accessed by a ladder which can be tricky and requires being steady on your feet. On the main level are two twin size beds, on either side of the room. Linens are provided for both twin beds and the upstairs queen-size bed along with towels and wash cloths for up to four people.
Additional people (over the first 4) are welcome to either sleep on the floor, out on the deck or in a tent in the meadow. They will need to bring their own tent, sleeping bags, air mattress, towels, tableware, etc. There is an additional charge of $5 per person per night for guests over the first 4.
We have all the pots, pans, utensils and small appliances that you will need to cook, but no microwave or dishwasher. We have basic spices and condiments so feel free to use what we have. We have a saying - "just because you're off-grid does not mean you have to eat bad food!"
We have a small under-counter propane-powered refrigerator with a freezer compartment. It has limited cooling capacity during hot weather so consider bringing a cooler and ice if you're bringing a lot of food items that need to be kept cool.
We have a picnic table and fire pit at the base of the tower.
Environment - We are located deep within the Umpqua National Forest so there are wild animals that roam freely in the area - deer, elk, bear, cougar, coyote, bobcats, skunks, mice, lizards etc. There are also insects on the ground, in the air and sometimes in the cabin. We don't find insects to be a problem, but have a few temporary window screens if you wish to use them. Poison oak is native here which we do our best to keep it under control and out of areas where you might come in contact with it. However, we do have Tecnu wash if you get a rash from Poison Oak.
Pets - We DO NOT allow our guests to bring pets - no exceptions, so please don't ask. We fully realize this means that some guests will choose not to visit us.
Children - This property is not suitable for children under the age of 5.
Cell phone service - Verizon and US Cellular work at the Prairie, AT&T and T-Mobile do not. We're not sure about other carriers. We have Verizon service and a personal WiFi hotspot on our phones in case of an emergency.
Electricity - We do have a small solar-powered electrical system is used to for some lighting and charging cell phones and small computers. It can only handle 300 watts and it cannot handle any appliance with a heating element - hair dryer, coffee maker, etc. (we have a French press you can use). We are diligent about conserving electricity, especially if we have several days of cloudy weather.
The nearest hospital/emergency medical facility is in Medford, a little over an hour away or in Roseburg, about an hour and a half away.
WEATHER AT THE SUMMIT PRAIRIE THROUGHOUT THE SEASON
May - The meadow is in peak bloom, carpeted with waves of wildflowers, beginning with low-growing buttercups, then Oregon Sunshine and purple larkspur later in the month. Deer and elk graze in the meadow almost every evening and early morning. As the sun sets in the evening, you'll hear the frogs down in the valley singing their hearts out. It is Spring, however, and the chance of rain remains high. Temperatures are usually in the mid-60's during the day and low 40's at night. We've had snow as late as Memorial Day (in the US, it's usually the last weekend in May), though that is rare.
June - The meadow continues to bloom, the grasses get tall, and the deer continue to graze in the meadow. Birds can be seen and heard, especially early in the morning. Usually we see purple finches and juncos at our feeder. We still have a good chance of rain, but temperatures are a bit warmer, into the mid-70's during the day.
July - Probably the best all-round weather month - rain tapers off and the skies become perfect for star gazing at night. The wildflowers begin to fade, the grasses begin to turn amber, and the deer move on to other places to graze. It's also the season of thunderstorms, which can be dramatic to watch in the late afternoon.
August - The best star gazing month of the year! The meadow becomes very dry, the grasses drop all pretense of being green, and temperatures rise into the 90's during the day. Evenings are usually warm enough to sit out on the deck until the wee hours watching the Perseid meteor showers (This year it peaks during the new moon phase, so there will be no competition!) Forest fires can occur in the area which can make the air hazy and sometimes smell smokey. Some years we may have to close if forest fires come too close.
September - The meadow starts to become golden. Even the sunlight takes on a golden hue. Temperatures top out in the 80's and the air is dry with a hint of cool in the evening. On one level it can be the quietest time of year. Forest fires can still be a problem to be alert to. Grasshoppers can overtake the meadow on some days, but they never come up to the lookout tower.
October - Fall is in the air. Harvest time is here. The farmers markets are full of good produce. Temperatures cool off, and moisture rises, which can mean waking up to fog in the air and leaves dripping softly in the woods. Nighttime can be chilly, perfect for steaming drinks and a cozy blanket. If there have been forest fires, they have subsided. Deer hunting season begins in early October, so you may also hear the sound of baying dogs and gun shots in the area.
OTHER POSSIBLE ACTIVITIES
Sip cocktails and watch the sun set from the deck of the lookout
Sit around the campfire and tell ghost stories
Read a book in a secluded spot
Hike in and swim at the very secluded Fish Lake in the Rogue-Umpqua Divide Wilderness (about an 1.5 hour drive)
Kayak or canoe on Lost Creek Lake (about an hour drive)
Star gaze
Be creative! It's a big space...
---
Spavaća soba 1
1 bračni krevet (1,6x2)
Zajedničke prostorije
2 jednostruka kreveta
---
---
Dodatni gosti $10 / noćenje nakon 2 gosta
Vikend cijena $200 / noćenje
Komunicirajte samo putem Airbnba
Kako biste zaštitili svoje plaćanje, nikad nemojte vršiti novčane transakcije ni komunicirati izvan Airbnbove stranice ili aplikacije.
Saznaj više
---
Nije prikladno za kućne ljubimce
Nije sigurno ili prikladno za bebe (do 2 god.)
PLEASE NOTE THE FOLLOWING CONDITIONS BEFORE REQUESTING A RESERVATION:
- We prefer reservation requests from guests that have been previously reviewed on Airbnb. If you have not been reviewed, please understand that we will ask for further information, references and identification about you before we consider accepting your reservation.
- We only accept guests who have complete profiles with information about themselves and a clear photograph of you. We know that some social network profile photos are of landscapes, pets or other subjects, but that is insufficient for our needs.
- Guests must have an "Airbnb Verified ID" (connected to your social networks, and scanning your official ID or confirming personal details - see Airbnb website section "Verified ID" for information).
- We only accept reservations from the guests that will be actually staying here - we don't accept reservations from parents, children, friends, etc. on behalf of potential guests. Those who wish to make a reservation must be the ones actually staying in our home.
- When making a reservation, please state the number of guests, ages, relationship and purpose of the trip.
- We do not allow our guests to bring pets.
- We review all of our guests, good and bad and hope you will do the same.
---
---
Detektor ugljikovog monoksida
---
Minimalni boravak: 2 noćenja
---
Make sure you bring some extra food or wine and invite Dabney and Alan over for amazing conversation! This place was magical! From the quiet mornings, to the pee funnel, wood fired hot tub, exploring the forests, conversations with the hosts, it filled my soul to the brim with an experience I will never forget. Thank you!
---
This is neither my first nor my last time at the summit prairie. Alan and Dab are the most wonderful hosts who I feel unbelievably honored to call close friends. Their firetower home is an absolutely stunning example of hospitality, community, and a healing atmosphere. Even after several trips, this place and it's people carry a magic that doesn't fade. I couldn't recommend this amazing place more.
---
It's really hard for me to even put words to the experience at Summit Prairie. Despite this being our third trip here, it still felt like the first time. Dabney and Alan are very special people to us and we feel so lucky we've been able to stay here. Anyone who has the chance to stay here shouldn't pass it up! It's life changing to say the least.
---
This was my second year at the tower and it was just as amazing as the first. Dabney and Alan are the best hosts. The tower is very clean and instructions are always clear! They suggested an awesome watering hole to beat the 105(+) degree heat! I'm the first to recommend this place and can't help but show it off to all my friends. Can't wait to come back!
---
Tiller, Oregon, Sjedinjene Države
Član od Lipanj 2011
Dabney Tompkins has been a commercial real estate broker for years. His husband, Alan Colley, is "retired", having worked in corporate America and then as a fundraiser for local non-profits most of his career. (That's Dabney on the left and Alan on the right.) Our favorite travel destination is Paris, we think it is the City of the Planet.

We love to cook at home and try to do that almost every night. We've stayed with Airbnb hosts in New York, Paris, Vancouver, Seattle, New Orleans, Spain, Morocco, Cuba, Honduras and have found it to be a great way to find accommodations that allow us to be in the part of the city we want to be in and cook while we're there.

We've decided, as part of our new adventure in life, to open our lookout in Southern Oregon while we build our "summer house" and to experience things in life that we would never have experienced before - where the sun rises and sets different seasons of the year, the position of the moon and the stars in the winter and the summer, being friends with people that are way out of our norm, planting food from last year's seeds and learning to live a "real life".
Jezici:
English
Stopa odgovora:
100%
Vrijeme odgovora:
u roku od sat vremena
Tiller i okolica nude i druge opcije – istražite ih
Još mjesta za smještaj na lokaciji Tiller: