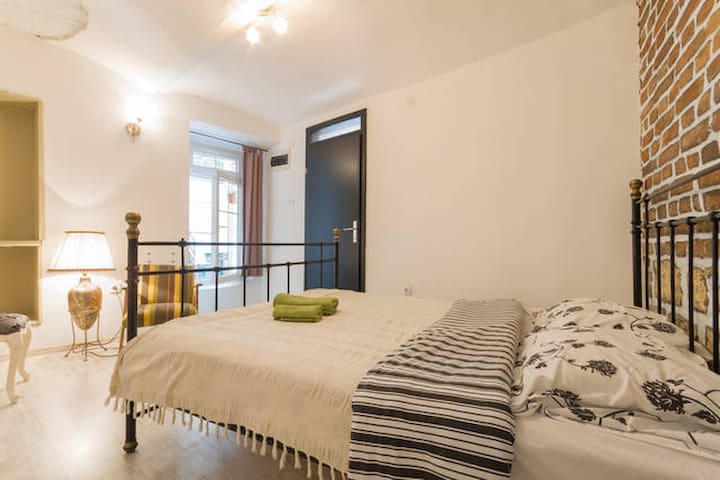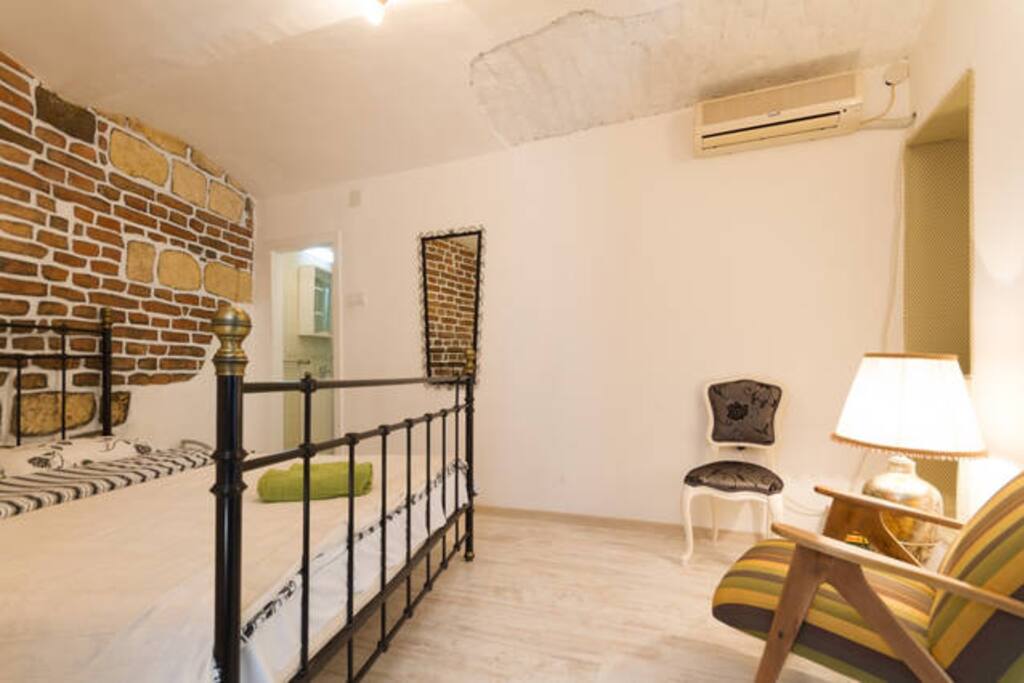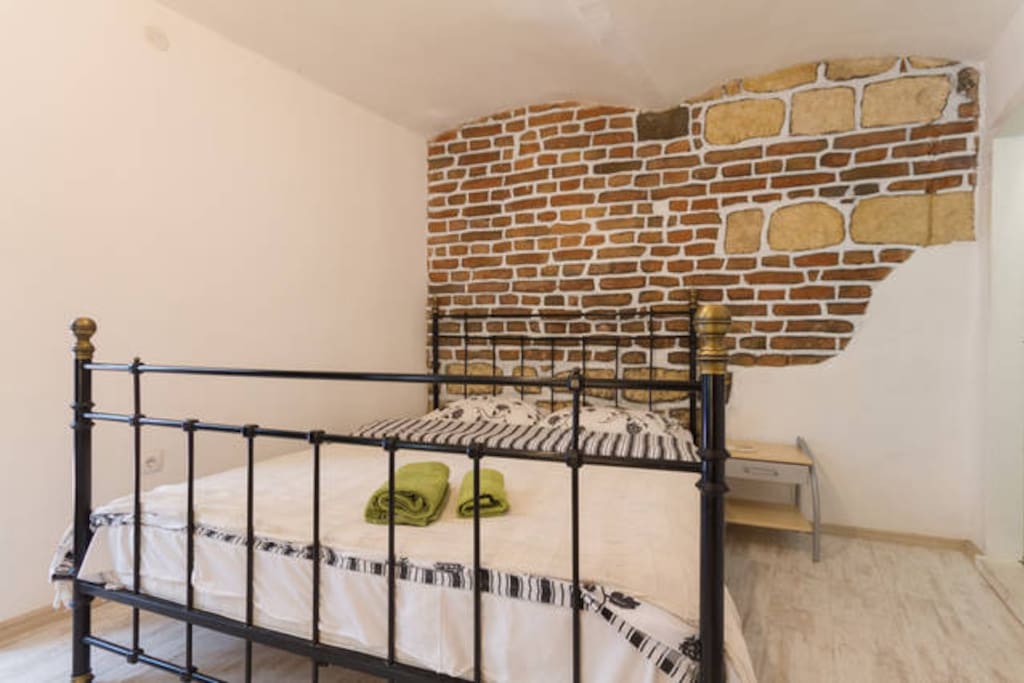 Super Hero % Heart of Belgrade+bike
Dragi gosti, dobrodošli u naš cool i udobni jednosobni stan s izloženom opekom ima pravo osjećaj grada! Udobno se uklapa u 4 i nalazi se na centralnoj lokaciji na mirnoj ulici, samo 100 metara od ulice Knez Mihailova i tvrđave Kalemegdan.
Dear guests, welcome to our cool and comfortable one bedroom apartment with exposed brick has a true city feeling! It comfortably fits 4 and is centrally located on a quiet street, just 100 meters from Knez Mihailova street and Kalemegdan fortress ..
Prostor
Poštovani putnici, Ovo je novi jedinstveni apartman s najboljim mjestom, Kosančićev Venac CENTAR CENTRA! Od ove točke možete lako doći do svega što je važno ako dolazite kao turistički, zabavni, s djecom ili poslovnim .. Turističke atrakcije su udaljene 50 metara (1 min): Muzeji, Nacionalno kazalište - 150 m Republika Trg -150 m Kalemegdan, park i starogradska utvrda - 50 m Skadarlija, boemski kvart - 150 m Knez Mihajlova, pješačka zona - 50 m Savamala, restorani i klubovi - 150 m Možete lako doći do Novog Beograda, poslovnog centra i trgovačkog centra preko mosta, također rijeka Save i Dunava gdje možete naći mnogo barova i klubova, obuzdavajući brodove koji poznaju noćni život u Beogradu. Rado ćemo vas ugostiti u potpuno potpuno novom stanu, jedinstvenoj arhitekturi s brojnim lijepim detaljima .. Apartman se nalazi u samom srcu grada, na području "Kosčanicev Venac", najpoznatije podrucje u Belrade 35 četvornih metara apartman je ukusno namješten, svim potrebama i udobnosti, sadrži dnevni boravak s kaučom na razvlačenje visoke kvalitete, idealno za dvije, potpuno opremljene kuhinje s kutkom za blagovanje i kupaonicom, te jednu spavaću sobu s king size krevetom plus jedan dodatni krevet na zahtjev. Dostat će vam posteljinu i ručnike, internet priključak, TV s kabelskim programima, aparat za kavu, čajnik, AC, glačanje rublja, sušilo za kosu, karte i brošure o Beogradu itd. Ako ćete ostati dulje od 7 dana, krevet i posteljina mijenjaju se jednom tjedno, a usluga čišćenja i besplatno je jednom tjedno. Za sve one koji vole istraživati grad biciklom pružamo bicikle Javno parkiralište dostupno je ispred zgrade. Ako dolazite avionom, možemo vas čekati u zračnoj luci. Pick up od Glavnog vlaka ili autobusnog kolodvora je besplatan. Također vam možemo osigurati auto za 20 Eur po danu Zahvaljujući ocjenama naših gostiju možemo poboljšati kvalitetu naše usluge Nikoleta i Dejan
Dear travelers,
This is a new unique apartment with the very best location, Kosancicev Venac CENTER OF THE CENTER!
From this point you can easily reach everything that is important if you are coming as a tourist, for fun, with children, or business..
Touristic attractions are 50 meters (1min) walking distance:
Museums, National Theatre - 150 m
The Republic Square -150 m
Kalemegdan, park and old city fortress - 50 m
Skadarlija, Bohemian quart - 150 m
Knez Mihajlova, pedestrian zone - 50 m
Savamala, restaurants and clubs - 150 m
You can easily reach New Belgrade, business center and shopping mall across the bridge, also the rivers Sava and Danube where you can find lots of bars and clubs, flouting boats which make night life in Belgrade famous.
We would be happy to accommodate you in our totally brand new apartment, unique architecture with many beautiful details..
Apartment is situated in the heart of the city, area "Kosancicev Venac" , most famous area in Belrade
The 35 square meters apartment is tastefully furnished, all cares and comfort, contains living room with high quality sofa bed ideally for two ,fully equipped kitchen with dining corner and bathroom, and one bedroom with king size bed plus one extra single bed on request.
You will get linen and towels, internet connection, cable TV, coffee machine, kettle, AC , ironing facilities , hairdryer, maps and brochures about Belgrade ,etc.
If you are going to stay longer than 7 days the bed and bath linen are changed once a week, also the cleaning service is free of charge once a week.
For anyone who likes to explore city by bike we are providing bicycles
Public parking is available in front of the building.
If you are coming by plane we can wait for you at the airport.
Pick up from Main train or bus station is free of charge.
We can also provide you a car for 20 Eur per day
Thanks to our guest's reviews we have be able to improve the quality of our service
Nikoleta & Dejan
Dostupno gostima
Gostima će imati pristup maloj, ugodnoj i lijepoj terasi ispred apartmana. Bicikle za istraživanje prijateljske ulice Beograda. Pregled bicikala s vodičem. Kao što sam ja profesionalni turistički agent vam može ponuditi raznovrsne cjelodnevne izlete Beograd - manastiri Fruska Gora - Novi Sad - Beograd Posjetite autonomno područje Vojvodine, raznolik prostor s mješovitom populacijom, kulturama, religijama. Razgled grada u Novom Sadu, glavnom gradu regije, sa šetnjom u središtu grada i posjet Petrovaradinskoj tvrđavi, nazvanoj "Gibraltar Dunava". Također kratko zaustavljanje u Sremskim Karlovcima, lijep barokni grad na Dunavu, gdje je krajem 17. stoljeća potpisan Karlowitzov mirovni sporazum. Još važnije, posjetite dva slavna samostana Fruska Gora - Krusedol i Grgeteg (oba iz 16. stoljeća). Povratak u Beograd za noćenje. Beograd - Topola - Gornji Milanovac Obilazak Memorijalnog kompleksa Karadjordje i crkve Sv. Jurja (lijepo ukrašene mozaicima, crkva je i Mausolej obitelji Karadjordjević). Krajnja kočnica za ručak je moguća na Rudniku, koja dominira Sumadijinom regijom. Posjet samostanu Vracevsnica iz 15. stoljeća. Nastavite prema području Gornjeg Milanovca. Večera i smještaj u seoskom domaćinstvu tradicionalnog stila Sumadija. Gornji Milanovac - Zlatibor Vožnja kroz veličanstveni planinski krajolik do Ovčara - Kablara. Tijekom šetnje netaknutom prirodom, manastir Nikolje, jedan od najsvjetlijih mjesta među "svetim srpskim Athos" na rijeci Zapadna Morava. Posjet ruralnom naselju Zlakusa s Terzicom Avlija tradicionalna izložba ručno pletenih vunena i keramičkih ručnih radova. Ovdje - tradicionalni ručak. Izlet se nastavlja na planinu Zlatibor i Mokra Gore. Planina Zlatibor - Mokra Gora - Samostan Rače - Valjevo Vožnja do Mokra Gore. Ovdje je poznati holivudski redatelj Emir Kusturica izgradio etno selo Drvengrad i održava svoj godišnji filmski festival Kustendorf. Posjet etno selu i vožnja na uskom kolosijeku Sargan 8 - sa spektakularnim planinskim pogledom na planinu Tara. U poslijepodnevnim satima posjetite samostan Rače (13. st.) - jedan od najpoznatijih srpskih srednjovjekovnih samostana i središta kulture. Valjevo - Pozarevac (Viminacijum) - Regija Iron Gates (Veliki Gradište) Vozite preko središnje Srbije na područje Pozarevca. Ovdje posjetite ruševine i muzej Viminacijuma - antičkog rimskog grada, nekadašnjeg glavnog grada provincije Moezije Superior. Večera i noćenje u području Velikog Gradista, na jednom od krajeva slavne željezne galije. Željezna vrata - Zaječar Provedite cijelu jutarnju vožnju uz Dunav kroz područje Iron Gates, sve do željezne željezne grede I (Kladovo). Spektakularne mogućnosti slika. Zajecar - Nis (Mediana) Jutarnji posjet Felix Romuliana / Gamzigrad (UNESCO-vom ostavštinom, antički rimski kompleks palača koje je izgradio car Galerius). Nastavite u Nis, rodno mjesto rimskog cara Konstantina Velikog i posjetite Mediana - rimsko arheološko nalazište i bivša carska rezidencija. Planina Kopaonik - Novi Pazar - Manastir Studenice Vozite iz Beograda preko planinskog kraja Kopaonik, uz spektakularan krajolik na putu. Zatim posjetite poznate znamenitosti na području Novog Pazara: crkva Sv. Petra i Pavla (9. stoljeće, najstarija crkva na srpskom teritoriju), Đurđevi Stupovi (samostan iz 12. stoljeća, UNESCO-ov grad) i samostan Sopocani Datira iz 13. stoljeća, poznata po prekrasnoj izvornoj freskoj umjetnosti). Večera i noćenje u spavaonici manastiru Studenica. Manastir Studenica - samostan Zica - Beograd Započnite dan posjetom samostanu Studenica - UNESCO-vom baštinom iz 12. stoljeća, grobnom mjestu svog utemeljitelja Stephana Nemanje i njegove obitelji (prvi kralj najznačajnije srednjovjekovne kraljevske dinastije Srbije). Na putu natrag u Beograd, posjetite samostan Zice - izvorno iz 13. stoljeća i prvo sjedište srpske nadbiskupije u doba Svetog Save. Kraj usluga u Beogradu.
Guests will have access to small , cozy and beautiful terrace in front of the apartment.
Bikes to explore friendly street of Belgrade.
Bikes tour with guide.
As I am professional Travel Agent can offer you variety of full day excursions

Belgrade – Fruska Gora Monasteries – Novi Sad – Belgrade
Visit Vojvodina autonomous region, a diverse area with mixed populations, cultures, religions. City tour of Novi Sad, the region's capital, with a walk in the town center and a visit to Petrovaradin Fortress, dubbed "The Gibraltar of the Danube". Also short stop in Sremski Karlovci, a nice Baroque town on the Danube shores where the Karlowitz Peace treaty was signed at the end of the 17th century. More importantly, visit two of the famous monasteries of Fruska Gora Mountain – Krusedol and Grgeteg (both from the 16th century). Return to Belgrade for overnight(URL HIDDEN)Belgrade – Topola – Gornji Milanovac
Tour of Karadjordje´s Memorial Complex and St. George Church (beautifully decorated with mosaics, the church is also Karadjordjevic´s family Mausoleum). Short brake for lunch is possible on Rudnik mountain which dominates over Sumadija region. Visit to Vracevsnica Monastery from the 15th century. Continue towards Gornji Milanovac area. Dinner and accommodation in rural household of traditional Sumadija style.

Gornji Milanovac – Zlatibor
Drive through magnificent mountain scenery to Ovcar – Kablar gorge. While walking through intact nature, tour Nikolje (St Nicholas) Monastery, one of the most spiritual sites among the "Saint Serbian Athos" on Zapadna Morava River. Visit to Zlakusa rural settlement with Terzica Avlija traditional exhibition of hand-knitted sweaters and ceramic handwork. Here - traditional lunch. Trip continues to Zlatibor Mountain and Mokra Gora.

Zlatibor Mountain – Mokra Gora – Raca Monastery – Valjevo
Drive to Mokra Gora. Here, well known Hollywood director Emir Kusturica has built ethno-village Drvengrad and holds his annual film festival Kustendorf. Visit of ethno village and ride on narrow gauge train Sargan 8 – with spectacular mountain views of Tara Mountain. In the afternoon, visit Raca monastery (13th century) – one of the best known Serbian medieval monasteries and centers of culture.

Valjevo – Pozarevac (Viminacijum) – Iron Gates region (Veliki Gradiste)
Drive across Central Serbia to Pozarevac area. Here visit ruins and museum of Viminacijum – ancient Roman city, former capital of the province of Moesia Superior. Dinner and overnight in Veliki Gradiste area, at one of the ends of the famous Iron Gates gorge.
Iron Gates – Zajecar
Spend the entire morning driving along the Danube through the Iron Gates area, all the way to the Iron Gates Dam I (Kladovo). Spectacular picture opportunities.
Zajecar – Nis (Mediana)
Morning visit to Felix Romuliana/Gamzigrad (UNESCO Heritage, ancient Roman complex of palaces built by Emperor Galerius). Continue to Nis, birth place of Roman Emperor Constantine the Great and visit Mediana – Roman archaeological site and former imperial residence.
Kopaonik Mountain – Novi Pazar - Studenica Monastery
Drive from Belgrade over Kopaonik Mountain region, with spectacular scenery along the way. Then visit the famous sites in Novi Pazar area: St Peter and Paul's Church (9th century, considered to be the oldest church on Serbian territory), Djurdjevi Stupovi (12th century Serbian monastery, UNESCO heritage site) and also Sopocani monastery (UNESCO heritage site dating to 13th century, famous for its beautiful original fresco art). Dinner and overnight in the dormitory of Studenica Monastery.
Studenica Monastery - Zica Monastery - Belgrade
Start the day with a visit to Studenica Monastery – UNESCO heritage site dating back to the 12th century, burial place of its founder Stephan Nemanja and part of his family (first king of Serbia's most significant medieval royal dynasty). On the way back to Belgrade, visit also Zica Monastery - originally dating back to the 13th century and the first seat of the Serbian Archbishopric in the times of St Sava. End of services in Belgrade.

Interakcija s gostima
Živim na drugoj adresi u Beogradu, u blizini
I am living on another address in Belgrade, nearby
Ostale napomene
Sigurni smo da ćete uživati u boravku u Beogradu u našem apartmanu, koji se nalazi na najboljoj lokaciji u Beogradu.
We are sure that you will enjoy your stay in Belgrade in our apartment, located in the best location in Belgrade.
---
Ovaj smještaj ima sadržaje nužne za poslovna putovanja.
---
---
Dodatni gosti $7 / noćenje nakon 2 gosta
Vikend cijena $38 / noćenje
Komunicirajte samo putem Airbnba
Kako biste zaštitili svoje plaćanje, nikad nemojte vršiti novčane transakcije ni komunicirati izvan Airbnbove stranice ili aplikacije.
Saznaj više
---
Vrijeme dolaska je fleksibilno
We invite you to feel like at home during your stay in our apartment. Please do not make noise after 10 pm
We provide 2 sets of keys if you needed
Our interphone is second from the butom
Always keep building door close :) And Enjoy in Belgrade
Bikes are 4 Eur per day, more then 3 days is 3 Eur per day
---
---
Detektor ugljikovog monoksida
---
Minimalni boravak: 1 noćenje.
Od 28. Prosinac 2017. - 3. Siječanj 2018. minimalni boravak je 3 noćenja.
---
This is great apartment to explore Belgrade from. It's located in the old and beautiful part of Belgrade, great location you wont need to use public transport to get around. It's easy walking distance to all of the sights in the old city and close to lots of restaurants. Nikoleta was very flexible with my arrival time and organised pick up from the airport as well. She was also very fast to respond at all times. Highly recommend.
---
The apartment is very well located, in the touristic center. In 5 minutes you can be in the fortress of Belgrade. The apartment is clean and very quiet since it is in the building courtyard. Just be aware they are doing road construction just in front of the building, which makes it harder to find the entrance. We definitely recommend this apartment for your stay.
---
Abbiamo fatto un tour di sette giorni dalla Croazia alla Serbia e questo è l'alloggio più bello in cui abbiamo dormito. In pieno centro, a due passi dalla zona pedonale e dalle rive del Danubio dove ci sono numerosi locali, proprio alle spalle del famoso murales di Blu.
---
Dear travelers,

we have been visited many places in the world so we know how it is to be a traveler, and now thanks to Airbnb we know how to be a host too.

We're a married couple for life and we love it! N is truly an Belgrade born and raised lady.Has traveled extensively ,32 countries and counting!. And D was born and grew up in Slovenia . Together with our 3 son, daughter Dora Jana and our dog Frodo we form a happy family! We all participated in the construction of apartments and the improvement, use of recycled materials, but most importantly they are made with love.

We started to release apartments in Belgrade, on Kopaonik, Serbia, apartments in Bol, island Brac, apartments in Necujam, island Solta, Croatia and we really enjoying.
We both love people with a passion! We have many friends and meeting new people and making new friends is a way of life for us.

N loves traveling.

D is very creative.

D loves history and is very musical

N is not musical at all!

N is working as Travel Agent.

D is technical supervisor .

N is born in Belgrade so therefor she is a true "Beogradjanka"

D is in love with the city of Belgrade and loves to help people with how to explore Belgrade especially by bike.

Come over and stay with us,
we would love to get to know you!

N & D
Jezici:
English, Italiano, Русский
Stopa odgovora:
100%
Vrijeme odgovora:
u roku od sat vremena
Beograd i okolica nude i druge opcije – istražite ih
Još mjesta za smještaj na lokaciji Beograd: