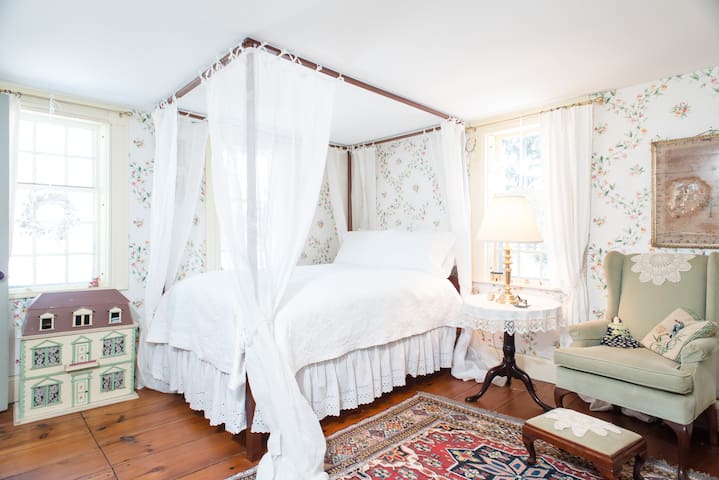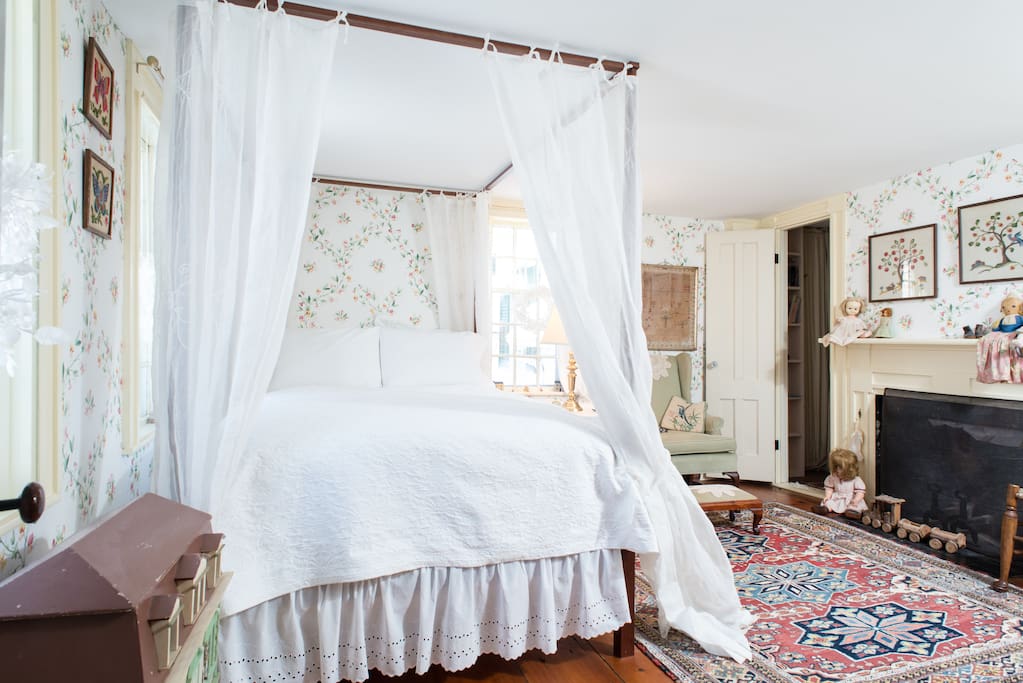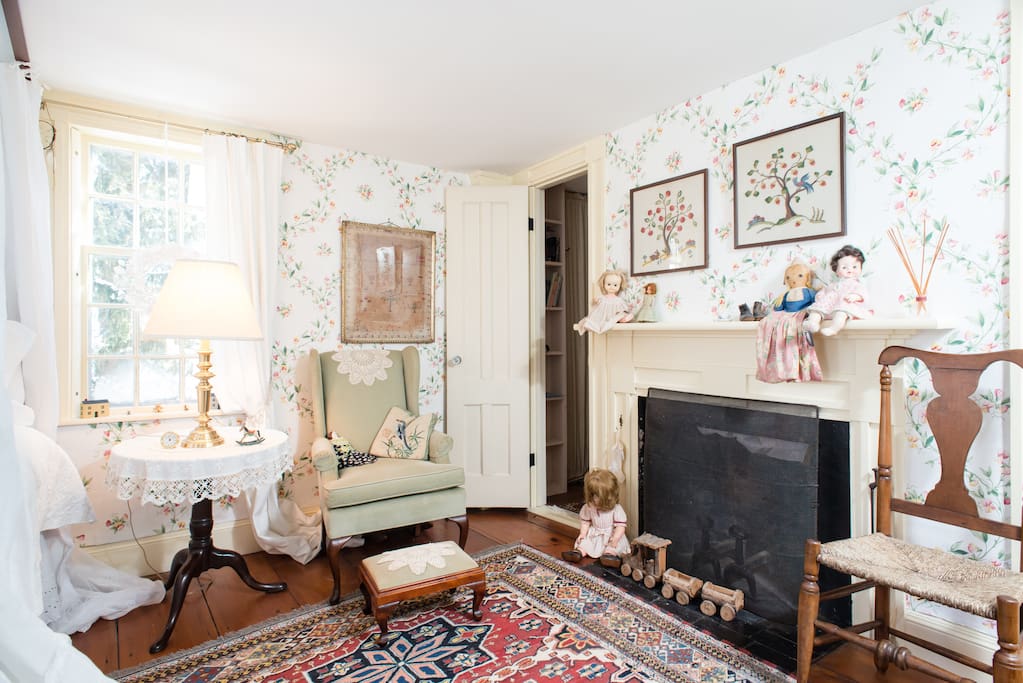 Room w/ a View, Fletcher Tavern B&B
Beautifully decorated, light-filled "Room with a View" in historic 18th c Fletcher Tavern B&B includes a four-poster double bed and a generous sized en-suite bathroom. Two other bedrooms are available in the B&B. Full English breakfast provided.

Prostor
Room with a View (in Fletcher Tavern B&B, Westford Centre) sleeps two, overlooks the Common and church, all in all a tranquil, stereotypic New England scene. The ensuite bathroom has a 'champagne' tub plus a heated toilet seat you will particularly appreciate on cold nights. Bathrobes for your use are included. The Room with a View is one of three bedrooms that are available in Fletcher Tavern B&B for guests to use.
Dostupno gostima
A sitting room with coffee/tea facilities, fruit and nibbles, HD TV, Blu-Ray, Bose speakers and wi-fi is just across the hall. Delicious breakfasts, including full English breakfasts, are served in light-filled dining room with antique furniture and a multitude of plants in the bay window overlooking the garden. Family areas of the Tavern are not shared with guests.
Interakcija s gostima
Guests are warmly welcomed by the host who introduces them to Fletcher Tavern with a cup of tea or coffee if they would like. Guests can come and go as they want since they have their own key. There's an embarrassment of riches in terms of places to visit and things to see in the area so guests are usually quickly out the door, taking the opportunity to investigate the abundance of American history and many activities on offer in the Westford area.
Ostale napomene
Guests have access to a sitting room with HD TV, Blu-Ray and Bose Speakers.
The current owner is the fourth great grand-daughter of Timothy Fletcher, who ran the house as a Tavern in the mid-1700s.

---
---
Dodatni gosti Nema naknade
Komunicirajte samo putem Airbnba
Kako biste zaštitili svoje plaćanje, nikad nemojte vršiti novčane transakcije ni komunicirati izvan Airbnbove stranice ili aplikacije.
Saznaj više
---
Vrijeme dolaska je od 15:00 do 22:00.
Check in is from 3p until 10p- Please let me know the time you are going to be coming in.
Fletcher Tavern is a non-smoking, shoe-less home. Guests who appreciate the beauty of fine things in life are most welcome.
Different B&Bs will have different guidelines. Following is the information contained in the revised Guidelines (for currently being a guest in) Fletcher Tavern B&B:
A B&B is a special place, a 'home away from home,' offering warmth, friendliness and genuine hospitality! Lively conversation can ensue, undoubtedly much along the lines of what must have been exchanged between men in the Tavern in the 1700s (smoking their pipes in front of the fire, deep in thought....).
Because some people have little experience re staying in a B&B, we offer the following:
ARRIVAL (from 3 p.m. onward) - please let your host know ahead of time your approximate time of arrival. If this changes, please call her and let her know?
COMMUNICATING WITH YOUR HOST : Please also be aware that there is not steady 24 hr coverage of phone and/or emails. Thank you for being patient! When staying at the Tavern, if you want to say something to the owner, you can leave a note for her on the pad of paper next to the kitchen sink (by the Entry Room door).
Depending on circumstances (i.e., time of arrival, etc.), guests may be offered tea or coffee and a homemade cookie, etc., served on the Patio or in the Patio Room.
COMPUTER: To use the WiFi (to be shared on your arrival) :
LIGHTS: Kindly turn off all lights when you leave a room.
AIR CONDITIONERS / FANS : Kindly use these only if the temperature outside is warmer than the warm temperature in your room! Please turn them OFF when you leave the room for breakfast and/or for the activities you have planned for the day! Please follow these guidelines for the 2nd floor Sitting Room as well as for your bedroom....
Except in Winter, windows are usually opened in the evening - the closed first thing in the morning. It's lovely during the summer to have windows open at night so cool air can flow into the bedrooms. It's wonderful for sleeping to have that cool air coming in! Please know that even when an air conditioner is NOT turned on, outside air will flow through it as there is no provision for totally closing off the air intake.
LUGGAGE : There are luggage racks in some of the rooms in the Tavern. Please help yourself!
BREAKFAST : Please let your host know what your food allergies are (if any) and what your 'usual' breakfast is in your country of origin if that is what you would like to be served. French guests, for example, have requested pancakes with fruit on top, with a different fruit used on different days.
Please let your host know what time you would like to have breakfast - and please, please be seated within five minutes or so of the time you have given! If there is a significant delay, then your host will go ahead and serve your breakfast which you can then eat at your leisure.
If you would like your breakfast before 8:00 a.m., a cold breakfast (including fresh fruit and hard boiled eggs) will be set out on the dining room table for you.
VISITORS : Please let your host know if you are expecting any visitors - and at what time. Since you are staying in her home, she will undoubtedly want to meet and greet your guests. Please know that your host is not open to visitors going up the stairs and touring the Tavern. You are most welcome to use the Patio Room or the gardens for meeting with any visitors.
WHAT AREAS OF THE TAVERN ARE OPEN TO GUESTS WHO ARE STAYING HERE :
Your bedroom and your bathroom,
The dining room,
The Sitting Room, the Patio Room and the gardens.
Please be aware: the regulations for B&Bs in Westford do not permit guests to use the (Tavern) kitchen.
KEY FOR TAVERN : A key to the Tavern (w/red ribbon) for you will be on the kitchen counter by the kitchen sink.
CHECKING OUT : Kindly have all of your personal items out of your bedroom (and out of the Sitting Room) by 11:00 a.m. at the very latest.
It's genuinely a delight to have you here as a guest in this historic Tavern!
---
Minimalni boravak: 1 noćenje
---
Elizabeth's place (also called Fletcher Tavern B&B) exceeded my expectation in many ways. It was a wonderful bed and breakfast experience. We could tell that Elizabeth put a lot of thoughts into decorating the entire house and making sure every guest have a great experience. The house has a long history and is kept in a very New England style. The bathtub and the heated toilet seats were a joy to use after a long day of skiing in the nearby ski area. The 2-course breakfast in the morning made me feel I lived like a prince... And it was lovely to talk to Elizabeth after the meal. One thing to note is that the mattress top is on the soft/plush side. I personally sleep on firmer mattresses, but you are in luck if you like soft/plush ones!
Elizabeth Fletcher odgovara:
Thank you, Sean, for such positive feedback in regard to your stay in Fletcher Tavern B&B! I loved your high energy and enthusiasm for your experience here in the Tavern. Re the mattress? It's purposefully a very firm mattress indeed, chosen to give 'correct' support as recommended.....with, as you've described, a softer mattress cover to enhance comfort. I suppose you simply could have turned back the sheet and 'peeled back' the mattress cover! Meanwhile, I look forward to your return!
---
Elizabeth was very welcoming when we arrived. It was an honor to stay in such a historic building! 1716! The room was beautiful. The bed supremely comfortable. The upkeep of the house was a labor of love. The price was very reasonable. The snacks and breakfast excellent. Strict adherence to the rules and expected timing seem very important to Elizabeth. When we were late to breakfast by forty minutes, her mood seemed to change dramatically and she refused to speak with us further. We tried to apologize but she would have none of it. The breakfast, although the mood was chilly, was generous and delicious.
Elizabeth Fletcher odgovara:
Sara, I'm delighted with your positive feedback! Thank you! Meanwhile, it was a 'first' for me to have to telephone (literally!) guests when I didn't know what to do with the breakfast I was preparing, having 'held' continued preparation for 40 minutes (commencing from the time you previously designated for your breakfast) before telephoning to get a clue as to when you would be coming down to eat. I was grateful that you answered even though I seem to have awakened you. Usually mornings with guests are relatively relaxed. However, by the time you were seated for breakfast (with just over an hour until your check-out time) I had tasks that needed to be done. What you've interpreted as 'chilly' was, quite honestly, a very busy, very focused lady who was dealing with normal tasks that had not unfolded in their usual, easily 'doable', timely process! Keeping things moving, planning preparations for the next guests....yes, you wouldn't have needed to know and couldn't have known, of course, what was on my agenda! Nonetheless, I'm delighted that you enjoyed Fletcher Tavern!
---
Elizabeth was the consummate host, ensuring our arrival was smooth and then leaving us to enjoy our stay. The Tavern is a wonderful 18th c. historic place that is warm and welcoming. It is furnished with antiques and plenty of good reading material. We were served a lovely breakfast and enjoyed a lovely conversation with Elizabeth on a range of topics. Her place is close to Chelmsford and Lowell for site-seeing and trying Cambodian food.
---
As I am back on the west coast from a week long birthday pilgrimage, I have had time to reflect on my experience at the Fletcher Tavern on a whole. I will begin by saying the home is a marvel for those who allow their soul to revel in the heart of history. The home is pristine and their are many artifacts and books that can overwhelm someone who yearns to learn everything! The home is in a wonderful neighborhood and feels like a museum. I did willingly try to connect and spark conversation with Elizabeth but my attempts did not seem to be welcomed, which rather hurt my spirits as I was looking forward to learning more of the tavern and the Fletcher family, but alas I realize not everyone in the world is going to automatically click. There were a few instances which did make me utterly uncomfortable such as the door to my bathroom was being shaved down and I was not warned of this prior to, so I was unable to access my bathroom for an hour or so, secondly on my birthday I ended up in the ER due to a terrible sinus infection, I had broke a sweat that evening and my pillow was damp, I was asked to purchase the pillow which I gladly paid for only to be told that it was "unusual" to sweat, I again reminded her I hadn't felt well. Secondly I was asked not to use the room heater which we abided by, but being on the third floor my friend and I being from Nevada were cold but didn't want to disrespect her request so we wore sweatshirts and layered up. To be honest, I was a little disappointed as I had hoped that my friend and I would have felt more welcomed but I accept that we perhaps were not Elizabeth's cup of tea. Though I believe we were great guests as I did clean the saw dust from the bathroom renovation and tried my best to tidy up each morning. On a side note we did make some wonderful friends that were also staying at the tavern, and have been invited to London anytime! All in all I did go there for a relaxing birthday gift to myself but I left feeling rather saddened that I didn't feel welcomed. I did ask Elizabeth once when I caught her attention if I was bothering her, and she replied with "what would make you say that?" I began to explain as I believe communication is key, when another guest unknowingly interrupted. After leaving I received a call about a missing pillow (the one I purchased from her) and explained that I took it as I paid for it, and a missing hand towel, which I did find in my luggage, and explained I will be UPSing asap back to her home. To sum it up, it was an experience, which is exactly what I was seeking. With...
Elizabeth Fletcher odgovara:
I appreciate your positive descriptions of this wonderful Tavern in your Review! I had looked forward to your staying here, Ashley. Meanwhile, my understanding (from your 27th Sept. email) was that you planned to 'be out and about soaking up the atmosphere most of the time.' It was, therefore, unexpected that you remained in your room most days you were here until early afternoon. Clearly there was a conflict in the normal unfolding in the life of the Tavern when you remained in your room for so much of each day whilst I normally prioritise guests' rooms being cleaned following breakfast and having maintenance work done during working hours! I was also surprised to find one morning on your bed a WET pillow (the actual pillow on your bed, not just the pillow case, was soaking wet!). I handed the pillow to Brian for confirmation and he responded, 'The room was HOT!' Ashley, only your electric heater was on that night (turned to 'High'). There was no other heat provided for any other room. I've previously assumed that guests are knowledgeable in regard to responsible use of an electric heater. The bed in your room had a 'winter weight' duvet on it - certainly sufficient to keep most of us warm when temperatures are below zero outside - and the temp. was nowhere near zero! After you left, I telephoned you to find out about a missing pillow following my discovering an empty pillow case lying on your bed after you left. You clarified that you had stuffed into the rectangular pillow case the square, decorative pillow that you then took with you (following my purchase of a new one). I'm glad you found the hand towel and will appreciate your returning it. I'll add that note of your spontaneous written comment, just as you were leaving, that you had 'learned a lot' during your stay in the Tavern. I'm delighted - and wish you all the best as you (and I) continue learning!
---
Elizabeth met me when I arrived after a long day traveling, led me to my room and gave left me to settle in for the night. Breakfast was promptly served at 9 am, a delectable feast enjoyed by me and the other guests. She was gracious when I arrived back both days I spent in the area, engaging in entertaining conversation. And the tavern has a history and character that added quite a charm to my stay.
---
Boston, Massachusetts, Sjedinjene Države
Član od Ožujak 2013
How to describe me, your primary host? Enthusiastic and wanting to ' MANY things! Born in Texas, initially I was a classical musician (pianist), then teacher in Special Needs, then Clinical Psychologist, with each step leading in some way to the next. I have long yearned to know more and, looking back, I can easily see how that yearning has taken me into so many not necessarily planned experiences! I recognised some time ago that Carl Jung offered a 'lens' for me to better understand the world we live in. And then I traveled considerably (including living and working in Tuva at the Centre for Traditional Folk Medicine for five months over a winter), plus I lived and worked in the UK and then Ireland for a total of 16 years - with a year's Sabbatical tucked in there, too, giving me opportunity to get to know more of the world. I stayed in many a B&B over the years, including in Patmos (where God dictated Revelations to John), in the Lake District, in Edinburgh... I love cooking so preparing a scrumptious breakfast for guests to start them on their way for the day, is a delight. Gardening is another love of mine - along with classical and also folk music. Actually both first and last (but not least!), I enjoy good conversation! I returned to America on 27th January 2013, starting a new volume in my life that has started with opening Fletcher Tavern (the home of some of my ancestors) as a B&B.
Stopa odgovora:
100%
Vrijeme odgovora:
unutar jednog dana
Westford i okolica nude i druge opcije – istražite ih
Još mjesta za smještaj na lokaciji Westford: