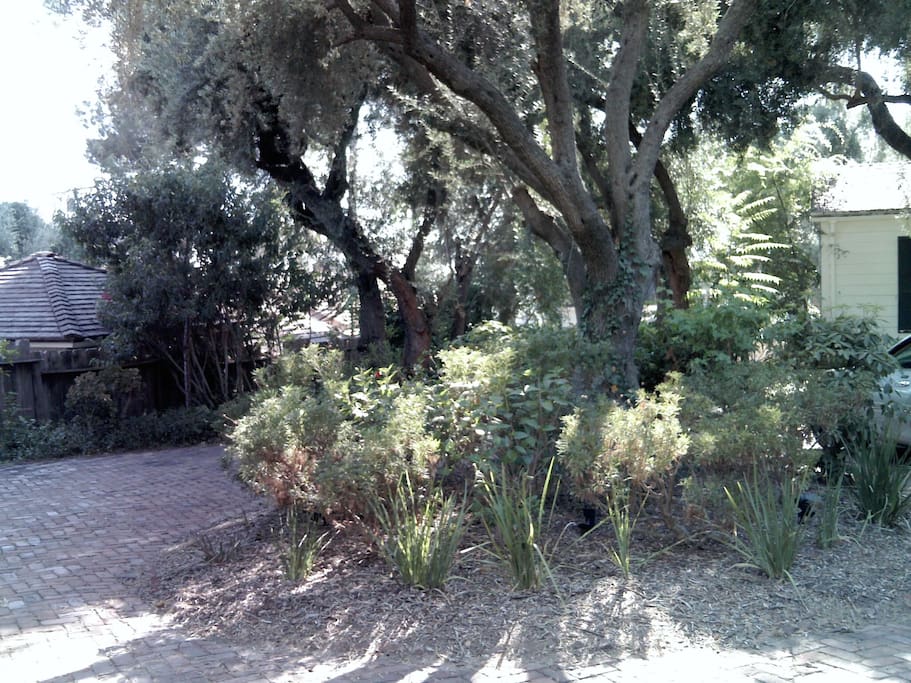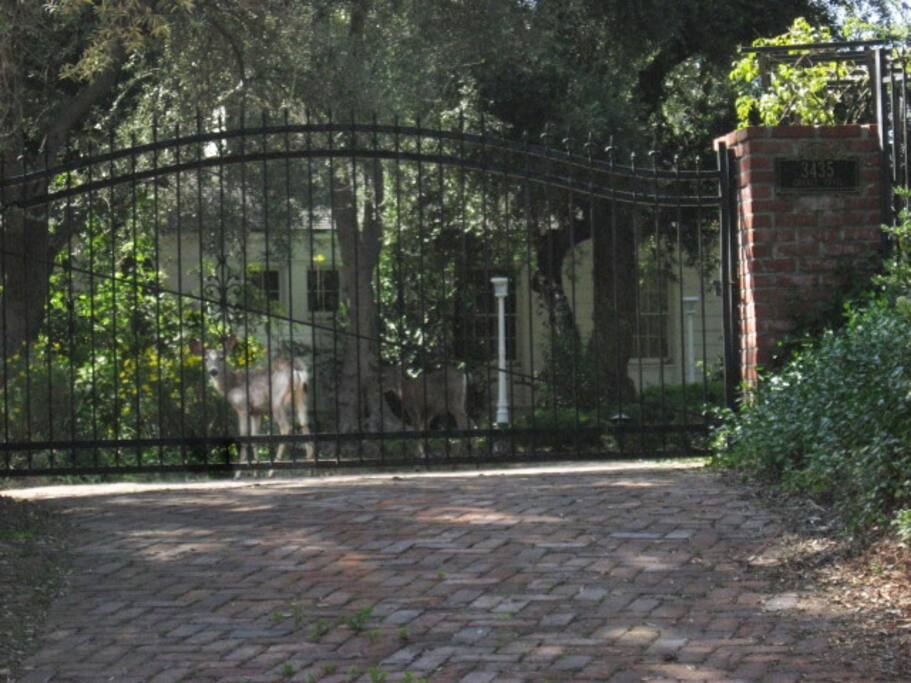 Pasadena Foothills Vacation on 1.4 Acre Estate
Pasadena Foothills Vacation on 1.4 Acre Estate
Good for business travelers, families (with kids), 6 to 11 guests, wedding guests, attendees of the Rose Bowl or New Year's Parade, racetrack events, golfing, and City of Hope families. For 12-14 people or events, booking must be through a different service with a deposit.
A simple application is required identifying guests, approximate ages, and purpose of the visit.
Prostor
Spacious home for vacationing, family get-togethers, graduations, weddings, or executive retreats/getaways. Background is the Angeles National Forest with trails for nature lovers ony minutes away yet quick access to Pasadena and LA County activities.
Accommodations: 4,000 sq. ft. Home, 4 Bedrooms, Family/Entertainment Room which has a sofa bed
(5th bed) and 1 twin, Indoor Gym, Large Living Room with 2 Outdoor Brick Patios, 3.5 Bath, Breakfast Room, Kitchen, Library/Dining Room, Large Backyard Deck overlooking Gazebo with Mountain View, 6'x6' outdoor spa surrounded by Olive and Oak Trees, Circular Brick Driveway, Garage (not available). he home easily sleeps 11 with private rooms and beds. Above 11 or events, we require booking through (SENSITIVE CONTENTS HIDDEN) with a deposit.
An excellent, comfortable, and convenient location to launch a vacation, wedding quests, small special events, a temporary business stay, or a relocation effort. Approximately 3 miles from the Rose Bowl or 4 miles from Pasadena Old Town with local bus transportation and Pasadena shuttles nearby.
Rose Garden, Fruit Trees, Walking Paths, Relaxing Seating Spots
LARGE HOME TO RELAX IN: Great Pasadena suburb (Altadena) location in the San Gabriel Mountain foothills. Renovated Kitchen and bathrooms with large, open feeling. French doors and ceiling fans throughout house. One wood burning fireplace, 2 gas fireplaces. Large 1.4 acre property surrounded by oaks, 52 olive trees, pines, fruit trees, white rose garden, California natives. Hardwood floors, tile and carpet throughout. Close to grocery markets, shopping centers, the Goldline Light rail, (PHONE NUMBER HIDDEN) freeway, Rose Bowl, New Years Rose Parade, Brookside/Altadena and Hastings Ranch golf courses. Snuggled close to the beautiful San Gabriel Valley Mountain Range with hiking and biking trails and a 30-ft. Waterfall in Mallard Canyon a short walk away. Occasional deer sightings. You can hear coyotes and sometimes see small flying bats in the tranquility of the night. Rose garden available for cuttings. Indoor Jacuzzi in the master bedroom and a 6 person outdoor spa to sooth the night away.
OUTDOOR LIFE/HOUSE AMENITIES ARE WAITING FOR YOU: Granite counter tops in the kitchen and breakfast room which overlooks a former canyon wash. Walk-in closets, lots of entertainment rooms for music, recreation, exercise, or just plan relaxing. Extensive library of science fiction, romance, professional books (legal, engineering, real estate, sociology, poli sci, economics). Great neighborhood with lots of walking areas to the park, to the foothills, and through the neighborhood. Lots of evening and early morning walkers, horseback, and bike riders. Local pool, picnic areas, equestrian ring, tennis courts, basketball gym, children's playground less then 1/2 mile away.
Refund Policy
There is no refund of the rental amount unless those days are rebooked by others. If rebooked, you will be provided credit for the days rebooked minus a $100 fee.
Dostupno gostima
The lockbox combination is provided by e-mail. You can open the lockbox and remove the key for your use. Return the key to the lockbox when you leave. Be sure to leave the lockbox combination the same when you leave. Otherwise housekeeping is locked out. The house phone number is (PHONE NUMBER HIDDEN) which has an answering machine for your use. Domestic calls can be made from the phone at no additional charge. International calls require a request to set it up with an additional nominal deposit.
BEDS & BATHROOMS
There are four queen size beds and one twin. The larger couch in the family room is a Queen Sleeper sofa bed. The smaller couch in the family room corner is a Twin Sleeper sofa bed. Please tell us if you want it set up as a bed. Otherwise, just lift and pull out and it becomes a bed. Sheets and pillowcases are in the hallway closet. A twin and Queen mattress is stored in the MBR walk-in closet if you want it on the family room sofa beds.
Bathrooms have facecloths and towels. If more are needed, they are in the hallway closet near the Master Bedroom (MBR). The MBR and center showers have three settings-shower head, nozzle, hand wand and combinations. Set Roman numeral knob to desired settings. The center handle controls temperature.
The toilets in the center bathroom and MBR are new high efficiency dual flush toilets. If it has a light load you can use the single flush button on the right. If there is a heavy load, use the dual flush button on the left. It is amazing how little water is now used.
The hot water in the Master Bedroom has a long pipe run. It may take a minute or two to start to feel hot water during the cold season.
DISHWASHER
The dishwasher has buttons on the front to operate. Load dishes with cups and glasses on the top and plates and large items on the bottom. Add dishwasher powder in the dispenser on the inside door. Close and latch in the middle. Select SPEED CYCLE or NORMAL WASH. Push start and it is ready to go. Water in Southern California is very hard and may leave calcium deposits. If you are getting deposits when you wash, use the small green packets instead of the powder.
COFFEE POT
Add coffee grounds to the coffee filter at the top center compartment under the lid. Add water to the top water compartment on the right. Close the lid and make sure the coffee pot is in place. Select GRIND OFF, push START, and the water will heat up and fill the coffee pot.
SUPPLIES
Dishwashing powder is in the lower cabinet to the right of the dishwasher. Extra bathroom soap and lotion are in the hallway closet near the family room. Washing Machine detergent is in the basement at the side counter near the washing machine. The soap compartment is at the top left of the machine. See the fill line in the top left compartment. Do not overuse.
Feel free to use any of the eating supplies such as paper cups, plates, plastic ware, or condiments, etc. If you run out, more supplies can be purchased locally at Joon's 99 cent store at Fair Oaks/Woodbury next to Mobil, Super King Market (2260 Lincoln Ave.) or Ralph's (2270 Lake Ave.) in Altadena – (use recyclable bags from kitchen pantry) or Big Lots (1260 Lake Ave.) in Pasadena.
SHOPPING
A small discount store nearby is Joon's 98 cent store at Fair Oaks/Woodbury, next to the Mobil gas station. A larger one is 99 cent only at Los Robles/Villa in Pasadena. It has a large assortment of items. A major mall is One Colorado, which is near Arroyo Blvd/Colorado. A major shopping center is Hastings Ranch which is at Madre Blvd/Foothill Blvd. There is good shopping on Lake Avenue from Altadena Drive in Altadena to Del Mar in Pasadena. High end shopping is at the Del Mar end of Lake Ave. Small shops, fast food restaurants, strip malls, and miscellaneous are above the 210 freeway on Lake Avenue. Another area to shop is Glendale Galleria and the Arcadia Mall. Old Town, which is Colorado Blvd./Fair Oaks Avenue, is a mix of entertainment, upscale restaurants, movies, bookstores, street entertainment, art shops, unique stores, and a bunch of neat entertainment venues. It's fun just walking the street. People travel from all over LA to visit "Old Town".
BANKS
There are ATM Machines in most local grocery stores and gas stations. The Mobil at Woodbury/Fair Oaks offers the largest withdrawal (~$200) with the least fee (~$1.50). Local banks are Bank of America- 2345 Lake Avenue; Chase at 2300 N. Lake Ave; Altadena
IMPORTANT PHONE NUMBERS
EMERGENCY-LA County Sheriff or LA County Fire: 911
NON-EMERGENCY POLICE- Altadena Sheriff (PHONE NUMBER HIDDEN) E. Altadena Dr.)
LOCAL HOSPITAL-Huntington Hospital, (PHONE NUMBER HIDDEN) W. California Blvd, Pasadena)
LOCAL LIBRARY- Altadena, (PHONE NUMBER HIDDEN) E. Mariposa St.)
LOCAL POST OFFICE - Altadena, (PHONE NUMBER HIDDEN) Lake Ave.)
TRASH PICK-UP
On your last day, housekeeping will handle trash in the house. Just make sure it is not overflowing. Trash pick-up is on Tuesday. A small pick-up truck will come to the backyard and get the cans at the garage. There are three large containers. Put recycle (plastic, glass, metal) in the blue recycle container. Put trash in trash container. Make sure you leave room in the driveway so the small pick-up can get to the back for the trash cans. They only pick from the ATHENS bins. Make sure you can put a top on the trash. If it so tall that it won't close, they may not take it. If there is overflow for some reason, use the green yard waste bin.
PARKING
There is ample parking in the driveway. It is a large circular drive that will fit 4-5 cars plus a long run to the garage that will fit another 4. This is more then enough parking for typical vacationers. For unusually circumstances where more guests may visit, there is parking on Loma Alta. DO NOT PARK ON CHANEY TRAIL. It is a narrow street with poor visibility at the bottom.
SATELLITE TV
There are four TV's that receive DIRECT TV. Each has a remote to control an individual TV so everyone can watch different things if desired. In the family room, there are two controls. One is for the TV volume and on/off control. It is set to channel 3 and should not be changed.
The other control is for Direct TV. Use menu to review the TV guide and channel selection. Any Pay per View or TV charges for pay movies or Sports will be billed to you. Costs are typically $5 for movies or passes and $30 for some sports channels.

INTERNET
Internet is unencrypted wireless. Access is via wireless Wi-Fi with full access. The wifi to select is NETGEAR59. The password is cheerfulcoconut197. If access stops or the telephone has no dial tone, reset the router on top of the bookcase near the computer room window. A computer is set up for GUEST and you are free to use it. Be discrete on what you download.
TELEPHONE SERVICE
Telephones are VOIP using the internet described above and allow free domestic phone calls. If the phones have no dial tone, reset the router on top of the bookcase near the computer room window. International calls can be arranged with pre-notice and a nominal fee.
FIREPLACES
For the wood fireplaces, a small supply is kept on the side porch next to the living room, on the back porch near the MBR, and at the gazebo. More wood is under the back porch between the center stair and kitchen stair. The property extends to the north into the valley up to the phone line poles. We keep excess firewood down there. If you run out, feel free to get more from there.

The fireplace in the living room has a vent inside the glass screen. Be sure it is open. Start it with small wood, crumpled newspapers, or starter logs. Do not leave any fireplace unattended. We are in a fire sensitive area. Be sure not to dump hot ashes outside.
The fireplaces in the family room and master bedroom are gas and easy to operate. Turn the floor gas key counterclockwise (on). Turn the knob at the bottom of the fireplace from off to pilot. Depress the button and ignite the pilot using the ignition button. Hold the pilot on for a minute to allow the gas thermostat to warm up. After a minute you can release it and turn it "on". The gas should start momentarily. When finished, turn the floor gas key to clockwise (off).
The switch to the right of the fireplace in the MBR allows you to enable/disable the main flames. Further instructions are located at the bottom opening of the fireplace.
HEATING AND AIR CONDITIONING
Temperatures in the area range from 60-90. August-September gets hotter and may require the air conditioner. Evenings during the year are 60-70 and the house stays comfortable with shade and insulation. In November-February, temperatures may go down to the 40's. It may require heat during this time.
Two separate thermostats control the two (2) HVAC units. One is in the hallway, which controls all rooms off the hallway. The thermostat in the front entryway controls the north side of the house. On arrival the thermostats are typically set to off. Select cool or heat, depending on the time of year. 74˚ with fans is a comfortable temperature during the heating cooling season. 70˚ is comfortable during the cold season. Reset to off when you leave.
SPA

There is a Jacuzzi in the MBR. Jet controls at the side control water flow. The jets are controlled by push buttons on the tub entrance side.
The outdoor spa is accessible at the front patio. The patio is brick with sand fill. As a result, be sure to make sure your feet have no sand on them before you get in. If there is sand after use, the water vacuum is nearby connected to the side patio hose and can be used to vacuum the spa bottom.
Flip the thermal cover in half, and lay it up along the side when ready to use. Keep the thermal cover on when not in use. This helps maintain the heated water temperature. Be sure not to step on the cover. It is not made to take weight and will break.
The outdoor spa is turned on through a redwood door at the back (towards the hill). It is set to "timer" and cycles for 60 minutes during the early morning hours. When ready to use, turn up the heat knob to ¾-full max before use. Switch the red switch under the heat knob from "Timer" (right) to "Heater" (left). Heat rate is about 6 degrees per hour. Comfortable levels are 98-100 degrees. You can stay in for a long time at 98 degrees. Above 102 and you will want to get out after a few minutes.
Turn the heat down (full counterclockwise) and reset red switch to "TIMER" (right) after each daily use.
When ready to use, push the "THERAPY" button and the jets will come on. There is a light switch next to the therapy switch. The two knobs close to the street are for air jets. Counterclockwise produces a strong effective jet. Clockwise produces softer jets.
The spa holds 500 gallons of water. Chemicals and water strip tester are under the patio lounge chair.
A spa chemicals and chemical test strips are in a basket under the patio chair. Keep test strip container out of sun when not in use otherwise the color chart will fade.

CHEMICAL REQUIREMENTS FOR NORMAL USE
Bromine1 tablespoon if very low; 1 teaspoon per user after use
Ph down1 tablespoon if Ph 7.6-7.8
Ph up1 tablespoon if Ph below 7.2
Water Clarifier1-1/2 tablespoons if not clear
Anti-foam1 tablespoon if foaming
ShockMaintenance personnel only
Add 1 teaspoon of bromine per user after each use. Check levels the next morning. Add another teaspoon of bromine if water test shows bromine very low. It is important to make sure bromine is not very high before getting in. Too much bromine is not good for the body.
Be sure to shower before getting into the spa to reduce body oils. Do not use bath oils, salts or lotions unless specifically made for spas. Otherwise the water may foam and leave scum. Add 1-1/2 tablespoon of water clarifier and/or 1 tablespoon of anti-foam after daily use depending on cloudiness or foaming of water. Always make sure water is circulating when adding chemicals by pushing the therapy jet button on. Let it circulate for 30 minutes before checking again.
If dirt particles accumulate in the bottom, you can clear it with the water vacuum. It is a silver wand with a black bottom. It uses hose pressure to vacuum up any debris. The skimmer will get the surface debris. There is also a blue "grit gitter" bottle that will capture particles manually while you are in the spa.
THINGS TO DO
There is a 3" thick 3-ring binder in the entryway showing things to do. Current newspapers such as the LA Times calendar, the Pasadena Weekly, and the LA Weekly are on the counter to give you an idea of current events. Maps and books on the right side of the bookcase are also available describing things to do in the Southern California area. The inside of the "Things to Do" binder includes discount coupons to places to eat and events. Feel free to use them. Please leave any coupons you don't use so future guests can use them.
TRANSPORTATION
There is a light rail located in Pasadena that will connect you to many LA destinations. You can park at the Del Mar Station at Raymond/Del Mar and catch the Gold Line which connects to the LA Metro lines to Hollywood, the Airport Area, Long Beach, and the Wilshire corridor. Go to (URL HIDDEN) to get info on special events or travel discounts. Brochures and local information/ maps/books are located on the family room bookcase closest to the rear patio.

LOCAL GYM
A local resource for physical fitness is a wonderful 24 Hour Fitness gym at the corner of Woodbury and Lincoln. It is fantastic. It has tons of equipment, basketball courts, a pool, wet and dry sauna, Jacuzzi, and what I like the best-exercise classes. Go to (URL HIDDEN) for general information and (URL HIDDEN) for a free 7 day pass. NOTE: The passes are available for local residents and are used to encourage new membership. You can use the local address (3435 Chaney Tr, Altadena 91001) and phone numb(PHONE NUMBER HIDDEN)) to complete the form. The busiest day is Monday and it goes down from there. Class schedules are on the website. Favorites are ZUMBA, Cycle, and BodyPump (light weight aerobics), and NIKE Training Club. The Cycle class is always full. They offer Yoga, Kickboxing, and various additional classes.
HIKING
Two nice hikes in the immediate area are from Loma Alta Park to Chaney Trail and from Chaney Trail (curve above the last home on the right) to the water towers and beyond along the fire road. At the top of Chaney Trail is Mallard Canyon. There is a stream going north in the parking lot that will take you to a 30' waterfall. Kids have a ball crossing the stream back and forth getting to it. It's about a 0-30 minute easy hike.
DEPARTURE
At the end of your stay, please put the final load of dirty dishes in the dishwasher and turn on the wash cycle. Similarly, put a load of linen (towels/face clothes) in the washing machine and set to clean. Set thermostat to 70˚ and OFF. Make sure the thermostat at the outdoor spa is fully counterclockwise (OFF) and the switch is set to TIMER not heat. Lock all doors and put the key in the lockbox on your way out. Trash cans should not be overflowing in the house. Trash cans at the garage are for your use to avoid overflow trash. Housekeeping will dump the remaining trash cans.
ENJOY and call or e-mail if there are questions.
Interakcija s gostima
Available by cell phone and e-mail. Local housekeeping and service techs available as needed.
Ostale napomene
No-traffic access to the Rose Bowl or Brookside Park for golfing. 2 miles from downtown Pasadena. Gardens in La Canada 2 miles away. Santa Anita Race track access with minimal traffic, Golfing at Brookside Park
UNIQUE BENEFITS
Privacy, many patios for outdoor activities, beautiful views of the San Gabriel Mountains, and close to the National Forest to take a nice hike at all levels of desired activity. Spacious grounds can easily accommodate a small wedding party. Local park with picnic tables, horseback riding, tennis, swimming pool, children's center, basketball court.
BEDROOM DETAILS
Large Master Bedroom with Queen bed, fireplace, TV, satellite (Direct) TV, walk-in closets, bath with jacuzzi/shower/twin sinks/toilet, window deck.
Reading room has Queen Bed surrounded by bookcases with large science fiction/romance paperback library and leather chair
Computer room has Queen with desks, chairs, bookcases, desktop computer, printer, phone answering machine
Guest room has private bath
Family room is 500 sq. ft. with a queen sofa bed, twin bed, bathroom, large flat screen TV, sink/refrigerator/countertop, popcorn maker, cabinet space, library, games, two tables with 8 chairs, 2 leather recliners, and patio view of backyard.
BATHROOM DETAILS
Full
Master Bedroom
Features: toilet, shower, jetted tub
Notes: Double sinks
Full
Guest Room
Features: toilet, combination tub/shower
Half
Family Room
Features: toilet
Notes: Sink
Full
Jack & Jill Bathroom
Features: toilet, tub, shower
BATHROOM DETAILS
Relax in MBR indoor Jacuzzi or shower in the modernized shower with stationary shower head, hand sprayer and/or jets in this multi-combination enclosed shower.
ADDITIONAL INFO
Hardwood floors throughout. Fans throughout house. All brick driveway/walkway. Long driveway with circular drive can accommodate many cars.
---
---
Vikend cijena $450 / noćenje
Komunicirajte samo putem Airbnba
Kako biste zaštitili svoje plaćanje, nikad nemojte vršiti novčane transakcije ni komunicirati izvan Airbnbove stranice ili aplikacije.
Saznaj više
---
Spavaća soba 1
1 bračni krevet (1,6x2)
Spavaća soba 2
1 bračni krevet (1,6x2)
Spavaća soba 3
1 bračni krevet (1,6x2)
Spavaća soba 4
1 bračni krevet (1,6x2)
Zajedničke prostorije
2 sofe, 3 zračna madraca
---
Nije prikladno za kućne ljubimce
Zabave i događaji zabranjeni
- Complete application for final approval.
On departure we require the following:
1. Please put a load of dirty dishes in the dishwasher and turn on the wash cycle.
2. Put a load of linen (towels/face clothes) in the washing machine and turn it on to clean.
Housekeeping will take care of everything else.
3. Set the outdoor spa thermostat fully counterclockwise (OFF) and the switch is set to TIMER.
4. Dump any trash can that is overflowing. Housekeeping will handle the rest.
5. Lock all doors and put the key in the lockbox on your way out.
6. Turn thermostats to OFF.
7. Turn gas fireplace valves and heaters if used to OFF.
---
---
Detektor ugljikovog monoksida
Kartica za hitne slučajeve
---
Minimalni boravak: 2 noćenja
---
We are a husband and wife with two adult offsprings (children). We and our daughter are electrical engineers with Ph.D.s We love the outdoors and commute between the two locations. When in Altadena (LA), we love it. When in Atlanta, we love it. Both have rustic environments with good biking. My wife loves sci fi and romo paperbacks which fills up the house (She reads a book a day). We like spicy food (Louisiana cooking) and she keep lots of spices in the kitchen.
As a host, we are available remotely but have local resources to take care of the house. We are available by cell phone and return calls promptly. We love the outdoors and our property reflects that. We moved to Altadena after a friend took us to a 50' waterfall 2 miles up Chaney Tr in Millard Canyon. When we hiked and saw that, we became determined to move to Altadena. Another one is in Eaton Canyon, but we like Millard Canyon the best. We would go often with the kids. Also lots of trails nearby that are lots of fun.
Stopa odgovora:
100%
Vrijeme odgovora:
unutar nekoliko sati
Altadena i okolica nude i druge opcije – istražite ih
Još mjesta za smještaj na lokaciji Altadena: