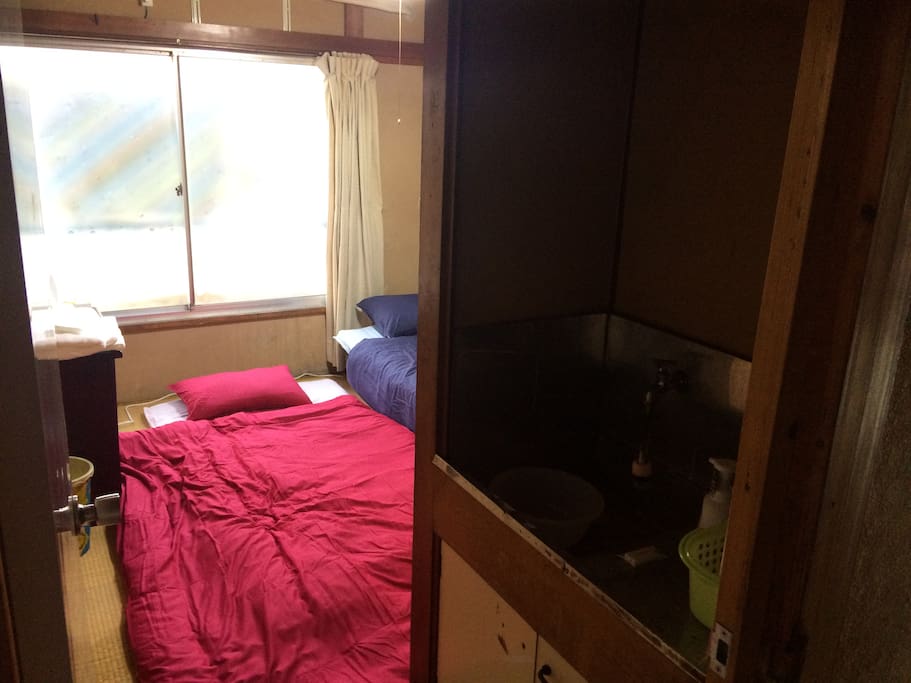 7min to Ikebukuro: Simple room in Tokyo center 202
Our building has no shower, but there is a very nice public bath near here. This building is a wooden structure with a history of 45 years. The floor for room is tatami mat. We clean the room every day. The area of this room is four and a half tatamis(7.4 ㎡),so it may seem narrow.
In consideration of the neighbours, we have set some rules we would like you to keep during your stay. Please only book this room if you are able to follow these rules.
Check-in: From 15:00 Check-out: 10:00
---
Dolazak: Bilo kada nakon 15:00
Vrsta prostora: Cijeli prostor
Samostalni dolazak: Sef za ključeve
---
---
Dodatni gosti $9 / noćenje nakon prvog gosta
Komunicirajte samo putem Airbnba
Kako biste zaštitili svoje plaćanje, nikad nemojte vršiti novčane transakcije ni komunicirati izvan Airbnbove stranice ili aplikacije.
Saznaj više
---
Spavaća soba 1
2 madraca na podu
---
・BEFORE BOOKING - please make sure your profile is updated with a photo of your face, where you live and your nationality. This is so we can confirm your identity when you check in.
・The tea and snacks on the table are all free.
・You will find all bedding in the closet.
・The toilet is on the left side at the end of the corridor.
・ The toilet is shared with building residents. The light switch is on the opposite wall to the door. After you are finished, please turn off the light and close the toilet door.
・Please be sure to lock the door when you go out. If you see any visitors (soliciting donations or doing sales), please do not respond. We strongly recommend that you carry your valuables by yourself.
・ Be considerate of the other guests and try not to be too loud.
・As you know, Japan is very strict about waste disposal. Waste is sorted into five categories that can either be recycled or burned: 1. Combustible, 2. Non-combustible, 3. Plastic bottles, 4. Glass, 5.
Cans.
・Please comply with the guidelines above. If confused, please leave any trash in your room when you check out.
・The retention period of lost items is one month. Lost items can only be returned and sent within Japan after paying the delivery fee.
・Please sign your name on the rental list. This is absolutely necessary in order to legally use the room.
・Please do not wear shoes inside the corridor or room. Please take off your shoes at the entrance.
・Please do not hang any part of your body outside the window, as it is very dangerous!
・If you have any questions about the surrounding environment, please leave a message on Airbnb.
・Smoking is not allowed within the entire building, including all corridor and rooms. When you smoke outside, please do not throw cigarette butts on the ground, as it is not good for your neighbors.
・Only those who have booked the Airbnb room are allowed inside.
・When you go out, please turn off the light and air conditioner.
・There are 3 towels per guest, to be washed by yourself.
・Please clean your room by yourself during your stay.
・If you lose the room key, we will claim a fee of 1,000 yen.
・ In case of emergency, please use Airbnb or the telephone number on our profile.
・ If you would like to extend your stay, please make a reservation through airbnb. We do not accept cash on the spot.
・If your check-out is delayed, there is an overall fee of 1000 yen and a 1,000 yen surcharge per hour.
・If you leave any non-general waste (e.g. pram, electric fan, radio), we will claim 3,000 yen as a processing fee. We ask for your understanding.
・When borrowing a bike, please be sure to fill out the date and sign your name on the Bike/Key Rental Book found at the entrance.
After you have finished using it, please then fill out the day you have returned it.
・Every room is allotted one bicycle each. If you would like to use two, you must contact us first through an Airbnb message.
・If the tyres in your bicycle get low on air, feel free to use the bicycle pump at the entrance.
・At night you must ride with your light switched on, or you will be stopped by the police.
・Any bikes taken out without first signing your name and the date will be regarded as theft, and will be reported to the police accordingly.
・A 5,000 yen fee is charged for any lost bike keys.
・Any unreturned bikes will be reported to the police and will also attract a fee of 50,000 yen.
・桌子上配備的茶、果品、點心都是免費的。
・被褥在壁櫥里。
・衛生間在走廊盡頭左側。
・衛生間是共用的。照明開關在門對面的墻壁上。使用后請關燈,并關閉衛生間門。
・外出時請務必鎖上房門。如果在附近或樓內看到來訪客(募捐或推銷等)請不要接触。貴重物品給,我們建議請隨身攜帶。
・這裡還有其他的房客。不要發出噪音以免影響他人。
・日本對垃圾的管制非常嚴格。分為可燃、可再利用等五類。
1.可燃類、2.不可燃類、3.塑料類、4.瓶類、5.易拉罐。
請遵守上述規定。 如果不明,退房時請將垃圾留在房間。
・遺失物品的保管期限為一個月。遺失物品的郵寄僅限日本國內。
・請在房間里的受領物品表上簽下您的名字。為了合法使用房間,這是必須的程序。謝謝。
・請不要穿鞋入室。請在玄關脫鞋。
・請不要從房間的窗戶向外探出身體,以免發生事故。
・對周邊環境有不熟悉的問題,請在airbnb留言咨詢。
・建築內、走廊、房間內全部禁煙。 在建築外吸煙的時候,請不要聚眾或隨地扔煙頭,以免影響鄰居。
・除了房客,謝絕外來人留宿。
・外出時,請關閉燈。
・為每位客人,我們備有三條毛巾。請自行清洗。
・滯留中不給于清掃。請自行打理。
・如若丟失房間鑰匙,索賠1,000日元。
・緊急情況時,請用airbnb或電話聯繫。
・希望續訂時,請在airbnb申請。 我們不接受現金。
・退房延誤時,我們索取1,000日元的附加費和每小時1,000日元的費用。 ・如若留有不能一般處理的廢棄物時,作為處理費,我們索取3,000日元。敬請諒解。
・방에 마련된 차,케익,스낵 모두 무료.
・이부자리는 오시이레에 있습니다.
・화장실은 복도 끝 좌측.
・화장실은 공용입니다.조명스위치가 문 반대켠 벽에 있습니다.사용 후 꼭 전원을 끄고 문을 닫아 주시면 감사하겠습니다.
・외출 시 방문을 꼭 잠궈주세요.
・ 근처나 건물내에서 방문객(모금 혹은 세일)을 만나도 상대하지 마세요.귀중품은 몸에 지니고 다니시길 바랍니다.
・다른 손님들도 계시니 소음을 삼가합시다.
・일본은 쓰레기관리가 심각합니다.연,재이용으로 5가지 분류:
1.가연소,2.불가연소,3.플러스틱,4.병,5캔.
위의 분류규제를 준수하시길 바랍니다.문의사항이 계시면 체크아웃 시 쓰레기를 방에 방치해 두세요.
・분실물품 보관기한은 한달입니다. 우편배달은 일본본토내에만 제한.
・방에 준비된 물품리스트에 사인 바랍니다.합법적인 투숙에 필요한 절차입니다.
・신을 벗고 방에 올아와 주세요.현관에서 신을 벗어 주세요.
・방에서 창문 밖으로 몸을 내밀지 마세요.위험합니다.
・주변환경에 문의점이 계시면 airbnb에 메세지를 남기세요.
・본 건물 내 전체,복도 및 방에서 흡연은 금지. 건물밖에서 흡연하실때 꽁초를 무단 방치하지 마세요.
・외래인의 투숙은 금지되여 있습니다.
・손님 일인당 타올 3개가 배당됩니다. 스스로 씻어 주세요
・외출 시 방 전기를 끄시고 체류 중 방 청소는 스스로에 부탁드립니다.
・방 열쇠를 분실하셨을 시 1,000엔 요금이 부과됨.
・긴급상황이 발생 했을 시 airbnb 혹은 전화로 연락 부탁드립니다.
・체류기간 연장을 바라시면 airbnb에서 신청해 주세요.저희들은 현금거래를 금하고 있습니다.
・체크아웃이 지연되면 1,000엔 요금부과 및 시간당 1,000엔 비용이 부과됩니다.
・일반 쓰레기 취급이 되지 않는 물품을 남겼을 시 3,000엔의 수습요금이 부과됩니다. 많은 양해를 바라마지 않는 바 입니다.
・棚の上に置いてあるお茶、お菓子、ヌードル等は無料です。
・布団は押入れの中にあります。
・トイレは廊下の一番奥の左側にあります。
・トイレは共同です。トイレの照明のスイッチは向かい側の壁にあります。使用後は照明をお切りください。トイレのドアは閉めてください。
・外出するときには必ず鍵をかけて出かけてください。もし滞在中に建物周辺やアパート内で見知らぬ訪問者(集金や営業など含む)が来たら、対応しないでください。また、貴重品は持ち歩くようにお願いします。
・このアパートは居住者と他のゲストが泊まっています。近隣に迷惑をかけないよう騒音にも気をつけてください。
・ゴミ分別の日本の規則はとても厳しいです。分別は燃えるゴミ、リサイクル出来るゴミを5つに分類しています。
1.燃えるゴミ 2.燃えないゴミ 3.プラスチック類 4.ガラス類 5.カン
・ ゴミ捨てのルールは、上記を遵守してください。ご不明な場合はお部屋にゴミを残してチェックアウトしてください。
・忘れ物の取り置き期間は1か月です。忘れ物の郵送は国内でのみ有料で承ります。
・部屋にある、貸出一覧表にサインをお願いします。合法的にお部屋を使っていただくために必要なものです。
・土足禁止です。玄関で靴を脱いでください。
・部屋の窓から身を乗り出すなどの危険行為を行わないでください。
・お部屋や周辺のこと等、分からないことがあればAirbnbのメールで聞いてください。
・建物内、廊下、お部屋は全面禁煙です。
・建物の外で喫煙をする際に建物の前でたむろすることや吸殻を捨てるなど近隣の迷惑になる行為はしないでください。
・宿泊者以外の立ち入りは原則禁止です。
・ 外出時は必ずエアコン、照明などの電源を切ってから外出をお願いします。
・ タオルは1人3枚ずつの使用でお願いします。汚れた場合はお手数ですが、ご自分で洗濯をお願いします。
・ 滞在途中に清掃はいたしません。お部屋が汚れた場合は掃除をお願いします。
・ ルームキーを無くした場合は弁償していただきます。(1,000円)
・ 緊急時にはすぐに電話やAirbnbのメールですぐに連絡してください。
・ 延泊をご希望の場合はAirbnbから変更申請をお願いいたします。現金での取り扱いはしておりません。
・ チェックアウトが遅れた場合、1,000円の追加料金と1時間毎に1,000円の追加料金を頂きます。
・ アタッシュケース、ベビーカー等、普通ゴミとして処理できない残置物がある場合、処分費用として3,000円請求することがあることを予めご了承ください。
・自転車を使う場合は、玄関にある「自転車・自転車鍵貸出管理台帳」に借りた日付と名前を自署してから使用してください。
返却した場合は返却した日付を記入してください。
・自転車は1部屋につき1台使用できます。1部屋で2台使用したい場合は必ず事前にAirbnbのメールで相談してください。
・自転車のタイヤに空気が少ない場合は、玄関においてある空気入れを使用して補充してください。
・夜間走行のときは必ずライトを点灯してください。無灯火だと警察に捕まります。
・サインがない場合は、盗難とみなし、警察に盗難届の連絡をしますのでご注意ください。
・自転車の鍵を紛失した場合は5,000円を請求します。
・自転車を返却しない場合は、警察に連絡して50,000円を請求します。
---
---
Kartica za hitne slučajeve
---
Minimalni boravak: 2 noćenja
---
There are small but cozy rooms very close to the train station. We liked small treats and tea left for us, it was really kind. The only thing which was a bit disappointing is the sento closed earlier that it was written in our infosheets. The futons were comfortable, the room had everything we needed. I think it was a great experience on the last days of our journey.
---
We had a great stay at Selina's place. It was our first experience of Japan and we felt right at home. We loved all the tasty snacks that were in the room, and slept well in the traditional Japanese style. We both loved the local sento, it was a great experience. I wouldn't hesitate to recommend this place for those looking for comfortable but budget accommodation. Thanks :)
---
I am the landlord of this wooden structure which has a 45 year old history. As a volunteer, we provide shelter to you with cheap price ,mainly to foreigners with backpack . But Japanese are welcoming also. We welcome you who belive in the simpleness as a virtues. If you are a volunteer, we have a special service for you. Those tenants who are searching for convenience or luxury , please bypass. In the wooden building, you can experience the the Showa style life which has been described in Japanese manga "The Yuhi of Sanzyome" . That feelings must be the feelings of "Tokiwasou" that the cartoonist Fujiko Fujio or Osamu Tezuka had been experienced.

我是這有著45年歷史的木結構住宅的房東。作為志願者,以廉價的價格向您提供住所。以背包旅行的外國人為主要對象。但日本人也可利用。我們等待把樸素當做美德的房客。如果你是自願者,我們有特別的服務。尋求便利或奢侈的房客,請您繞行。在本木結構建築,您能體驗到在日本漫畫「三丁目の夕日」中描述的昭和時代的生活。那感覺定是漫畫家藤子不二雄或手塚治虫體驗到的「トキワ荘」的感覺的吧~

築45年の木造アパートのオーナーです。ボランティアとして格安で提供しております。バックパッカーの外国人旅行者の利用を優先しておりますが日本人の方でもご利用いただけます。質素を美徳と考える方が望ましいです。ボランティアに参加している方には特別なサービスがあります。このアパートで便利で豊かな生活を望む方はご遠慮ください。他のアパートをご利用ください。
この木造アパートでは、漫画「三丁目の夕日」のような昭和時代の生活を体験できます。風呂なし、共同トイレ、四畳半の木造アパートを体験してみてください。気分は、漫画家の藤子不二雄や手塚治虫が過ごした「トキワ荘」です。
Jezici:
English, 中文, 日本語
Stopa odgovora:
100%
Vrijeme odgovora:
u roku od sat vremena
文京区小石川 i okolica nude i druge opcije – istražite ih
Još mjesta za smještaj na lokaciji 文京区小石川: