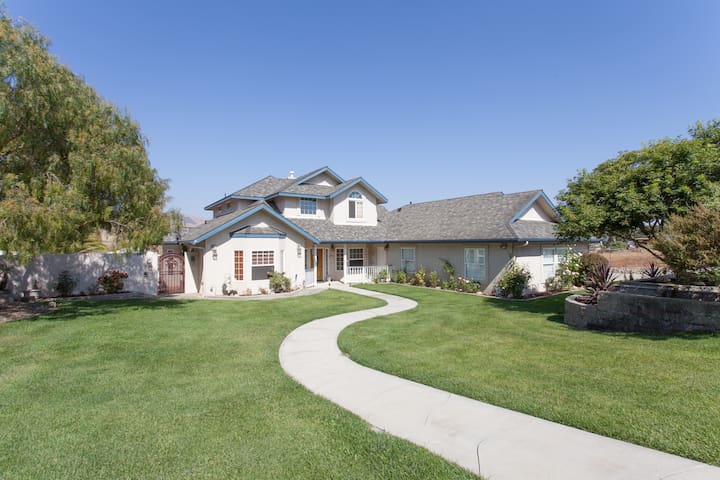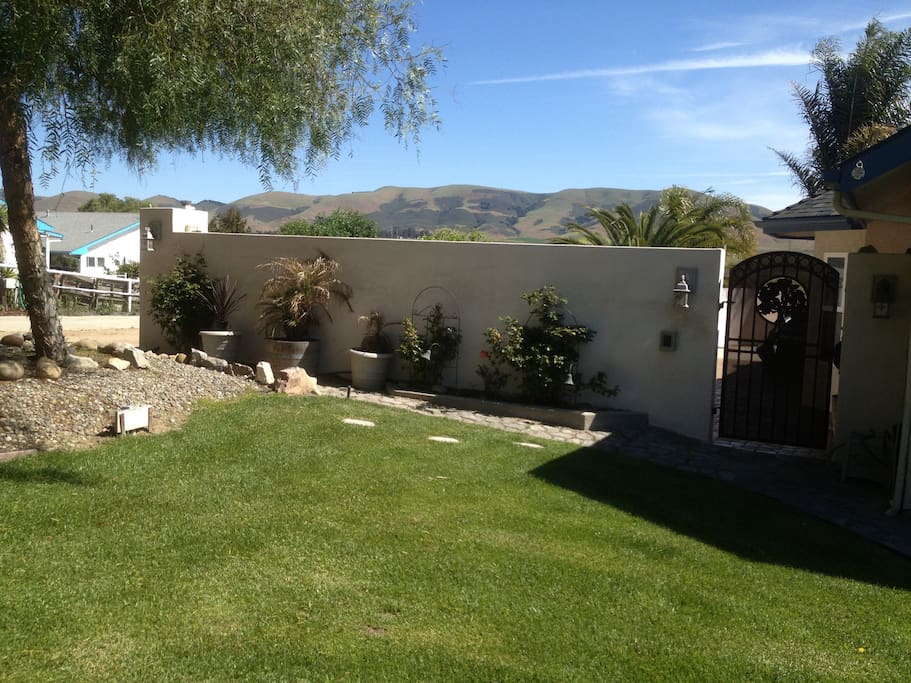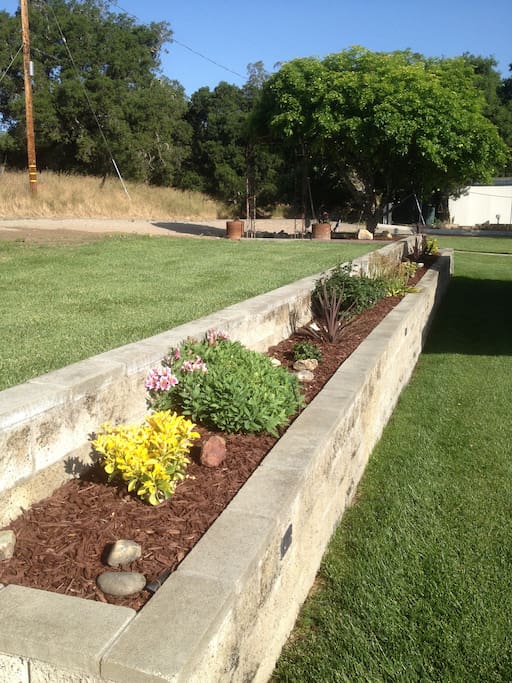 Mountain View, Beach & Wine Country
Beautiful Mountain Views, quiet, relaxing, and several things for the entire family. Wineries, golf, shopping, hiking, bicycling, surfing, fishing, concerts, swimming, sun bathing, bird watching, great food, and beautiful beaches in the area not far away. We also have breathtaking sunsets! Enjoy!
I have been authorized to collect Transient Occupancy Tax (ToT) for each reservation, this is a 12% tax. You may pay in person or via Airbnb's resolution center.
Prostor
Beautiful Mountain Views, quiet, Relaxing, and several things to do on the Central Coast for the entire family. There are wineries, golf courses, shopping, hiking, bicycle paths, and several beaches for surfers, boogie boarders, fisherman, swimmers, sun bathers, and people who love to stroll on the beach! Enjoy!
This home has beautiful mountain views and very close to the beach located in Nipomo, California. The home is 2900 sq.ft. and has Four total bedrooms and three full bathrooms, two living rooms, fireplace, pool table room, breakfast nook, laundry room, and very large kitchen area with counter seating. Also has a pantry filled with appliances, and enclosed patio area, outside deck, and two dog runs.
MASTER BEDROOM
The master bedroom is very spacious with a very large queen bed and two end tables on each side of the bed with alarm clock on large dresser in room. There is a full standing mirror, long dresser with mirrors, and a blanket stand in the room as well as a large Samsung 3D color television system with stereo surround sound system for tuner and CBL/SAT.. The mattress is brand new as of September 2015 for guests comfort.
OUTSIDE PATIO AREA
Right off of the master bedroom are french doors that lead out to the side brick patio area and the Spa. There is patio furniture outside including a round cedar wooden table, two lounge chairs, and six chairs and a glass table to sit around for patio dining. Additionally, there a four (4) plastic chairs in one of the enclosed patio areas or dog runs.
MASTER BATHROOM
The master bedroom also leads into a large master bathroom with a large deep spa tub with jets, and a double headed shower for his and her convenience, and double sinks, all tiled, and a private toilet area. The master bedroom closet area is off limits and listed as private. There is a closet directly outside the master bedroom to hang up clothes and a long dresser for folding clothes.
The towels for the Master bath are located in the drawers below the double sinks, the hand towels, and wash cloths are kept above the toilet as well as toilet paper for the guests. There is guest sample shampoos, conditioners, hand soap, bath gel, body lotion. and blow dryer in each bathroom for the guests.

DOWNSTAIRS BEDROOM
The downstairs bedroom has a new couch bed and is very comfortable this is a full size sleeper. This room also has a Full size bed with a brand new Ocean Pointe Visco mattress. The room can sleep at least 4 people and has an end tables next to the bed, a new Samsung smart television, smart DVD player, clock radio, tall dresser with six drawers and globe night light, ceiling fan, and full closet with hangers.
DOWNSTAIRS FULL BATHROOM
The downstairs bathroom has a shower/tub combination with one sink and full mirror, all tile, located next to bedroom off of laundry room.
UPSTAIRS BEDROOMS
There are two bedrooms upstairs which are theme rooms with one full bathroom tub/shower combination to share.
The beach scene room has a full size bed with a new medium firm mattress, desk with mirror, and ceiling fan, and clock radio. The closet features shelves for your clothes and shoes, etc., and hang up areas with high and low closet poles. No television in this bedroom.
The second bedroom upstairs has a jungle scene with a new bunk bed that features a twin bed with Visco mattress on top, full size Ocean Pointe Visco mattress on bottom, and a trundle twin bed pull out with Visco mattress below. The room sleeps up to four children or adults or combination of adults and children. The bedroom has a 32" Samsung smart television mounted on the wall and a toy box filled with toys and games for the children.
UPSTAIRS FULL BATHROOM
The full bath upstairs has a shower/tub combination, single sink, all tile, cabinets with hand towels, wash cloths, and bath towels, and a laundry chute that goes down to the downstairs bathroom next to the laundry room for your convenience.
Extra blankets are located in the bedroom closet shelves and the downstairs closet in case the weather is colder and guests require additional warmth at night.
LAUNDRY ROOM
The washer and dryer are available downstairs in the laundry room for guests to use. Laundry soap and fabric softener sheets are furnished in the cabinet above the dryer. There are two irons and a small ironing board in the laundry room cabinets. We also provide six larger towels for the spa area.
KITCHEN AREA
The kitchen is large with granite counter tops, and the kitchen nook for dining. The kitchen has a pantry and located in the pantry is a coffee maker, larger coffee maker, coffee filters, blender, toaster, baskets, electric knife, waffle maker, can opener, napkin holder, napkins, paper towel holder, paper towels, ice bucket, cutting boards, utensils, extra large pans, wire racks for catered foods, spice rack, and tea pot. The cupboards are supplied with dishes, cups, glasses, silverware, pans, Tupperware, bowls, BBQ skewers, baskets, etc. and steak knives are located on the counter top. The cupboards also have spices available for your use.
There are two sinks in the kitchen with garbage disposals (please do not put any vegetables, celery, potato peelings, orange peelings, hair dye, oils, or bacon grease) down the sinks as we have a septic system and this will cause the system to fail!!! We also have a laundry room sink. One sink in the kitchen area is set up for prepping food, and main sink in kitchen for washing dishes, etc. there is a small glass container in the cabinet next to microwave for putting used bacon grease or used oils in after cooking (Do not put any used oils down the sink). The kitchen has a microwave, oven, stove top, and dishwasher.
The trash cans in the kitchen are under the main sink, and in the built in cabinet area off of the counter top for both recycle and trash.
TELEVISION SYSTEM, WIRELESS INTERNET, POOL TABLE
The television system features the Hopper Joey from dish network with several free movies from the dish button on the remote control.
The office area has an older Dell computer to use, wireless internet, and pool table to enjoy with pool cues on the wall, and pool playing supplies in the cabinets.
OUTSIDE PATIO AREA
The outside patio is completely tiled in the enclosed area with a built in gas BBQ, cold water sink for small uses, extra burner for cooking, large double heater for warmth during winter and colder evenings. The guests are responsible for filling the small portable propane tank under the propane heater-It is removable and easy to replace. The cost is only $20 to refill or replace the cylinder, and can be done at Miner's Hardware, and at any propane refilling station. There is also a small refrigerator, seating area, and stereo system that has speakers in patio area, and spa area. The patio area has lawn furniture and tables for relaxing, eating breakfast, lunch, or dinner, sight seeing, bird watching, or star gazing.
SPA
The home features an outside Spa to be used at the risk and responsibility of the guests only! The spa may or may not be in working condition upon check in and therefore is not listed in the amenities for the vacation rental. The spa is located off the main patio area for privacy. The outside Spa may or may not be available on occasion as it may be down for maintenance or repairs. Otherwise, the Spa will be available to all guests to use at your own risk.
**The pool is currently under construction and there is no access to guests.
SMOKING
No smoking of any kind including hookahs, e-cigs, vapes, cigars, cigarettes or medical or illegal substance allowed inside the home but you can smoke outside in the patio area or around the property as long as all smoking materials, cigarette or cigar butts are placed in trash receptacles.
LOCATION & PUBLIC TRANSPORTATION
There is public transportation in Nipomo to travel to the beach, shopping, wineries, etc. The home is located approximately 13.6 miles to the Grand Avenue on ramp with access to the beach. Pismo Beach, Arroyo Grande, Grover Beach, Oceano, Avila Beach, and Shell Beach are within (2) two to (7) seven miles from the Grand Avenue beach ramp access. The home is approx. a 1/2 block from Dana Adobe Historical Land-site where the first travelers in California stopped off to rest from stagecoach travel. Holloway Christmas tree farm is also on the same road as the home where every year fresh cut Christmas trees are cut and sold for display in your home. Additionally, the town of Nipomo has several churches of all denominations, is quaint and has a lot of history to discover!
NEIGHBORHOOD
There are only two neighbors, one is approximately 2 acres away, and the other ranch house is located next door but houses are not close in proximity to hear the other neighbors in most cases. We apologize for any excessive noise from birds, neighbors pets, or any other wild life we have no control over! This is a country setting at the end of a no outlet road so do not expect street lights and all the other amenities of city living just the views of mountains from the back deck, the moon, and the stars lighting the skies at night! We do have solar lights in the front yard trees and solar lighting for the pathways to the home. Please shut off all porch lights during daytime hours and sleeping hours.
RESTAURANTS
The town of Nipomo offers Mexican, Italian, Chinese, Thai, and American restaurants as well as many take out fast food restaurants such as Little Jocko's, The Mayor's Place (a great breakfast and lunch restaurant), McDonalds, Carls Jr., Pizza, Taco Bell, and Starbucks. There is a Well-known steak house in the town of Nipomo called "Jocko's" and this restaurant is an award winning steakhouse and bar. You must visit Jocko's at least once to enjoy their great food! There is a brewery in old town Nipomo as well. Nipomo also has a lot of history and is a quaint little town to visit such as Dana Adobe Historical site, parks, the dunes in Guadalupe, a speedway, several golf courses, wineries close by, and other fun things to do and see!
ACTIVITIES AND ENTERTAINMENT
The beach towns include festivals, farmer's markets, concerts, golfing, water sports, fishing, surfing, tide pools, bike trails, and wine tasting tours. Every Friday night from 4:00 pm to 8:00 pm is the Farmer's Market in Avila Beach during the summer months with local artists, local growers, and other local food vendors including entertainment on the boardwalk right on the beautiful beach of Avila. There is also many activities in the peak summer months at the Dinosaur Cave Park in Shell Beach, and Thursday night Farmer's Market in San Luis Obispo in the downtown area.
Golfing is another large activity on the central coast with several golf courses in Nipomo including Cypress Ridge, Monarch Dunes, Blacklake Golf Resort, Sunset Ridge, Santa Maria Country Club, Pismo State Beach Golf Course, Rancho Maria Golf Club, and San Luis Obispo Country club to name a few in the local area.
San Luis Obispo is approximately 25.8 miles North of Nipomo and is the home of Cal Poly University, many local shops, theaters, restaurants, and Farmer's Market on Thursday nights where they close off the entire main street for all the vendors that frequent the events. The city of San Luis Obispo, Arroyo Grande, Pismo Beach, and surrounding cities provide many festivals and activities all year round.
The town of Solvang is approximately 43.5 miles South of Nipomo where you can visit the Danish community nestled in the Santa Ynez Valley wine country on California's central coast. The town offers Solvang's Danish events and heritage including traditional music, dancing, food, folk art, and storytelling. More information on the historical town of Solvang can be found on their website and brochures provided inside the home.
Chumash Indian Casino is approximately 42.6 miles South of Nipomo for those who enjoy gambling, bingo, and concert events.
The wine country offers many wineries all along the central coast and beyond the Cuesta Grade North of Nipomo where you can visit Santa Margarita, Atascadero, Templeton, and Paso Robles where the fair comes into town every year during the last couple weeks of July beginning of August. Check out the Mid State fair website for more details and event time for concerts and other family fun activities. There is also a water park that is 3 miles east of Paso Robles on HWY 46 for the whole family to enjoy known as 'The Ravine'! Check out their website for more information about cost and times open. Father's Day weekend in Pismo Beach is one of the largest car shows on the Central Coast and features local food booths, activities, music, and local shops present their goods and services to the public. It is a great time for family and gathering of friends.
Pismo Beach offers many tourist attractions and famous restaurants that serve the best Clam Chowder on the Central Coast such as the "Splash Cafe"! You can drive vehicles on the State beach entering from the Grand Avenue Pier in Grover Beach, and Oceano. The beach offers surfing, camping, ATV riding, walking, swimming, and fishing, and other events you can check out on the Pismo Beach website or visit the Chamber of Commerce and visitors center in most of the towns in the local area.
Santa Barbara County line is only 5.2 miles South of Nipomo where the city of Santa Maria begins. The city of Santa Maria offers plenty of shopping and restaurants such as the Olive Garden, Red Lobster, theaters, Mall, and several local businesses such as Costco, Trader Joe's, Toys R Us, Babies R Us, WalMart, and Home Depot.
The Santa Maria Speedway is located across the 101 freeway from the vacation home and only about 5 minutes away where every Saturday night during racing season the races offer several events for the racing people in your lives. Check with the Santa Maria speedway for event times and season open times.
You must visit the area to understand all the special things the local cities and towns have to offer. Lake Lopez, Nacimiento, San Antonio, and Santa Margarita Lake are all within 40 minutes to an hour and a half away. At the lakes you can enjoy hiking, biking, sight seeing, sailing, boating, skiing, and fishing but remember with the severe drought many of these lakes are at their lowest capacity ever. Indeed, we all need to pray for rain in our beautiful area! You can take a scenic drive up the beautiful coast on Highway 1 or 101 to San Simeon and watch and take pictures of the sea lions basking in the sun, and visit the famous Hearst Castle. Visit Avila Beach, and the sulfur springs hot tubs and pool, Shell Beach, San Luis Obispo and the Mission, the historical town of Morro Bay, and see the famous Morro Rock. There is sightseeing, golfing, wine tasting, hiking, biking, and shopping at the many boutiques along the coastal towns. The small towns along the way such as Cambria, Cayucos, and of course do not forget to visit the small town of Carmel-by-the-Sea where Clint Eastwood served as the nonpartisan mayor, as well as other small towns that are most definitely a tourist delight. And surfers love all the beach areas along the Central Coast! This area is definitely something you will never forget, and must see at least once in a lifetime! You will experience a True Jewel in this area as noted a definite, "Diamond in the rough"!
There are Many things to see and do on the Central Coast but visitors must see the area more than once to enjoy everything the Central Coast has to offer! See you soon, and come back often! We look forward knowing you will have a wonderful time.
Dostupno gostima
The entire house, patio area, yards, except areas that are marked off no trespassing or private! The garage, supply room, master bedroom closet, and pool area are off limits to guests! We installed a Tesla for those who drive electric vehicles, and guests can feel free to fill up during their stay.
Please do not block the paved road on the north side of the house or drive down the hill as tenants live in the house below. Thanks
Interakcija s gostima
We interact with the guests by email, phone, or texting. We prefer not being phoned unless it is an emergency as we are not always in the same time zone as our guests and both of us work. However, there are times when we are in the area and during those times we will be in close proximity to the location of the vacation home if we are needed in an emergency type situation or repairs of any kind on the property.
Ostale napomene
We have a TESLA charger for guests needing to fill their electric vehicle.
THE SPA IS TO BE USED AT THE RISK OF THE GUESTS ONLY! The spa is not listed as an amenity as it may or may not be in working condition upon check in.
Please only contact the hosts by either email or texting if you have any questions or need additional instructions on how to use the spa if working at the time of your stay! if you would like to have additional chemicals added contact the hosts by email or text. We apologize in advance and are not responsible if the spa is not working during the guests stay as there will be times when it is in need of repairs or maintenance.
The Vacation home has Security Cameras to monitor the 2-acres for Safety & Security Reasons provided for the guests safety!
---
Spavaća soba 1
1 bračni krevet (1,6x2)
Spavaća soba 2
1 bračni krevet (1,4x2), 1 sofa
Spavaća soba 3
1 bračni krevet (1,4x2), 2 jednostruka kreveta, 1 krevet na kat
Spavaća soba 4
1 bračni krevet (1,4x2)
---
---
Dodatni gosti $25 / noćenje nakon 6 gostiju
Vikend cijena $325 / noćenje
Komunicirajte samo putem Airbnba
Kako biste zaštitili svoje plaćanje, nikad nemojte vršiti novčane transakcije ni komunicirati izvan Airbnbove stranice ili aplikacije.
Saznaj više
---
Nije prikladno za kućne ljubimce
Zabave i događaji zabranjeni
• Check-in time is 3 pm and Check-out time is 11:00 pm
Any guests staying in the home must be occupied by someone at least 25 years or older with the reserved guest taking responsibility for all guests they reserved for in the home with a maximum of only ten (10) total guests per stay unless approved in advance by the hosts.
Guests must understand that there is a noise restriction in all residential areas, and 10:00 p.m. is when all guests should keep noise to a minimum as to not disturb neighbors or other individuals who are close in proximity or on the property.
There is to be no wild parties where alcohol or drugs are solicited, consumed, or provided in any way. Alcohol usage in an abusive fashion is not allowed on the property. The home is a respectful place for the comfort of guests and to enjoy. Therefore, anyone under 21 should not be consuming alcoholic beverages or recreational drugs on the premise. Adults 21 or older can consume alcohol in a moderate fashion without creating a disturbance or any type of foul play while staying at the residence. This rule and regulation is for the safety and security of all guests, neighbors, and renters in the surrounding areas.
ALCOHOL ABUSE AND ILLEGAL DRUG USE:
Renter(s) agrees and warrants that there shall be NO CONSUMPTION OF ALCOHOL BY PERSONS UNDER AGE 21. Renter(s) agrees to refuse to allow alcohol to be served to, or consumed by, any person who is visibly intoxicated or under 21 years of age. Renter(s) shall monitor all service, if any, of alcohol and specifically acknowledges that Renter(s) is solely liable for the consumption of any alcohol by any person on the premises and that such liability shall extend to any aspect regarding the consumption of alcohol. The contact personnel upon site inspection may ask guests or visitors for identification to verify age and reserves the right to ask the entire party to leave if (1) a minor is consuming alcohol; (2) an adult is providing alcohol to a minor; or (3) a guest(s), any visitor(s) (only if approved by owners), or guest(s) appears intoxicated and refuses to leave the premises. While alcohol may be consumed in the back patio area or in the premises by person(s) 21 years or older, the State of California prohibits any type of alcohol consumption outside the building on Oakglen Avenue - sidewalk, street or in cars.

Absolutely no drug use (exception is drugs accepted by California law considered as legal consumption), sales, and/or possession will be tolerated. All illegal drug sales, some use, and/or possession is against the law and will not be tolerated by the hosts, contact personnel in charge of sight inspections, the township of Nipomo, County of San Luis Obispo, and/or State of California. Any illegal drug sales, use, and/or possession will be considered an immediate breach of the residence rental agreement and/or contract, and no monies from this contract or any contract for rental of this residence and property will be refunded if violation is found and considered as illegal. Renter(s) shall indemnify and hold the hosts of the vacation home, contact personnel, and residence located in Nipomo, California harmless from all liability for improper use of any type of illegal alcohol consumption, abuse, and/or illegal drug usage or sales.
No smoking of any kind is allowed inside the home. Smokers can smoke outside as long as their smoking materials, cigarettes or cigar butts after put completely out are disposed of in the trash receptacles by garage.
Guests can park in front of the home, or next to the garages in the driveway area. Please do not block the first paved driveway on the North side of the home in any way as there are tenants at the bottom of the property who need access to drive in and out of this paved driveway area.
Animals are allowed in the outside only (no exceptions)!Animals are not allowed in the residence under any terms. The home outside in the patio area has two walled in dog runs to keep animals safe. There is a large dog house in case of weather in one of the dog run areas. Pets are welcome but there is a deposit required if the guests choose to bring their pets to this vacation rental. The cost of the pet deposit is $500.00. If there is any damage to the property outside or inside, or the yards or patio area in need of any removal of animal feces required of the cleaning personnel or owners, plants dug up, or holes dug by pets, the cost for removal will be taken out of the security or animal deposit.
Check in time is 3:00 pm and check out time is 12:00 pm. The check-in and check-out times can be flexible if the guest(s) contact the owner in advance to make prior arrangements, and there is enough time to prepare the home for other guests who reserved the home. Please contact owners (hosts) by email or text to get prior approval, if an early check in or late check out time is needed.
THE SPA IS USED AT YOUR OWN RISK! The Spa is not listed as a amenity with AIRBNB. Please contact the hosts if you have questions. Children and adults must rinse off before and after entering or exiting the outside spa. NO SAND/DIRT IN THE SPA. Maximum amount of people in outside Spa is (10) ten people. We advise that no one pregnant enter the Spa, and children always be accompanied by adults. The SPA has a solar lid that must be on at all times when not in use! Also, no one is to walk on the lid or play with it as it is just a solar cover and will collapse into the water, which could be a potential danger. We are not held responsible for anything that happens if guests use the spa as again the use of the spa is at the risk of the guests only! No glassware in or around the Spa only plastic. No food in or around the spa. No outside objects in the spa such as children's toys, clothes, or other floatation devices unless used for an infant and designed for water usage. If the Spa needs to be drained and refilled due to cleanliness issues, the charges will be deducted from the security deposit.
Please Do Not Unplug Or Tamper with any of the stereo equipment, surround sound, DVD players, computer, Television sets, receivers, or Joey Hoppers!
All guests must follow waste and recycling removal schedule. Please do not forget to follow the instructions sent to the guests 1 to 3 days in advance for putting out the trash and recycle containers. The trash bins will not be emptied, and future guests will not have room for their waste and recycle items if not disposed of and picked up by the service on Mondays, which is our scheduled pick up day.
The garage is off limits to guests. Hosts reserve the right to access garage through a private entrance with advanced notification to the guest(s) during a vacation stay. The Master Bedroom Closet is also off limits as well as the area under the staircase marked as PRIVATE.
No unauthorized guests beyond the reservation without the host's consent. Guest count is ten (10) maximum. Any guest(s) who reserve and bring more than the maximum amount of guests to the vacation rental without prior approval from the hosts will be asked to leave with no refund for reserved days. The maximum guest count does include children of all ages.
As the owners (hosts), we reserve the right to fix any issues with the home that arise during a reservation. If there becomes a broken item during a stay no matter how large or small, we must be notified immediately by the guests. We as hosts reserve the right to enter the property, and fix any items necessary immediately at the owners (hosts) discretion by entering the property or hiring a professional until the item, equipment, or repair fixes the problem or is no longer a risk to anyone on the property. We will ensure privacy for the renters, however, any amenity that requires fixing, upgrading, or repairs will need immediate attention in order for all reserved current and future guests to enjoy the home and everything offered in the listing.
If any of the following rules are violated, guests are subject to lose part or all of their security deposit.
We have been authorized to collect Transient Occupancy Tax (ToT) for each reservation, this is a 12% tax. You may pay in person or via Airbnb's resolution center. Airbnb is not able to assist in collection of these taxes at this time but may in the future
Dodatne napomene
Cat(s) live in the house
---
---
Detektor ugljikovog monoksida
Kartica za hitne slučajeve
---
Minimalni boravak petkom i subotom su 2 noćenja.
---
Kalifornija, Sjedinjene Države
Član od Srpanj 2013
My name is Kathy and the gentleman in the picture with me is my husband Mark. Both Mark and I are locals of the Central Coast of California and we are native born Californians. We recently travel outside of the area where we grew up for Mark's career. We are both very outgoing and love to travel, and with AIRBNB we hope in our future we are able to experience other beautiful places. travel. We love our family with all our being, love sports, enjoy bike riding, swimming, boating, fishing, snow skiing, camping, hiking, exploring and adventures, remodeling homes, gardening, reading, and are both animal lovers.
We loved growing up on the Central Coast of California and must tell you that our area offers a variety of different venues such as mountains, beaches, lakes, streams, wine vineyards, golf courses, country, and small city living. Additionally, we have seen many changes in the Central Coast as we have had the opportunity to watch this area grow tremendously over the years. The growth has brought many new and interesting people and change to the area providing a large variety of lifestyles, cultures, and cuisines.

My husband Mark and I grew up in San Luis Obispo County and love everything the Central Coast has to offer.. Please check out all the wonderful places to visit that we have provided in our guidebook section of this site. The guidebook will surely help in providing you with great ideas of all the wonderful things to see and do on your vacation for the best experience one can share. We are proud to say we have four beautiful adult daughters who have blessed us with nine grandchildren, and three great grandchildren who enjoyed sharing our love of this area, and our home.

We are thankful for our guests who choose our destination and vacation home as their next wonderful journey. We are excited in knowing you all will have some very special moments as we have to share for a lifetime! Thank you so much for the opportunity to share our home with each of you.
We welcome all of you to the Central Coast of California. We hope you are able to come back often as there is so much to see, enjoy, and experience. Have a safe and wonderful journey!
Your Hosts ~ Mark and Kathy :)
Jezici:
English
Stopa odgovora:
100%
Vrijeme odgovora:
u roku od sat vremena
Nipomo i okolica nude i druge opcije – istražite ih
Još mjesta za smještaj na lokaciji Nipomo: