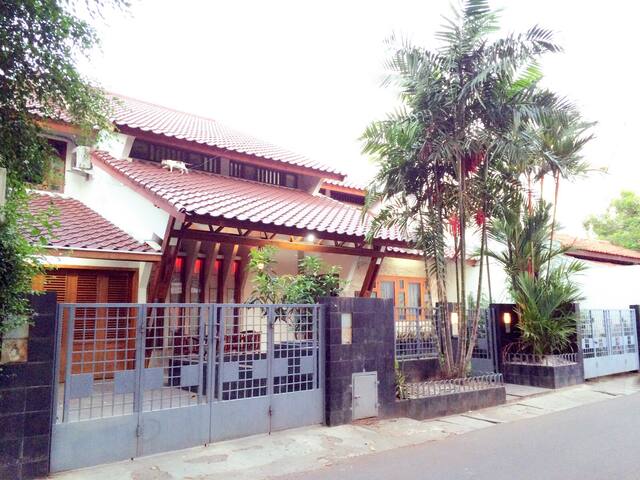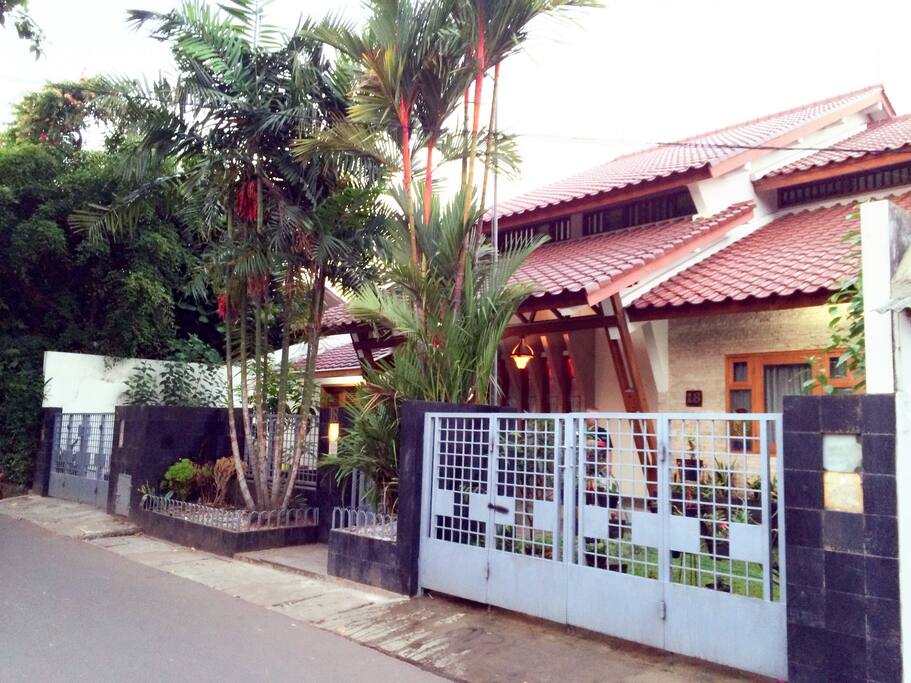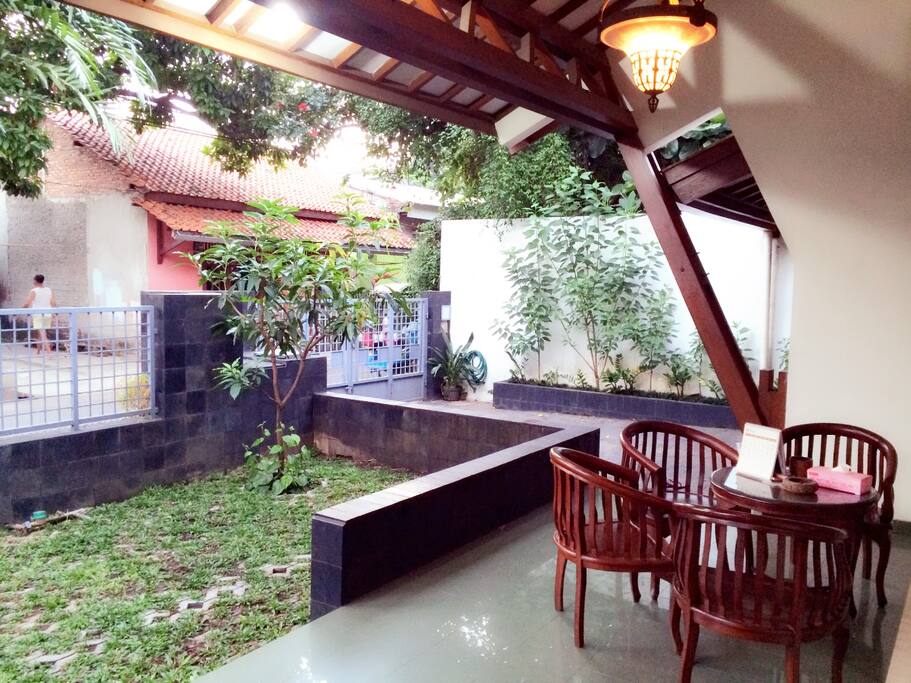 This listing accomodates guests who need to book more than just one room in one booking. It includes 3 rooms in our comfy house. We can adjust the price based on the amount of rooms you need (price each room listed in detailed information below).
If you want to get connected to people behind the mega-image of Jakarta, it's definitely the place for you. No famous tourist attractions nearby. You might be the local attraction instead.
Prostor
WELCOME HOME!
Who says exploring new places means leaving your comfort zone? Our home is a home for our guests. We treat them as a family. Love is what makes a house feels home. We also do our best to provide you things that would make you feel like it.
Our home is good to open your trip or to end your trip—or even both. It's a good start because you'll still feel comfortable here, while being able to explore many new things at the same time. Moreover, many of our guests find it very relaxing getting back here at the end of their trip. It feels like coming back home, they said.
For most people, Jakarta usually not a travel destination. Why? It might be because people think it's too modern, just like any other modern cities in the world, nothing much to see. That's too bad. Jakarta is one of the greatest megacities in the world. There's no other cities like Jakarta in Indonesia. Jakarta is different. Jakarta IS Indonesia. You haven't visit Indonesia when you haven't gone to Jakarta. It might sounds uncomfortable to explore, but you can always have your own sanctuary with us.
Our home is placed in the West Jakarta, very close to the South border. Although it's not yet suburbs, but considering the size of Jakarta (662 km2 of land area), it will take you some time to get to the center area (15 minutes by car without traffic to Center Jakarta area). That's the risk you should take if you want to experience the traditional kampong area. But most of the time, the access is what matters the most. The nearest public transport is only 50 meter away though. Vice versa, if you prefer someplace modern and easy, maybe vertical hotel, apartment, or any other guesthouse in modern housing area would suits you more. ;-)
Our home is good for solo or couple, young and old, loner person or people person. Our home is also good both to someone adventurous or someone who prefer something more familiar. Feeling energetic? Take the public transport and go somewhere further, the city center, or even the other side of Jakarta. Not in the mood of being such an adventurer? Just chill out at home, walk around the neighborhood, or take easier transport (car taxi or motor taxi or our car rental) to explore the city.
Our home is good for people who love nature. As a part of this tropical country, our home still have it! Southwest Jakarta and South Jakarta definitely has much more trees and green area compared to other part of Jakarta. In our home, it's a common thing to witness birds in the morning, butterflies, lizards, geckos, cats, or even weasel climbing the trees (we have to share our fruits with them). We have 2 mango trees and 2 rambutan trees. You can reap your own dessert directly from the tree if you come at the right season.
Your room is one of the room in our family house. Our house is naturally designed to fit in the kampong area. We have a small garden in front and back. We have a lovely terrace where you could spend any time of the day to sit around, reading, or just seeing people doing things on the street. If you want to be more private, you can spend your evening in our balcony facing our little backyard, or just stay inside your room. Whatever makes you feel home.
___________________________________
THE ROOM
ROOM A
ROOM SIZE -- 16 m2
ROOM PRICE -- IDR 325,000
ROOM A -- It's our first listing and the only room with parquet floor. Many people find it the most comfy room of all.
ROOM FACILITY -- 1 Queen Bed, Air Conditioning, Flat TV, Parquet Floor, Sitting Area, Terrace, Window with Garden View, Wardrobe, Mirror, Free Toiletries, Towels, Working Table.
HOME FACILITY -- Free Breakfast, Free Hot/Cold Drink Water, Free Coffee-Tea-Sugar-Creamer, Balcony, Shared Bathroom, Hot Shower, Toilet, Free Parking Area, Living Room, WiFi (up to 10 Mbps), Pool Table, Table Tennis, Drying Area
ROOM B
ROOM SIZE -- 28 m2
ROOM PRICE -- IDR 350,000 (additinal IDR 100,000 after 2 people)
ROOM B -- It's our biggest room, horizontally and vertically (the higest ceiling). It fits to 4 people.
ROOM FACILITY -- 1 King Bed, 1 Sofa Bed (for 2 people), Air Conditioning, Flat TV, Seating Area, Big Window with Street View, Wardrobe, Mirror, Free Toiletries, Towels, Working Table.
HOME FACILITY -- Free Breakfast, Free Hot/Cold Drink Water, Free Coffee-Tea-Sugar-Creamer, Balcony, Bathroom, Hot Shower, Toilet, Free Parking Area, Living Room, WiFi (up to 10 Mbps), Pool Table, Table Tennis, Drying Area
ROOM C
ROOM SIZE -- 22 m2
ROOM PRICE -- 300,000
ROOM C -- Still on promo. It's our latest room, and it's my favorite! Why? It has the widest window, its facing east (strong natural light esp in the morning), and so often I saw birds at the tree branch right at the window.
ROOM FACILITY -- 1 Full Bed, Air Conditioning, Flat TV, Seating Area, Big Window with Garden View, Wardrobe, Mirror, Free Toiletries, Towels, Working Table.
HOME FACILITY -- Free Breakfast, Free Hot/Cold Drink Water, Free Coffee-Tea-Sugar-Creamer, Balcony, Bathroom, Hot Shower, Toilet, Free Parking Area, Living Room, WiFi (up to 10 Mbps), Pool Table, Table Tennis, Drying Area
ROOM D
ROOM SIZE -- 12 m2
ROOM PRICE -- 300,000
ROOM D -- Has the most access to the house. Private bathroom (just next door), next to the backyard garden, and no need to go upstairs. Living downstairs makes you feel even more at home.
ROOM FACILITY -- 1 Queen Bed, Air Conditioning, Seating Area, Terrace, Window with Garden View, Wardrobe, Mirror, Free Toiletries, Towels.
HOME FACILITY -- Free Breakfast, Free Hot/Cold Drink Water, Complimentary Coffee-Tea-Sugar-Creamer, Balcony, Bathroom, Hot Shower, Toilet, Free Parking Area, Living Room, WiFi (up to 10 Mbps), Pool Table, Table Tennis, Drying Area.
___________________________________
ADDITIONAL SERVICES
AIRPORT TRANSFER (depends on availability) – Airport pick up service and drop off service is available at IDR 175,000. We add this service because of our guests' demand. Also to make it easier to reach our home in the midst of unorganized Jakarta. Just give us the details of your flight and one of our family member will meet you right at the exit door.
LAUNDRY SERVICE – Our assistant can do some laundry for you—hand wash (which is way better than machine wash). She'll take your clothes to her home in the morning and give them back to you in the next morning. The price is IDR 15,000 / kg.
CAR RENT – Car and driver are available for rent.
-Car + Driver: IDR 500,000 to use for 8 hours
Extra hour: IDR 75,000 / hour
-Car + Driver + Fuel: IDR 750,000 to use for 8 hours
Extra hour : IDR 100,000 / hour
-The driver is to help you driving only. It would be either one of our family member or my good friend. Please treat them nicely. No lifting or other services.
-Only for Jakarta – Bogor – Depok – Tangerang – Bekasi area.

TRAIN AND PLANE TICKETING – We can help you to book your train or plane ticket with additional cost. It's safe, faster, no possibility to get your credit card blocked during the verification process (happened few times). We'll get it print out or sent directly to your email.
___________________________________
TRANSPORTATION
AIRPORT ACCESS -- We're only 26 km away from the Soekarno-Hatta Airport (30-40 minutes without traffic). No DAMRI Bus (Airport Bus) heading directly to West Jakarta, since it's the nearest part of Jakarta from the Airport. Transport recommendations from the CGK Airport: (1) Official Airport Taxi for about IDR (PHONE NUMBER HIDDEN)) Our pick-up service, (3) DAMRI Bus to Lebak Bulus >> Transjakarta Bus (11 or 12 stops) >> Mikrolet (public minivan) for 2 km, (4) DAMRI Bus to Blok M >> Kopaja >> 150 mtr walk, (5) DAMRI Bus to Blok M >> Mikrolet for 8 km. We will message you every detail after your reservation confirmed.
TRAIN STATION ACCESS – We are 14 km away both from Gambir/Central/Monas and Station Pasar Senen (20 to 30 minute drive without traffiic). You can use Transjakarta (1 transfer in Harmoni) to both station or taxi.
PUBLIC TRANSPORTATION – Our home is only 1 minute walk from the nearest public transportation spot (mikrolet / public mini van). Then it might take you about 5 minutes (2 km) to the nearest Transjakarta Bus Stop, about 30 minutes to get to the central, or a bus in 5 minutes walk which go to different direction, or you can always call a cab or motor taxi for an easier way to get around.
SAFETY TRANSPORT -- Please use buses and mikrolets only before 10 pm at the latest. After that, we recommend you to use taxi instead. Jakarta is huge! Traveling by public transport has never been easy (even for Jakarta citizen).
TRAVEL WISELY! – Again, Jakarta is a huge city. Even Jakarta people still depends their life (:D) on GPS when going to new places. So, please bring our full address, use your gadget at most (pin-up our location, etc.), use local number (less than USD 1). We care about you as we do to ourselves!
___________________________________
MEALS
BREAKFAST -- We do our best to give you a good breakfast to open your day. We have 8 options of meal and 8 options of drinks. 6 of the meals are provided by the street food vendors. You will be asked to fill in the breakfast form at night and put it outside your room, so in the morning we can catch them for you. But be ready for some improvisations. Sometimes one or two of the food are not available. Don't worry, we'll get something close to the one you've chosen.
SNACK TIME -- For guests who stay for MORE than just 2 nights, afternoon snacks will be provided around 3 to 5 pm. It might be local food, fast food, a simple crackers, or even a fruit platter. Be ready for surprises. ;p
FOOD STALLS – Foods are everywhere. From the passing-by carts to the small restaurants. You won't get hungry around here. :-)
___________________________________
GUEST ACCESS
ROOMS -- Most likely all guests will be placed in one of the room upstairs (unless Room D). The bathroom also placed on the same floor. You are free to go to anywhere in the house except the other rooms in it--other than your room.
MAIN DOOR -- You'll get your room key, but not the main door or the gate key. It's open from 6 am to 10 pm. Besides that hour, just ring the bell and we'll open the door for you. :-)
FACILITIES -- You can use all the facilities listed in the description or even in the pictures.
___________________________________
INTERACTION WITH GUEST
FAMILY HOST -- The whole family will be your host. We are a small 3 generations family living in one place. My dad graduated his MBA in US and my niece goes to English-based school. So, yeah, most of us speak English.
GET CONNECTED -- The main reason why we join this community is to get connected. You can ask for travel tips, you can share everything, or just want to have a nice conversation over snacks or drinks. We always enjoy a good conversation. During my free time, we can go somewhere to drink, or you can just jump in my car if we're heading the same way.
PRIVACY – Get connected doesn't mean losing our personal space. Living under the same roof doesn't mean having to meet each other all the time. Even being in the same room doesn't mean having to talk to each other all the time. We enjoy silence as well as communication. So, don't worry, you'll definitely get both of them. :)
PAST EXPERIENCES – We had so many amaaazing times with our guests—young couple, mature couple, elderly couple, family with kids, everybody! Can't wait have some with you. :)
___________________________________
THE NEIGHBORHOOD
NATURAL -- We live in the Betawi kampong area, the indigenous people of Jakarta. It's a very natural habitat of local people. What you see, what you observe, what you experience would be different compared to other commercial places, where everything has been modified for tourists. Many of our guest felt very happy that finally they could experience the REAL life of Indonesian people after months traveling in other places in Indonesia. They're more a part of hospitality business rather than a part of local life. So, we're pleased when some of our guests admit that they decided to visit Jakarta simply because they wanted to stay with us—staying in the house and experiencing our neighborhood.
PEOPLE, PEOPLE, PEOPLE -- It's the area where you will see people gather around in many points, in front of houses, traditional little shops, and even just sitting at the side of the street. It's the area where greengrocers are getting busy very early in the morning (4am!) preparing their vegetables and carts (pooled next to my house). It's the area where many kind of snacks passing by in carts. Children playing everywhere on streets (often playing firecrackers X_x). You also can find adult males playing chess at the side of the street every night (till drop). Yeah, people everywhere.
MUSLIM PRAYER -- There's a (small) musholla about 15 meters from the house. So, as well as in other muslim majority countries, prepare yourself to hear the loud chants at prayer times (5 times a day)—Fajr (pre-dawn), Dhuhr (midday), Asr (afternoon), Mghrib (sunset), Isha'a (night), or even announcement about dead people at 4 am. Haha! Many other traditional behaviors you might not able to find in modern areas. Please bring your own ear-plug when you feel you'll need it. When it wakes you up, you can always go back to sleep after the prayer finish. Rather than complaining about it, I'd suggest you to enjoy it as intercultural exposure—which might be one of the reason you choose Indonesia (or our place).
DRESS CODE -- Please dress properly. Respect the locals in the neighborhood by not using too much skin that might make them uncomfortable seeing (eg.: hot pants, tank top, tube top, or low cut neck that's appealing). Shorts and sleeveless are okay. Currently they're very welcoming. Please don't contribute to something that might diminish their hospitality in the future. :-)
___________________________________
OTHER PUBLIC SERVICES
LOCAL NUMBER -– Using a local number would definitely makes communication easier. A SIM-Card stall right in the corner (50 meter). You can get a local number and recharge its credits.
LOCAL MONEY – Bring local money. There's nowhere around here would accept foreign currency.

MINI MARKET & ATM –- Both minimarket on the North-East and South-West of the house are about 150 meters away. Both with ATM that will be available for you to withdraw money in Rupiah using Visa, Master, etc. For smaller shops, it's everywhere every 20 meters.
TRADITIONAL MARKET -- Approximately around 700 meters away there's also a traditional market for you to enjoy. You can shop, you can shoot photos, you can observe, whatever you want. If you're a caucasian, don't be surprised if some children (or adults) will say hi to you everywhere. You might be their first caucasian the've ever met in person. :)
NIGHT MARKET -- There's a night market bazaar along the street (40 meters away) every Tuesday night where you can find very cheap stuff and also food.
SHOPPING MALLS – Most Jakarta entertainments are shopping malls. If you're interested, the nearest on is about 20 minutes drive. Our nearest malls are: Puri Indah Mall, Taman Anggrek Mall, Gandaria City, Senayan Plaza, Senayan City.
CITY FOREST -- If you're interested in nature, there's a City Forest (more than 15 acres) near the house where you can find a very big pond and trees. It's only about 5 minutes driving, the "Hutan Kota Srengseng". Well, it's one of the important point in Jakarta, since there are very few city parks in Jakarta.
MASSAGE – A massage service center is about 300 meters away with affordable price.
BADMINTON FIELD – Badminton field is only 100 meters away from our home. It's available for rent with IDR 30,000 / hour.
SOCCER FIELD – Soccer field is also around 100 meters away from our home. When you feel like maintaining your stamina, just stroll around.
PLEASE READ THE HOUSE RULES BEFORE REQUESTING!!
___________________________________
---
---
Komunicirajte samo putem Airbnba
Kako biste zaštitili svoje plaćanje, nikad nemojte vršiti novčane transakcije ni komunicirati izvan Airbnbove stranice ili aplikacije.
Saznaj više
---
Nije prikladno za kućne ljubimce
Zabave i događaji zabranjeni
Nije sigurno ili prikladno za bebe (do 2 god.)
---
Spavaća soba se može zaključati
---
Minimalni boravak: 1 noćenje
---
Hospitality is great ! ... Mba Obi dan Om Tobing really ensure that we are really taken care of, They are friendly and really helpful. The house is nice, it is homy and actually some part are above our expectation as they provide us with toothbrush & towel, great local breakfast, great selection of Books and Board Games ! Free flow mineral Water, selection of coffee and tea are provided. The TV Even have selected cool movies that we can watch! So overall we're happy to stay here
---
Started hosting on Airbnb on July 2015. Joined Airbnb to get connected to people all around the world. We definitely see our guests more as a family than a business object! That's why compassion and respect are the main ingredients of running these places. Hosting the guests personally is also something I'm looking forward to.

We don't hire employee to HOST YOU. We Only hire staff to HELP US clean the house. Me and my family will host you personally. But please don't expect us to look profesional. Most likely you'll see me in "daster" (Indonesian traditional dress for home), or my dad soaking wet while doing houseworks. :)

So, welcome home!

_____________________________

PERSONAL DESCRIPTION

First of all, just call me Obi. Some friends gave me that name, because they think there are too many Christines in this world -- which, in fact, is true.

I'm an Indonesian woman who works in music field, mostly classical music. I might not travel a lot as you do, but I do my best to spend at least a month in a year to be away from this city.

I'm a sunset seeker. I'm a beauty admirer. I love good food. I appreciate histories. I don't get panicked easily. I do think that travel-photo-writing are meant to each other.

I'm not talented in first impression stuff. Differences won't hurt me at all. I'm both sarcastic and sweet. I'm funny but also thoughtful. I'm a detailed person yet ignorant to many things.

I'm a laid-back tourist. I do deep interactions with an object. I put local people and local culture in my to-do-list. I don't do shopping malls. I prefer bar-cafe-lounge than clubs. I love road trip. Oh, and I do read maps. Just don't ask me to remember them. :))

_____________________________

INTERESTS

Movies | Traveling | Music | Nature | Writing | Psychology | Dancing | Laughing | Sleeping | Eating | Humanity | Equality | Harmony | Beauty | Marginal People | Cultures | Nasi Goreng | Pasta | Disney Movies | Tea > Coffee | Books |

_____________________________

PHILOSOPHY

"Travel is therapeutic and therapy is a trip. Both at best eventuate in self-discovery, just as self-discovery, both inward and outward, is an ultimate therapy." ~ Jerome D. Levin, Ph.D. in "The World Within and The World Without: Essays on Therapy, Travel, and Self-Discovery"

_____________________________

LOCATIONS TRAVELED

TRAVELED: Austria, Bulgaria, China, Czech Republic, France, Germany, Hungary, Italy, Japan, Malaysia, Singapore, Slovenia, Spain, Switzerland, Thailand, Turkey, United States
LIVED: Indonesia
WANTS TO GO: Indonesia, England, Greece, India, New Zealand, Peru, South Africa
IS GOING TO: Indonesia


Jezici:
Bahasa Indonesia, English
Stopa odgovora:
100%
Vrijeme odgovora:
unutar jednog dana
West Jakarta i okolica nude i druge opcije – istražite ih
Još mjesta za smještaj na lokaciji West Jakarta: