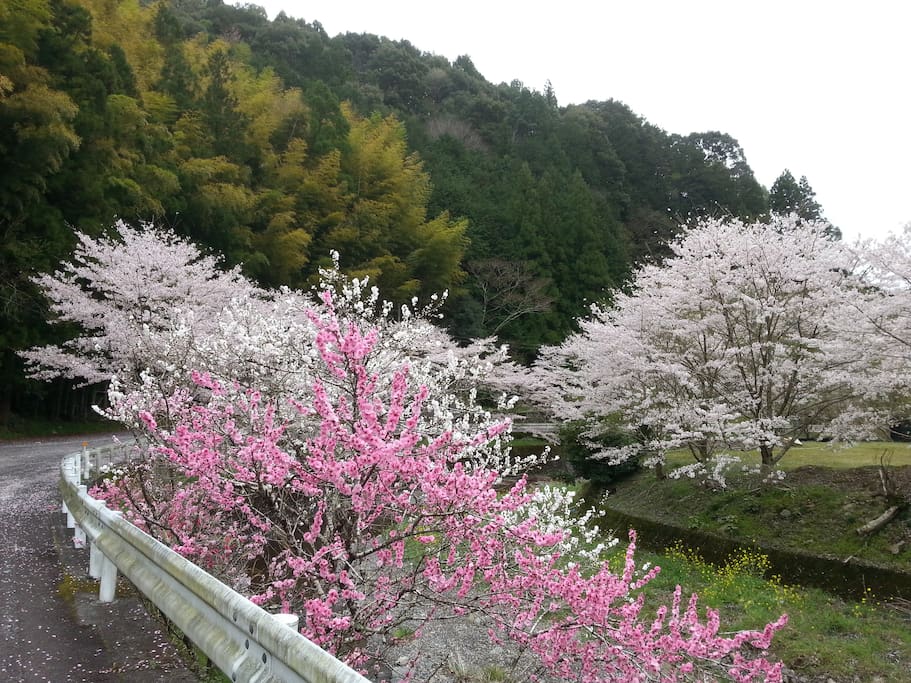 Između Tokija i Kyota na japanskoj strani, u tradicionalnom poljoprivrednom selu. Okružen Zelenim planinama, bambusovim šumama, rijekama i poljima zelenog čaja. Aktivnosti: Planinarenje s pogledom na planinu Mt. Fuji, lokalna šetnja križanja Bamboo grove i polja zelenog čaja, ceremonija zelenog čaja, radionica bambusa tkanja, 2 Bicikli, Kupanje rijekom, Hot Spring i More. Molimo pogledajte Yui dolinu com, (SENSITIVE CONTENTS HIDDEN) i G. mapu za više informacija
Between Tokyo and Kyoto in Japan`s country side, in Traditional farmers village. Surrounded by Green Mountains, Bamboo forests, Rivers and Green Tea Fields.
Activities: Hiking with view of Mt. Fuji, Local walk crossing Bamboo grove and green tea fields, Green Tea ceremony, Bamboo weaving work shop,
2 Bicycles, River swimming, Hot spring and More.
Please look at Yui Valley com, F B and G. map for more info
Prostor
Nalazimo se u Shizuoka, između Tokija i Kyota na liniji Shinkansen (exp. Train), tako da je Pristup ovdje jednostavan i udoban. Naša tradicionalna kuća da smo 91 godina stara kuća, koju obnovimo. Kuća je 85 četvornih metara, ima drvenu konstrukciju, povišena malo od tla. Umjesto zidova koriste se klizna vrata papira. Pod je Tatami pod. 2 velike dnevne sobe, dvije spavaće sobe, kuhinju, WC, tuš / kada i vanjska strana palube. imamo i mali vrt. Dok ste ovdje, ostat ćemo u drugoj kući pokraj vrata. Rijeka - ispod kuće nalazi se mala rijeka - čista voda, lijep zvuk, vrlo osvježavajuće do dubokog u vrućem ljetu. * Djeca - Možemo ugostiti djecu od 7 godina. Hvala vam na razumijevanju i žao nam je zbog neugodnosti. * Zima - Svake godine zimi zatvorimo svake godine, od studenog do kraja ožujka, jer je previše hladno, žao nam je zbog toga. * Priroda - živimo na zemlji vrlo blizu prirode. vidjet ćete sve vrste insekata. vidjet ćete paukove u kući. pauci su bezopasni.
We are located in Shizuoka, between Tokyo and Kyoto on the Shinkansen line (exp. train), so the Access here is easy and comfortable.
Our traditional house that we is a 91 years old house, that we renovate.
The house is 85 square meter, has wooden structure, elevated slightly off the ground.
Sliding paper doors are used in place of walls. The floor is Tatami floor.
2 Big living rooms, two bed rooms, kitchen,
toilet, shower/ bath room and an out side deck.
we also have small garden.
While you are here we will stay in another house just next door.
River - under the house there is small river - clean water, lovely sound, very refreshing to deep in at the hot summer.
* Children - We can host children only from 7 years old. Thank you for your understanding, and we are sorry for the inconvenient.
* Winter- We are closed every year during winter - November to end of March, because its too cold, sorry for this.
*Nature - we live in the country side very close with nature.
you will see all kind of Insect.
you might see spiders in the house. the spiders are harmless.
Dostupno gostima
Dok boravite ovdje, kuća je sve tvoja. kuhinja - naša kuhinja ima mnogo alata za kuhanje i posuđa. nadamo se da ćete uživati u kuhanju u njemu. Ako nešto nedostaje, recite nam. kuhinja ima - hladnjak, štednjak, kuhalo za rižu, mikrovalna pećnica, jednostavno pećnica, aparat za kavu. Voda - pitka voda je prirodna podzemna voda. nudimo - Zeleni čaj, biljni čaj, kava, šećer, sol, crni papar, ulje za kuhanje, umak od soje. Tuš - imamo tuš i kadu za kupanje. u japanskoj kulturi koja se obično opušta svake večeri u toplim kupkama, ovdje možete to učiniti prirodnom vodom. nudimo: šampon, regenerator, sapun za tijelo i ručnici. Grijanje - budući da je naša kuća tradicionalna kuća, u zidovima nema izolacije, tako da noći mogu biti hladno do sredine svibnja. pružamo 3 grijača. hlađenje - imamo 3 navijača. Doručak / večera - Kada možemo, a ne zauzet radom, uživamo kuhati večeru i doručak našim gostima. (uz dodatnu naknadu - molimo pogledajte više informacija, minimalni red za večeru je za 2 osobe i ne možemo kuhati na dan dolaska, ispričavamo se zbog neugodnosti). (Večere u travnju - posebno zauzet mjesec, to nam je teže ponuditi večere, mi ćemo učiniti sve što možemo). Bicikli - Novi sklopivi bicikli s 6 brzinskih diskova. imamo 2 bicikla. Naknada za najam - 500 jena za jedan dan za cijeli dan. Glazbeni zvučnici - možete slušati glazbu. Čišćenje kuća - Dok ste ovdje, čistit ćemo kuću za vas, kada to možemo. Perilica rublja je dostupna uz nadoplatu (pranje 300 jena)
While staying here the house is all yours.
kitchen- our kitchen have many cooking tools and dishes.
we hope you will enjoy to cook in it. If something is missing please tell us.
the kitchen has - Fridge, Stove, Rice cooker, Microwave, simple Oven, Coffee maker.
Water - the drinking water are natural underground water.
we offer - Green Tea, Herbal Tea, Coffee, sugar, salt, black pepper,
cooking oil, soy sauce.
Shower room - we have a shower and hot- bath. in the Japaneses culture its common to relax in hot- bath every evening, here you can do so with natural water. we offer: Shampoo, Conditioner, body soap and Towels.
Heating - since our house is traditional house, there is no insulation in the walls, so the nights can be cold until middle of may. we provide 3 heaters.
cooling - we have 3 fans.
Breakfast/Dinner - When we can and not busy working, we enjoy to cook Dinner and Breakfast to our guests.
(for extra fee - please look down for more info, minimum order for dinner is for 2 people and we can not cook on your arrival day, sorry for the inconvenience). (Dinners in April - specially a busy month, its harder for us to offer dinners. we will do our best).
Bicycles - New folding bicycles with 6 speed disk.
we have 2 bicycle. rent fee - 500 yen for one for the whole day.
Music Speakers - you can listen to your music.
House cleaning - While you are here we will clean the house for you, when we can.
Laundry - washing machine is available for extra fee
(washing 300 yen)
Interakcija s gostima
To je naš 5-godišnji Airbnb domaćin, a mi uživamo i cijenimo ovu priliku. Kada dođete, rado ćemo vas dočekati od najbliže željezničke stanice i dočekati vas u kuću. (Pick up naknada je 2000 jena, od Yaizu željezničke stanice.Generalno vrijeme pokupiti su 16:00 do 20:00). (Molimo, nemojte se miješati s kolodvorom Yaizu nishi). kada odlazite, rado ćemo vas i odustati (naknada je 2000 jena, moguće do 10:00 sati). Dok ste ovdje, ostali smo pored vas u zasebnoj kući, pa kad trebate nešto što smo blizu.
It is our 5 year as Airbnb hosts, and we enjoy and appreciate this opportunity.
When you arrive we are happy to come to pick you up from the nearest train station, and welcome you to the house .
(Pick up fee is 2000 yen, from Yaizu train station. Generally pick up times are 16:00 to 20:00).
(Please don't confuse with Yaizu nishi train station).
when you leave we are also happy to drop you off (fee is 2000 yen, possible until 10:00 am).
While you are here we stay just next to you in separate house, so when you need something we are near by.
Ostale napomene
Ovo je stara lijepa kuća koju s ljubavlju i pažljivo obnavljamo, a još uvijek postoje mjesta koja čekaju da budu fiksirane. Ljeto: - Imamo hlađenje na mjestu rijeke ispod naše kuće. - Imamo nekoliko zaslonskih vrata, ali još u večernjim satima može doći nekoliko insekata. Doručak - Večera: Rado ćemo ponuditi vaše obroke ako možemo zbog dodatne naknade. Hrana koju napravimo uglavnom je vegetarijanska hrana (uključujući ribu, mlijeko i jaja). Nudimo europski doručak i tradicionalnu japansku večeru. Naknada za prehranu: Doručak - 1200 jena za jedan. Večera - 2500 jena za jedan (minimalna narudžba je za 2 osobe, hvala) Trgovina bambusom tkanja - na našem području nalazi se bambus. nudimo 2 vrste radionica: 1. Baza bambusa s toplom vodom - 90 min. 2500 jena za jednu osobu. 2. Bambuski prsten - 30 min. 1000 jena za jedan. možete napraviti 2 prstena. (radionice su od 2 osobe, potrebno je rezervirati unaprijed) Izleti: Na vrhu smještaja, mislili smo o lijepim načinima za vas da provedete svoje vrijeme ovdje, a napisali smo različite mogućnosti za jednodnevne izlete. Na sva mjesta možete ići autobusom, biciklima ili koristiti naš Taxi za dodatnu naknadu. Opcija putovanja: 1. Izvrstan pogled na planinu Fuji - lijepa pješačka staza do "planine Bikuishi". hodat ćete uz tok vode, ogromne kamene stijene, preko šumskog bambusa i jabučne šume. Na vrhu pješačke staze možete vidjeti planinu Fuji. (Važno! - vremenski uvjeti mogu blokirati prikaz). Šetnja je lijepim mjestima za piknik. Na vrhu se nalaze sanitarije i piknik stolovi. Većina gostiju kaže da je razina težine od 1 do 10 7, a dolazak je teže jer put može biti sklizak neko vrijeme. Također vas možemo odvesti do točke gledišta i natrag za 2000 jena (25 min vožnje). prijevoz: kuća do autobusne stanice - 10 min. 10 min autobusom. Pješačenje od autobusnog stajališta do ulaza pješačke staze trajat će 30 minuta. Izlet će trajati oko 90 minuta. Put natrag je niz isti put kojim ste došli i traje 60 minuta do izlaznih vrata. Naš Taxi - sretni smo što ćemo vas odvesti na pješačenje i doći do kuće. Jednokratna naknada iznosi 800 jena. 2. Tamatori šetnja - 2 sata hoda od kuće. ova šetnja nudi mnoge vidikovce okolnih planina, hodat ćete plantažama čaja i kroz našu šumu Bamboo. sve je na konkretnoj cesti. Također možemo vas voziti na ovoj cesti za 1500 jena. 3. "Dailabo" stajalište planine Fuji - 15 min vožnje od kuće s našim taksijem. ovaj park nudi prekrasan pogled na Fuji (Važno! - vremenski uvjeti mogu blokirati pogled). može se obaviti i na dan dolaska nakon što vas pokupimo s postaje. taksa je 1500 jena. 4. Prekrasan tradicionalni japanski vrt i Hot spring: Vrt ima ribe, sladoled zelenog čaja i lokalni dućan koji zapečati zeleni čaj, zalogaje i zanate. U vrtu se nalazi čajna kuća usred vode - ovdje možete uživati u tradicionalnoj ceremoniji zelenog čaja (rezervacija je potrebna) ili piti tradicionalni zeleni čaj s tradicionalnim slatkim. U blizini se nalazi restoran Soba (Soba je japanska tradicionalna juha od tjestenine). Hot Spring - otvoreni vruće proljeće, 2 unutarnja vruća vrela, sauna soba, soba za opuštanje i dobar restoran (blizu ponedjeljka) * Oba mjesta imaju web stranice. * Naknada: vrt bez ulaznice, ceremonija čaja - 510 jen, vruća proljetna - 510 jena. prijevoz: kuća do autobusne stanice - 10 min. hodati autobusna stanica do vrta - 15 minuta vožnje autobusom vrt do vruće proljeće - 75 minuta i morate mijenjati autobus 3 puta. Put natrag kući je isti, vrijeme polaska iz Hot Spring kolodvora je 17:15 i doći ćete kući u 19:00. 5. Prekrasan tradicionalni vrt i piknik na rijeci: Tradicionalni japanski vrt (pogledajte informacije na putu br. 4). Obrazac za vrt autobusom traje samo 10 minueta do rijeke. Njezino lijepo mjesto, na obiteljima vikenda vole se ovdje družiti. Tu su sanitarije i dobra hladovina. Sjenilo - ako sjedite pod stablima, postoji dobra hladovina i također nudimo dvije stolice s hladovinskim kišobranima. prijevoz: Kuća do autobusne stanice - 10 min. hodati Autobusna stanica do vrta - 15 minuta vožnje. Vrt na rijeku autobusom - 10 minuta vožnje. 6. Vožnja kroz prekrasnu planinsku cestu, zaustaviti se na vidikovcu planine Fuji i vruće proljeće - vozit ćemo vas s našim automobilom, zaustaviti se na točki gledanja, spustiti vas u vruću proljetnu vožnju i doći će te pokupiti - 4500 jena (možemo uzeti u naš automobil samo 3 osobe). 7. Kashibaya - razdoblje Eda "Kashibaya" - velika tradicionalna kuća izgrađena prije 180 godina i bila je gostinjska kuća za samurajske putnike na prometnoj cesti od Tokija do Kyota. također je vrlo dobar restoran za ručak je tamo, oni služe tradicionalne japanske hrane. 7. Akupunktura, Moxibustion i Body work tretmani koje je dao gospodin Shirai - preporučeni lokalni praktičar. Raspored gospodina Shiraija je zauzet, molimo unaprijed rezervirajte i obavijestit ćemo vas ako postoji raspoloživost. tretmani će se dati u kući. 100 min sjednice za 10.000 jena plus vozačku naknadu za 2000 jena. 8. Trgovina ribom - Lijepa atmosfera na vikendima, mali svježi restorani sushi, dobra morska trava koju možete ponijeti kući. Imajte na umu da ovo tržište uglavnom prodaje suhe robe i manje stoke. prijevoz: Kuća do autobusne stanice - 10 min. hodati Odavde ćete uzeti 2 autobusa, vožnja traje 40 minuta. i zatim 20 min. hodati. 9. Tradicionalno umjetničko središte ručnih zanata - centar nudi 9 vrsta različitih radionica: ručno bojenje (ne prirodne boje), bambus i keramika. Njegovo lijepo mjesto za prvi doživljaj, ali nije duboko. Centar se otvara svaki dan, možete ispustiti, svaka radionica traje oko 60-90 minueta. Tu je dobar japanski restoran, čajna soba i galerija. prijevoz: kuća do autobusne stanice - 10 min. hodati odavde morate uzeti dva autobusa, voziti će biti 50 minuta, a vi ste tamo. 10. Planina Fuji - od Shizuoka sta. uzmi exp. vlakom do sjena Fuji sta. (12 min. 1410 god.) Od Shin Fuji sta. autobusom do Fuji planinskog ulaza (135 min povratna karta: odrasla osoba 3000 g. djeca 1500 g.) autobusi se vraćaju iz ulaza Fuji u planinu Fuji sta. početi od 9:30 ujutro (95 min.) Uživajte u Japanu, Hvala ti Dai i Hila
This is an old beautiful house that we renovate with love and care, and there are still places that are waiting to be fixed.
Summer:
- We have cooling dipping spot at the river under our house.
- We have few screen doors, but still in the evening few Insects can come in.
Breakfast - Dinner:
We would be happy to offer your meals if we can for extra fee. The food that we make is mainly Vegetarian food (including fish, milk and eggs). We offer European breakfast, and traditional Japanese dinner.
Meals fee:
Breakfast - 1200 yen for one.
Dinner - 2500 yen for one
(minimum order is for 2 people, thank you)
Bamboo weaving work shop - in our area there is allot of Bamboo. we offer 2 kind of work shops:
1. Bamboo hot pot base - 90 min. 2500 yen for one person.
2. Bamboo ring - 30 min. 1000 yen for one. you can make 2 rings.
(work shops are from 2 people, booking in advance is required)

Day Trips:
On top of accommodation, we thought about nice ways for you to spent your time here, and we wrote different options for day trips.
To all places you can go by Bus, bicycles or Use our Taxi for extra fee.
Trips Option:
1. Great view of mountain Fuji - beautiful hiking Trail up to "mountain Bikuishi". you will walk along water stream, huge stone rocks, across bamboo forest and cider forest. At the top of the hiking trail you can see Fuji mountain. (Important! - the weather conditions may block the view). Along the walk there are beautiful places for picnic. At the top there are toilets, and picnic tables. Most guests say that the difficulty level from 1 to 10 is 7, and coming down is more hard as the path can be slippery some times.
we can also drive you to the view point and back for 2000 yen (25 min drive).
Transportation:
house to bus station - 10 min.
10 min by bus.
The walk up from the bus stop to the entrance of the hiking trail will take 30 minutes. the Hike will take about 90 minutes. The way Back is down the same path you came with and takes 60 minutes until the exit gate.
Our Taxi - we are happy to drive you to hike entrance and to pick you up back to the house. one way fee is for 800 yen.
2. Tamatori walk - 2 hours walk starting from the house. this walk offer many view points of the surrounding mountains, you will walk by tea plantations and through our Bamboo forest. all the way is on concrete road.
we can also drive you on this road for 1500 yen.
3. "Dailabo" view point of mountain Fuji - 15 min drive form the house with our taxi. this park offer lovely view of Fuji (Important! - the weather conditions may block the view). can also be done on your arrival day after we pick you up from the station. taxi fee is 1500 yen.
4. Beautiful traditional Japanese garden and Hot spring:
The garden has fish pounds, Green tea ice cream and local shop which seal local Green tea, snacks and crafts. At the garden there is a Tea House in the middle of a water pound - here you can enjoy traditional Green Tea Ceremony (booking is required) or drink traditional Green tea with traditional sweet. Near by there is Soba restaurant ( Soba is Japanese traditional Noodle soup).
Hot Spring - outdoor hot spring, 2 indoor hot springs, sauna room, relaxation room and a good restaurant (close on Monday)
* Both locations have websites.
* Fee: garden no entry fee, Tea ceremony - 510 yen, Hot spring- 510 yen.
Transportation:
house to bus station - 10 min. walk
bus station to garden - 15 minutes bus ride
garden to hot spring - 75 minutes and you need to change bus 3 times.
The way back home is the same, departure time from the hot spring bus station is 17:15 and you will reach home at 19:00.
5. Beautiful traditional garden and Picnic at the river:
Traditional Japanese garden (please see information at trip no. 4).
Form the garden by bus its only takes 10 minuets to reach the river. Its nice spot, on weekend family's like to hang out here. There are toilets and good shade. Shade - if you sit under the trees there is good shade and also we offer two chairs with shade umbrellas.
Transportation:
House to bus station - 10 min. walk
Bus station to garden - 15 minutes ride.
Garden to river by bus - 10 minutes ride.
6. Drive through a beautiful mountain road, stop at view point of Fuji Mountain and hot spring -
we will drive you with our car, make a stop at the view point, drop you at the hot spring and will come to pick you up - 4500 yen (we can take in our car only 3 people).
7. Kashibaya - Edo period "Kashibaya" - a large traditional house built 180 years ago and used to be a guest house for Samurai travelers on the busy road form Tokyo to Kyoto. also very good restaurant for lunch is there, they serve traditional Japanese food.
7. Acupuncture, Moxibustion and Body work treatments given by Mr. Shirai - a recommended local practitioner.
Mr. Shirai`s schedule is very busy, please book in advance and we will let you know if there is availability.
treatments will be given at the house. 100 min session for 10,000 yen plus 2000 yen driving fee.
8. Fish market - Nice market atmosphere on weekends, small fresh Sushi restaurants, good seaweed that you can take back home.
Please note that this market sells mainly dry goods and less livestock.
Transportation:
House to bus station - 10 min. walk
From here you will take 2 buses, the drive takes 40 min. and then 20 min. walk.
9. Traditional hand-craft arts center- this center offer 9 kind of different workshops: hand-dyeing (not natural color), Bamboo and pottery. Its nice place for first experience but its not Deep.
The center opens every day, you can drop-in, each workshop takes about 60-90 minuets. There is good Japanese restaurant, Tea room and Gallery.
Transportation:
house to bus station - 10 min. walk
from here you need to take two buses, the drive will be 50 minutes, and you are there.
10. Fuji mountain - from shizuoka sta. take the exp. train to shin Fuji sta. (12 min. 1410 y.) from shin Fuji sta. take bus to Fuji mountain entrance (135 min. return ticket: adult 3000 y. kids 1500 y.)
buses back from Fuji mountain entrance to shin Fuji sta. start from 9:30 in the morning ( 95 min.)
Enjoy Japan,
Thank you
Dai and Hila
---
---
Komunicirajte samo putem Airbnba
Kako biste zaštitili svoje plaćanje, nikad nemojte vršiti novčane transakcije ni komunicirati izvan Airbnbove stranice ili aplikacije.
---
Spavaća soba 1
1 bračni krevet (1,4x2)
Spavaća soba 2
2 jednostruka kreveta
Spavaća soba 3
2 jednostruka kreveta
---
Nije prikladno za kućne ljubimce
Zabave i događaji zabranjeni
Nije sigurno ili prikladno za bebe (do 2 god.)
Vrijeme dolaska je od 15:00 do 21:00.
* Check-in time is 15:00 pm, and check-out time is 10:00 am. Please be mindful of these times, as the cleaning takes time. Thank you
* Children - for safety reasons, we can host children only from 7 years old. Thank you for your understanding, and we are sorry for the inconvenient.
* Smoking is allowed in the garden.
*The Homeowner is not responsible for any accidents, injuries or illness that occur while at the house. By accepting this reservation, it is agreed that the guests are expressly assuming the risk of any harm arising from their use of the house.
Thank you very much
Looking forward to host you
Hila and Dai
---
Welp, this is the best airbnb I've ever stayed in. Super unique, one-of-a-kind experience. It looks just like the photos. The location is a great place to relax and get back in touch with nature. The traditional style house has been painstakingly maintained by Dai and Hila, and it has an energy all its own. They have added small modern amenities like wi-fi and heaters which were much appreciated. Dai and Hila were phenomenal hosts...attentive to all of my needs without ever being overbearing. 10 out of 5 stars.
---
This is without a doubt sure to be one of the highlights of any trip to Japan. The valley is beautiful and the home matches it completely. The hosts are some of the nicest people you will ever meet and so helpful. The only regret we have is not staying another night and not taking up the dinner option just to be able to get to know them better!
---
This was the by far the best Airbnb I've stayed at yet. The hosts were very accommodating when translating for us in the green tea ceremony and when picking us up from the station and dropping us off. We also had drinks with them in the evening and they were very friendly and helpful. The home was placed in beautiful rural part Japan. It was quiet, you can hear the water flowing from almost every hiking point. It was very peaceful and calm in the area. If you are looking to get away from all the noise in the city I highly recommend this place. I look forward to my future stays with Diane and hila
---
Location: Close to Tokyo but to get to the place we recommend having Dai and Hila to come pick you up if you're not familiar with the area. The town is very, serene, scenic, and quiet... so beautiful. We enjoyed a little hike around. HOUSE: very neat and special traditional home that the hosts put their heart into decorating the place. You will feel relax at any corners of the house. HOST: Dai and Hila took care of us very well. Always ask us if we need anything. The kids love spending time doing the workshop. They are caring and very good with our kids. Great hospitality.
---
Short story: This was exactly what we hoped for & expected. We spent 4 nights here and would love to visit again someday. Our enjoyment of Yui valley was threefold 1) The nearness of nature 2) The rustic, traditional dwelling with a rich heritage 3) The lovely and attentive hosts, Dai & Hila. The sounds of the forest make a peaceful backdrop to the day's activities & night's rest. Playing in the river is a great way to cool down. Hiking up to the bamboo groves in the rain was the highlight of our trip. There are views that simply must be seen in person. We really enjoyed the feel of the house, and the open spaces were refreshing after being cramped in Tokyo for a week. The kitchen is stocked with the necessary equipment for cooking family meals. We were surprised that there was great internet access! Dai and Hila were attentive, helpful, polite, & fun above & beyond our expectations. They communicated well from start to finish. They checked on us twice daily, also bringing tea and treats. We felt pampered! We requested a couple of meals to be prepared by them during the stay & we highly recommend this to all future guests. The multi-course dinner they served was one of the most satisfying meals we had during our travels & was well worth the cost.
---
Hila is hands down the kindest person you will ever meet! The house is beautiful, as is the area surrounding it! Excellent grocery store coming in from the train, best one I've been to in Japan. We got freaked out by the spiders that are in the house (ground spiders, not web spiders) so that's something to be prepared for! But if you aren't afraid of spiders then this could not be a more perfect place! It's storybook beautiful!
---
Our stay with dai and hila went beyond our wildest dreams. They were helpful in every way, spoke english, and attended to all of our needs and questions. The location is lovely, next to a river where the kids could swim and read, amazing hikes, great terrain for experienced road cyclists (my husband travels w his bike). We extended our stay because we just didnt want to leave. The bamboo weaving workshop was really fun and the meals were gourmet and delicious. Dai and hila are true artists in the way they live their lives and in the experience they create for their guests. We hope to come back some day
---
Hello to you.

welcome to Japan and to our house.
Daisuke is from japan and Hila is from Israel.
We enjoy to live in the nature.

you will find more about us if you search for yui valley com

We live in a beautiful traditional Japaneses house, and be happy to welcome you here so that you also can enjoy this special experience.

Our House is an authentic 90 years old Japanese House. the house still have its original parts from 90 years back like: the mud walls, paper doors and tatami floor.

The house is located just next to the river and is surrounded with green mountains.

Our village farmers work the Bamboo forests to harvest shoots in April, grow Green tea, and also rice.
our village Green tea and bamboo shoot are well known in japan for their good quality.

we are also bamboo framers. we do 2 things with bamboo: we harvest shoots and we also boil and dry 3 years old bamboos for local bamboo craftsman. we also give bamboo workshops using our own bamboo :)

We would be happy to help you while visiting japan. we both speak English. we can introduce you to the local life here.

We are also happy to say that we're legitimate "property operators" and a we have license for hosting and cooking.

Japan is great place to visit.

We look forward to host you
thank you very much
Hila and Dai
Jezici:
English, עברית
Stopa odgovora:
100%
Vrijeme odgovora:
u roku od sat vremena
Fujieda i okolica nude i druge opcije – istražite ih
Još mjesta za smještaj na lokaciji Fujieda: