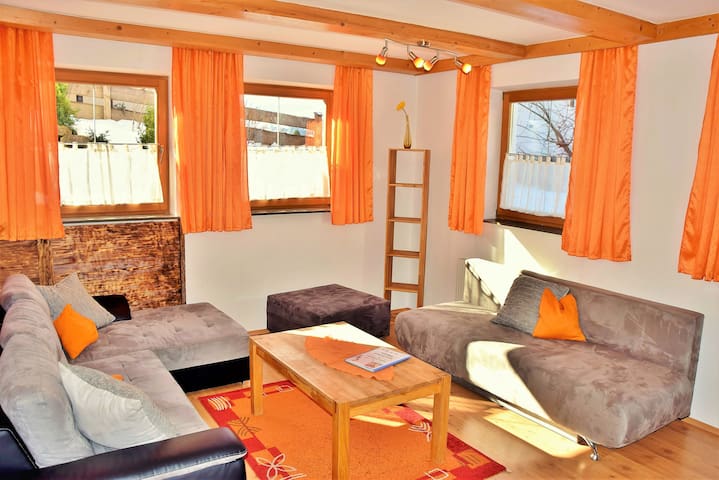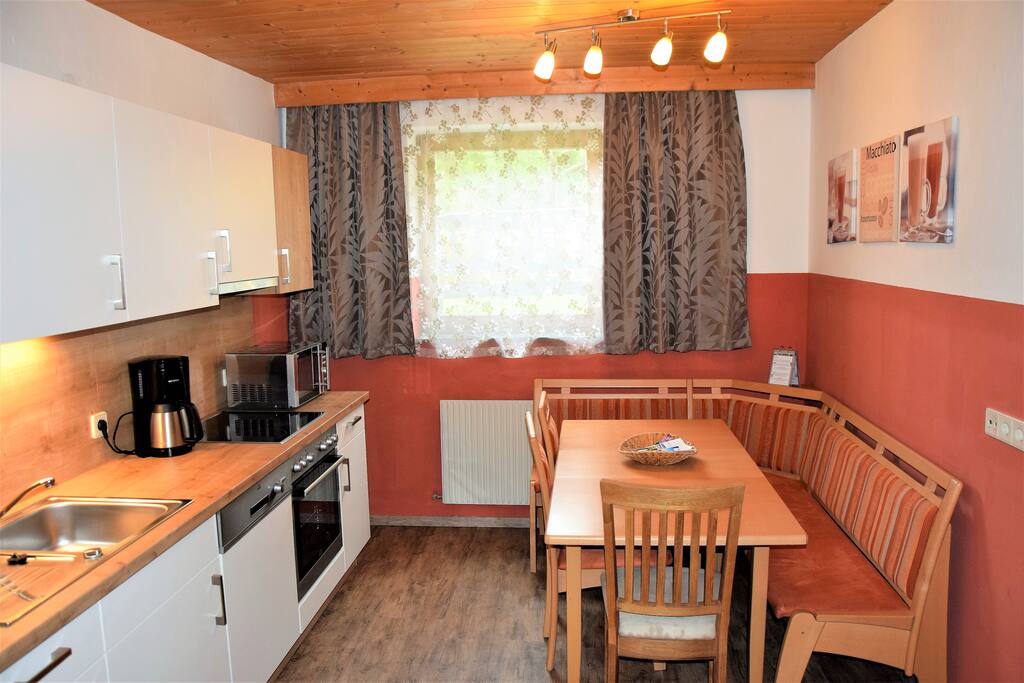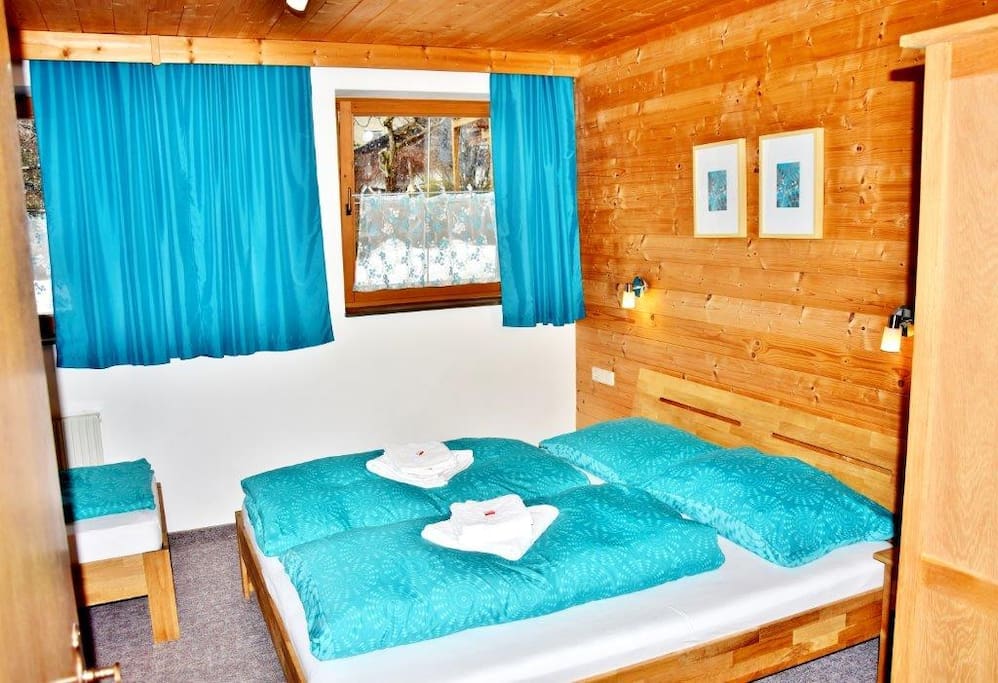 Ski holiday in the most beautiful high valley of the Kitzbüheler Alps! Ski lifts open in Auffach, Oberau and Niederau. The wonderful winter weather also invites you to hikes, snow shoeing, horse sleigh rides and much more.
Excursion destinations like Kitzbuehel, Kufstein, Innsbruck, Munich, Salzburg ... are within easy reach. One of Austria's largest ski resorts can be reached in 20 minutes.
Enjoy the special flair, the peace, nature and peace in our region.
Prostor
Dear holiday guests!
For a great, relaxing holiday we would like to offer you our apartments in our house.
The apartment house is located in a central, quiet location in Oberau - Wildschönau in the Kitzbüheler Alps. With us you can spend your holidays in any season.
The large family apartment "Wildschönau" is located on the ground floor and has its own home entrance, which leads directly into the adjoining garden. In this apartment you can use the garden part directly in front of the door alone. (With barbecue, tables, garden bench, armchairs, deckchairs, ...)
The 95 m², comfortable apartment (in the basement) is furnished as follows:
* From 01.05.2016 NEW large fully equipped kitchen with dishwasher fridge, electric stove with oven, microwave, coffee machine, water cooker ... and seating corner with large table for 8 persons
* 1 bedroom with double bed and single bed
* 1 bedroom with bunk bed and single bed
* 2 bathrooms with shower / WC (hairdryer)
* 1 large, bright living room with 2 x sofa bed for 2 persons, satellite TV (flat screen)
* 1 small entrance hall with wardrobe and a small storage room
(Vacuum cleaner, mop, bucket, clothes dryer, ...)
ADVANTAGES ********
* Central, quiet location in the heart of Oberau in the Wildschönau
* Apartments of all sizes available all year round
* Free, large car park directly in front of the front door
* Free wireless internet connection
* Mountain sports room for storing your personal sports equipment
* Shelving rack for ski and hiking boots
* Large garden where you can stay at any time.
* Cozy garden with barbecue
* A washing machine, tumble dryer or the possibility to hang clothes are also in the basement of the house.
We can also provide you with a baby travel bed, a safety grid for your bed, a rental car and a high chair for your smallest family members.
Also everyday items such as bread slicer, iron, ironing board, additional hair-dryer and much more are available on request.
All our apartments can be booked all year round. Thus you can also enjoy the quiet seasons between the high season a relaxing holiday in the mountains.
If you are looking for accommodation for your workers, please feel free to contact us. Your employees are welcome in our house.
In the Wildschönau the price is 2.00 EUR per day and per person (children under 14 years do not pay). Please note that these costs are to be paid in our house.
Pets:
You can also bring your loved ones with you, please mention them in your reservation. We charge 5,00 EUR per day (per pet without food).
Wildschönau:
All offers of the place are in the immediate vicinity of the house. Due to the central location are supermarket, bakery, shops, bars, restaurants, ski school, ski rental (directly in the neighboring house), bus stop also ski bus in winter (about 70 meters), dentist ..... you can all easily within a few minutes to accomplish.
The nearest pharmacy is in Niederau (about 3 km)
The Wildschönau is not only a sounding name, but also a scenic, particularly attractive, versatile high valley in the Kitzbüheler Alps in Tyrol.
Without industry and transit, but with a lot of nature and folk culture.
The valley with its mountains offers a natural experience and no boundaries to be active during the holidays.
With the WildschönauCard you can enjoy the leisure offer from the first day.
In addition to the many included services, you also receive attractive discounts from many partners in the Wildschönau and surrounding area.
In the winter:
Ski bus between Niederau and Auffach
Nightliner (night bus from Do to Sa) between Niederau and Auffach
Winter hiking program and snowshoe hike (3 x per week)
Rental of snow shoes
Mining Museum, egach
Free Wi-Fi in the village center and in the ski area
In summer:
· Mountain railway Markbachjoch
· Mountain railway Wiedersbergerhorn and Reith i. Alpbachtal
· Wildschönau open-air swimming pool (opened until the beginning of September)
· Tennis court Oberau
· Bergbauernmuseum Oberau
· Handicraft market at the Mining Museum
· Augustine Museum in Rattenberg
· Schaubergwerk Lehenlahn
· Guided experience hiking program from Monday to Friday
· Children's program in the Drachenclub from Monday to Friday
With the beautiful mountains we have a common passion. Like you, we are also enthusiastic mountain sportsmen.
In the winter !
The skiing area of the Jebel Alpbachtal Wildschönau includes 109 ski slopes (145 km in sporty turns) and 47 lifts. The slopes are well maintained and offer pure skiing fun.
The facilities in the Alpbachtal and the Wildschönau can be used with a single ski pass! There is something for all requirements and levels of difficulty. Beginners will find their area in the lifts in the valley and the experts are frolicking on the black slopes.
The 5 ski schools in the Wildschönau offer a wide range of courses for skiing, snowboarding, cross country skiing, carving and much more. Special courses for children, kindergartens and attractive learn-to-ski packages for beginners are also on offer.
In the winter jewel Alpbachtal Wildschönau there is a particularly attractive family offer in the late winter:
Children aged 15 and under receive a free children's ski pass from 1 April to 17 April 2017 and can enjoy free skiing
The promotion is valid for children born in 2001 and younger.
When you buy a 3-day skipass from a parent, your own children get this free ski ticket.
The free ski passes are available at the treasures of Schatzbergbahn in Auffach and at Markbachjochbahn in Niederau.
The young skiers thus take the ski slopes for free. The parents love it and can enjoy the skiing holiday even more.
By the way: Small children born 2011 and younger always accompanied by the parents always free ski.
From our house you can reach the beginners ski area in Oberau on foot.
The ski bus runs regularly (19 x) between the villages of Niederau - Oberau - Roggenboden - Mühltal and Auffach. Free with Wildschönau Card. Bus stop about 100 m from our house.
The stroll and the Wildschönau cable car take you to the most beautiful places in a typical Tyrolean mountain landscape.
Through the valley, to the Schönangeralm, to Thierbach and much more.
Winter hiking is becoming increasingly popular, not only among the "non-skiers", but also as an alternative to skiing.
Discover the scenic spots of Wildschönau on 40 kilometers of cleared winter hiking trails. In the group with a guide or on your own, as you like it.
The nature in the Wildschönau be somewhat closer, past picturesque farms, through dreamy winter landscapes or even on the mountain. Impressive motifs can be found everywhere in the Hochtal valley.
Cross-country skiing is healthy and is back in fashion!
More and more people choose cross-country skiing as their favorite sport.
50 well-kept and mostly secluded cross-country trails pass through the Wildschönau and offer guests variety to the slopes (depending on the snow conditions until mid / end of March).
Toboggan runs:
Auffach: The toboggan run on the Schatzberg guarantees much fun on five kilometers. (From the middle station)
Oberau: On Wednesdays and Thursdays you can go down and down on the Roggenboden. A special hook system on the lift makes it possible - just sit on the sled and pull up.
Auffach: Every Tuesday and Thursday to mid-March, the train ride to the middle station of the Schatzbergbahn. After a cozy "mulled wine stop" at the Koglmoos, you will go on a toboggan run on the 5 km long toboggan run into the valley. Departure at 20.00 hrs at the Schatzbergbahn in Auffach.
Rodelgaudi of a special kind:
From the ski area in Auffach from the Schatzberg with the toboggan (or even with the skis) Rodelgaudi on the 7.5 kilometer long natural path to Thierbach. A crowning finish for a wonderful ski or sled day. In Thierbach turn right into one of the cozy inns and then return to the car park of the gondola lift in Auffach.
Thierbach to Mühltal + Auffach daily 16.30 clock  (Return trip ideal for tobogganists and skiers from Schatzberg)
The Wildschönau is one of the most beautiful tour areas of the Eastern Alps.
For hiking, the Hochtal offers numerous attractive routes of varying lengths. The starting point for trips to the Breitegg or Lämpersberg is the Schönangeralm at the end of the valley in Auffach. Many naturefriends are also in the evening with touring ski and headlamp.
The Natur-Hochseilgarten in the Zauberwinkel has also opened in winter.
The Wildschönau from the bird's eye - the flight school Wildschönau makes it possible. Well-trained flight instructors at the same time provide security and professional support. The Markbachjoch in Niederau is the house of the paragliders.
Cozy carriage rides through the Wildschönau:
* Sledding through the beautiful nature to Penningberg
* Walking for example. In the magic corner in Oberau
* Trips through the idyllic village of Thierbach
This winter offer is rounded off by many different events.
It will certainly not boring you in the Wildschönau!
****************
In summer:
In the summer months the house is an excellent starting point for wonderful hiking, climbing and mountain bike tours. The rustic mountain huts of the Wildschönau invite you to the hearty breads.
300 km of well-maintained hiking trails at an altitude of 828 to 2,309 meters lead through the wonderful mountains of the Kitzbüheler Alps.
46 farmed alpine pastures are available for a cozy stopover (with a breathtaking view). (Summer breakfast, for example on the Norderbergalm or on the Farnkaseralm)
Varied hiking programs are offered daily from Monday to Friday, free of charge from the tourism association.
The Schatzberg and Markbachjoch gondolas, which are easy to get up to the starting points of many hiking possibilities, guarantee "easy-to-go hiking". (Mountain railways with the guest card in summer free)
The Markbachjochbahn in Niederau is operational from 6 May to 15 October 2017.
Pure nature in the gorge. One of the most beautiful natural gorges - the Kundlerklamm - is easy to reach from Mühltal on foot or with the Wildschönauer stroll.
Get to know Wildschönau in a cozy way.
Strolling in the Wildschönau is a unique experience!
From the beginning / middle of May to the middle of October, there are many scenic drives:
• in the mountain village Thierbach on 1.175 m
• the Schönangeralm (excursion destination at the foot of the highest mountains of the
  Wildschönau, cheese dairy, cozy inn with large
You can discover the breathtaking beauty of nature by enjoying the cozy carriage rides in Niederau, Oberau, Auffach and Thierbach.
In the summer, the Hochtal invites sport lovers and recreation seekers. For sports and action fans the offer is overwhelming. From the Hochseilgarten, paragliding school, canyoning & rafting, Nordic Fitness Park, quad bike rental, mountain bike to the world's largest e-bike area (popular cycle tours to mountain pastures and huts).
High ropes course:
The rope park, where natural trees are connected with ropes, is located 17-21 meters above ground level. 31 different stages in three levels of difficulty must be overcome (for children possible from body height 1.40 m) Depending on the size of the group and the number of exercises you have to go through, you have to plan about 2 ½ to 3 hours.
Numerous attractions are also available in the immediate vicinity of the Wildschönau, such as: Children's fun parks such as the Witches' Water, Elmi, Alpolino, Filzalmsee or Salvenaland are all max. 20 minutes from our house.
Due to the central location of the Wildschönau, famous cities, nature games, sights, children's parks and much more can be reached in the shortest possible time.
For example for day trips: the Städe Innsbruck, Kitzbuhel, Kufstein, Munich, Salzburg, Bolzano, Rosenheim, ... Natural beauty like the Krimmler waterfalls, Alpine Zoo in Innsbruck, Wildpark in Aurach, Chiemsee, Achensee "Pillersee,
Happy Hopp Indoor Playground, Swarovski Crystal Worlds, ...
Also not a 10 minutes away from us is the largest connected ski region of Austria.
For bad weather, the 10 KM Removable WAVE bath offers an alternative program for children and adults. There you will find, besides the gigantic sauna world of the Romans, the only Doppellooping slide in the world.
In a climbing hall (10 KM away), small and big can be spent. Taster course, private climbing course, toprope course (beginners, advanced course and much more is offered.
Conclusion: Your time will not be enough!
****************
Short preview of the many events in the Valley!
Christmas time in Tyrol
One of the many Christmas markets in our area is known
Christmas in the Mountains
Between urban flair and impressive mountain scenery enchant the five Christmas markets of Christmas in the Mountains: whether the Golden Roof, the market square, in the Maria Theresa Street, in Wilten or on the Nordkette. 195 Christmas stalls and around 300 events complete the pre-Christmas offer in Innsbruck.
 
Special features of the Christmas Market
Set in the Old Town offers a platform an ideal view of the impressive backdrop of the old town of Innsbruck.
On the marketplace of more than 14 meter high Christmas tree impressed thousands Swarovski crystals.
The magical Wiltener Platzl transformed during the Christmas season in an art market.
With the Innsbruck Nordkettenbahn it comes to the Hungerburg. Once at the top, inspired a small Christmas market - and of course the unique view of Innsbruck.
Tips for Families: A magical world of adventure awaits your little ones in the Old Town: 28 fairytale characters and live put forward fairytale pieces delight in fairy tales and Riesengasse. A nostalgic carousel and puppet theater make children's eyes at the market for lamps.
Location: Innsbruck
************************************************** ***
Christmas market Kufstein
The Advent experience is divided into two parts in the fortified town of Kufstein: The Christmas market makes in a city park and is contemplative mood and additionally, takes on the four Advent weekends of Christmas magic on the fortress Kufstein where you and in the vaults of Josefsburg experience traditional crafts outdoor complex of the fortress Arena.
Special features of the Christmas Market
the Kufstein Fortress turns on the four Advent weekends ends of the 11h to 18h in a lovingly designed Christmas world with crafts and regional delicacies. In the "Christmas Werkstube" You can even tinker.
For Christmas gathering of the Christmas market in the beautifully decorated Kufsteiner City Park is: Pretty gift ideas, Tyrolean specialties, musical events and the daily Advent program inspire young and old.
Special "Advent hotels" offer special deals on the most reflective time of year. These include the well-known "Andreas Hofer": The Tyrolean restaurant with traditional Tiroler Stuben, the rustic basement rocks and the immense bridge over the streets of Old Town is one of the best guest houses in Tyrol.
Tips for Families: The waiting time for the Christmas Eve is shortened for your children in the city park - whether at a carousel ride, with a ride on a pony, the French bread-campfire barbecue or in amazement magical luminous figures and the so-called "Bergflunkerer".
Opening times
***********************************************
Rattenberg Advent
Rattenberg is the smallest town in Austria. The situation between rock and Inn at the foot of a castle from the 10th-century, during the festive season the unique setting for the Christmas market.
Special features of the Christmas Market
On the four Saturdays before Christmas, the Christmas market does not need any artificial light and the pedestrian zone is lit by countless candles, torches and open flame.
Rattenberg is known for its traditional glass art. On Christmas market itself is deliberately dispensed with stalls for the glass artists have their shops open.
At the Christmas stalls, you are spoiled with regional delicacies. Be sure to try the special, refined with elderberry flavor Rattenberg Advent wine.
The main cultural program starts from 17 o'clock with the advent of so-called Lightbringer: On the main stage a unique lights Labyrinth enthusiastically accompanied with meditative music, before the Nagelschmied houses reenacted is by performers of Schlossbergspiele lovingly staged.
Tips for Families: From 14.30 to 16 am Your little ones can participate in children's program - whether decorate the gingerbread, blown glass beads or a guided tour for children.
**************************************************
Innsbruck Christmas collection
Every year before Christmas in Innsbruck The traditional Christmas collection instead. With a solemn and evocative procession, attend around 500 children at the, is attuned to beautiful way to Christmas. The children draw as shepherds and angels with lanterns and accompanied by music through the city and give the Christ child who travels with a magnificent coach, escort. On the square in front of the Tiroler Landestheater then all sing "Silent Night".
********************
Hahnenkamm Race in Kitzbühel
She's famous, infamous, feared and loved: the spectacular descent of the Streif. The world famous Hahnenkamm race at Kitzbühel Mountain will come back thousands of visitors from many countries to cheer the best skiers in the world. The start for the top racing forms the super-G on Friday, on Saturday following the departure. The track is one of the hardest downhill in the world: slopes with up to 85 percent gradient, speeds of 140 kilometers per hour and jumps up to 80 meters in length on the "mousetrap" speak for themselves. On Sunday the Slalom follows from Ganslernhang.
For Kitzbühel but the annual highlight of the World Cup calendar is more than athletic excellence, is the race but also social highlight. Stars and starlets from around the world show up in Kitzbühel and draw hordes of reporters to. Most likely, you can probably get the celebrities to the legendary parties to face, such as the Weißwurstparty Stanglwirt on Friday.
******************************************
In summer:
* Festival of Dreams in Innsbruck in mid-August
* Innsbruck Festival of Early Music
* Ebbser Blumenkorso
the largest flower parade takes place every year in August. Around 40 artful flower carts pull - accompanied by marching bands through the town.
**************************
The Rosenheim Autumn Festival
Rosenheim - The wait for the fifth season is coming to an end:
End of August it is in Rosenheim back "O'zapft is!" - The Wiesn
***************************
The world-famous Oktoberfest
From the middle of the Oktoberfest begins on the Theresienwiese in Munich. Until about October 4th then celebrated in Munich.
Connect your autumn holiday with us with a trip on one of the most famous autumn festivals of the world.
******************************
International Libro Balloon Cup
Mid to late September driving the colorful hot air balloons in the sky. Daily also spectator races are held in addition to the scoring. Who would therefore view the mountains for a long time even from the perspective of an eagle, while the Libro Balloon Cup has the perfect opportunity to do so.
************************************************** *
Mid to late September, see the annual Alpine cattle drive instead:
* Large cattle drive with Almfest in Auffach
* Approximately 5 Km from our house in Niederau finds the
Almabtrieb place in Hopfgarten and Kelchsau
***************************************
Your vacation is boring at no time in Tirol!
Dostupno gostima
The apartment Wildschönau is located in the basement of our house and has its own entrance.
This leads directly into the garden of the guests this can be availed any time (with barbecue, table, bench, chairs, deck chairs, beach umbrella, ...).
In addition, you will find in our garden, a cozy gazebo with a big barbecue, all the guests share together!
Even a small playhouse with sandbox for the little ones is available.
Directly in front of the house there is a large car park free of charge.
Also free wireless connection is.
In the cellar Our guests have a washer and dryer (both subject to fees) are available.
We also have a storage room for ski and hiking boots, and a ski room in the house.
Interakcija s gostima
We want to make our guests' stay as pleasant as possible! We are happy to provide information about all the excursions and offers in the valley. Contact us and we will help you in all questions at any time leave you.
We ask you at any time to report problems or other requirements with us. We try to help as soon as possible.
We are always available for our guests!
Ostale napomene
Dear guests!
To ensure a smooth CHECK-IN, we ask you to give us necessarily about 20 minutes before arrival by telephone Upper SMS your arrival known.
If you already arrive before 14.00 clock in the Wildschönau - we will give you happy then known - whether your holiday can be already obtained.
**********************************************
ARRIVAL WITHOUT STRESS
So you do not have to stand at the arrival time pressure, an arrival is possible at a later time or at night.
Your apartment key will be deposited in this case in a special safe. The code you received from us before your arrival (by SMS).
You can then arrive whenever you want or can. (Volume of traffic).
Of course we are also available by phone at night available - if there should be any problems.
Otherwise, we look forward to welcome you to our house the next morning to be allowed
---
---
Spavaća soba 1
1 bračni krevet (1,8x2), 1 jednostruki krevet
Spavaća soba 2
1 jednostruki krevet, 1 krevet na kat
Zajedničke prostorije
2 kauča
---
Zabave i događaji zabranjeni
Samostalni dolazak uz lockbox
Mandatory Charges payable locally:
Tourist tax: 2,00 EUR / day / person (children under 14 free)
Pets: 5,00 EUR / day / animal
Heavy handling - normal behavior is required.
Your package includes:
- Laundry package (on request available anytime like fresh laundry) bed linen, towels, bath towels, dish towels ..
- Additional bed, baby bed, high chair, security grid for the bed, children's car rental, ....
- In the apartments are small items such as salt, pepper, sugar, toilet paper, kitchen roll, garbage bags, dishwashing, ... available.
- Free use of the garden (chairs, chairs, benches and tables) and the
Gazebo
- Plenty of parking next to the house
- Wi-Fi is used free of charge
- On request we can organize in the apartments also a bread slicer, mixer and other.
The following services can be availed for free with this card in Winter:
* Ski bus between Niederau and Auffach
* Nightliner (night bus from Thurs to Sat) between Niederau and Auffach
* Winter hiking and snowshoeing program (3 times a week)
* Rental of snowshoes
* Bergbauernmuseum zBach
* Free Wi-Fi in the city centers and in the ski area
By paying the tourist tax you will receive on arrival from us the Wildschönau "Guest Experience Card".
In the summer of 2016 following facilities can be used in the Wildschönau at no extra cost:
• mountain railway and cable car Schatzberg Markbachjoch
• Lift Wiedersbergerhorn and Reith i. Alpbachtal
• Outdoor Wildschönau (open until mid-September)
• tennis court Oberau
• Bergbauernmuseum zBach Oberau
• Craft Market at Bergbauernmuseum
• Augustinermuseum in Rattenberg
• mine Lehenlahn
• Guided hiking adventure program from Monday to Friday
• Children's program in the Dragon Club from Monday to Friday
* Many additional benefits, there are also the many bonus partners in the Wildschönau and the surrounding area.
*********************************
Frais obligatoires à payer sur place:
Taxe de séjour: 2,00 EUR / jour / personne (enfants de moins de 14 libres)
Animaux: 5,00 EUR / jour / animal
Manutention lourde - un comportement normal est nécessaire.
Votre forfait comprend:
- Forfait blanchisserie (sur demande disponible à tout moment, comme la lessive fraîche) Linge de lit, serviettes, draps de bain, torchons ..
- Lit supplémentaire, lit bébé, chaise haute, la grille de sécurité pour le lit, la location de voiture pour enfants, ....
- Dans les appartements sont petits objets tels que le sel, le poivre, le sucre, le papier hygiénique, essuie-tout, sacs à ordures, la vaisselle, ... disponibles.
- Utilisation gratuite du jardin (chaises, fauteuils, bancs et tables) et le
Belvédère
- Nombreuses places de parking à côté de la maison
- Wi-Fi est utilisé gratuitement
- Sur demande, nous pouvons organiser dans les appartements aussi une trancheuse à pain, mixeur et autres.
Les services suivants peuvent être servis gratuitement avec cette carte en hiver:
* Ski bus entre Niederau et Auffach
* Nightliner (bus de nuit de jeudi à samedi) entre Niederau et Auffach
* Randonnée d'hiver et le programme de la raquette (3 fois par semaine)
* Location de raquettes
* Bergbauernmuseum zBach
* Une connexion Wi-Fi gratuite dans les centres-villes et dans la zone de ski
En payant la taxe de séjour, vous recevrez à l'arrivée de nous le Wildschönau "l'expérience des clients Carte".
À l'été 2016 installations suivantes peuvent être utilisées dans le Wildschönau sans frais supplémentaires:
• chemin de fer de montagne et du téléphérique de Schatzberg Markbachjoch
• Soulevez Wiedersbergerhorn et Reith i. Alpbachtal
• Wildschönau extérieure (ouvert jusqu'à la mi-Septembre)
• Oberau court de tennis
• Bergbauernmuseum zBach Oberau
• Craft Market au Bergbauernmuseum
• Augustinermuseum à Rattenberg
• Mine Lehenlahn
• randonnées guidées programme de l'aventure du lundi au vendredi
• Le programme pour enfants dans le Dragon Club du lundi au vendredi
* De nombreux avantages supplémentaires, il ya aussi les nombreux partenaires de bonus dans le Wildschönau et la région environnante.
********************
Verplichte kosten ter plaatse te betalen:
Toeristenbelasting: (kinderen onder de 14 gratis) 2,00 EUR / dag / persoon
Huisdieren: 5,00 EUR / dag / dier
Zware handling - normaal gedrag is vereist.
Uw pakket bevat:
- Wasserij pakket (op verzoek op elk moment beschikbaar zoals verse wasserij) beddengoed, handdoeken, badhanddoeken, theedoeken ..
- Extra bed, babybedje, kinderstoel, veiligheid grid voor het bed, voor kinderen autoverhuur, ....
- In de appartementen zijn kleine voorwerpen zoals zout, peper, suiker, toiletpapier, keukenrol, vuilniszakken, afwasmiddel, ... beschikbaar.
- Gratis gebruik van de tuin (stoelen, stoelen, banken en tafels) en de
Gazebo
- Voldoende parkeergelegenheid naast het huis
- Wi-Fi is gratis gebruikt
- Op verzoek kunnen wij organiseren in de appartementen ook een broodsnijmachine, mixer en andere.
De volgende diensten kunnen worden gemaakt voor gratis met deze kaart in de wint(PHONE NUMBER HIDDEN):
* Ski bus tussen Niederau en Auffach
* Nightliner (nachtbus van do-za) tussen Niederau en Auffach
* Winter wandelen en sneeuwschoenwandelen-programma (3 keer per week)
* Verhuur van sneeuwschoenen
* Bergbauernmuseum zBach
* Gratis Wi-Fi in de stadscentra en in het skigebied
Door het betalen van de toeristenbelasting ontvangt u bij aankomst van ons de Wildschönau "Guest Experience Card".
In de zomer van 2016 kan volgende faciliteiten worden gebruikt in de Wildschönau, zonder extra kosten:
• kabelbaan en kabelbaan Schatzberg Markbachjoch
• Til Wiedersbergerhorn en Reith i. Alpbachtal
• Outdoor Wildschönau (open tot half september)
• tennisbaan Oberau
• Bergbauernmuseum zBach Oberau
• Craft Market op Bergbauernmuseum
• Augustinermuseum in Rattenberg
• mijne Lehenlahn
• Begeleide wandeling avontuur programma van maandag tot vrijdag
• Children's programma in de Dragon Club van maandag tot vrijdag
* Veel extra voordelen, zijn er ook de vele bonus partners in de Wildschönau en het omliggende gebied.
***********************
Обязательных платежей оплачивается на месте:
Туристический налог: 2,00 евро / день / человек (дети до 14 бесплатно)
Домашние животные: 5,00 EUR / день / животное
Тяжелая техника - требуется обычное поведение.
Ваш пакет включает в себя:
- Прачечная пакет (по запросу доступны в любое время, как свежий прачечная) постельное белье, полотенца, банные полотенца, полотенца блюдо ..
- Дополнительная кровать, детская кроватка, стульчик, безопасность сетка для кровати, детская прокат автомобилей, ....
- Квартиры мелкие предметы, такие как соль, перец, сахар, туалетная бумага, бумажными полотенцами, мешки для мусора, мытье посуды, ... имеется.
- Бесплатное пользование саду (стулья, кресла, столы и скамейки) и
Бельведер
- Много парковка рядом с домом
- Wi-Fi используется бесплатно
- По желанию мы можем организовать в квартирах также хлеборезка, смесителя и других.
Следующие услуги могут быть предоставлены бесплатно с этой картой зимой 2015/16:
* Лыжный автобус между Нидерау и Ауффах
* Nightliner (ночной автобус из чт до сб) между Нидерау и Ауффах
* Зимний туризм и прогулки на снегоступах программа (3 раза в неделю)
* Аренда снегоступов
* Bergbauernmuseum zBach
* Бесплатный Wi-Fi в городских центрах и в лыжной области
При оплате туристический налог вы будете получать по прибытии из нас Вильдшенау "Гость Опыт Card".
Летом 2016 года следующие средства могут быть использованы в Wildschönau без дополнительной стоимости:
• горная железная дорога, и канатная дорога Шацберг Markbachjoch
• Поднимите Wiedersbergerhorn и Райт I. Альпбахталь
• Открытый Вильдшенау (открыт до середины сентября)
• теннисный корт Оберау
• Bergbauernmuseum zBach Оберау
• Крафт Маркет в Bergbauernmuseum
• Augustinermuseum в Rattenberg
• шахта Lehenlahn
• пешие приключения программу с понедельника по пятницу
• Детская программа в Dragon Club с понедельника по пятницу
* Многие дополнительные преимущества, есть также множество бонусных партнеров в Wildschönau и окрестностях.
*******************
Costi da pagare in A pagamento:
Tassa di soggiorno: 2,00 euro / giorno / persona (bambini sotto i 14 anni gratis)
Animali domestici: 5,00 EUR / giorno / animale
Movimentazione pesante - è richiesto un comportamento normale.
La confezione include:
- Pacchetto biancheria (a richiesta disponibile in qualsiasi momento come fresco lavanderia) biancheria da letto, asciugamani, teli da bagno, strofinacci da cucina ..
- Letto aggiunto, culla, seggiolone, griglia di protezione per il letto, noleggio auto per bambini, ....
- Negli appartamenti sono piccoli oggetti come sale, pepe, zucchero, carta igienica, carta da cucina, sacchi per la spazzatura, lavare i piatti, ... disponibile.
- Uso gratuito del giardino (sedie, sedie, panche e tavoli) e il
Gazebo
- Un sacco di parcheggio vicino alla casa
- Wi-Fi viene utilizzato gratuitamente
- Su richiesta è possibile organizzare negli appartamenti anche una affettatrice pane, mixer e altri.
I seguenti servizi possono essere utilizzati gratuitamente con questa scheda in inverno 2015/16:
* Ski bus tra Niederau e Auffach
* Nightliner (autobus notturno da Gio a sabato) tra il Niederau e Auffach
* Escursioni invernali e programma le racchette da neve (3 volte a settimana)
* Noleggio di racchette da neve
* Bergbauernmuseum zBach
* Wi-Fi gratuito nei centri urbani e nel comprensorio sciistico
Con il pagamento della tassa di soggiorno riceverete in arrivo da noi la Wildschönau "Guest Experience Card".
Nell'estate del 2016 seguenti servizi possono essere utilizzati nella Wildschönau senza alcun costo aggiuntivo:
• funicolare e funivia Schatzberg Markbachjoch
• Sollevare Wiedersbergerhorn e Reith i. Alpbachtal
• esterna Wildschönau (aperto fino a metà settembre)
• Oberau campo da tennis
• Bergbauernmuseum zBach Oberau
• Mercato dell'Artigianato a Bergbauernmuseum
• Augustinermuseum a Rattenberg
• il mio Lehenlahn
• Visita NATURA avventura dal Lunedi al Venerdì
• Programma per bambini in Dragon Club dal Lunedi al Venerdì
* Molti benefici aggiuntivi, ci sono anche i numerosi partner bonus nella Wildschönau e dintorni.
Dodatne napomene
Moraju se koristiti stepenice - Vom Parkplatz kommt man über die rechte Hausseite in den Garten. Ca. 10 Stufen hinunter. Dort befindet sich der eigene Hauseingang für die Gäste.
---
We have just returned home after a brilliant stay at the Astoria Apartments. We arrived to a spotlessly clean house, with plenty of spare towels. The kitchen had everything we could need for a weeks stay. We had access to the garden (which was lovely), to the BBQ, the outdoor seating and to board games. The owners were so helpful, offering advice and local expertise. I would highly recommend these apartments. The local area is great. There is a spar within walking distant, a bakery, bank and bars. The open air swimming pool was a real hit too.
---
First thing, Andrea is very active to giving you feedbacks on your questions, like your arrival, stay, an activities to do nearby area. The pictures of the apartment are actual as on the profile. We reached late night to the place but we don't faced any problem to get in the apartment because we already have the info from Andrea. The apartment was cleaned, things were very well maintained, fabulous. Wow! we were very tired, but after entering to the apartment we all are feeling refreshed. On the second day morning, Andrea came to us to ask about the travel. He is so caring.He gave us the info about the area and the areas where we can spend our good time. I liked the apartment too much.its cheaper too than other places.Also the places like Salzburg, Insbruck, Swaroski Garden, Snow Mountans, Ski sports are near from this area if you have a car. Thanks again Andrea to give us the oportunity to stay in your apartment.
---
Ons verblijf in het appartement gelegen in de kelder van Astoria was uitstekend. Het is ruim, zeer schoon en voorzien van alle gemakken. Prettig is ook de eigen ingang via de tuin. Ook de flexibele aankomsttijd via de sleutelkluis erg praktisch! De kinderen waren vooral gecharmeerd van de grote hoeveelheid speelgoed die zij konden gebruiken. Voorafgaand aan de aankomst attendeerde de verhuurder ons tijdig op de afgesloten straat in verband met een evenement die middag zodat we ons reisschema daarop konden aanpassen. Prima service! De omgeving is mooi, alle benodigde faciliteiten zoals de bakker en de supermarkt liggen op loopafstand van de woning.
---
The House is really beautiful ,well maintained and worth the price. The Area is perfectly located to visit the most important cities like Innsbruk and Salzburg. Host Andrea was really very nice and helped us a lot. The Card which the owner provided gives you free rides at many locations nearby tirol including Tennis, cable car, swimming and water park which is nice. Will definitely try to stay here if I visit Austria again and recommend others as well. Thank you so much Andrea and hope to see you again :) Best Regards, Dhruva
---
Thanks for a wonderful stay! We arrived quite late in the evening but could phone Sonja to find the keys. We rented more than one apartment from Sonja in the Astoria apartment buildings and all were clean and well kept. It is close to a hotel where on can have dinner and also close to the Spar to buy necessities. My parents who lives in France said that they would love to return for another visit!
---
Herzlich Willkommen in der Wildschönau - Ferienwohnungen im Skijuwel Kitzbüheler Alpen. Gerne möchten wir uns bei Ihnen Vorstellen. Wir heißen Sonja, Jakob, Andrea und Reinhard. Unsere Familie besitzt 2 Apartmenthäuser in der Wildschönau. Unser Ziel ist es Ihnen einen angeneh…
Jezici:
Deutsch, English, Italiano, Nederlands
Stopa odgovora:
100%
Vrijeme odgovora:
u roku od sat vremena
Oberau i okolica nude i druge opcije – istražite ih
Još mjesta za smještaj na lokaciji Oberau: