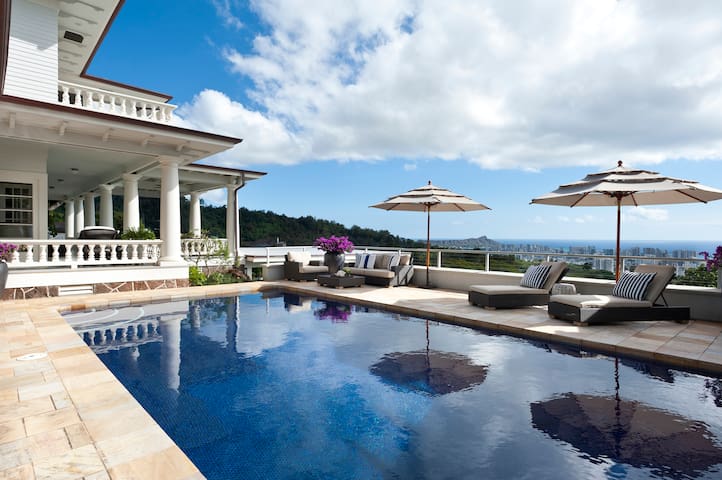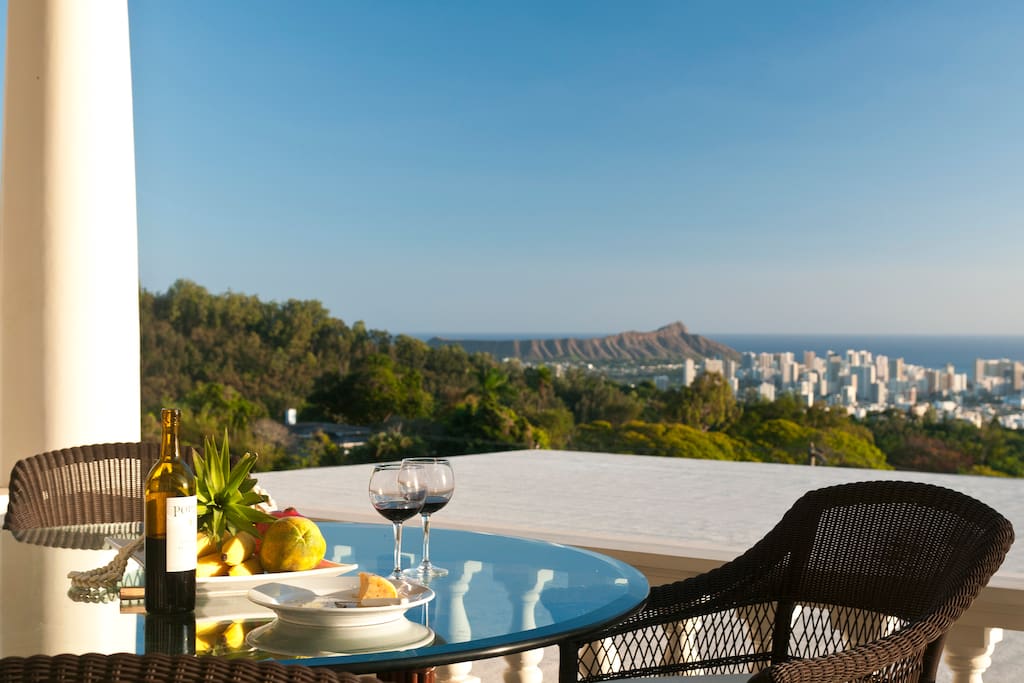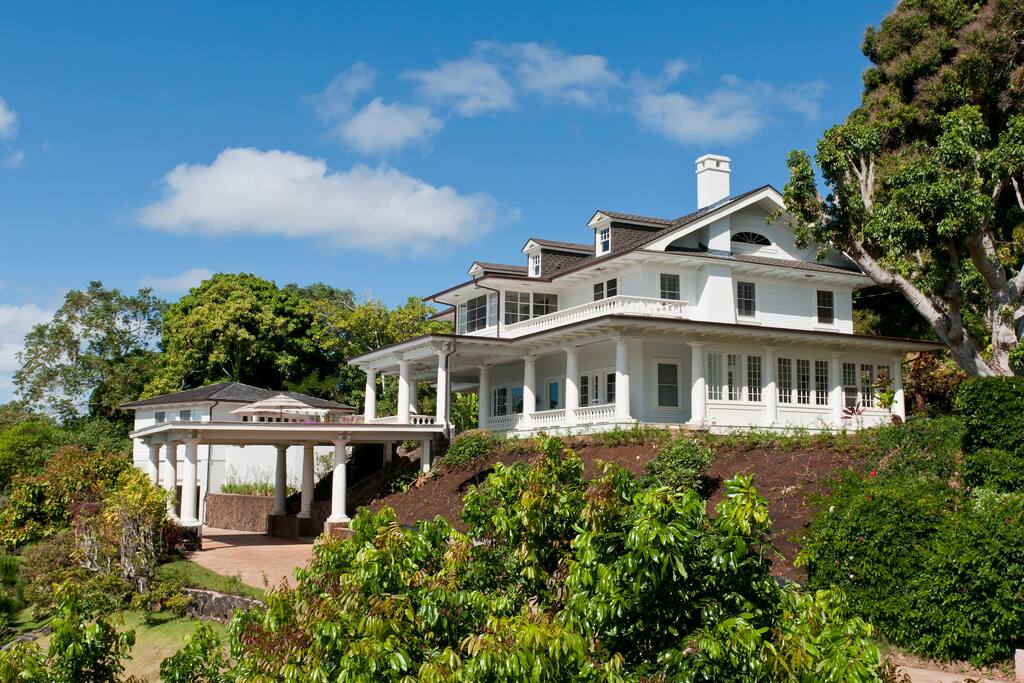 Honolulu Oceanview Estate
This spectacular estate truly sets you above it all offering breathtaking views of the Pacific Ocean, Diamond Head, Punchbowl War Memorial and Downtown Honolulu. With plenty of space to lounge inside and outside, you and your guests will enjoy unparalleled old world luxury.
Honolulu Oceanview Estate is available to rent yearly for $12,500/month plus utilities or short-term month-to-month for $36,000 inclusive of all taxes and expenses.
---
Spavaća soba 1
1 bračni krevet (1,8x2)
Spavaća soba 2
2 jednostruka kreveta
Spavaća soba 3
2 jednostruka kreveta
Spavaća soba 4
2 jednostruka kreveta
Spavaća soba 5
1 bračni krevet (1,8x2)
---
Vrsta prostora: Cijeli prostor
---
---
Dodatni gosti Nema naknade
Komunicirajte samo putem Airbnba
Kako biste zaštitili svoje plaćanje, nikad nemojte vršiti novčane transakcije ni komunicirati izvan Airbnbove stranice ili aplikacije.
Saznaj više
---
Vacation Home Terms & Conditions
Please read this Agreement carefully before you begin your vacation. Any payments made to Hawaii Sands Realty for rental of this Property indicates your acceptance of the terms of this Agreement. All policies are strictly enforced. It is your responsibility to be familiar with all policies enumerated herein.
1. Definitions: These House Rules, combined with the AirBnB user terms and conditions, constitute a written Rental Agreement ("Agreement") and the following definitions will apply: "We", "Our", "Us", "Host", and "Agent" refers to Hawaii Sands Realty, a licensed real estate brokerage, license number RB-21815, duly organized and existing under the laws of the State of Hawaii, having its administrative place of business at 1888 Kalakaua Avenue, Suite C312, Honolulu, HI 96815. "Owner" refers to the legal owner of the Property. "You", "Your", and "Guest" refers to the person or persons renting and/or occupying the Property; and "Property" refers to the real property, its contents and related amenities rented to the Guest pursuant to this Agreement.
2. Land Use Ordinance: In accordance with the City and County of Honolulu Land Use Ordinance section 21-10.1, the Property is provided to you, exclusively, for a period of 30 days or more. You are electing to occupy this property for the exact days outlined in your confirmed itinerary. By law, the property cannot be rented to or occupied by anyone else during any portion of the 30-day term covered by this Agreement. If you should choose to occupy the Property for additional days within the 30-day term of this Agreement, an addendum must be executed and full payment of any additional charges must be made prior to such occupancy. We may designate the start date of the 30-day rental period as a date prior to your actual arrival date. You acknowledge that if you are choosing to occupy the Property for less than 30 days then you are being charged a pro-rata share of the monthly rental amount. Should you occupy the Property longer than outlined in your confirmed itinerary you agree to be responsible for additional rental charges based on the pro-rata share of the monthly rental amount.
3. Renter Requirements: For legal and accounting purposes, the person placing the reservation must be the same as the credit/debit-card holder. This person is considered to be the Guest. All other persons involved with the rental are considered to be the Guest's invitees, and all discussions regarding this Agreement, termination, and damage policies shall be discussed with the Guest, not the Guest's invitees. You acknowledge that we only rent to responsible adults over the age of twenty-one.
4. Policy Enforcement: All policies, including but not limited to deposit and cancellation policies for the Property will be strictly enforced without exception. We encourage you to invest in a travel insurance policy through a vendor of your choice.
5. Upon Arrival: You agree to inspect the Property and immediately notify us if there are any concerns or issues. No refunds or other considerations will be given unless we are notified of problems during your stay and provided an opportunity to address and/or remedy the problems. Upon request, we will provide a form for you to document any pre-existing damage so you won't be held responsible.
6. Emergencies/Maintenance: In the event of a problem accessing the Property or if there are any problems with condition or functionality, please contact us immediately. In case of a serious emergency please contact the police/fire/ambulance by dialing 911.
7. Arrival Time: Arrival times will vary from property to property. Please refer to your arrival instructions and/or the property details. Unless you have specifically arranged for an early arrival time, please do not arrive at the Property prior to the published arrival time.
8. Departure Time: You agree to depart the Property no later than 11:00 am unless you have prearranged a late departure. Your prompt departure is appreciated so our maintenance and cleaning crews may immediately inspect and clean the Property. If you have not vacated the Property by 11:00 am then you agree to be charged an amount equal to the pro-rata daily rate divided by 10 for each additional hour, or fraction thereof, until you have vacated the property (Example: Daily pro-rata rental rate is $1000. You vacate at 1:00 pm, 2 hours after 11:00 am. 2 x $100 = $200 late departure fee). If you desire an earlier arrival or departure time, please contact us to check availability. Additional charges may apply.
9. Rental Dates: We have the right to change the rental start date and rental end date of this Agreement, provided that the new dates are acceptable to you. Rentals overlapping both Christmas and New Years must be a minimum of 14 nights and arrival/departure may not be on a holiday. Requests for rentals with arrival/departure on a holiday or outside the above-stated rules will be declined. Rentals for Christmas must vacate no later than December 28 and Rentals for New Years may not arrive prior to December 28.
10. No Smoking: You acknowledge that the property is strictly a no-smoking property and that smoking should only be done outdoors away from open windows and doors. If you are found to have been smoking inside the property then you agree that your host may charge a one hundred dollar ($100.00) smoke abatement fee to be deducted against the security deposit. You further agree to be held responsible for any damage to the Property caused by cigarettes and/or cigarette smoke.
11. Owner/Agent Cancellation: In the unlikely event that the Property becomes unavailable for any part of the tenancy for reasons beyond our control, we may cancel this Agreement and refund in full to you all payments made. We may assist in procuring similar alternative accommodations, but will not be liable for any claims or damages. You agree that any claims against us arising out of performance or non-performance under this Agreement shall be limited to a full refund of all monetary consideration previously paid by you.
12. Power/Weather Cancellation: We do not issue refunds due to acts of nature such as: weather, road conditions, hurricanes, power outages, etc., however travel insurance does provide some protection against these circumstances. If the Property shall become uninhabitable due to such circumstances and you did not purchase travel insurance, reservations may be rescheduled for future dates within one year of the arrival date, pending availability. You acknowledge that if you reschedule to future dates during peak demand then monthly, and therefore daily, rental rates may increase.
13. Extension: The length of your stay may be increased subject to availability however an Addendum to this Agreement must be signed and additional rental charges, taxes, and cleaning fees (if applicable) collected prior to extension start date in order to confirm extension.
14. Reductions: All reductions in your length of stay are subject to our approval and may be subject to a minimum stay requirement. Daily pro-rata rental rates may increase when reducing the length of stay as length of stay discounts may no longer apply. Reductions in your length of stay made within 90 days prior to arrival will not result in a refund or reduction of rent and taxes.
15. Change Fee: A change fee of $150.00 shall apply to all changes of this Agreement made by Guest, including without limitation, to arrival and departure dates.
16. Travel Insurance: To offer you the best service possible, we strictly adhere to our cancellation and change policies, however to help protect your vacation investment you may want to purchase travel insurance from a vendor of your choice to cover the costs of any potential changes to your itinerary.
17. Cleaning: For any occupancy of more than 7 days, a mandatory cleaning may be required once each additional 7 day period or portion thereof. This cleaning is in addition to the pre-paid departure cleaning. Additional cleaning services are available upon request at a rate of $30/hour (subject to change). Please provide 48 hours notice if you would like any additional cleaning during your stay.
18. Electricity Charges: Rental rates are based on normal electrical usage. We recommend that you turn off air conditioning (if applicable) when gone from the Property and that you ensure all doors and windows are shut when air conditioning is on. In the event that your electrical usage during your stay results in unusually high electricity charges, you agree to pay the additional charges.
19. Self-Catering Property: You acknowledge that this is a self-catering rental. You agree to return the property in tidy condition which means clean dishes returned to the cupboards, clean stove(s)/oven(s), and the floors broom swept of any sand. If the property is left with dirty dishes and appliances then you agree to be charged an excessive cleaning fee as described herein to be deducted from your security deposit.
Additional services such as daily cleaning, private chef, massage therapy, and more can be requested with advance notice at an additional cost.
20. Beach Erosion: You acknowledge that beach erosion is a serious problem affecting many coastal areas and islands worldwide, including all the Hawaiian Islands. Beach erosion may occur overnight or during a few days of unusual ocean swells and cannot be predicted. The amount of sand lost varies and it may take a few months or more for the sand to be returned to the beach via normal ocean activity/currents. You are informed of this potential and that beach erosion will not be grounds for any discounts, cancellations, or refunds.
21. Property Condition: You agree to complete and return to us within 24 hours of arrival a property condition form wherein any existing damage or deficiencies must be reported. Upon departure you must leave the Property in tidy condition, similar to that at arrival. Cleaning fees will cover all major cleaning services such as washing linens, towels, kitchens, floors, windows and bathrooms. Extraordinary cleaning such as soiled fabric or mattresses; removal of trash, washing dishes, etc. will be billed against your security deposit at a rate of $30/hour.
22. Flora and Fauna: You acknowledge that Hawaii is a tropical environment and it is common to see various insects and animals around and inside residential property. There will be no refunds or cancellations from insect or animal sightings, bites, or stings. You may not leave uncovered and unsealed food out of the refrigerator as it will attract pests.
23. Occupancy: You agree that only the number of guests you've specified are allowed to occupy the property. You agree to be held liable for your actions and the actions of your guests at all times and by doing so to hold Hawaii Sands Realty and/or the Owner harmless from any and all claims arising from you or your guest's use of the property. We do not allow any parties or events. The Property is to be used strictly as a personal vacation home by the registered guest for the number of occupants specified in your reservation and for quiet enjoyment. Any parties or events will be a violation of our rules and you'll be asked to leave immediately without refund. You acknowledge that we may stop by and inspect/visit the property to ensure compliance with this rule and that if you are discovered to be in violation of this rule you will be asked to leave immediately and without refund. You acknowledge that you will personally occupy the Property for the entire length of stay and will not sublet or offer to sublet the Property. You shall not use the Property for any illegal or unlawful purpose, nor shall the Property be used in a manner that disturbs or offends adjacent property owners/tenants. If the number of occupants changes you must immediately notify us and additional charges may apply.

24. Events: No events, including but not limited to, weddings, parties, and receptions will be allowed without our express written permission. You agree to be charged an additional rental amount for any unauthorized events. Additional rental amounts may vary, and the amount is entirely at our discretion. Unauthorized events may result in the termination of this Agreement and your eviction from the Property without refund. You agree not to invite any additional people to visit the property other than those indicated in your reservation.
25. Repair & Service Calls: We do not guarantee against mechanical or electrical failure of air conditioning, fans, lights, televisions, or other electronic equipment. You agree to report any inoperative items to us promptly, and we agree to make every effort to have maintenance completed as quickly as possible. Should a repairperson conclude that equipment is in working order, or that failure was due to your actions, then you agree the charge for the service call will be billed against your security deposit and that you will pay such charges. No refund or rent reduction will be made due to failure of electronic equipment.
26. Forgotten Items: You agree to carefully inspect the Property for any personal belongings prior to departure. Personal belongings left behind can be mailed to you if requested, however you agree to pay actual shipping costs plus a $25 service fee. We are not responsible for lost or stolen items.
27. Right of Entry: If necessary, Agent and/or Owner or their designated vendors may enter the Property in order to inspect or make necessary or requested repairs. We will attempt to give you at least 24 hours advance notice prior to entering the Property, and will only enter during reasonable hours except in the case of emergency. Regularly scheduled vendors such as yard, pool, and cleaning services shall be allowed to enter the Property at normally scheduled times.
28. Securing The Property: Hawaii is not immune to crime, and criminals often target tourists who may be less vigilant than normal. You agree to keep all gates and doors closed and locked when not present and awake at the home. In addition, if the Property includes an alarm system, you must set the alarm when not present and awake in the Property. You bear all responsibility for your own personal property; we are not responsible for loss, damage, or theft.
29. Beware of Inspector Scams: Some criminals have begun to target vacation rental homes posing as City & County Inspectors. If someone approaches you or comes to the door claiming to be with the City & County you have the right to refuse entry and ask them to leave the property unless they can produce a warrant signed by a Judge and are accompanied by uniformed police officers. Remember, anyone can create a laminated badge bearing the seal of the City & County of Honolulu. You are not required to and should not answer any questions about how long you are staying at the Property, when you arrived, and when you plan to depart. If you are approached by someone claiming to be an inspector you should ask them to leave, indicating it is private property and there is no trespassing. Please contact us immediately if you are approached by anyone trespassing on the property claiming to be an inspector so we can report this to the proper authorities.
30. Pets: No pets are allowed on the Property other than service animals approved by us in advance in writing.
31. Pools & Spas: If a pool and/or spa are available, you and your invitees shall use them at your own risk. You shall not permit the use of the pool and/or spa by unsupervised children or invitees.
32. Quiet Hours: You agree that you will observe quiet hours from 8:00 pm to 8:00 am Sunday through Thursday and from 10:00 pm to 8:00 am Friday and Saturday. This is in compliance with City & County ordinances and many homeowner association regulations. Failure to comply with quiet hours may result in fines for disturbing the peace. If any such fines are made against the Property and/or Owner resulting from your tenancy then you agree to be responsible for the payment of those fines plus an additional $1,000.00 from your security deposit. You acknowledge that you are renting a residential property and will be respectful to your neighbors and the neighborhood.
33. Off Street Parking: You agree that you will be provided sufficient off-street parking and will only park in the allocated parking spaces. You will not park on the public streets or in anyway that inconveniences surrounding property owners.
34. Credit Card Authorization: You agree that a credit card is required regardless of how the rental is being paid for and is used for payment of any charges in connection with your tenancy that would not be covered by your security deposit. You authorize Hawaii Sands Realty to charge the card you have provided for payment of your rental and/or any additional requested rental expenses incurred, and to pay for those damage or excessive cleaning expenses incurred that are not covered by your security deposit. You agree to pay an additional 3.5% credit card processing fee. You agree that the number of occupants will not be more than what you have indicated when making this Agreement and that if you are discovered to have violated this provision we may charge your credit card the maximum occupancy rate or $2,000.00, whichever is more.
35. Balance/Final Payment: You agree that the balance or final payment is due 90 days prior to your arrival. If you intend to use a different payment method to pay the balance due, please contact us. If you do not make other payment arrangements, you acknowledge that your credit card on file will automatically be charged the balance on the due date. If this occurs we will not refund the credit card and accept another form of payment.
36. Indemnification: You agree to indemnify, defend, and hold harmless Agent and/or Owner from all claims, disputes, litigation, judgments, costs and attorney fees resulting from loss, damage, or injury to you and your guests or their personal property. You acknowledge that Agent and/or Owner are not responsible for lost, stolen, or misplaced items. You further acknowledge and accept the inherent risk to persons and property while occupying homes near the ocean or that have pool and/or spas.
37. Disclaimers: You acknowledge that you are using the property for the purpose of a short term rental in "as is" condition at your own risk and agree to exercise caution when entering, using, or leaving the property, including common areas and beach access and to otherwise conduct yourself in a proper manner at all times during your stay. You are made aware that the Property may be accessed via a driveway on a busy public road and/or highway. You agree to exercise caution when entering and leaving the property.
You acknowledge that you have been advised to consult a physician before using spas/hot tubs, if available, and that excessive and prolonged use of the spas/hot tubs may be hazardous to children, the elderly, or persons of poor health. Children under the age of 10 years are not allowed in spas/hot tubs at anytime.
You acknowledge that you have been made aware that property built in the United States prior to 1978 may contain hazardous materials and/or substances such as lead based paint and asbestos. Your host and/or the Owner are unaware of the presence of any such materials and/or substances and have not conducted testing to determine if they exist.

You are made aware that mold and/or other microscopic organisms may exist on the Property. Molds are simple, microscopic organisms present everywhere. Mold spores may cause health problems. Mold will grow and multiply whenever sufficient moisture, temperature and organic material are present.
You acknowledge that you have been advised of the dangers of ocean sports, such as the risk of capsizing on wave breaks, and the existence of coral heads and/or rocks beneath the water's surface. You further acknowledge that you have been advised to wear personal flotation devices (life vests) and agree to wear them at all times while using ocean equipment, if applicable. You are also advised that if you consider the weather or surf conditions to be dangerous you should not use the ocean equipment. There are no lifeguards on duty at the Property. You acknowledge that ocean sports may be dangerous and physically demanding. You understand that participating in ocean sports may involve serious injury or death. You agree to observe and follow safety standards whenever using the ocean equipment (kayaks, stand up paddle boards, surf boards, snorkel equipment, boogie boards, etc.), if applicable.
You acknowledge that your Host and/or the Owner do NOT provide paddle sport or surf instruction. You agree that you are using any ocean equipment provided strictly "as is" and at your own risk.
You are advised to close all windows and lock the doors when you are away from the property for any amount of time. You acknowledge that your Host and/or the Owner are not responsible in any way for acts of vandalism or theft that may occur on or to your personal property during your stay.
You are advised that you should lock your vehicle and remove all valuables when parked at the property. You acknowledge that your Host and/or the Owner are not responsible in any way for acts of vandalism or theft that may occur on or to your vehicle during their stay.
38. Disputes: Any and all claims, controversies, or disputes arising out of or relating to this Agreement, or the breach thereof, which remain unresolved after direct negotiations between the parties, shall first be submitted to confidential Mediation in accordance with the Rules, Procedures, and Protocols for Mediation of Disputes with Dispute Prevention & Resolution, Inc., then in effect. If any issues, claims or disputes remain unresolved after mediation concludes, the parties agree to submit any such issues to binding arbitration before one arbitrator in accordance with the Rules, Procedures, and Protocols for Arbitration of Disputes with Dispute Prevention & Resolution, Inc., then in effect. The parties further agree that the award of the arbitration is binding upon the parties and that judgment upon the award rendered by be entered into any court of competent jurisdiction.
39. Jurisdiction: This Agreement shall be governed by and construed in accordance with the laws of the State of Hawaii. All disputes or claims pertaining to this Agreement shall be adjudicated in the State of Hawaii, City & County of Honolulu.
40. Agency & Dissemination of Information: You acknowledge that we are agents for the Owner and that you are our valued customer. You further acknowledge and represent that you will explain all the Terms and Conditions to all individuals in your group who are authorized to occupy the Property prior to arrival. You are accepting this Agreement on behalf of all individuals in your group, who in turn agree to be bound by the Terms and Conditions set forth herein.
41. Confirmation: By making a reservation and paying an initial deposit you agree that you have read, understand, and accepted all the terms set forth in this Agreement, including, without limitation, our cancellation policies. You agree to abide by the restrictions stated in any additional House Rules for the Property, if any, as well as all the terms of this Agreement.
---
---
Detektor ugljikovog monoksida
Kartica za hitne slučajeve
---
Minimalni boravak: 7 noćenja.
Od 16. Prosinac 2017. - 6. Siječanj 2018. minimalni boravak je 14 noćenja.
---
We, a family of five, rented this beautiful house for three months. During the time, we invited a number of friends and their families for short stays. EVERYBODY enjoyed this place! The house is truly one of a kind with an amazing history! It is situated on the top of a hill, which gives it a panoramic view of half of Honolulu - if you happen to be here on the New Year's eve, you are in for a treat of the most incredible firework show (better than the Macy's July 4th fireworks in my opinion). The surrounding area is very quiet with all winding roads. The house is super spacious and beautifully decorated. And, for a house that is 100 year old, it is very well maintained. The lani is our favorite place to enjoy breakfast in the morning or a glass of wine in the afternoon. The common area is very well designed with plenty of light. The swimming pool area is also nice, but we didn't get to use much since it was still fairly cold when we were there. Fence panels are available to keep small children from running into the pool, which was hugely helpful since we had a two-year old in the house for a while. Kitchen is well equipped with cooking necessities. We found the butler's pantry particularly convenient. All the bedrooms are clean and comfortable with tons of towels, linens, and bed-sheets, etc. You will find almost everything you need for a relaxing and comfortable stay here. Our communication with Dave and his colleagues was great too. Dave was always responsive and on top of things. We had a little issue with the internet when we first checked in (not Dave's fault). He worked hard to help us get the issue resolved as soon as possible and provided alternative solutions. He would always let us know in advance when he needed to come by. He was also prompt with minor maintenance issues (it is a hundred year old house after all!). We really enjoyed our stay here. And we certainly hope to return sometime in the future. Happy to recommend it to anyone.
---
This house was absolutely amazing! We had 3 families, 12 people total, including 6 teenagers, and this house accommodated everyone with ease. No expense was spared on the recent renovation, every finish was luxe and beautiful. There is ample parking in the circular drive for our 3 cars, the gardens surrounding the driveway and everywhere else were manicured and very colourful and fragrant, so beautiful! The kitchen was well equipped with a huge fridge and freezer, very large dual section oven and ample cooktops, also enough bench space to cook and ample pantry space. All of the bedrooms were very comfortable and had a spectacular view, either of the city or the lush stepped garden behind the house, there was ample privacy from every spot. The master suite was particularly luxe with a dressing room and ensuite to match. The adults spent most evenings on the lanai, watching the intermittent tropical rain cloud the amazing view at night was a treat. Three of the children slept in the pool cabana, it was large, comfortable and well furnished, it even had a small kitchenette (but the nearest bathroom was on the other side of the pool). The french doors were so practical to completely open up onto the the pool (or take in the view of Honolulu) in the morning. There was a fantastic Bose audio system inside and out, and the huge TV in the living area also had Netflix. Beautiful furniture everywhere inside, including the white baby grand piano! Unfortunately we had no cause to utilise the study but that was private and inviting if you had to do some work during your stay, you would be treated to do so there. The wifi was very powerful and handled our multiple devices between all 12 of us with ease. Our hosts were very welcoming and attentive to our every need. Dave, Alex and Donny were all there upon arrival to greet us, with traditional fresh lays, walked us through all details of the estate. We had cause to call on them a couple of times in the first day or two for very minor things that we needed help with, but our hosts helped us out with everything we needed, and more. Very generous with their local knowledge and personalised tips on local attractions and activities which was fantastic, but most importantly we all felt very comfortable, safe and well accommodated. One last thing to mention, we had no problems booking Uber drivers to and from the estate and they were very well priced to get into Waikiki and surrounds. We would highly recommend this property to anyone, and would love to go back one day!
---
We specialize in providing luxury estates for rent. We strive to offer our tenants an opportunity to experience life in multi-million dollar estates without having to spend millions.

City & County of Honolulu regulations require a minimum 30 day rental agreement for all properties located outside of resort zoned areas that do not have a valid non-conforming use certificate, as such we will require you to sign a 30 day rental agreement for those properties. If daily rates are displayed for such properties they are done so for informational purposes only and reflect a pro-rata daily amount of the monthly rent. Demonstration of daily rates do not indicate a property is available for rent for less than 30 days. Please call if you have questions.
Jezici:
English, Português
Stopa odgovora:
100%
Vrijeme odgovora:
unutar jednog dana
Honolulu i okolica nude i druge opcije – istražite ih
Još mjesta za smještaj na lokaciji Honolulu: