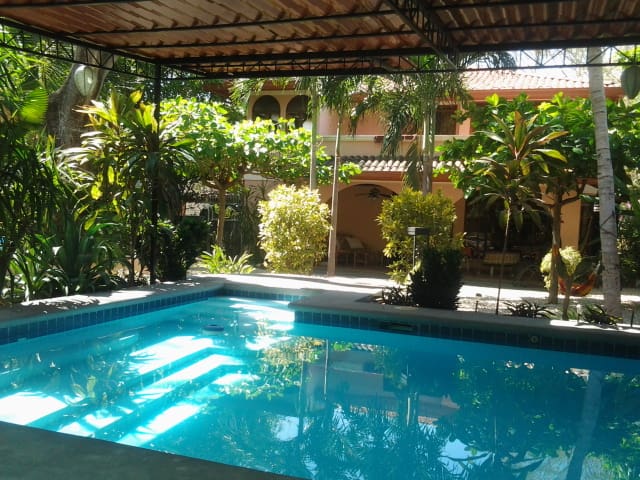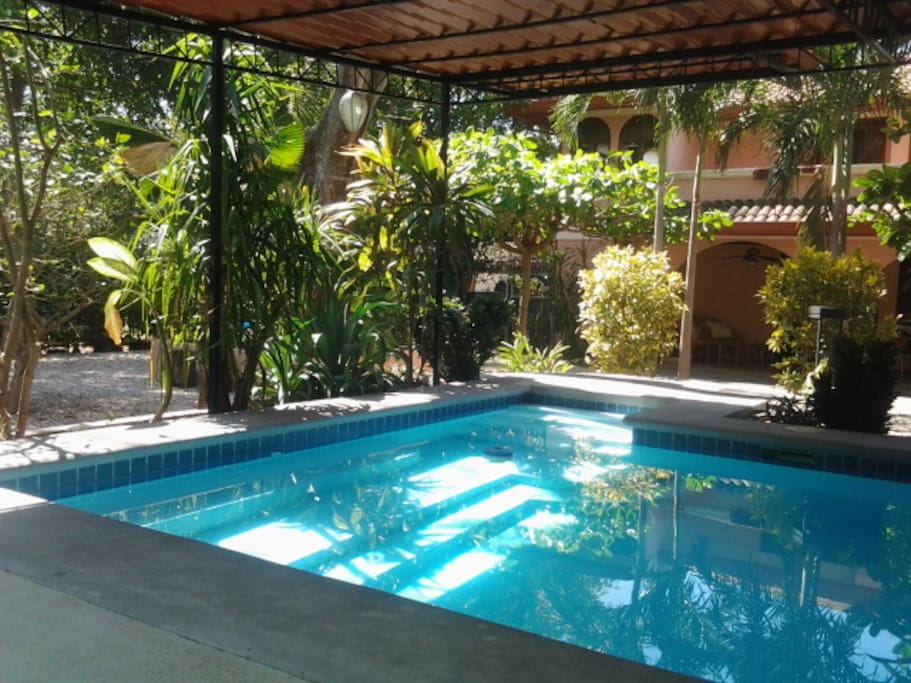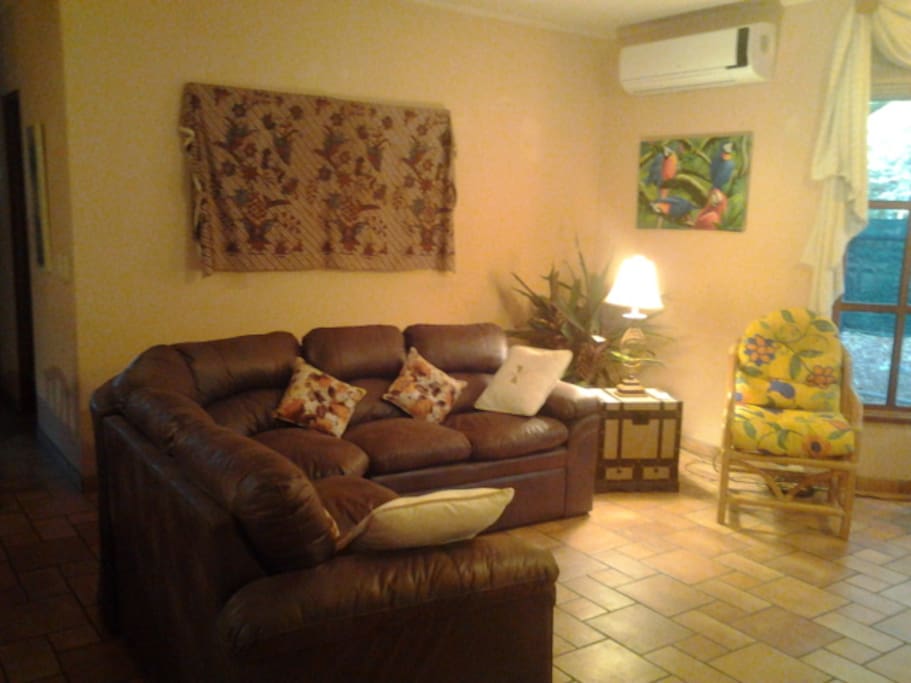 Tranquil Tropical Gardens/1 bed/pool
Main floor one king bedroom with private bath. Private or shared use of modern fully equipped kitchen, granite counter-tops, full size appliances. Large living/dining room, covered patio over-looking the pool and gardens. 5-7 minute Walk to beach and store. Numerous restaurants within walking distance and on beach.
Prostor
This Villa is at the end of a write rock road and surrounded on three sides by natural jungle. Tranquil with only sounds of nature.
Dostupno gostima
The garden and pool are for your enjoyment and possibly shared with the owner if she is there or one part of tenants upstairs if it is occupied. Usually you will have the place to yourselves. The Owner is typically on site from November till March and for 3 weeks in July. during this time the main floor described here is shared but you have your own private king bedroom and private bathroom with shower.
Interakcija s gostima
I am always available to answer questions....whether via email prior to your visit or in person if i am on site. I am always glad to help you and offer suggestions as to sites to see.
Ostale napomene
Daylight hours here are from 5:30 am till 6:00 pm. Most people find they get their hours adjusted to wake up earlier and enjoy the beach and the lovely morning temperatures. There are early sounds of nature......birds, squirrels, and the occasional rooster.
---
---
Komunicirajte samo putem Airbnba
Kako biste zaštitili svoje plaćanje, nikad nemojte vršiti novčane transakcije ni komunicirati izvan Airbnbove stranice ili aplikacije.
Saznaj više
---
Spavaća soba 1
1 bračni krevet (1,6x2)
---
Nije prikladno za kućne ljubimce
Zabave i događaji zabranjeni
Vrijeme dolaska je od 16:00 do 18:00.
Dodatne napomene
Dog(s) live in the house
---
---
Kartica za hitne slučajeve
---
Minimalni boravak: 7 noćenja
---
A beautiful 2nd floor apartment with well-kept shady yard not too far from the beach. The house sits on a quiet dead end with a small cold water pool and large patio to enjoy. Leslee kindly provided a small amount of coffee, filters, mango, eggs, bread and jelly, however, basic necessities would've been preferred; dish soap, paper towels or napkins, tissues, garbage bags, etc. Unfortunately, our stay started badly when the cab Leslee arranged to pick us up didn't show. Not knowing whether the cab was late or forgotten, we hired one and paid $40 for the 20 minute drive. When arriving, Leslee was unsympathetic with our predicament, having spent the day travelling from NY, arriving to 85°F conditions in winter clothes, not wanting to wait any longer than we already had and risk losing a cab. Leslee actually insisted that we pay her hired driver the $40 anyway, not caring to investigate whether they received another fare to make up for it. Leslee brought the matter up again on our final evening, insisting that gas was expensive. This disrupted our last day and having needed to later rent a car, we had determined that $40 gas was about 8 hours of driving. Negatives to this property and owner: - Repeatedly reminded that leaving windows open with fans running should be sufficient to cool the apartment. It was unrelaxing to feel like A/C usage was being monitored and roosters crowing at 4:30am made it impossible to have windows open overnight. - A/C emitted a musty odor. - Wi-Fi was intermittent and never worked in bedroom. - Security alarm, which doesn't protect the apartment, beeps continuously when electricity flickers. This occurred 4 times and disrupted our sleep more than once. - Leslee insists apartment key remain in the outside lockbox, which requires a code to remove AND replace the key. Very inconvenient and cumbersome when your hands are full of beach bags, groceries, etc. - Asked to use poolside shower to rinse off after pool or beach use. Not unreasonable, but, dealing with the key lockbox and yard gate was a hassle. - To conserve water we were asked to limit showers to 5 minutes. - We had no hot water on our last day. - Were asked to squeegee shower doors after each use; doors were already pitted with hard water spots and appeared as if they hadn't been cleaned in some time. - ALL toilet paper goes in the garbage. This rule was in some other Hermosa establishments but it wasn't pleasant and would be nice if homeowner provided air-freshener. - We found the grocery store and restaurants are NOT comfortable walking distance. Expect hot, dusty roads & pathways while carrying your bags and extended walks after dark. Rent a car!! We left the house in great condition, wiped counters, removed garbage, washed dishes and cleaned the floors a bit (even though they were dirty upon arrival). The coffee carafe cracked, but we did purchase a new replacement machine.
Whoa……..I am in total shock over this review. I am not sure where to start in a reply but it surely is necessary. Please do read my extensive reply. I allowed these people to check in 3 hours early. I had offered to send a safe, reputable, English speaking taxi driver who knew where I live to meet them at the airport.....for their convenience. They accepted my offer. I did not hire him…they were to do this. I was the facilitator and most of my guests have been very thankful for this. It was Friday and New Years Eve day and one of the busiest days of the year for tourists here. Given the time their plane landed and the time they arrived at my home, I was totally floored when they arrived so quickly. They couldn't have waited for more than two minutes at the airport for him. He was there waiting and I DID check. He did not get another fair because by the time he found out they had stood him up, everyone had gone or had a ride already. Turns out they had no checked baggage, must have been first off of the plane and breezed through customs in record time. Good reason to be a little patient. Often the cabs wait for over an hour for the guests to come out. I was shocked they got to my home that fast and immediately phoned the taxi driver to say they had taken another cab. He had been waiting for them and he said they needed to pay him. Given this was New Years and very busy time, these people were very disrespectful to have asked for the service and then been so impatient as to look for the sign in a busy airport for only two minutes before succumbing to the pleas of the other cab drivers. After telling them what the driver said, I left it up to them to be fair (they said they "wanted to do what was right")…..they never paid him. They also complained about the $40 fare which was a discount for my guests and a very good price. Yes the arrival got off to a bad start. But I let it go and said nothing more for the rest of their stay. I then pleasantly spent the 2 hours they seemed to require to re-answering questions that I had already answered in the numerous emails that I had tended to, prior to their arrival. I told them I was there whenever they needed me but I didn't want to impose on their holiday. They said they couldn't reach me to communicate????……this is total nonsense They said I was unreachable?????? What??? I live on the main floor of the same house and was home most of the time. Our paths crossed daily and I always encquired how their day was. Their answers were always positive. On occasion we had chats at the pool. They never once complained about anything that they have complained about in this review. They had my phone number for text and phone, and my email and I was a two minute walk away down one flight of stairs to the main level, if they had any (URL HIDDEN) complaints or concerns were made to me in the whole week!!!! The night before they were to leave, they sent me a text thanking me for a lovely stay and asked if they could check out a little late. I said yes. At this time I did mentioned that I was still concerned about the cab issue and felt that someone needed to pay him for his trip….them or me. I didn't insist they do it …I just said the driver expected to be paid and I thought it was fair. As a result, instead of staying longer than check out time, they hussled out early and didn't even say goodbye. They were obviously ashamed and too disrespectful to be fair. They had decided within a day to spend an outlandish amount to rent a car which was, on some days, used to drive the 2 blocks to the beach.....walking path is closer. Yet they complained about a $40 cab ride from the airport?. Firstly the fare is not my (URL HIDDEN) is what it is and $40 was a discount for my guests. Secondly, car ownership and car taxes and gas are expensive here (double what they are in NA). Who are these people to judge others in another country? They obviously had no respect for others in standing them up at the airport. If they had phoned me from the airport I would have told them that I had confirmed the taxi again just the night before, to be sure all went smoothly. If they could not see him right away, please be a little patient as it is New Years, road traffic may have been heavy, and they were off the plane in record time with no checked baggage. This is not an all-inclusive resort. It is a housekeeping unit. I provided for a nice first breakfast…fruit, eggs, bread, jam, coffee and tea, sugar, (URL HIDDEN) a courtesy. Never a thank you from them for this….only a complaint that there were no napkins. Besides food staples, all basics were also provided. Dish soap and new clean sponge were on the kitchen sink. Extra garbage bags were in the drawer and I knew they would get more when they went to the grocery store…..I recycle these bags as they fit perfectly. Bath soap, toilet tissue and extra tissue was in the bathrooms. I do not use paper towels…these were not provided. The floors were dirty????? My cleaning lady is a meticulous dynamo and the suite was cleaned and floors swept and thoroughly washed the day before they arrived. If the floors were dirty it was because they did not use the outdoor shower as I asked, to wash off the beach sand before they entered the house….or even the pool. Again…disrespect on their part. A/C: I told them to use the A/C whenever they need it but to please make sure the windows and doors were closed and to shut it off when they didn't need it or when they leave the house. I always point out, for those who do not like A/C, that I have opening windows and good fans in each room as well, for their convenience and comfort. Musty odor???? No. The a/cs are cleaned regularly and do not smell musty even during the rainy season. My maintenance and cleanliness here is impecable. Wifi: I have 8MB services….more than is needed for good fast service. Other places offer 3MB. There is reception on both levels of the house, throughout the garden and by the pool too. As in any third world country, on occasion, the internet can be down for short periods but I do not recall this being a problem when they were here. I am on my internet 2-3 times a day….no issues. ipads seem to have some problems at times. Lap tops are good. Cold pool??? The air temperature here is 85 – 100F daily all year around. No one has heated pools here and most guests have appreciated being able to cool off when it is hot. Towels that smelled like dog?????? This is the limit. My dog is well behaved, is never upstairs in your suite, I never use human towels on him and the towels were freshly washed and could not possibly have smelt anything but clean and air dried fresh….with light dryer tumbling to soften them. These people have real problems!!! 5 minute showers: When you are in the pool and ocean all day, this is all that is necessary….take as many as you want but 20 minute showers are unreasonable. There has been water rationing here for the past few months. I purchased a water storage tank and filters in July and so we have had no problems, but the Municipality has asked the public to be conservative in usage…especially in high season when the usage is high. Yes this is a third world country not North America….and even in NA there is water rationing on occasion. And everyone who comes here should know that Costa Rica is ecologically friendly.....please do not waste. I also mentioned my 'green' values on my AirBnB description/profile. If they didn't want to respect this then do not be surprised. Use of outdoor shower: I ask guests to shower prior to entering the pool to wash off lotions and such. These things contaminate the pool excessively. I also asked for no glass around the pool. These are standard pool rules everywhere. My guests disrespectfully did not abide by either one. Keybox/ keys/ gate: The gate was usually unlocked during the day as I was here, so no excuse in not using the outdoor shower to wash beach sand off, because you had to unlock the box. The key box was right beside both your suite door and the gate…very convenient. Keys tend to get lost when they are taken to the beach and then others tenants have no access to the suite if the key is gone with one party. My request is reasonable for security, convenience, and prevents undo expenses from lost keys. This request is typical in B&Bs. I am sorry they found it (URL HIDDEN) was set up for convenience. Security Alarm: Yes this beeps if the power goes off and then comes back on…this doesn't happen often. It is also in the living room and not in the bedrooms. It is not that loud. I can't imagine it waking any one. i told them what to do...just press 2 and it stops. However I will see if there is some way to disconnect it. I have ample security in this home and have never in 4 years had any issues what so ever. Security alarms malfunctioning because of power outages are more annoying so I use other better means for for good security….but I keep the security sign up for good measure. Yes I ask you to squeegee the glass after a shower and have provided simple squeegees for your use. The water is hard and causes the glass to get spotted and cloudy if this is not done. The glass in NOT "pitted" and the shower doors are cleaned thoroughly with vinegar after each guest leaves. They were NOT dirty as accused. This is again nonsense and makes my immaculate home sound like a pig sty. Toilet paper disposal: Yes it is a standard request in ALL establishments here that all foreign products and all toilet paper go in a waste basket for burning. This is due to the septic systems here. Change of routine is sometimes not easy to get used to. There actually was air freshener in the first bathroom they had but then they wanted to change for a king bed instead of queen. The air freshener did not get moved. I have never found odor a problem in 4 years and I have a very sensitive nose. I have also never had another guest complain. Walking distance to the beach and groceries: Short 5-7 minute walk to each….factual. I am sorry it was too far for them. Everyone else has been happy with the closeness. The fact that they got blisters from inappropriate/new footware is not my fault. Well these people complained on line about just about everything they could and made my paradise home sound like a 1* hovel. Although they said NOTHING to me while they were here except thanks for the lovely visit. They should be ashamed. I think they must have some problems they need to deal with and were feeling guilty about cheating the cab driver within the first ten minutes of their arrival to CR. They had to take it out on someone. Generally their complaints were unfounded, unfair, and in some cases, outright lies. Some people are just negative through and through and not thankful for anything. They even had a negative judgment and speculation as to why other guests had given a good reviews…..how negative and sour is that? I would never have these people here again.
---
I am a friendly, independent, creative and artistic professional woman who has traveled extensively worldwide, both back packing and 5* vacations. I love to meet new and interesting people . A neat clean environment is important to me but I am able to ruff it too when necessary. My educational background is in Biology, Psychology, and Textile Design. I have been an artist and a Realtor (now retired) for a number of years but since 2005 my main passion has been my community development project in western Kenya. If you are interested, I am happy to share this with you. My precious little pug dog is named Rocky. He is friendly, gentle and loves visitors too. I love the ocean, the mountains, the outdoors in general, art, culture, heritage, people, and animals. Ballroom dance has been my sport passion and I enjoy music of all kinds.... except rap. Life is good. I look forward to sharing my home and space with is people that make a house a 'home'.
Jezici:
English
Stopa odgovora:
100%
Vrijeme odgovora:
unutar nekoliko sati
Playa Hermosa i okolica nude i druge opcije – istražite ih
Još mjesta za smještaj na lokaciji Playa Hermosa: